May 2016 Visiting Teaching Printable
Choosing which quote to feature this month was really difficult, you guys! I always love General Conference so much and so many different little sound bites inspire me greatly. That's why, in the end, I chose to highlight Elder Holland's talk for my May 2016 visiting teaching message.
Elder Holland's talk is titled "Tomorrow the Lord Will Do Wonders Among You" and was the closing talk to April's General Conference. It's precisely because I love General Conference so much that I loved his talk. I am always inspired, uplifted, and ready to do better by the Sunday afternoon session.
But then tomorrow shows up and I still have to do dishes and laundry and go to work and I still live in a mortal body that is prone to grumpiness and anger. And I get discouraged.
Elder Holland helped me to realize that this is all exactly how it works for everyone, and it's exactly why we have General Conference twice a year and attend church every single week. It's all too easy for tomorrow to take away from us what we feel today.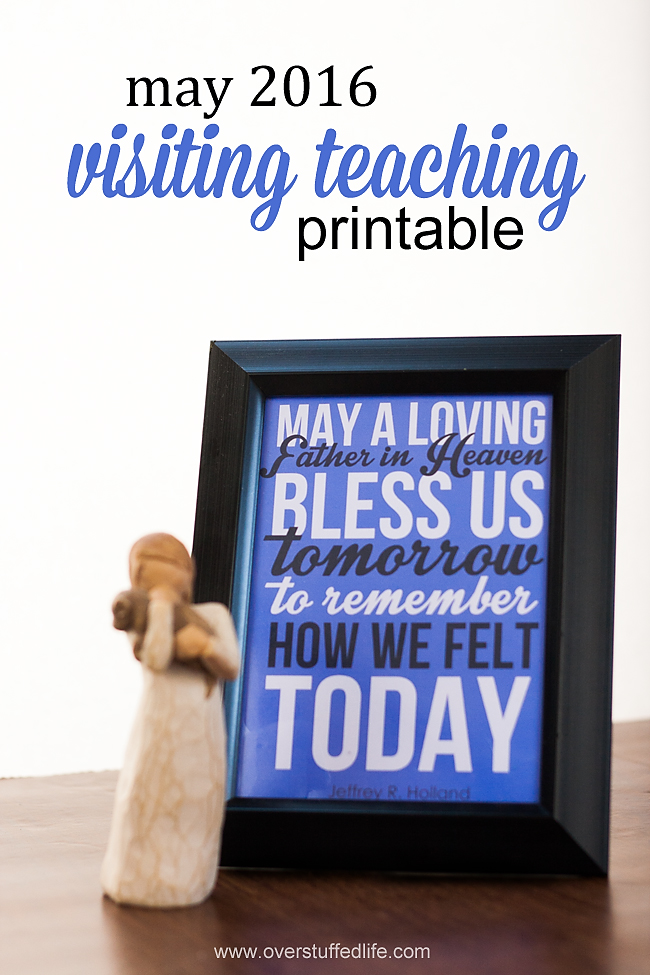 The quote I chose for my visiting teaching printable this month is "May a loving Father in Heaven bless us tomorrow to remember how we felt today."
It reminds me of Alma's question: "And now behold, I say unto you my brethren, if ye have experienced a change of heart, and if ye have felt to sing the song of redeeming love, I would ask, can ye feel so now?" (Alma 5:26)
I love the idea that we can continue to remember those feelings from the Spirit if we pray for them. And I love even more the idea that we should not be discouraged because we don't progress as quickly as we would like.
In the words of Elder Holland: "Keep loving. Keep trying. Keep believing. Keep growing. Heaven is cheering you on today, tomorrow, and forever."
I also made some General Conference bookmarks to help me in my own "remembering how I felt today" as I study each talk during the next several months. You can download your own bookmarks here: April 2016 General Conference Study Bookmarks.
To download:
Enter your email into the form at the end of this post and the printable will be sent directly to your inbox.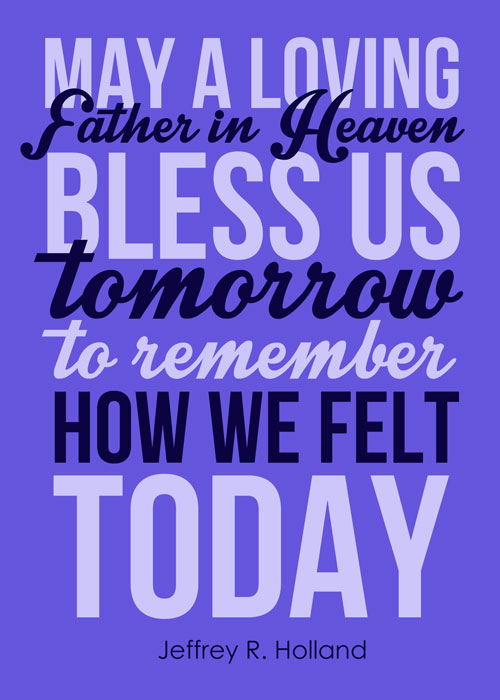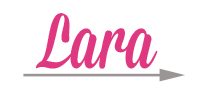 This post may contain affiliate links, for more information, please see my disclosure.
Download the Printable
Enter your email address to get the May 2016 Visiting Teaching Printable delivered straight to your email inbox.