I love listening to some of the NPR shows like This American Life. The topics and stories they come up with fascinate me, especially since they are usually about the lives of ordinary people like you and me. StoryCorps is another project that NPR has done, which gives people the opportunity to record an interview with someone in their lives. The interview is then preserved at the Library of Congress, and many of them are also broadcast on NPR's StoryCorps podcast.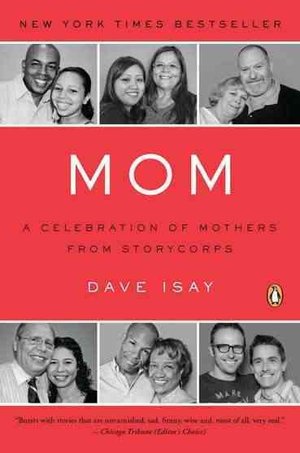 The book I am reviewing today—Mom by Dave Isay— is actually a written collection of many of these StoryCorps interviews. All having to do with motherhood.
The stories are divided into three categories: Wisdom, Devotion and Enduring Love. All things that most mothers are known for. So many different stories of motherhood are represented, and each of them touched me somehow. Some were amusing, others were faith-building. There are stories of adoptive mothers and biological mothers and mothers of quintuplets. There are interviews between siblings, parents, children, friends, etc. And I learned from each one.
Each story is rarely more than a few pages long, and this is a book that is wonderful to keep by your bed to read a few chapters whenever you're feeling in need of a pick-me-up. It would also be a great gift for Mother's Day, which is coming up next week.
I also enjoyed how the end of the book has sample interview questions, should you want to create your own interview with somebody important to you. I know we did something similar with my grandparents before they died, and the resulting video has been treasured.
The publisher has kindly agreed to give a copy of this book to one of my readers. Just comment on this post and tell me something about your own mother that you never want to forget.
*****************
This book was sent to me by the publisher via TLC Booktours.