The Ultimate Guide to Organizing a Christmas Caroling Party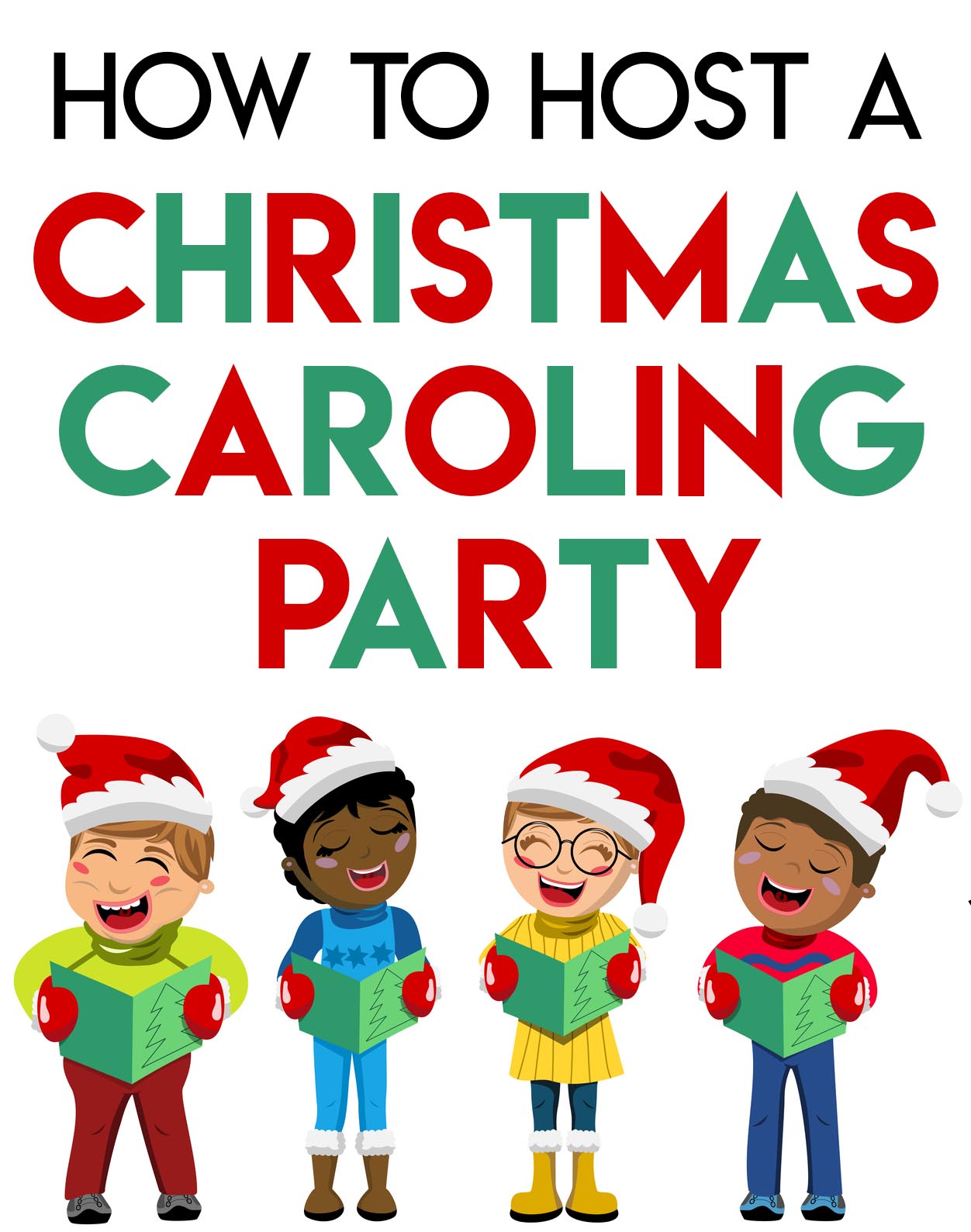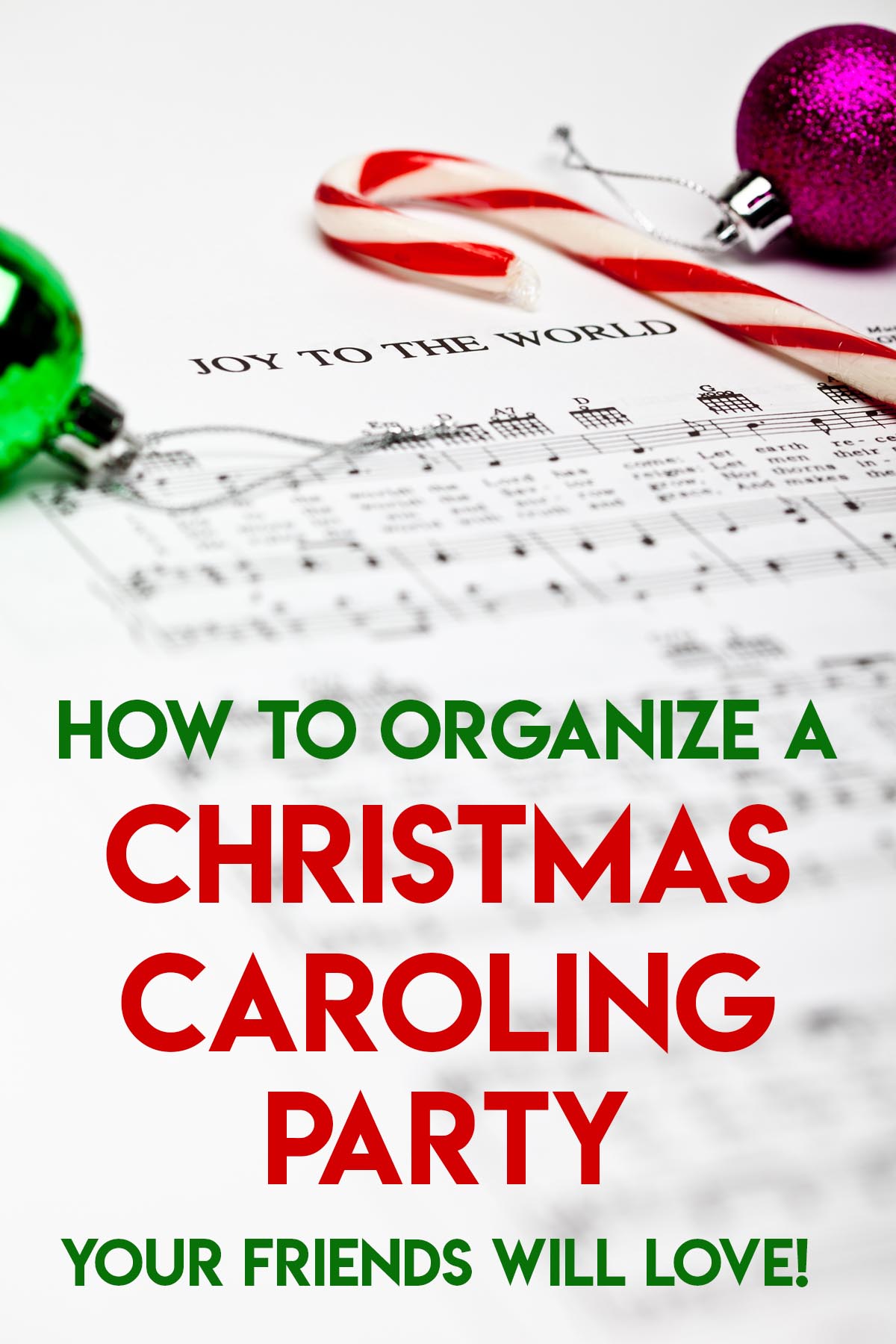 Thank you to Mormon.org and their #LightTheWorld 2016 Christmas campaign for partnering with me on this post!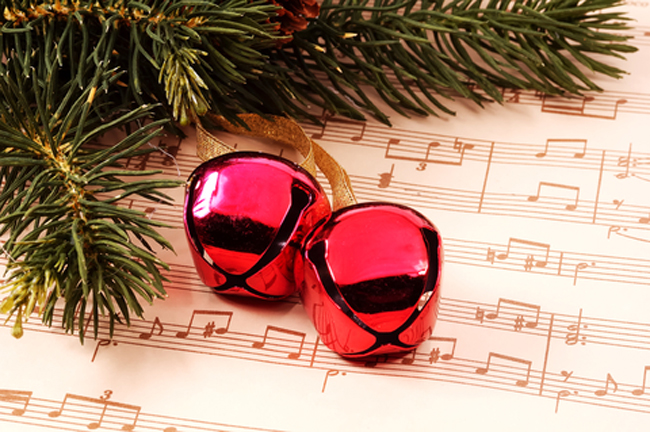 Make sure to check out our Ultimate Holiday Gift Guide—Find hundreds of gift ideas for EVERYONE on your list!
I love to go Christmas caroling!
My family used to go every Christmas Eve—I really looked forward to going around the block and bringing a little extra Christmas cheer to all of our neighbors. Singing Christmas carols is a huge part of what makes Christmas special to me, and since I love singing (hello—I sing for a living!), a Christmas Caroling party is the perfect way for me to light the world for the holidays.
If you want to throw a truly amazing Christmas Caroling Party that everyone will love, it will take a bit of planning ahead. Following these few tips will guarantee that your party is something that will be remembered—both by the carolers and those who are blessed to hear the Christmas carols.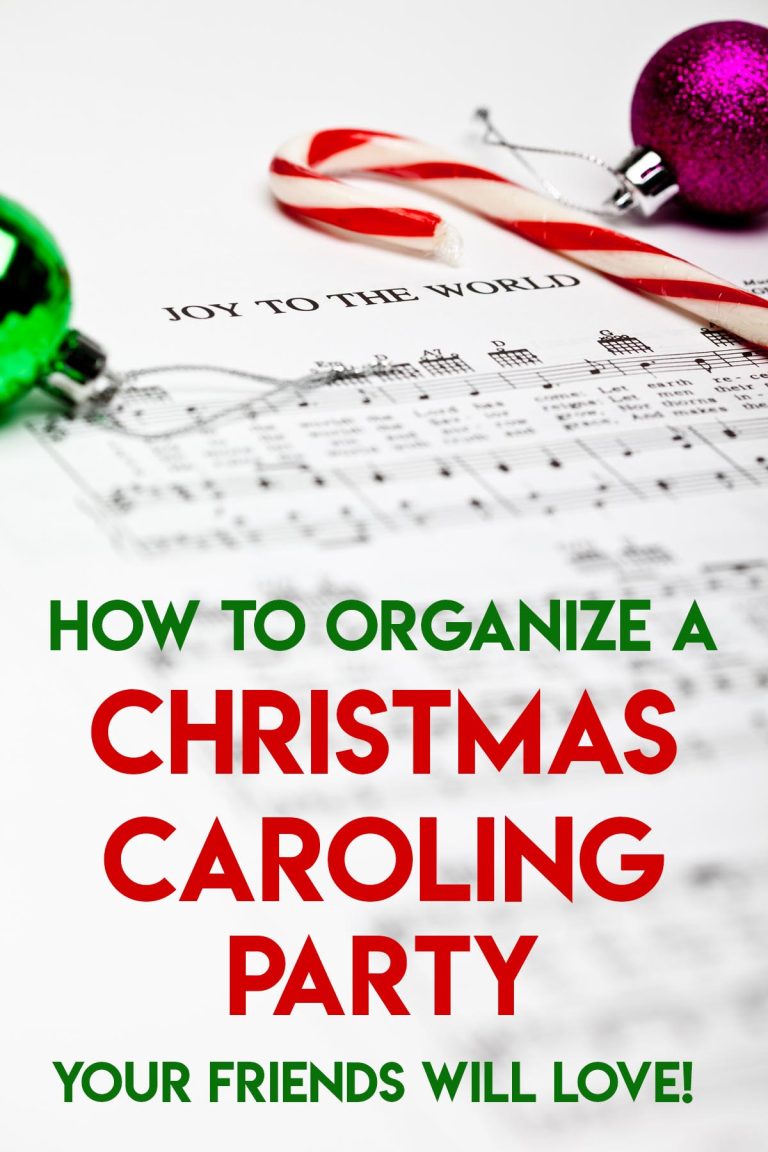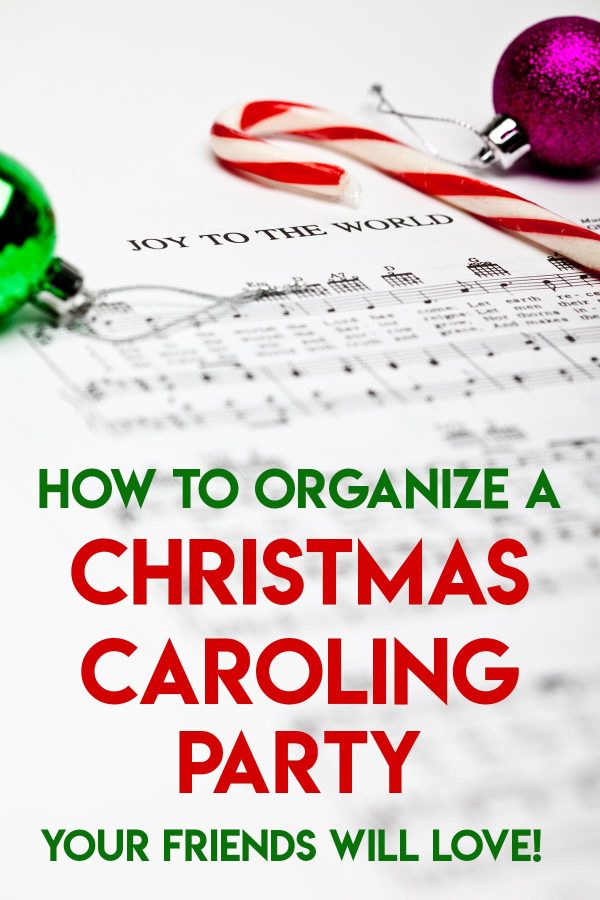 How to Organize a Christmas Caroling Party
1. Send invitations early
The holidays are an incredibly busy time for everyone, so planning and inviting ahead of time is crucial. Send your invitations at least 2 weeks early for the best results—earlier if possible. Be sure to include an RSVP so that you have an accurate head count for your party. You definitely want enough singers—especially if you plan on singing harmony!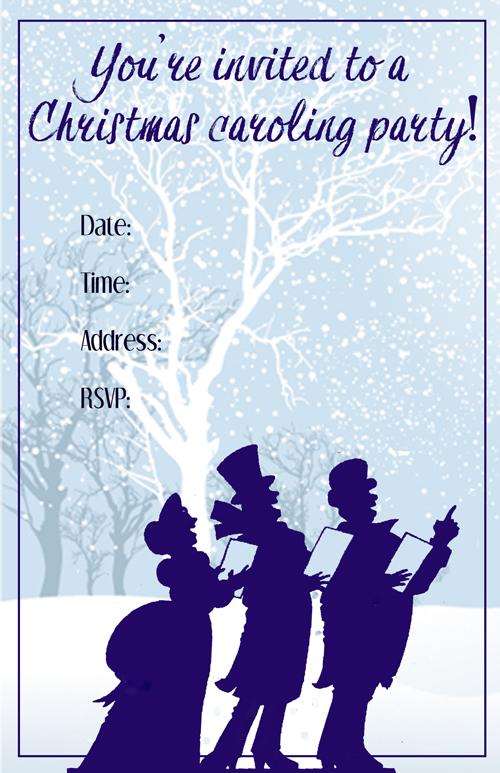 I have created an invitation that you are welcome to download and use for your own Christmas Caroling Party. To download and use it yourself, enter your email into the form below and it will be sent directly to your inbox for you to download.
Download the Christmas Caroling Party Invitation now!
Enter your email address and receive the printable right to your email inbox.
2. Plan music ahead of time
What music you plan will largely depend on the people who are coming to your Christmas Caroling Party.
In a couple weeks, I will be going to a Christmas sing in (maybe we'll carol, too!) with several of my high school choir friends. All of us love singing and can read the parts on sheet music, so we will be singing some SATB Christmas carols. If I were going with a different group, I might choose something easier.
If you are hoping to sing music that is slightly more difficult and includes harmonies, you might want to send a list of the songs with your invitation. You could even include the sheet music with the invitation if you have it.
There are several wonderful websites that offer free sheet music downloads, making it even easier to choose music—one of my favorites is Sally DeFord Music.
You could also purchase enough simple Christmas Caroling anthologies for all of your guests to share.
I have several copies of this one, which can be purchased for a couple dollars: A Classic Christmas Caroling Songbook.
It would be kind of fun to wrap it up and include it with your invitation as well!
At the very least, be sure to print out song lyrics for your caroling friends. Not everyone knows the lyrics to every Christmas song, and it will make those who don't know them well feel much more comfortable singing for others.
3. Know your caroling route
Map out where you will be caroling ahead of time.
You may just want to do a specific neighborhood, which is easiest, or you may want to hit particular people, which will take a bit more planning. If you will be Christmas caroling outdoors, plan a circular route that will lead you right back to the start of the party—that way you can be singing all the way.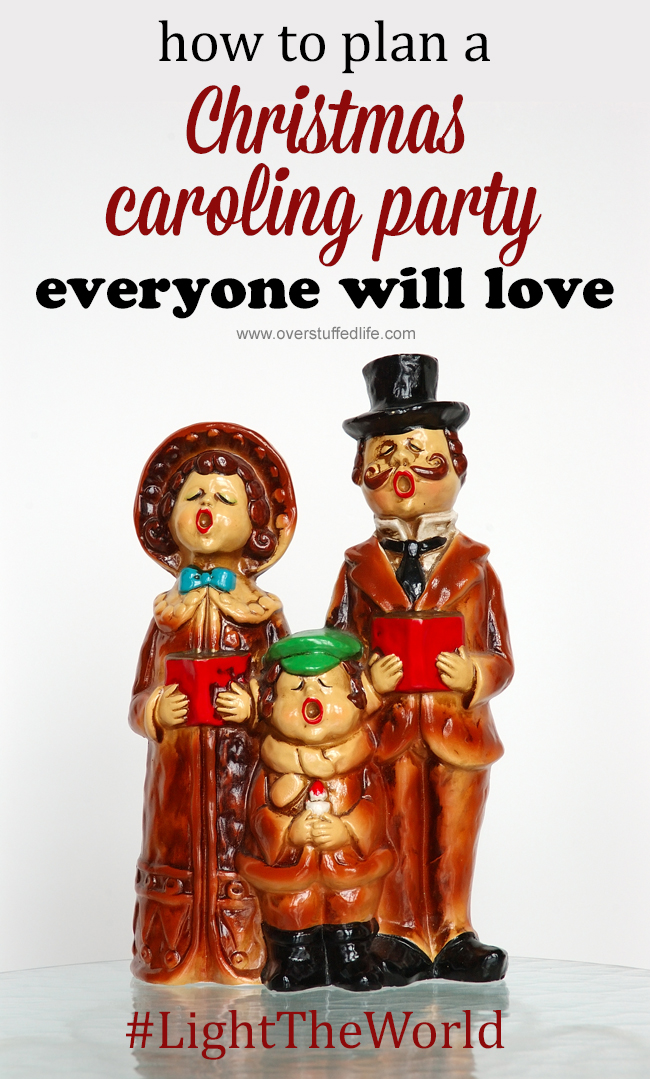 You could also plan to go caroling in a nursing home, retirement community, or hospital.
People who are in those situations for the holidays are especially joyous recipients of Christmas carolers. Just make sure you have permission from the administration before you go.
4. Practice beforehand
Part of your Christmas Caroling Party should include practicing together before the real thing.
Gather around the piano (or just the Christmas tree) and make sure everyone is comfortable singing the music you have chosen. Since you'll be singing A Cappella, be sure to assign someone with a good ear the job of giving the starting pitch at each house. (Or you can purchase a pitch pipe.)
5. Dress appropriately
This depends on the weather where you are, of course.
Christmas caroling in California is going to look a lot different than Christmas caroling in Michigan (where I live)! But not only is dressing for the weather important, so is dressing for the event. Remind your guests to look festive!
One easy way to look festive is to simply wear Santa hats. You could even provide them for your guests for very little cost. Click the links below to see a few good options:
6. Give non-singers a job
Some people hate singing, so Christmas caroling might not be their favorite thing. Help them feel part of the group by giving them a job like ringing jingle bells or passing out candy canes.
The best part of Christmas caroling is watching the reactions of the people who open their doors to you. You don't need to be singing in order to have your heart grow three sizes because you're spreading Christmas cheer—jingle bell playing loud for all to hear is just as good as singing.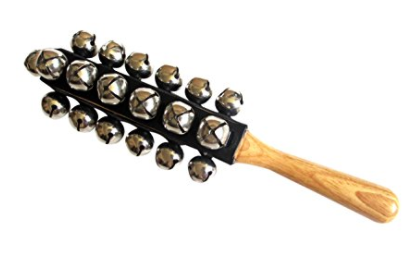 Get jingle bells here:
7. Provide something to light your way
You can't light the world with Christmas carols if you have no light! Bring glowsticks or flashlights or lanterns in order to see where you are going.
These cute mini-lanterns coupled with some battery powered tea lights would be perfect for Christmas caroling. A little throwback to Dickens, right?
8. Have a small gift ready to give
You will already be giving the gift of music, but it's nice to give a little treat, too.
When I caroled with my family each Christmas Eve, we would also give out a bottle of Martinelli's Sparkling Cider to each home. You could do something as simple as candy canes, or request that each of your guests bring a couple plates of cookies to hand out.
9. Warm up after caroling
Invite your guests back to your home to warm up after caroling. Light a nice fire in your fireplace if you have one and have hot cocoa or wassail ready to serve.
I particularly love the idea of serving wassail since the word has two meanings:
1. A hot spiced cider drink usually drunk around Christmas time.
2. To go from house to house singing Christmas carols
"Here we go a wassailing among the leaves so green…"
Here is a great wassail recipe to use: Taste of Home Cider Wassail
There's something for everyone in this Christmas Caroling Party and it will definitely be a hit with your friends and family. Watch out, though, because it might also become a tradition—especially if your kids have anything to say about it!
Check out this post for cute caroling printables and recipes: Christmas Caroling Activity
Want to learn more about the #LightTheWorld Christmas campaign?
Click here to download the Light the World advent calendar: 25 Ways in 25 Days
This post may contain affiliate links, for more information, please see my disclosure.
Download the Christmas Caroling Party Invitation now!
Enter your email address and receive the printable right to your email inbox.