Alaskan Cruise on Holland America: Boarding and First Day
Let me preface all cruise-talk by telling you that my husband has always been completely against cruises. Whenever I would mention that I thought it would be a fun thing to do, he would shoot it down. If any of our friends ever went on a cruise, he would tell me how stupid a vacation that would be and that he would never go. Ever. End of discussion. He really can be so stubborn sometimes.
Well, a few months ago my mom called me and told me that she and my dad were planning on going on an Alaskan cruise and she had found a really great deal and would we like to join her? Of course, I was all for it, but I was a little worried about what my husband would say, considering his anti-cruise platform. He was out of town at the time, but I called him and mentioned it to him. If it had been anywhere but Alaska, I'm pretty sure he would have said no way, but since he's always wanted to see Alaska, this seemed like a pretty good way to do it.
We were planning a big trip of some sort this year since we'll be celebrating our tenth wedding anniversary in June and this was the right price. I realize some people might think it's weird to spend an anniversary trip with one's parents, but my parents are super fun and we loved every minute of being with them.
I don't know that we would have gone had we realized we would be moving across the country shortly after we returned, but I'm really glad we did it, even if the money might have been more practically used for moving expenses. It was wonderful, and guess who has been converted to cruising? That's right. My husband has actually spent a few hours on the internet since we've been home researching different cruise lines and places to go. So, I again have hope that I will be able to go on cruises in my life.
Anyway, moving on with the actual cruise. On May 31, we flew up to Seattle and went straight to the dock and boarded the M/S Westerdam (Holland America Line). We boarded fairly early, so we had a lot of time to explore the ship, eat the best hamburger I've ever had in my life, and relax on the Lido deck while we waited for our rooms to be ready.
I didn't take a ton of pictures on that first day. Just a few of Seattle as the ship started leaving the dock. I have a thing for skylines. I love them. And who can resist something so glorious as Mt. Rainier?
Once our rooms were ready, we spent some time unpacking and doing more ship exploring. I checked out a book from the ship's library and read on the deck until dinner. Our dinners were in the Vista Dining Room and our table was right by the window with a beautiful view of the ocean (obviously). I ordered salmon, and in case you were wondering, it was quite good.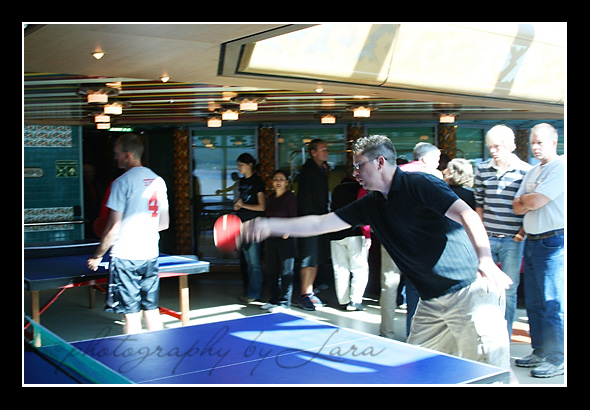 After dinner, my mom and I went to the spa and got ourselves some facials, after which we just hung out with my husband and my dad. My husband was in heaven as soon as he found the ping-pong tables, so naturally, that's what he spent most of his time doing.
That, and eating ice-cream.