Sophia's Very Fancy Birthday Party
(Three Months Late!)
Bria's 11th birthday is Thursday. It has completely snuck up on me, and the proof is that I never even posted about Sophia's awesome birthday party. Which happened on her birthday. In JULY.
In case you weren't aware, last October I made a resolve to be the most awesome birthday party mom for the following year. In so doing Bria had this very scary birthday party, and Chloe had her adorable tea party. Sophia also got an awesome party, and I will post about it now, but not before I tell you that Bria is not getting a super awesome party this week. I think the awesome party mom got tired and maybe she'll be ready to come out again after she rests for a year. And it's not like the parties I threw were all THAT awesome, as I've seen much more awesome parties both in real life and in blogland (which I know is somebody's real life, but anyway…my sub-par awesomeness is going to have to take it easy for a bit).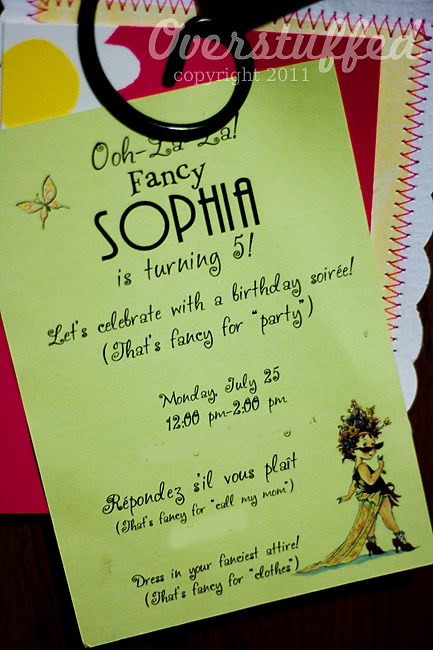 Sophia really loves Fancy Nancy. Heck, she practically IS Fancy Nancy. She insists upon wearing a dress to school nearly every day, and I have to convince her to wear pants or shorts on gym day. She loves fancy jewelry, make-up, clothes, and also soccer. She is so very girly, but also kind of tomboyish.
But her birthday party totally capitalized on her girlishness.
All of her guests arrived decked out rather fancily, and we set upon making cute little door hangers. Because a "do not disturb" sign is something Fancy Nancy would totally love. And she probably even knows the fancy name for "door hanger" but I don't, sorry.
About five minutes later, they were done with that and moved on to the next thing. (Why are five-year-olds so dang quick to be finished with activities at birthday parties?)(Being a Kindergarten or preschool teacher must be very fast-paced!)
The next thing was…..
…getting makeovers from Bria!
She painted their nails whatever color they chose (I think blue was most popular), and put eyeshadow and mascara and lip-gloss on each of our fancy guests.
Then they walked the red carpet and posed for the camera. Aren't they cute? And I don't know why Chloe didn't participate. Actually, I do. She was probably still working on her door-hanger. When art is involved, she is quite focused.
We played a few more fancy games, like learning some fancy words for things and dancing to fancy music (this was after musical chairs failed miserably) and then it was time to eat. I have no pictures of most of this because keeping up with a bunch of fancy five-year-old girls is quite the job by itself, and adding photographer to the mix was too much. Sigh.
We started with parfaits. Which is, of course, the fancy word for ice cream.
After the parfaits, we needed to open presents for a while to let that digest so we would have some room for the not-so-very-fancy cake.
Sophia was thrilled with all of her fancy gifts.
And then we were ready for cake.
I told you it wasn't very fancy. But it did taste good.
After cake, we sent the girls home with their treat bags. I made them out of some fabric and ribbon and they were filled with all sorts of fancy goodness: necklaces, bracelets, rings, lipgloss, and so forth.
And then I had an official five-year-old. And I have loved every minute of her five-ishness so far.
Happy Birthday (three months ago), Sophia!