Simple Fancy Nancy Birthday Party Ideas
Fun ideas for throwing a simple Fancy Nancy themed birthday party that are super easy to execute (fancy for "do")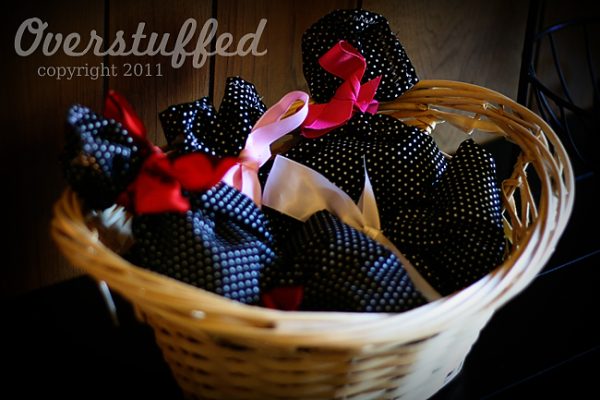 When my youngest daughter turned 5 we threw her a Fancy Nancy birthday party. At the time, she was really obsessed with the Fancy Nancy books by Jane O'Connor. Heck, she practically WAS Fancy Nancy! She insisted on wearing a dress to school nearly every day. She loved fancy jewelry, make-up, clothes, and also soccer. She was extremely girly, but also kind of a tomboy, and the birthday girl wanted to celebrate with a fancy party to capitalize on her girlishness.
(At the very end of this post you will find a list of links to all of the supplies I used to throw this party. Enjoy!)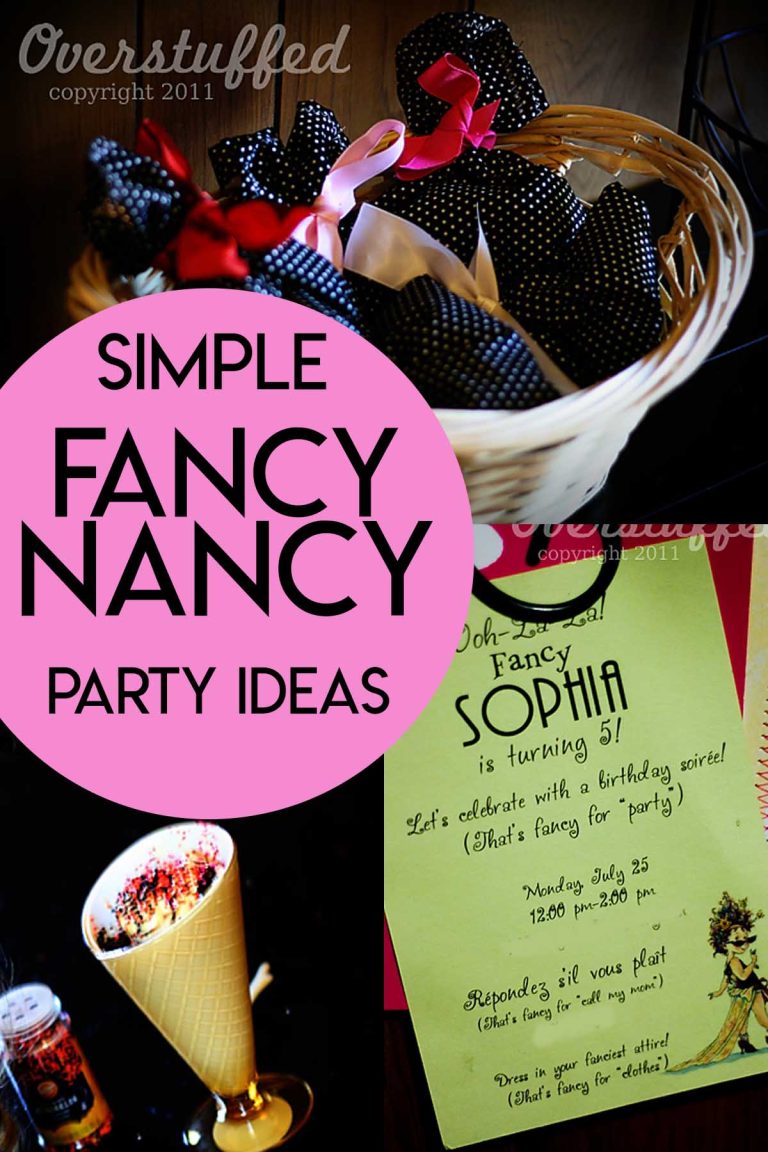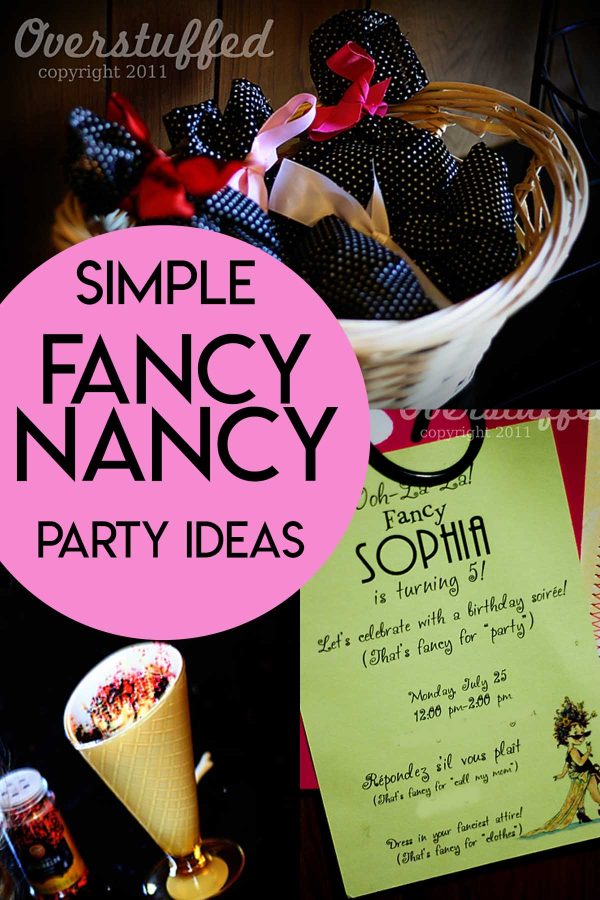 How to throw a Fancy Nancy Birthday Party
Fancy Nancy Birthday Invitations
For the invitations, I just typed them up on my computer myself using a font that looked like the Fancy Nancy script. Be sure to use Nancy's favorite fancy words like "Ooh-la-la!" I found and used clipart of a butterfly (Nancy loves butterfly wings) and Fancy Nancy herself to include.
Here is the text for the Fancy Nancy themed party invites (see photo of our invitation below):
Ooh-la-la! Fancy child's name is turning age!
Let's celebrate with a birthday soirée!
(That's fancy for "party")
Date/Time/Address
Répondez s'il vous plaît
(That's fancy for "call my mom")
Phone number
Dress in your fanciest attire!
(That's fancy for "clothes")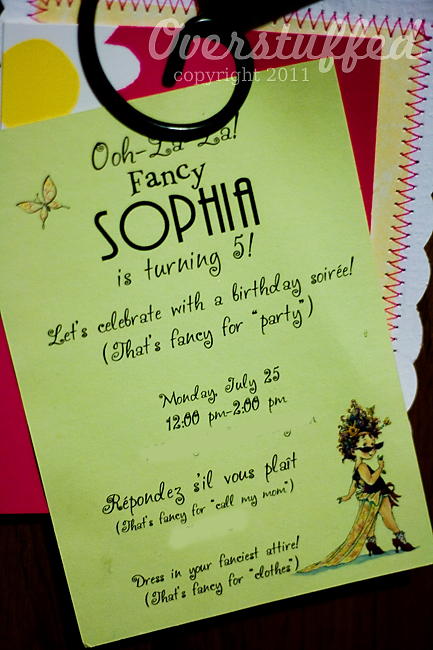 Fancy Nancy Decorations
We kept the decorations to a minimum because I wanted to keep the party as simple as possible (which is kind of funny considering it's supposed to be a fancy party!). If you'd like to see some super fancy Fancy Nancy party decor, click to see some lovely ideas from Scarlett at Made It, Ate It, Loved It: Fancy Nancy Party Ideas
I used a piece of floral fabric for the tablecloth and put up some pink and purple balloons. Fabric is a great trick for a themed tablecloth—see how we used it for a Cheetah birthday party, too!
For the fancy fashion show we fashioned our own red carpet out of a couple of red blankets we had on hand. You could buy an inexpensive red carpet runner instead.
​You can find a variety of fancy things around your house to put on the food table as decorations at your own party. The possibilities for easy decorations are endless! Things like Eiffel towers, frilly toothpicks, cake stands, and tea cups are perfect for this party. Take a look around your house and if you see something that could be called a "fancy item" then figure out how to use it! Otherwise, check your party supply store or the dollar store for ideas.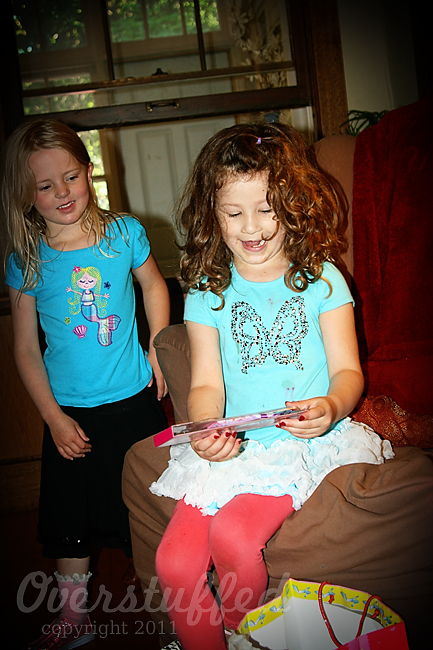 ​I have added a list of links at the end of this post to everything I used, plus a few extra, inexpensive ideas.
Fun Activities for Your Fancy Nancy Party
Make door hangers
As the party guests began to arrive (in their fanciest ensembles), we started by making cute little door hangers. Because a "do not disturb" sign is something Fancy Nancy would totally love. She probably even knows the fancy name for "door hanger" but I don't, sorry.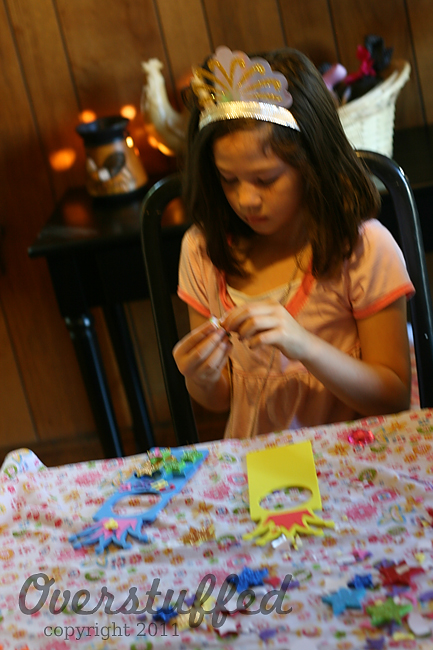 About five minutes later, they were done with that and moved on to the next thing. (Why are five-year-olds so dang quick to be finished with activities at birthday parties?)
Get a makeover
Doing face painting or some type of makeover is a great way to involve your older kids in the festivities (that's fancy for celebration). My oldest daughter (10 years old at the time) painted their nails and put eyeshadow, mascara, and lip gloss on each of our fancy guests. Surprisingly, blue was the most popular color choice even though Nancy's favorite color is fuchsia (fancy for purple).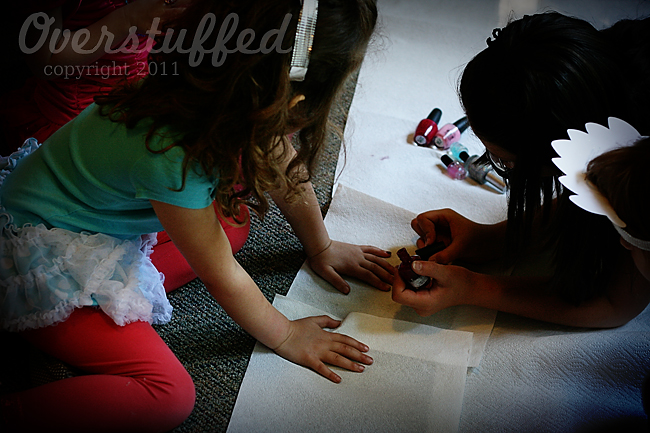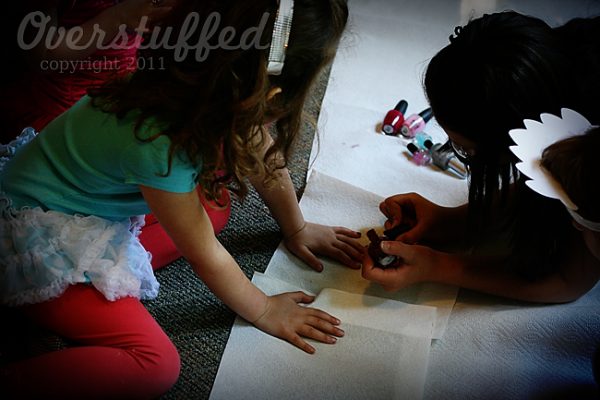 Have a fashion show
After getting the girls all fancy with pretty make-up and nails they walked the red carpet and posed for the camera. They were all so cute! Here are photos of my oldest and the birthday girl. My middle daughter was still too busy working on her fancy door-hanger to participate in most of the rest of the party. We provided feather boas and paper tiaras for everyone.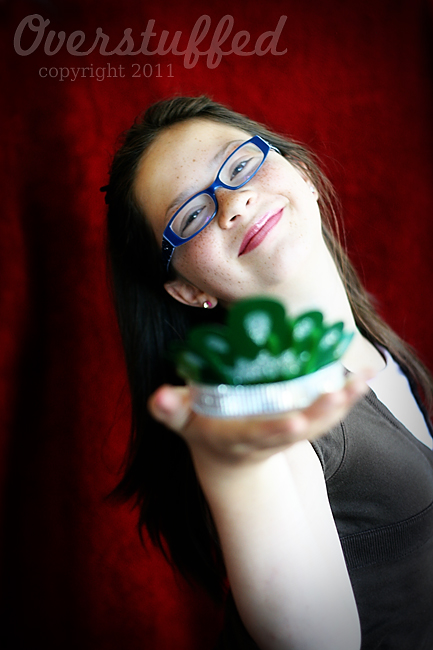 You'll notice my daughter chose a dress that had a frilly pettiskirt and a bejeweled butterfly—what could be more Fancy Nancy than that?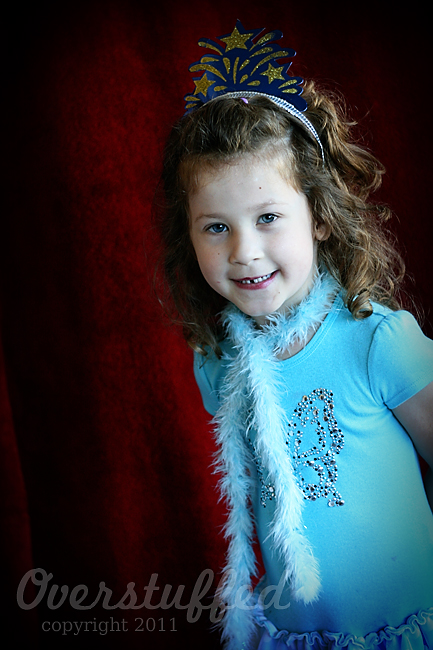 Dance to fancy music
We tried doing musical chairs to classical music, but sometimes it's easier to just let the 5-year-olds have their own fun and musical chairs was not working. So the girls just practiced doing fancy dance moves to fancy music. Try turning your Spotify to a "classical favorites" channel and let them go to town!
Learn fancy words
Choose a few common words and teach them their fancy counterparts. By this time in the party, their attention wasn't great but they had fun repeating some new vocabulary. You can make this into a game where each party guest receives a prize when they guess or say the right fancy word correctly. You could also print them out and do a matching game if your party guests know how to read. Since I was dealing with little girls not quite in Kindergarten yet, we opted to just practice saying them.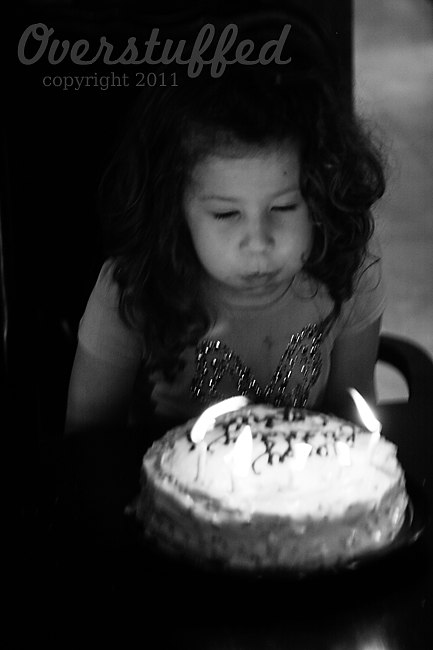 Fancy vs. plain word pairing ideas that the guests might use at the birthday party:
pretty/gorgeous
thank you/merci
yummy/delicious
wonderful/stupendous
purple/fuchsia
pink/rose
party/soiree
amazing/fabulous
snack/refreshment
cake/confection
ice cream sundae/parfait
crown/tiara
clothes/attire
I have no pictures of most of the activities because keeping up with a bunch of fancy five-year-old girls is quite the job by itself, and adding photographer to the mix was too much.
There are many other fun printable Fancy Nancy activities available on the Fancy Nancy website.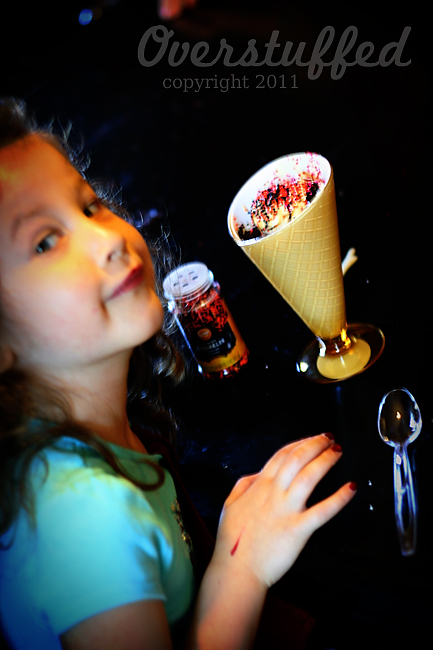 Fancy Food Ideas
Ice Cream Parfaits (fancy for "sundae")
I already had some cute melamine ice cream sundae cups, so we used those for our ice cream parfaits. The girls decorated their ice cream with various sprinkles and syrups and had a great time doing that. And eating it, of course.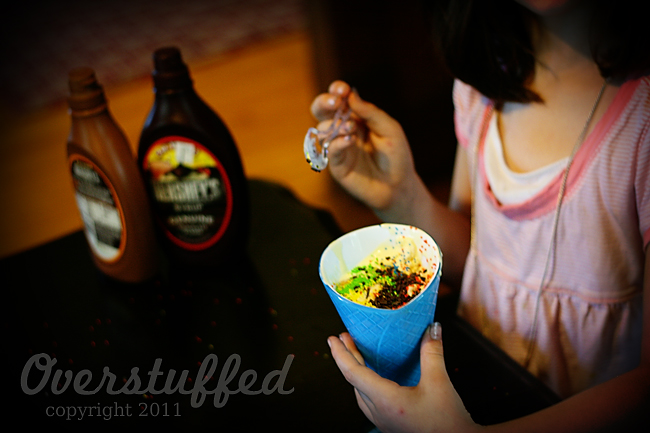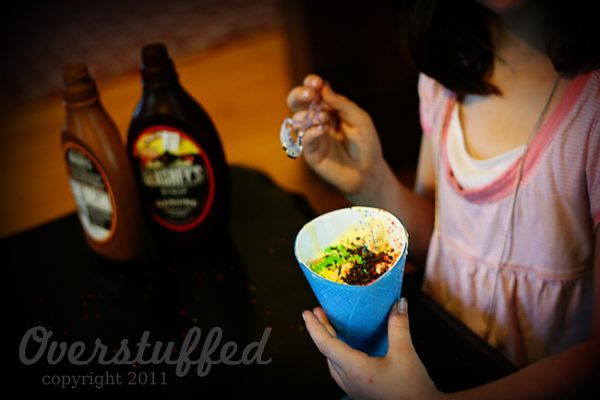 Fancy Finger Foods
We did not do any food other than ice cream and cake, but if you want to have more food available, I suggest making some fancy finger foods that kids might enjoy like cucumber sandwiches, cheese and crackers, and a fruit tray.
Fancy Birthday Cake
My daughter's cake was not very fancy. I was trying to keep this party as simple as possible, and all that mattered to her was that there was cake. If you would like to see some stupendous (fancy for "wonderful") Fancy Nancy birthday cake ideas, click over to Coolest Birthday Cakes: Fancy Nancy Cake ideas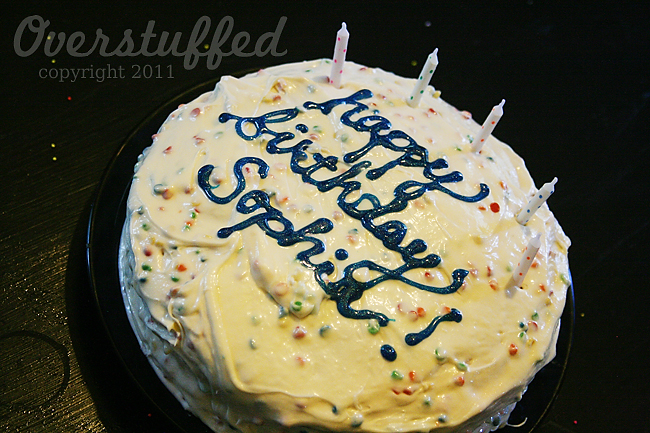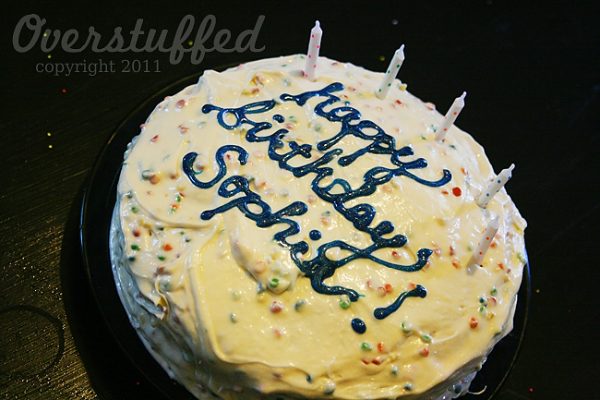 ​I told you it wasn't very fancy. But it did taste good.
Fancy Nancy Party Favors
Fancy treat bags
I made the treat bags out of some black polka-dotted fabric that reminded me of Paris and some pink ribbon and then filled them with all sorts of fancy goodness.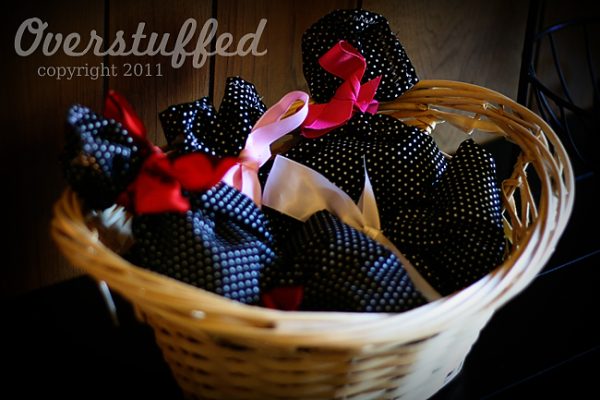 Fancy party favors
You can find all sorts of cute fancy items that little girls will love at the dollar store. Our favor bags were filled with necklaces, bracelets, rings, lip gloss, and nail polish. Other ideas include fans (Fancy Nancy loves to carry a little fan!), mini Eiffel tower keychains, lip balm, sunglasses, or mini body sprays that smell fancy. You could also give them each a Fancy Nancy book! Anything that encourages kids to read is a win!
The guests at our fancy party also got to take home their pink boas and tiaras.
Fancy Nancy Party Supplies
Here is a list with links to all of the supplies we used, plus a few more ideas!
Related: 8 Ways to Make Your Child's Birthday Special
This post may contain affiliate links, for more information, please see my disclosure.