Super Simple Cheetah Birthday Party Ideas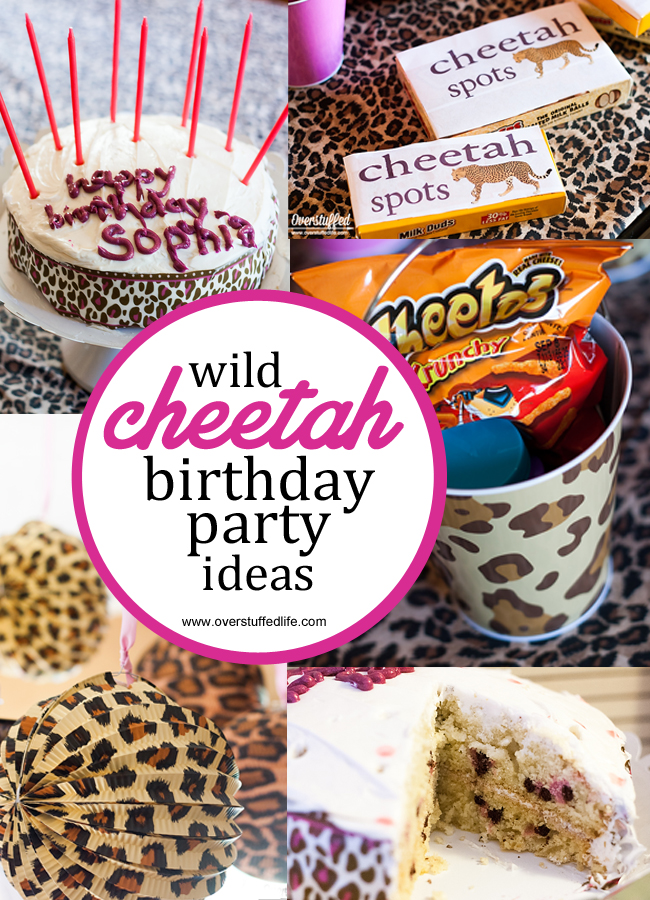 Everything you need to throw a cheetah-themed birthday party — easy ideas for decorations, favors, activities, and more!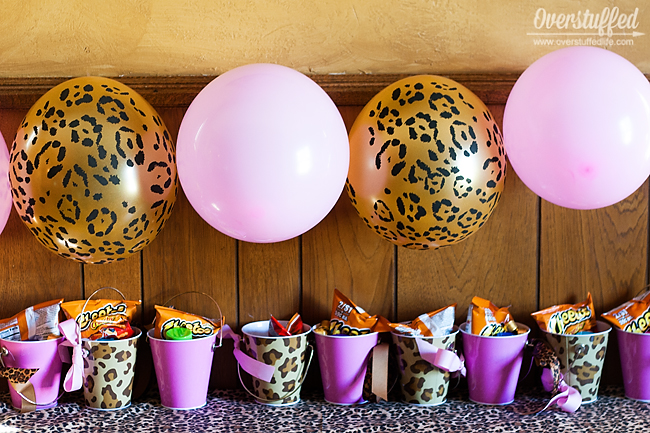 Today my cheetah-obsessed daughter turned 9 years old. It pretty much goes without saying that we threw her a cheetah themed birthday party! I am not a big fan of throwing super intricate birthday parties. I was an awesome birthday party mom for one year a few years ago, and ever since then, I have been pretty low-key. The great thing about the cheetah party I threw today is that it looks like I spent a ton of time on it, but I didn't (insert evil laugh here)! With the help of online shopping, my older girls, and a few easy ideas, my daughter had an amazing cheetah themed birthday party with minimal effort on my part. Just the kind of birthday party I like.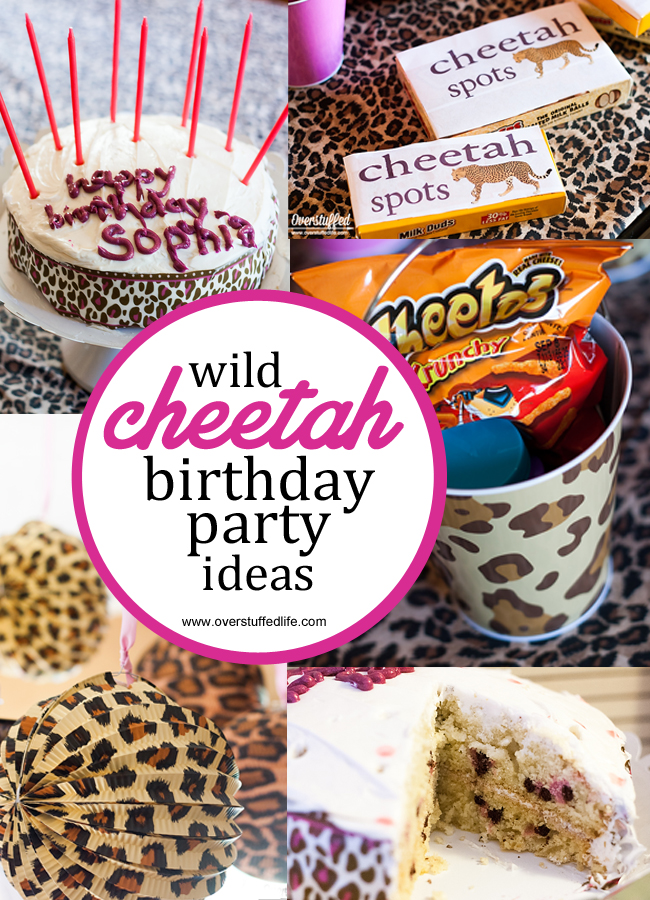 (At the very end of the post you will find links to all of the supplies I used and downloads to the things I created myself. Enjoy!)
Cheetah Birthday Party Invitation
I whipped up this cute cheetah print birthday invite in Photoshop and printed it out on white card stock.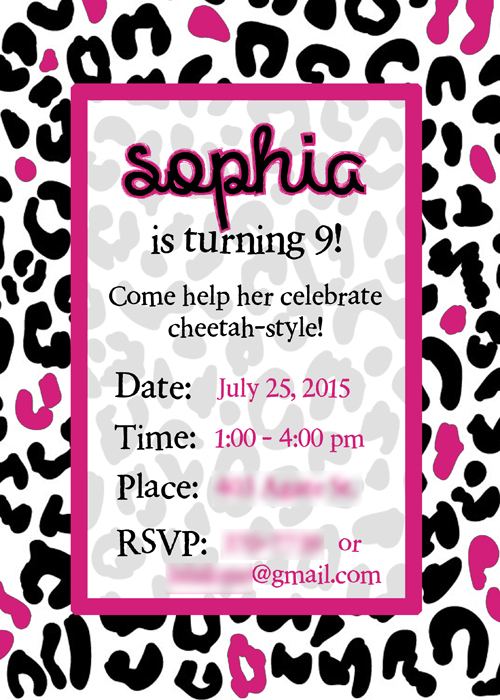 I have a blank cheetah birthday invitation template available for free. You can print them out and handwrite your birthday party details on them, or add the information on a computer. Super easy!
You can download the invitation template by adding your email into the form at the end of this post. The file will then be sent directly to your email.
Cheetah Birthday Party Decorations
I do not like to decorate more than one room for birthday parties, even if we will be using more than one room. Too much work! I usually stick to decorating the dining room only, and that's exactly what I did today.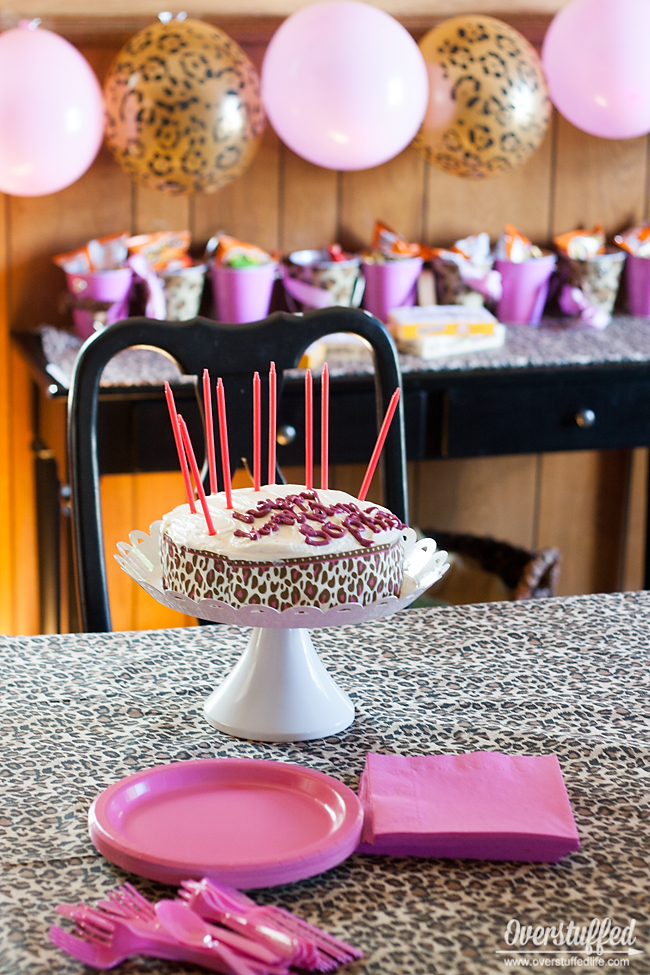 Cheetah Tablecloth:
I used some cheetah printed fabric (or maybe it's actually leopard print—either way, my kid likes it all) for a tablecloth. I purchased about 2.5 yards from the fabric store. I chose the cheapest cheetah print they had, so it wasn't very much money. Now I'll wash it up and use it to make something or the other for my daughter.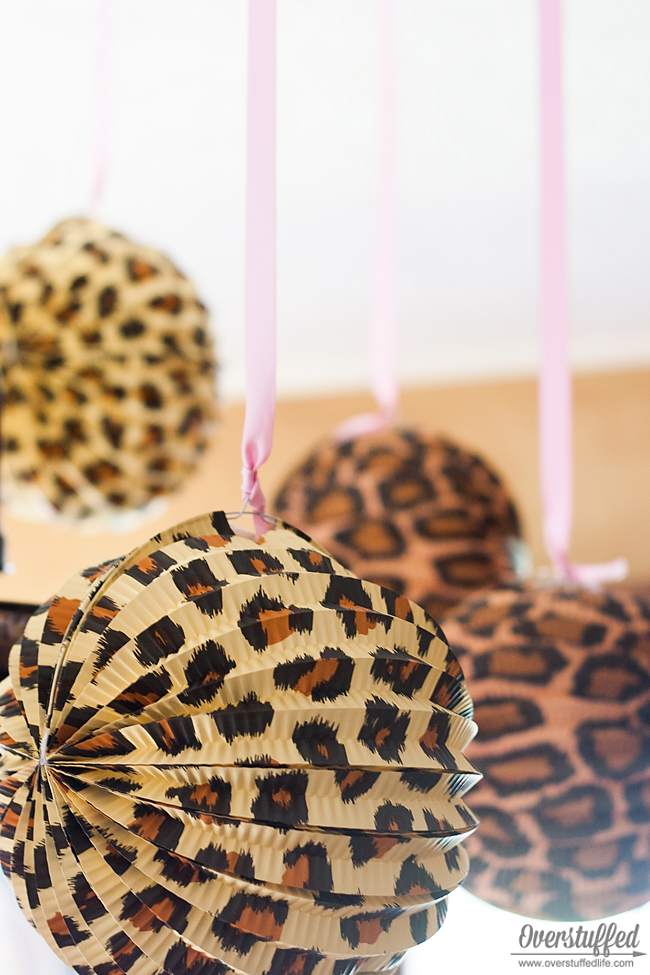 Cheetah Decorative lanterns:
These cheetah and leopard printed paper lanterns from Amazon turned out really cute and festive! (The package also includes giraffe and tiger lanterns in case you throw a safari party or something.) I can't actually tell the difference between the cheetah and the leopard, but they looked nice together and were very festive! They didn't come with anything to hang them with, so I threaded pink grosgrain ribbon through them and taped them to the ceiling.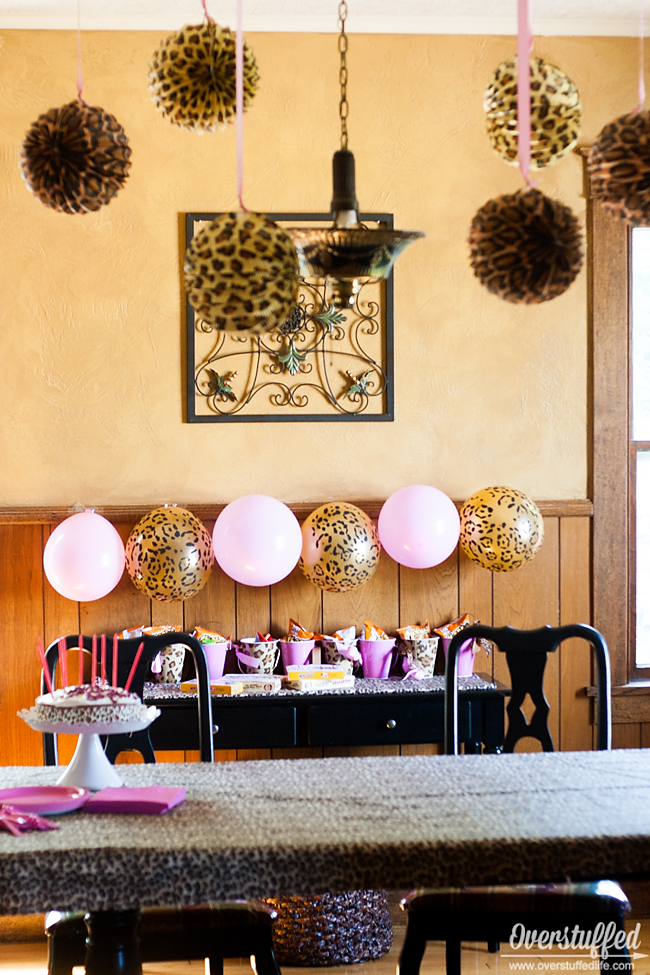 Cheetah Balloons
The only other decorations I used were good old-fashioned balloons. I couldn't find any cheetah printed balloons locally, so I also ordered those from Amazon. Turns out they are leopard balloons. I also used plain pink balloons to match the pink and cheetah theme we went with.
Cheetah Birthday Party Favors
We found some cute little metal pails at Walmart in the party supply section. They had them in several colors and patterns, including animal prints. We bought both cheetah/leopard print and pink ones. We decorated the pink ones with some cheetah ribbon and added pink ribbon to the cheetah pails.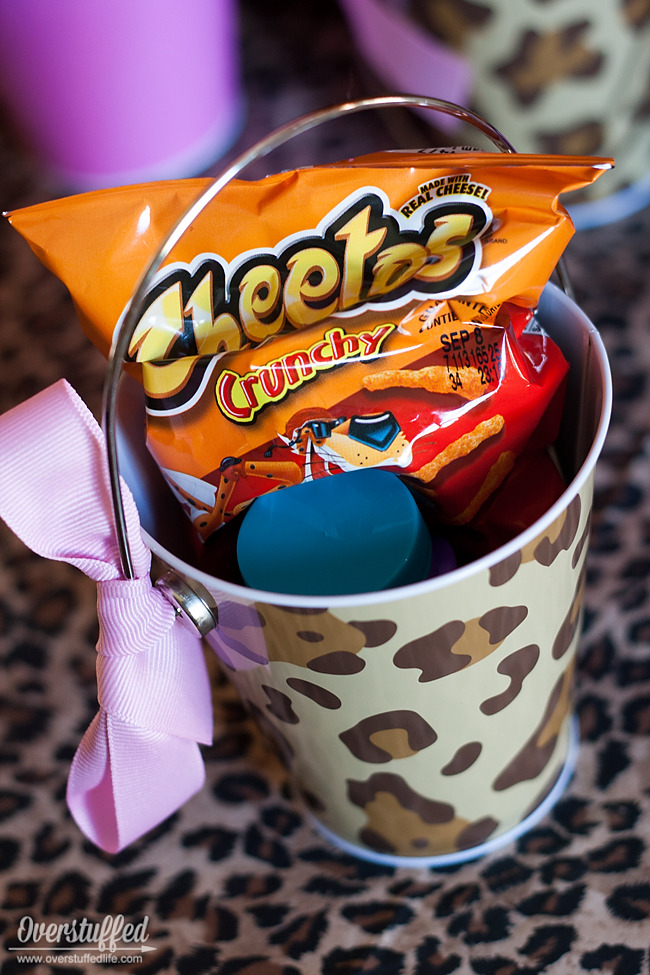 We filled the pails with Cheetos, bubbles, a handful of Rolos (because they look like cheetah spots!), and some cheetah heart stickers.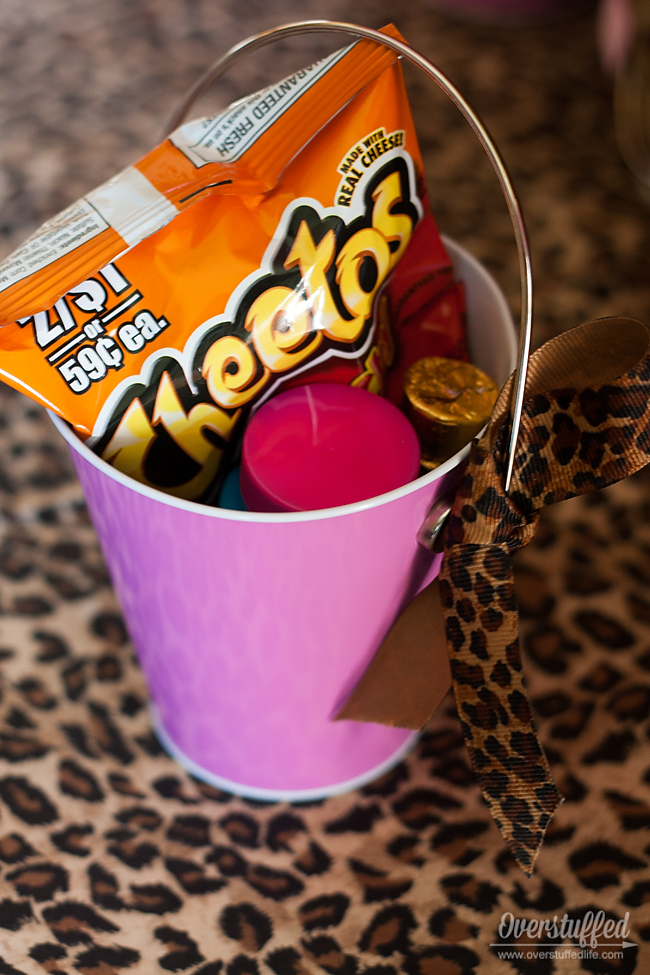 The nice thing about using the sturdy pails for party favors is that they also served as decorations until the end of the party. I love it when things do double duty!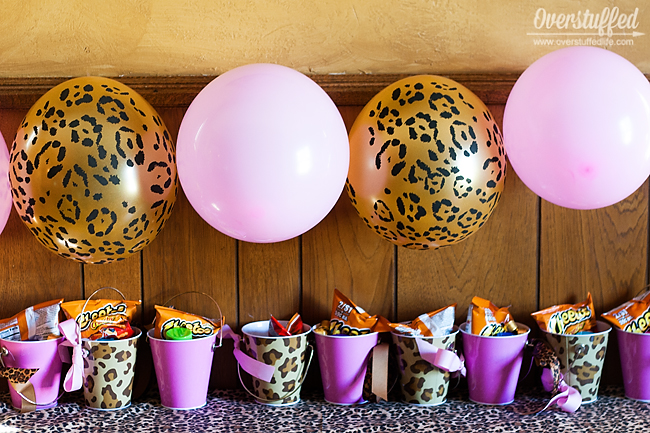 For game prizes, I bought big packages of Milk Duds and Whoppers (Whoppers are not gluten-free, but Milk Duds are) and re-labeled them "Cheetah spots." You can download them at the bottom of this post. They were a big hit!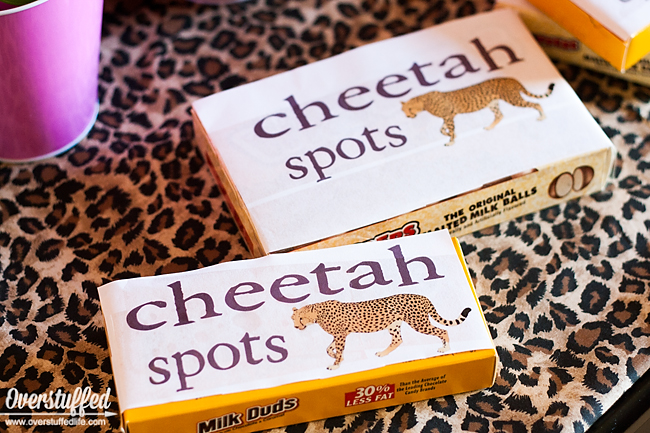 Just print them out on plain paper, cut them to size, and tape them on with packing tape. Totally easy!
Cheetah Birthday Party Games
Cheetah Friends get to know you game
The first game we played was "Cheetah Friends." This is our cheetah version of a familiar party game. I printed out animals the cheetah might be neighbors with and stuck one on the back of each girl attending the party. They then had to guess which animal they were by asking the other girls "yes" or "no" questions only.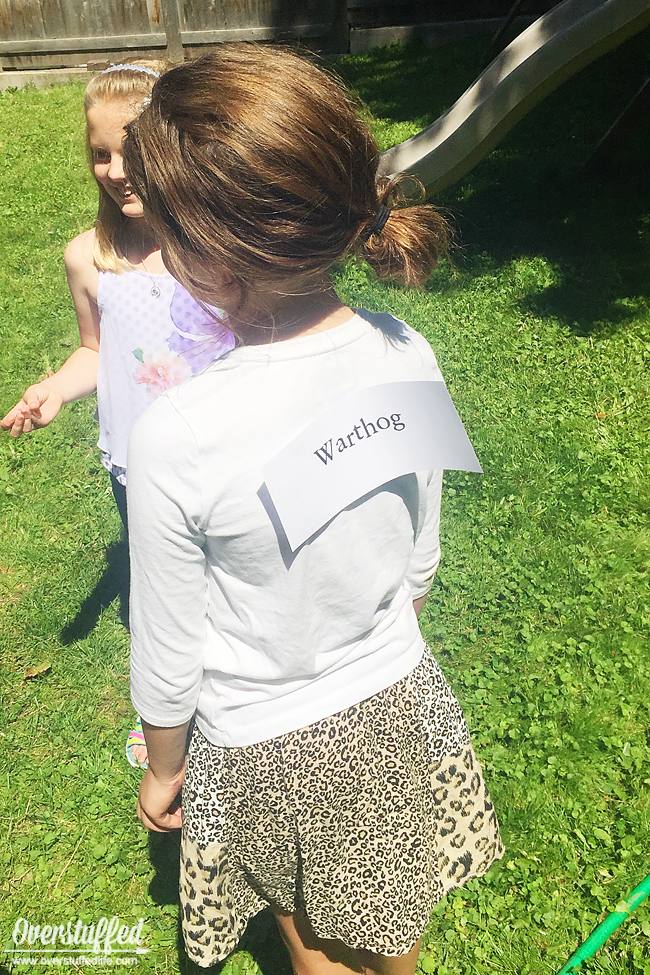 This is always a fun one to do first because sometimes the party guests don't all know each other very well. It's a good chance for them to learn each others names and break the ice by having to talk to one another.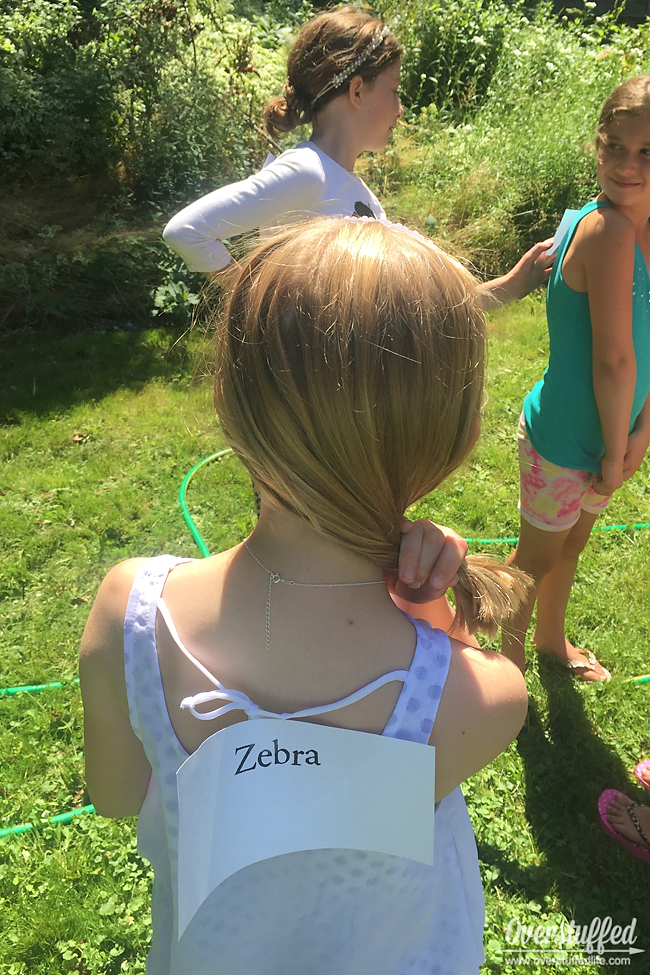 Feed the Cheetah party game
The next game we played was "Feed the Cheetah." My two older daughters spent part of the morning drawing some of the animals that cheetahs eat on some large foam sheets. If you don't have artistically talented teenagers, then you can just print out some clip art onto the foam sheets or some heavy duty paper.
We hung the foam animal drawings on the back fence with thumbtacks.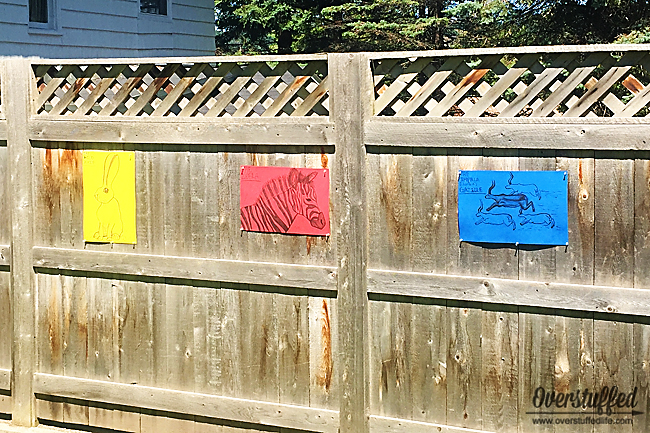 The girls then threw water balloons at their animal targets. Whoever hit the targets the most times won the game. My teenagers helped to keep score and everyone had a ton of fun with this.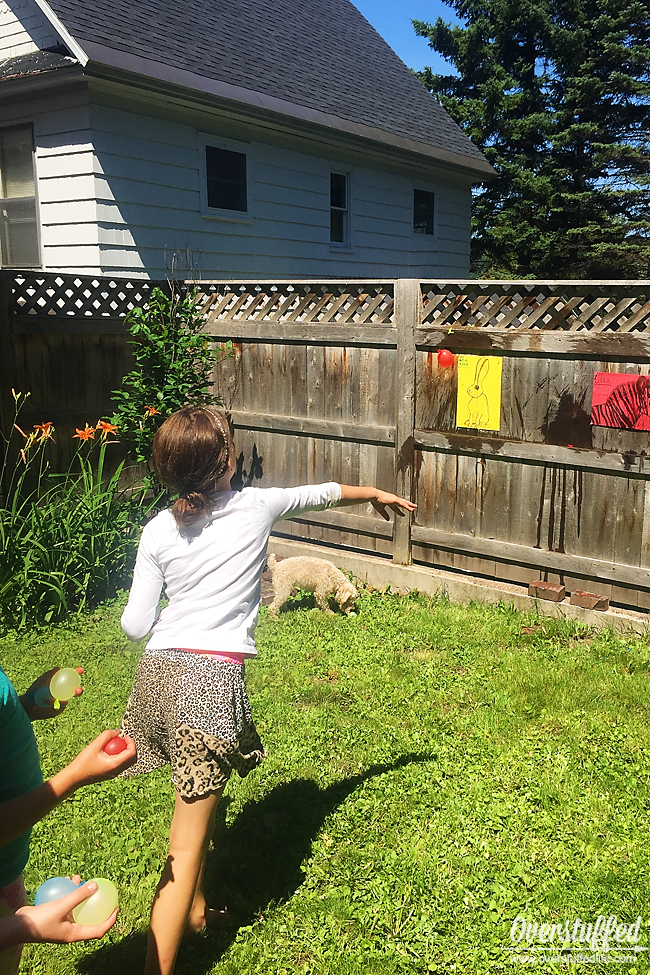 I used those new fancy water balloons that allow you to fill 40 at a time with the hose, so we had 120 water balloons total. The girls had an absolute blast with this game! (So did the dog—she was picking up the un-popped water balloons and stashing them away as fast as she could!)
Cheetah Races party activity
While we were still outside we also ran Cheetah Races. Since cheetahs run super fast, we timed each girl running three laps around the yard to find out who was the cheetah speed queen. I was too busy timing them to take photos, but they had a blast with this one!
Cheetah Balloon Scramble party game
Finally, we went back in the house and played another easy party game called "Cheetah Balloon Scramble" The idea is that each girl has to hold the cheetah stuffed animal (my daughter's idea) and then pick up as many of the balloons as she possibly can. It was great watching the different tactics each girl tried, and our winner managed to hold 13 balloons and the stuffed animal! Incredible!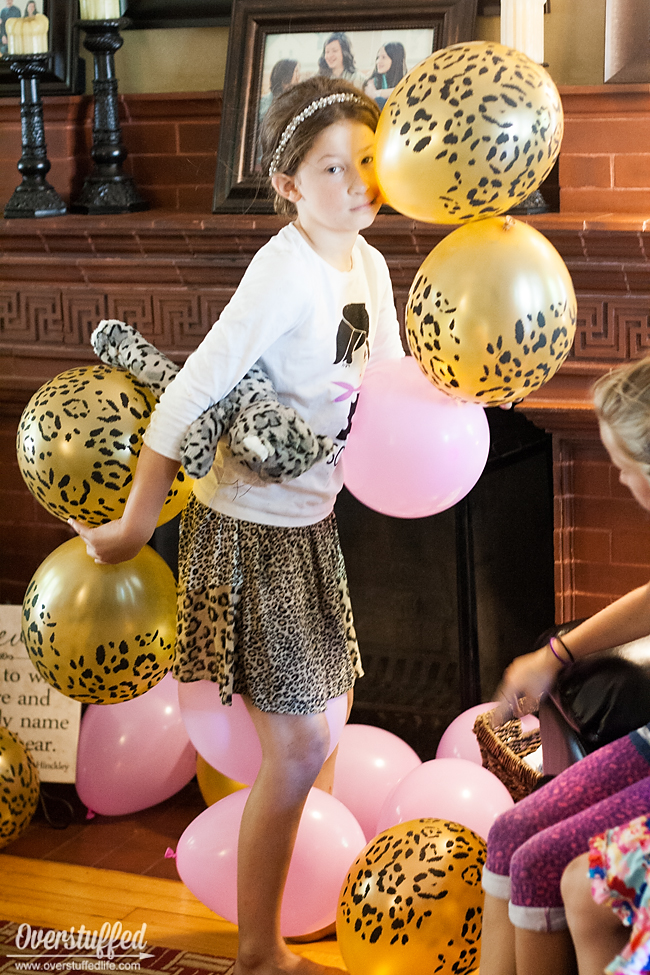 Cheetah Birthday Cake
I fully admit that I have not bothered to grow my talents in cake decorating. So the cakes I make for my girls' birthdays are generally pretty rudimentary. But my daughter really wanted a cheetah print cake this time, so I did what I could for her. I mean, see how stupid my writing is? Don't laugh, I don't have the proper tools, and I'm not willing to buy them for making three cakes a year.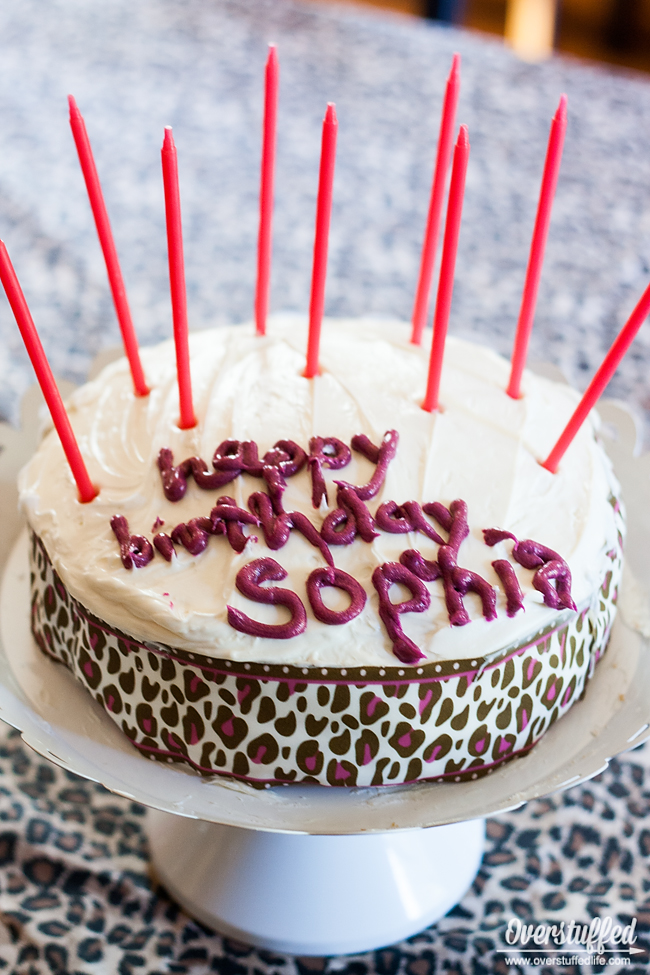 I found a video online which explains how to put cheetah spots inside the cake. While I wasn't as successful as the video was, I was pretty darn pleased with my results. You can see the video here: How to add cheetah spots inside a cake.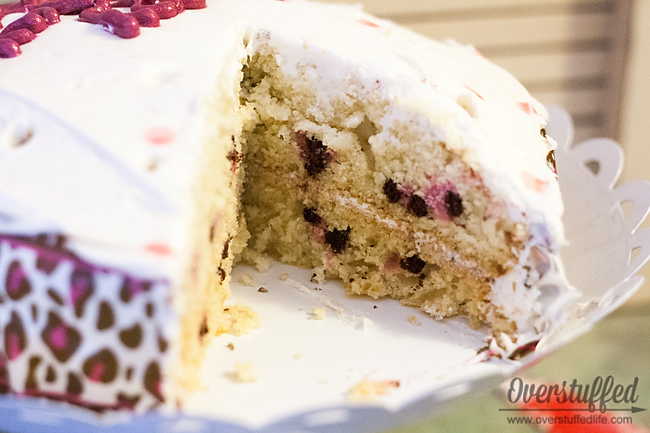 Look! That's cheetah print (sort of) inside that cake! I did dark brown and pink to match the rest of the party. I think that gluten-free batter cooks enough differently that the technique didn't work as well, but I am eager to try it again someday to see if I can make it a little better.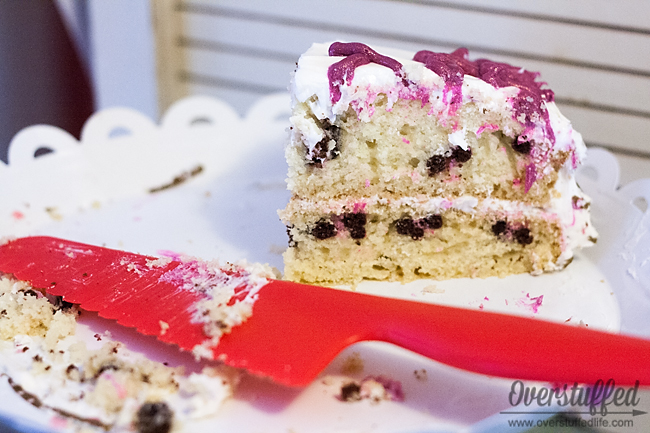 For the sides of the cake, I used this great cheetah print edible cake border. The same company also sells edible cake toppers in the same pattern, but I wanted to be able to write Happy Birthday on my cake. I probably should have gone with the cake topper, huh?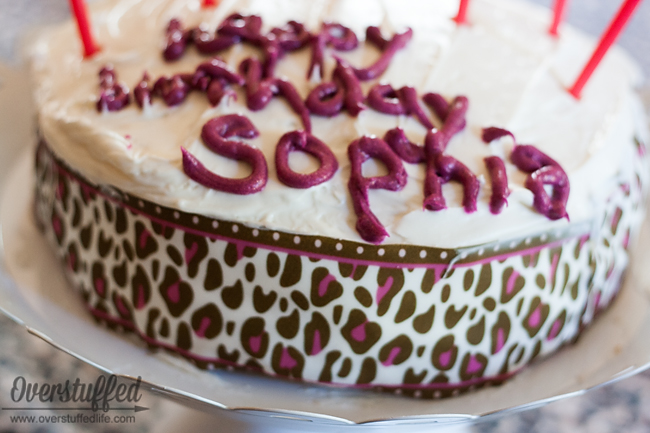 The border was pretty easy to put on, but my cakes are never very perfectly round, so there's that.
It doesn't matter though! My daughter loved every bit of this cheetah birthday party and that's what matters most. Everything was really simple and quick for me, and the end result was a fabulous party and a very happy birthday girl!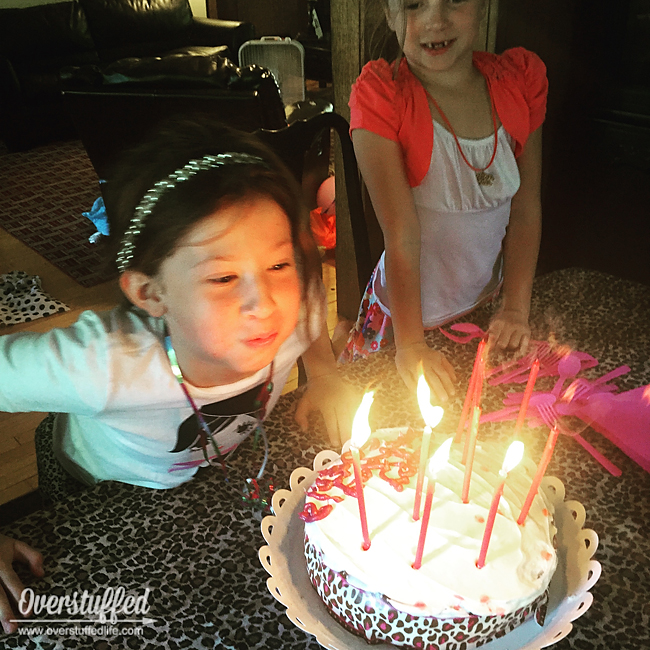 List of Cheetah Party Supplies with Links
Click on any item to purchase for your very own cheetah birthday party! (affiliate links)
Don't forget to download your cheetah invitation and cheetah spots at the bottom of the post!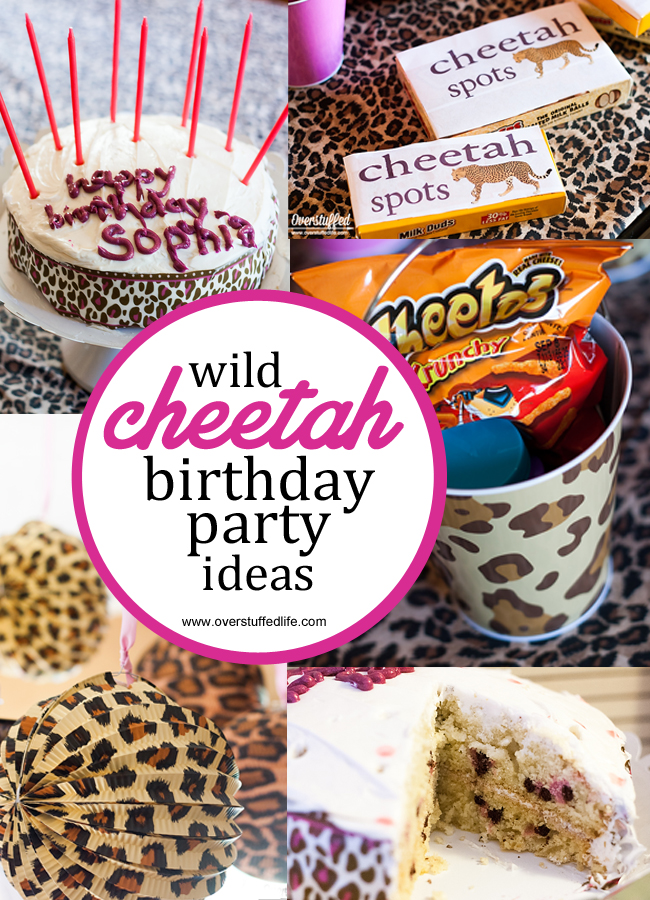 This post may contain affiliate links, for more information, please see my disclosure.