Springtime Lemon Cake: An Easy Cake Mix Recipe
One of my husband's favorite recipes is this easy lemon cake. It's super easy because you just have to doctor up a basic yellow cake mix, and it's really good, too. I need a good dose of springtime in my life, so we made this cake a couple weeks ago, and it was just the ticket. If I can't have sunshine outside, sunshine in my mouth is the next best thing!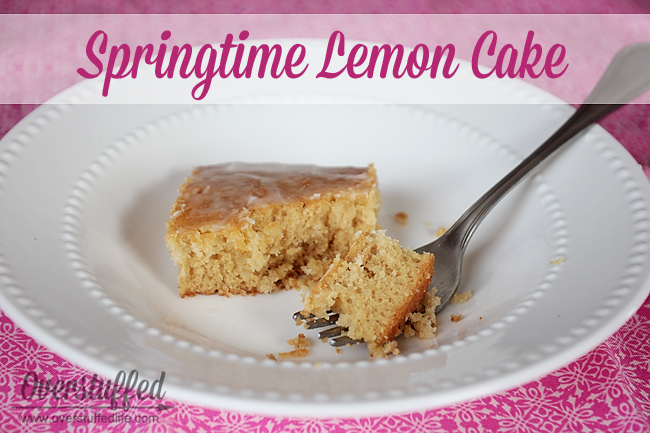 Since we are a gluten-free household, we started with a Hodgson Mill Gluten-free Yellow Cake Mix, but you can start with any yellow cake mix you like. The gluten-free cakes will be more dense, so if you use a normal cake mix, your cake will probably be much fluffier than what I have pictured.
Springtime Lemon Cake
Cake
Yellow cake mix (if you want an extra lemony taste you can also use a lemon cake mix)
3/4 Cup apricot nectar
4 eggs
3/4 Cup oil
2 tsp lemon extract
Mix all ingredients in a large bowl or KitchenAid type mixer. Pour into an ungreased 9×13 cake pan and bake at 300 degrees for 50-60 minutes
Glaze
Juice of 3 lemons
2 Cups powdered sugar
Mix lemon juice and powdered sugar in a medium mixing bowl.
When the cake has cooled for 10 minutes, use a fork to poke holes in it. Pour the lemon glaze all over the cake and let stand for 20-30 minutes while the glaze soaks in and the cake cools a bit.
Enjoy! It really is like a taste of springtime melting in your mouth!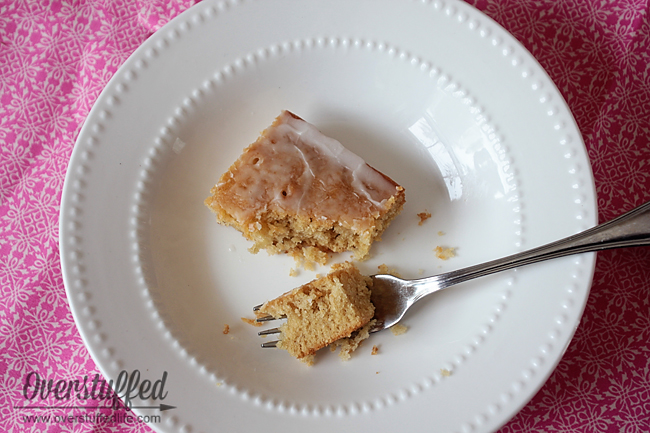 More Gluten-free Goodness on Overstuffed:
This post may contain affiliate links. For more information, please read my disclosure.