75+ Summer Reading Books for Kids Entering First Grade
An extensive summer reading list for kids going into first grade—print out this list and be ready for your summer library trips!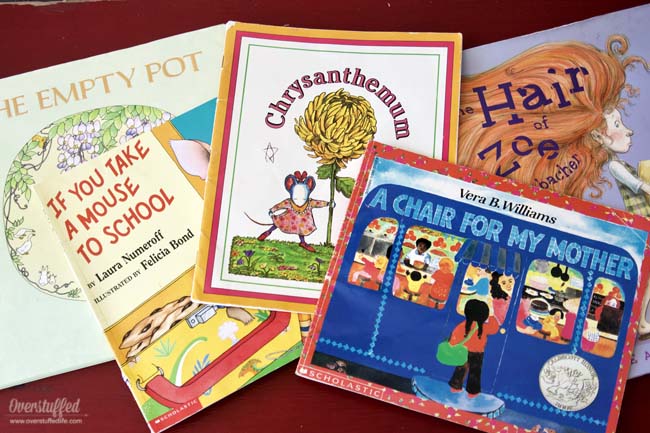 This post is part of an ongoing Summer Reading for Kids series. Click HERE to find ideas for reading activities, reading lists, and reading incentives…and keep checking back for more!
Summer reading is one of my very favorite things—and while I love a good read while sitting on the beach, that's not what I'm talking about. I'm passionate about making sure my kids read enough books in the summer to keep their reading skills fresh for the next school year.
New readers—like the kids that have just graduated from Kindergarten—are more at risk for the summer slide than older kids. It's super important that your rising first grader practices reading during the summer so that they don't fall behind before school even starts.
I've compiled a book list for first grade readers that contains books of all types—classics, newer books, funny books, historical books, serious books, etc. I am certain you'll be able to find plenty of books on this list that your first grader will love!
I also have a first grade reading list pdf available for download. Click here to print out the list and put it into your library bag so you and your first grader are ready for some wonderful summer reading!
Consider purchasing a few favorites every year. Having lots of reading material available in the home is so important to raise kids who love reading!
Summer Reading Book List for First Graders
(affiliate links: find more information by reading our privacy policy)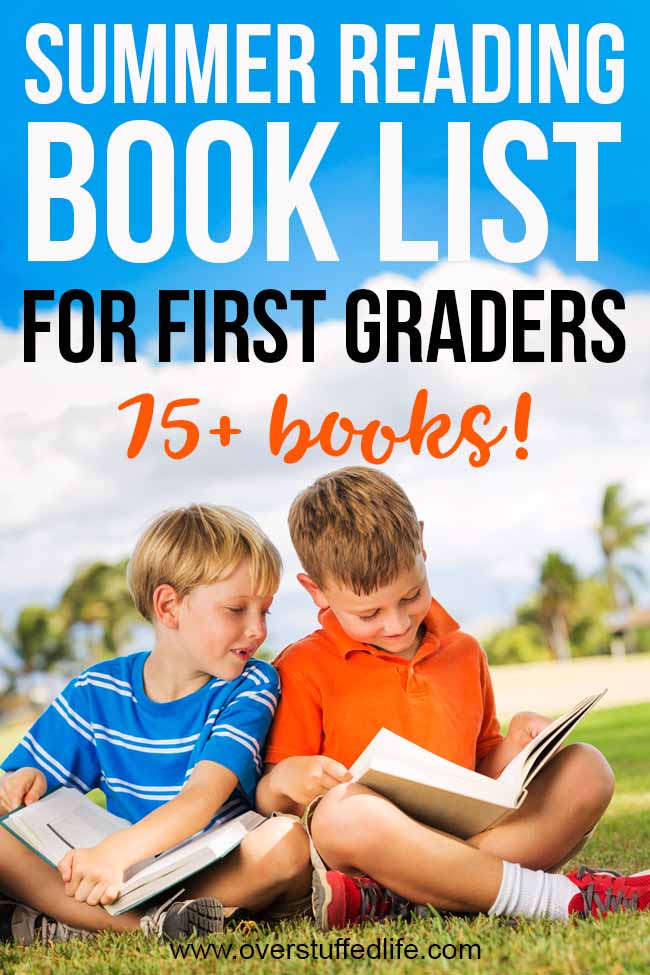 1. A Chair for My Mother by Vera B. Williams
2. A New Coat for Anna by Harriet Ziefert
3. Alexander and the Terrible, No Good, Very Bad Day by Judith Viorst
4. All in a Day by Cynthia Rylant
5. Annie Rose is My Little Sister by Shirley Hughes
6. Aunt Chip and the Great Triple Creek Dam Affair by Patricia Polacco
7. Bear Snores On by Karma Wilson
8. Bedtime for Frances by Russell Hoban
9. Big Bug Surprise by Julia Gran
10. Big Shark, Little Shark by Anna Membrino
11. Brown Bear, Brown Bear, What do You See by Eric Carle
12. Caps for Sale: A Tale of a Peddler, Some Monkeys, and Their Monkey Business by Esphyr Slobodkina
13. Chicka Chicka Boom Boom by Bill Martin Jr. and John Archambault
14. Chrysanthemum by Kevin Henkes
15. Diary of a Wombat by Jackie French
16. Diary of a Worm by Doreen Kronin
17. Dragons Love Tacos by Adam Rubin
18. Eating the Alphabet by Lois Ehlert
19. Edward and the Pirates by David McPhail
20. Emily's First 100 Days of School by Rosemary Wells
21. First Grade, Here I Come! by Nancy Carlson
22. Fix-it Duck by Jez Albrough
24. Franklin Rides a Bike by Paulette Bourgeois
25. Frog and Toad (series) by Arnold Lobel
26. Hair of Zoe Fleefenbacher Goes to School by Laurie Halse Anderson
27. Henry and Mudge (series) by Cynthia Rylant
29. Hot Hot Hot by Neal Layton
30. How to Clean a Hippopotamus by Robin Page
31. If You Give a Mouse a Cookie by Laura Joffe Numeroff
32. Is a Worry Worrying You by Ferida Wolff and Harriet May Savitz
34. Louella Mae, She's Run Away! by Karen Beaumont Alarcon
35. M is for Music by Kathleen Krull
36. Make Way for Ducklings by Robert McCloskey
37. Margaret and Margarita: Margarita y Margaret by Lynn Reiser
39. Molly Goes Shopping by Eva Eriksson
40. Mouse's First Summer by Lauren Thompson
42. Pete the Cat (series) by James Dean
44. Princess Posey and the First Grade Parade by Stephanie Green
45. Quick as a Cricket by Audrey Wood
46. Sally and the Some-Thing by George O'Connor
47. Sam and the Firefly by PD Eastman
48. Secret Pizza Party by Adam Rubin
50. Summertime in the Big Woods by Laura Ingalls Wilder
51. Superworm by Julia Donaldson
52. Sylvester and the Magic Pebble by William Steig
53. Ten Apples Up on Top! by Theodore LeSieg (Dr. Seuss)
54. The Apple Pie that Papa Baked by Lauren Thompson
55. The Book With a Hole by Herve Tullet
56. The Boy Who Loved Words by Ronnie Schotter
58. The Girl in the Castle Inside the Museum by Kate Bernheimer
59. The Hundred Dresses by Eleanor Estes
60. The Icky Bug Counting Book by Jerry Pallotta
61. The Listening Walk by Paul Showers
62. The New Girl…and Me by Jaqui Robbins
63. The Rainbow Fish by Marcus Pfister
64. The Relatives Came by Cynthia Rylant
65. The Retired Kid by John Agee
66. The Snow Leopard by Jackie Morris
67. The True Story of the Three Little Pigs by Jon Scieszka
68. There is a Bird on Your Head by Mo Willems
69. There's an Alligator Under My Bed by Mercer Mayer
70. Three Cheers for Catherine the Great by Cari Best
71. Two Crazy Pigs by Karen Berman Nagel
72. What I Saw in the Teacher's Lounge by Jerry Pallotta
73. While We Were Out by Ho Baek Lee
74. Widget by Lyn Rossiter McFarland
75. Z Was Zapped by Chris Van Allsburg
Is your soon-to-be first grader a more advanced reader that is ready to try chapter books? Try some of these easier chapter books this summer:
1. Andy Shane and the Barn Sale Mystery by Jennifer Richard Jacobson
2. Dory Fantasmagory by Abby Hanlon
3. Freckle Juice by Judy Blume
4. Ivy and Bean by Annie Barrows
5. Owl Diaries by Rebecca Elliott
6. The Bad Guys by Aaron Blabey
7. The Princess in Black by Shannon Hale
For even more easy chapter books for early readers, be sure to check out this list: Easy Chapter Book Series for First Graders
And don't forget to print out this summer reading list for first graders by entering your name and email into the form below:
Get the 1st Grade Reading List now!
Enter your email address and receive a printable reading list right to your email inbox.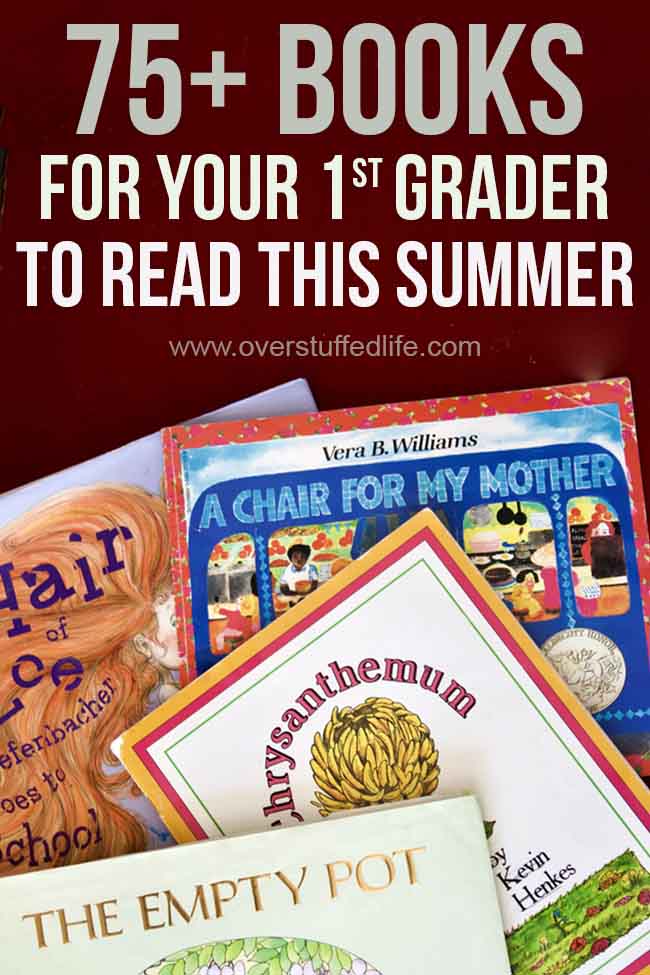 This post may contain affiliate links, for more information, please see my disclosure.
Get the 1st Grade Reading List now!
Enter your email address and receive a printable reading list right to your email inbox.