How to Teach Your Kids to Pack Their Own School Lunch
Is packing school lunches the worst part of your morning? Try these four ideas to make fast and kid friendly lunches for school—so easy your kids can do it themselves.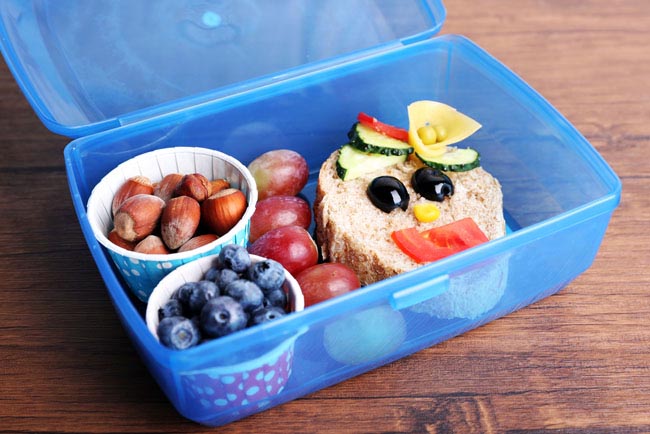 I'm not gonna lie, packing lunches is the worst part of the school year for me.
I can deal with the homework and the busy schedules, but for some reason I just dread packing lunches for my kids. It's just such a chore to make sure they are healthy and balanced and that they are something my kids will actually want to eat.
Over the last 13 years, I have learned a few great tips and tricks for making the whole lunch packing thing easy.
In fact, I've learned how to make it so easy that my youngest has been mostly packing her own lunches since first grade.
See below for a list the products that I use and all the tips I've got up my sleeve after doing this for so many years. I hope they help make packing school lunch easy for you, too!
**Be sure to scroll all the way to the end for the chance to download 7 back-to-school printables to help you be more organized this school year!**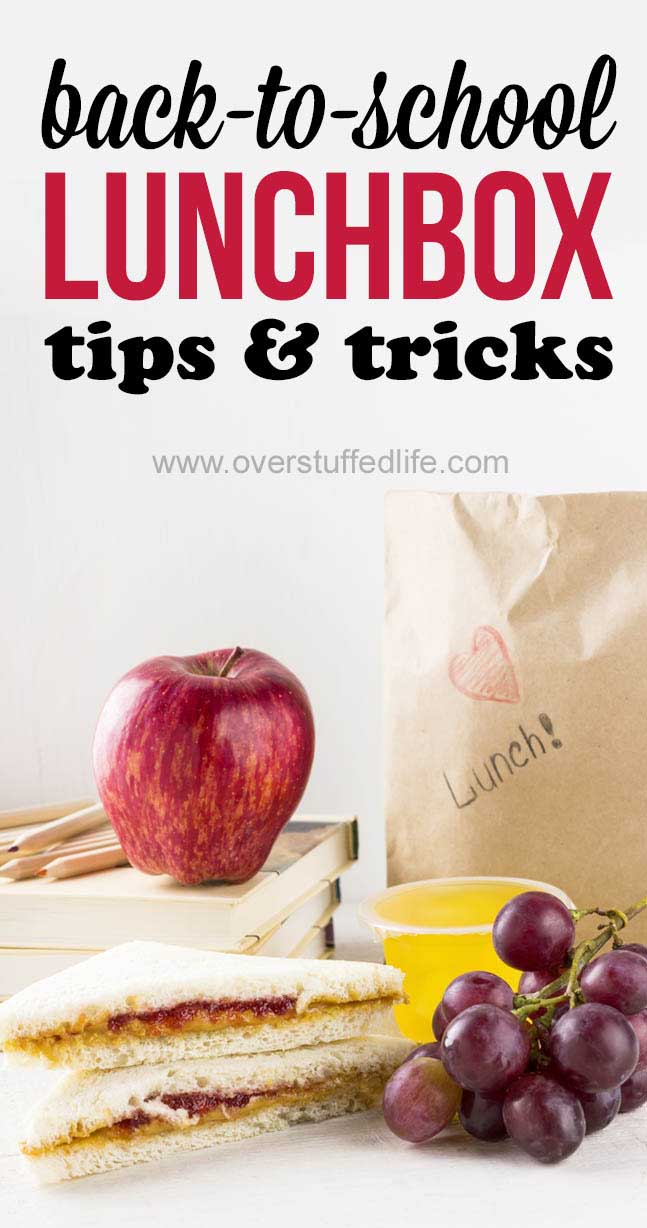 Get your kids to pack their own school lunches
1. Use products that will help make eating lunch both easy and fun for your kids
For younger kids especially, this makes a huge difference.
Buy them a lunchbox that they love, and then use containers and other accessories that will make it easy to pack their lunch and fun to eat.
Some of the things that we use often in our home:
(affiliate links)
Neoprene Lunchboxes—While we have used many different types of lunchboxes, I have found that we like the neoprene style best for cleaning.
This one is really cute for girls, and I think boys would probably like one like this.
Nike Lunchboxes—Yes, I know I just said I like the neoprene ones best, but my teenagers think they are a little embarrassing.
Once they were out of elementary school, they started choosing more non-descript lunchboxes. One of my daughters found the Nike lunchbox and fell in love with it.
Bubba Water Bottle—This has been our favorite water bottle the past couple years.
Hydroflask—We found the Hydroflask more recently and I am absolutely amazed at how long water stays cold! And ice doesn't melt. It's a great water bottle for long school days.
Compartmented lunch containers—I love these things. It makes it much easier for the kids to take leftovers and other healthier options in their lunchboxes.
If you're super ambitious, you can certainly do the bento style lunches in these, too. (I'm not that ambitious.)
Small Thermos containers—These are perfect for soup or other warm foods.
My kids have access to a microwave at school, but there's usually a long line. It's nice not to worry about it and know that they have warm food in their lunchboxes.
I really like these Foogoo style thermoses and these inexpensive ones also work remarkably well.
Mini containers—I like using these smaller containers for things like nuts, canned fruit (rather than buying the fruit cups), olives, trail mix, dried fruit, and so forth.
I've collected a million different types of small containers over the years, but I really like these ones because they are nestable and much easier to store.
Sandwich cutters—My kids have largely grown out of these, but they loved them when they were younger.
It's so much fun to open up your sandwich and find out you have dinosaurs or hearts or some other fun shape instead of a boring old sandwich!
Sandwich containers—There is a nice space for a sandwich in the compartmented containers I listed above, but it is also nice to have separate sandwich containers.
I'm not a fan of using plastic baggies for everything, so I really like all of these types of containers. I like these colorful ones.
All of these things are used regularly at my house. I have purchased other little fun things like these bento boiled egg molds, but mostly we stick to fun (and practical) containers and that does the trick.
2. Keep all your lunch supplies in one place
We keep lunchboxes, water bottles, and all lunch containers and lids in one cabinet. While I admit that it gets pretty messy in there sometimes, I try to keep it as organized as possible.
I've got bins for the lids and the small containers and everything is relatively easy for the kids to find while they are packing their lunches.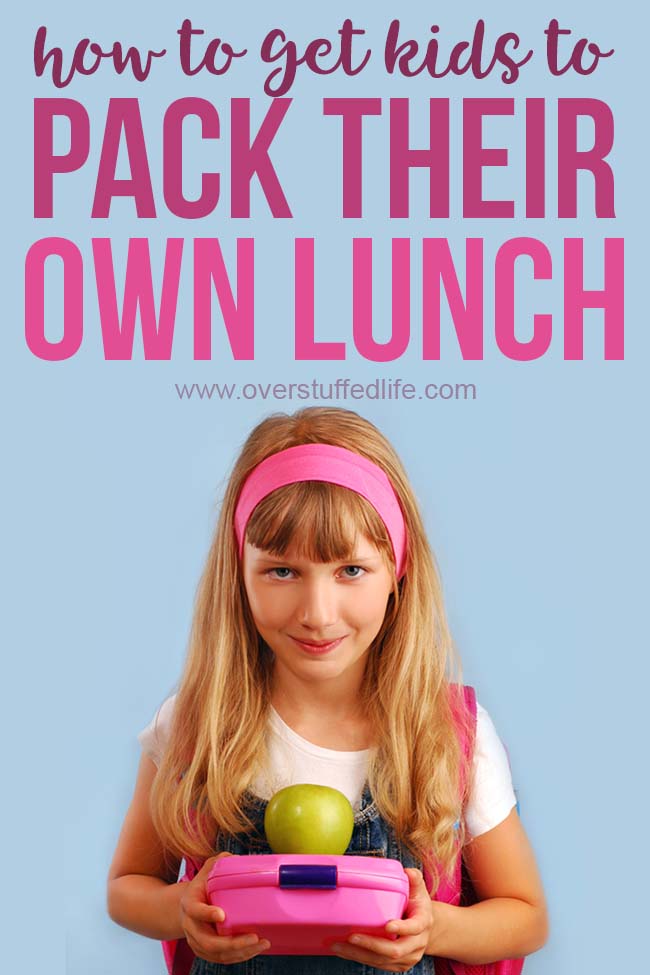 3. Make and freeze healthy lunch food ahead of time
While we do buy some easy prepackaged stuff for lunches, I try to make healthy options for the kids and freeze it ahead of time so it will last through the week (or longer, if I'm lucky!).
Popular make ahead items at our house:
Cookies (not necessarily healthy, I know, but I do make them ahead and freeze them)
I freeze these things because if I don't, they will get eaten very quickly!
I set out enough to defrost the night before, so the kids can put them in their lunches. If you are sandwich people, then you can also make those ahead of time and freeze them.
4. Make it easy for your kids to find food to pack
When you pack lunches, it's probably fairly easy for you to find the food quickly in order to pack a healthy balanced lunch. I've found that it's harder for the kids to do it, though.
We keep a lunch basket in the pantry that holds all the things they can put into their lunch (nuts, applesauce, crackers, trail mix, granola bars, etc.).
We also designate one drawer in the fridge that holds anything that needs to be refrigerated (cheese sticks, boiled eggs, vegetables, yogurt, etc.)
There is a build a healthy lunch printable hanging in my pantry that shows the kids what they should be packing in order to keep their lunches healthy and balanced. We've been using it for a couple years now, and I love that they are learning to do this on their own.
You can download the build a healthy lunch printable by itself using the form below, OR you can download it along with several other back-to-school printables at the end of the post.
Download the Build a Healthy Lunch checklist!
Enter your email address and receive the printable right to your email inbox.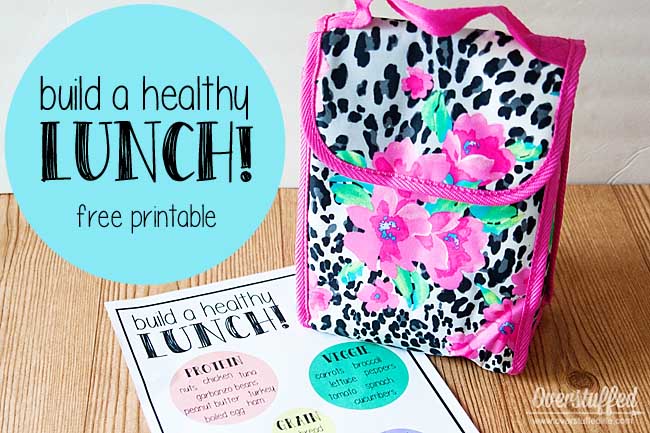 Some of my favorite bloggers and I have teamed up to help you be more organized in all areas this school year!
We have a back-to-school printable bundle that includes my Build a Healthy Lunch printable and 40 other pages of back-to-school printables.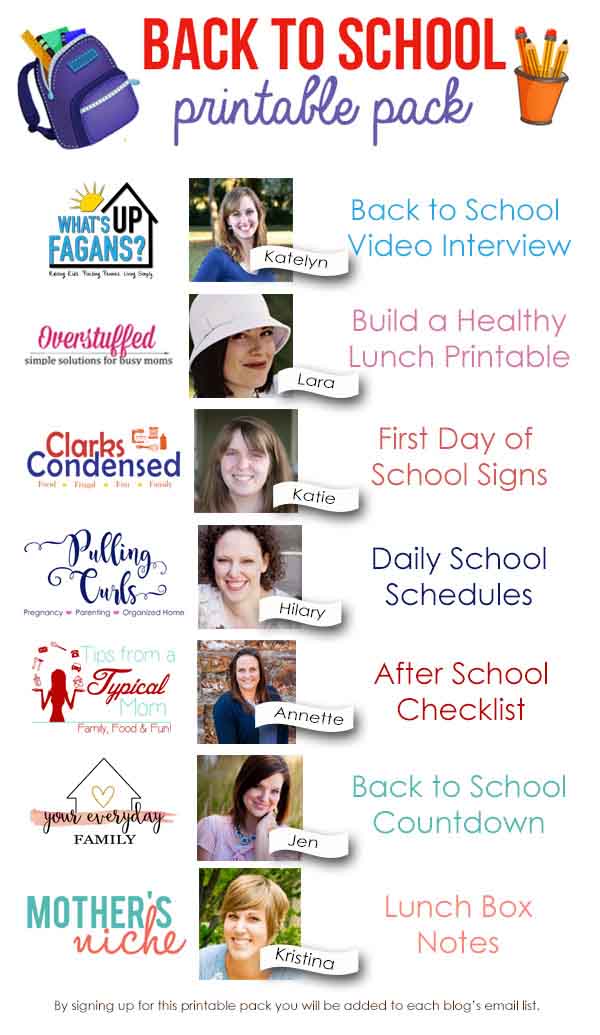 What's included in the Back-to-School printable bundle:
Back-to-School video interviews—Katelyn from What's Up Fagans? has put together a great package to help you capture your children's personalities each year as school starts. She has tips to make the videos turn out great as well as lists of questions to ask for kids of all ages.
Build a Healthy Lunch—My printable is meant to hang in your pantry to help kids know what to include in their lunches. This way they can learn to pack a healthy and balanced lunch while they are still young. My girls use this printable on a daily basis during the school year and it has saved me a lot of time.
First Day of School Signs—Katie from Clarks Condensed has made adorable chalkboard printables for the first (and last) day of school for preschool all the way up to 12th grade! Your kids can hold them up in their photos as they go to school on the first day.
Daily School Schedules/Emergency Contact Forms—When you start to have kids in more than one school, keeping their schedules straight becomes really complicated. Hilary from Pulling Curls makes this a lot easier with her school schedule printable. She also includes a printable for emergency contact information so you don't have to look it up every time you need to fill out forms during the first weeks of school.
After School Checklist—Annette at Tips from a Typical Mom has made a cute checklist for the kids to refer to after school. You can frame it so they can use a dry-erase marker to check off their progress.
Back-to-School Countdown—Jen from Your Everyday Family has created the most adorable way to countdown to the first day of school! If your kids love pirates and treasure maps, they will especially love this idea!
Lunchbox Notes—My girls love it when I include fun little notes in their lunchboxes! Sophia has even gone so far as to bring me a pen and paper and tell me to write something for her lunchbox after she's packed her own lunch! Kristina at Mother's Niche has made this easy to do with a cute printable to start your notes off right.
How to download the Back-to-School Printable Pack:
Simply enter your email address into the form below and the printables will be sent directly to you via email!
Back to School Printable Pack
Enter your email and get 7 back to school printables sent directly to your inbox!
Happy Back to School!
This post may contain affiliate links, for more information, please see my disclosure.