Violin Lullabies: A Review and a Giveaway
Hello!
I've been a busy girl this last month, and I simply have not found the time to sit down and write. But that's okay, because I have lots of stories to tell for later. In July, when I have almost no commitments. Just one more week—I can NOT wait to finally sit down and relax!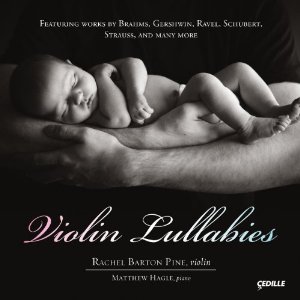 In the meantime, I have a beautiful CD to review and to give to one of you. Rachel Barton Pine is a fantastic violinist who has released several CDs prior to this latest one, but this one is special. It is a CD of lullabies for the violin, inspired by the birth of Rachel's first child.
I love the idea, because I have always wanted to put together a collection of vocal lullabies myself. Ever since one of my teachers in college told me I'd better not go off and just become a mom and ignore the talent I had been given. While I listened to the rant, I thought to myself that even if my talent was only used for singing lullabies to my children, it would be well worth it.
And Rachel Barton Pine has done it—she has scoured the world for the best violin lullabies by the best composers and has turned out a beautiful, beautiful collection of music. The first time I put it in to listen, I kept it on repeat all day and I felt a wonderful calm and peace in my house. I just love listening to it.
From the liner notes, Rachel says: "My first exposure to music was not at a concert. It was not on the radio. It was the sound of my mother's voice as she sang a lullaby to me, just as her mother had sung to her, and her mother before her. The sweet tone of my mother's voice and her perfect intonation lulled me to sleep—or, as I got older, kept me awake so as not to miss a note!"
Lullabies truly are the first exposure most of us have to music, as it is almost instinctual for our mothers to sing us to sleep. It doesn't matter whether that mother has perfect intonation or a trained singing voice—her voice is the most beautiful in the world to her baby.
This CD has that spirit of love about it. I'm sure you will love to listen to it, just as I do.
The best news is that I have one to give away! If you are interested in winning it, please leave a comment and tell me what songs you remember your mother singing to you as a child.
(My mother sang the Hallelujah chorus with made-up words to me as a child! One of my favorite memories.)