What every woman should have in her purse
(Especially if that woman is me!)
Every month, one of my most popular Google search terms is something along the lines of "What a woman should carry in her purse" or "What should I keep in my purse?" or "What items should a lady have in her purse?"
They always land on an old (since deleted) post, which is all about why you should have Kleenex in your purse at all times because I once witnessed a girl crying in public. But, for the amount of people that land here looking for a concrete list, I know I haven't helped out much. So now it's time to give back and tell you what I have in my purse and why.
This post contains affiliate links.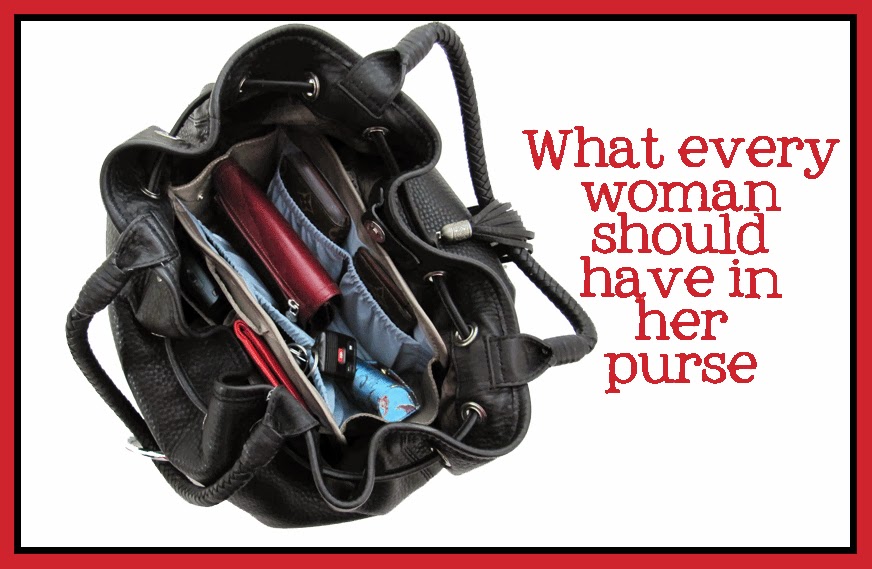 In no particular order:
Breathmints: One should always have breathmints or gum at hand (I am not much of a gum chewer) just in case you decide to eat a cheeseburger with onions for lunch or if you forget to brush your teeth in the craziness of making sure that your kids brush theirs. This kind is my favorite breath mint, but my husband likes these best.
Hand Sanitizer: Mine is some fancy stuff from Bath and Body Works, but you can just use Purell or something. A must have with kids who are constantly touching gross stuff and it especially comes in handy when there is a long line to wash your hands in the public restroom. I really like these fancy travel size Purells.
Kleenex: I think we've discussed this before, but it's good for when you have a cold, getting rid of your children's ABC gum and giving to perfect strangers who are having an emotional breakdown. I seem to use it quite often for storing the boogers my 2-year old likes to give me while we're driving in the car. I usually stock up on these Kleenex travel packs every couple months or so.
Abreva: Did you know that once you have a cold sore, you always have a cold sore? Tragic, but true. Ever since I was a little girl, I've had a cold sore patch on my nose. The Abreva is absolutely necessary if I don't want it to turn into something truly scary. It is always with me in order to apply at the first tingling. Seriously. If you suffer from cold sores, you should really buy some to have on hand.
Cell phone: I actually try to forget mine as often as possible, as my husband will tell you. However, it is probably a pretty good idea to actually have it in your purse whenever you can.
Sunglasses: My eyes are very sun-sensitive, especially if I am wearing my contacts. Besides, my future's so bright I gotta wear shades. Isn't yours?
Wallet: Do I really need to explain this one? Just make sure you have all necessary ID, monies and credit cards in it for whatever errands you need to run.
Checkbook: While it seems we don't use the checkbook all that much in this day and age, it's still pretty important for stuff like piano and violin lessons. And if you forget your debit card at WalMart or the grocery store.
Old receipts: My purse is an excellent storing place for the receipts I shouldn't throw away, but haven't had time to file. Unfortunately, all the unnecessary receipts kind of get thrown in there, too. I recommend cleaning it out at the end of the day (not that I do or anything).
Small notebook: My planner is too big to fit in my purse, but if things aren't written down, they are immediately forgotten. This is especially important for those fabulous blogging ideas that strike you while you are sitting in the dentist's office.
Pen: How can you write checks or jot down great blog ideas without one? You can't. Make sure you have one.
MP3 player: I admit, mine rarely makes it into my purse, but I always wish it did. (Update: now this is just my phone, which makes things a lot easier.)
Lipstick: Personally, I have three different kinds in my purse. I am prepared for any lip color situation. Plus, I even have some chapstick in there for my girls when they ask.
Mirror: How else are you supposed to use the aforementioned lipstick? I have a compact mirror like this one, but this one is cool, too–it has a magnifying feature.
Hand lotion: Particularly important during the snowy winters when my hands seem to be constantly chapped, but nice to have on hand (pun intended) all the time.
Tampon: Yes, well, I'm sure you all know why this is important. I often try to have two, just in case. And once, because I was so prepared, I was able to help someone out in a female emergency because I had one…even though I was 9 months pregnant. You just never know.
Hair band: Generally, I have a few of these in my purse. Very handy when you get somewhere and realize your child looks like a ragamuffin. You can quickly put her hair back and nobody will think any less of you because you never brush your children's hair. I have really thick hair myself, so these hair bands for thick hair are my favorite.
Candy wrappers: You shouldn't have those. Don't follow my example and throw them away immediately.