On closing night, I found myself staring at a stack of thank you cards waiting to be written to all of the wonderful people I got to work with while doing La Traviata last month. The director, the maestro, the resident opera artists, the stage managers, the costumers and so on and so forth. I was definitely grateful for all they did and for the honor of sharing the stage with them, but I have a hard time writing just the right thing in these sorts of notes. And when I am faced with such a large stack, it's even more difficult to make the message personal and heartfelt instead of canned and repetitive. Of course, this stack was nothing compared to what I faced after my wedding, but still. I wanted the recipients of these thank you notes to really know how sincerely grateful I was.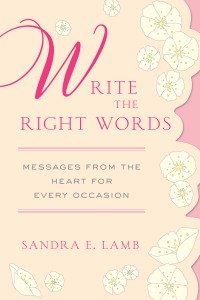 Unfortunately for me, I had not yet received Write the Right Words: Messages From the Heart for Every Occasion by Sandra E. Lamb. It came the very next day and I cursed my bad luck when I began to read it. My thank you notes would have been amazing if only the mailman had brought the book the day before!
This book is truly ingenious. Lamb emphasizes how much every greeting card needs personal, heartfelt and handwritten message to make it complete. The art of the handwritten note or card is slowly being lost as we rely on the ease of shooting off an e-mail or a text message to someone. But nothing makes me happier than opening up my mailbox and finding a real card that is addressed to me. I love getting thank you cards, birthday cards, Christmas cards….you name it, I love it. But the ones I love best are not the ones that rely on Hallmark's poets and a signature. I love the real, handwritten messages the very most. They make my day and I read them over and over.
Ms. Lamb shares infinite (okay, maybe not infinite, but almost!) ideas about how to write the kinds of cards that people will read again and again. There are quotes and sample notes for every occasion you can think of. When I turned to the section for thank you cards, I was overwhelmed with the possibilities. I was also inspired to write notes of appreciation to people I may not have thought to write before.
Everyone needs this book. You need this book. This book and a very large stash of note cards and stationery to go with it. Because as soon as you read it you'll want to start writing notes to everyone in your life.
Thank you to TLC book tours for the opportunity to review this book.