Bad Habits? I definitely have more than enough of those. Unhealthy thinking? Unfortunately, yes. I struggle with that, too.
Sometimes I wonder why I can't control my actions as well as I would like. Self-discipline and moderation have always been a little elusive to me. I have my moments, but I also have my moments, if you know what I mean. It seems like sheer willpower should be enough to break bad habits and establish the ones that my heart really wants in my life, but I find myself failing over and over again. (See exercise, eating right, losing weight, organization, time management, etc.)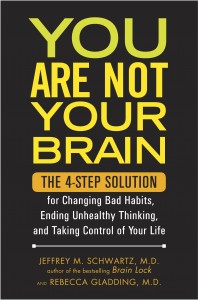 And yet according to You Are Not Your Brain, a new book by Jeffrey Schwartz and Rebecca Gladding about learning how to finally breaking the habits that frustrate each of us, willpower isn't enough. Instead, they reintroduce a 4-step solution to achieve better control of our thoughts and actions.
I say reintroduce, because I am already very familiar with Dr. Schwartz's work with OCD in his book Brainlock. I have seen these 4 steps work to change thought patterns and actions in the life of someone close to me. While that person suffers from OCD and I have seen firsthand how well these steps work to alleviate it, I have never once thought that I could use them in my own life to combat my own ADHD or difficulty sticking to a diet. How enlightening to realize that I can!
As I've been reading this new book, I have also realized that I can use these principles in the motherhood, too. I had a nice conversation with one of my daughters the other day about our brains telling us to do things that we shouldn't do. We talked about how we don't actually have to do those things and I introduced the first couple steps. And she got it.
I am excited about using these steps in my own life, and if you are interested in learning about them and using them in your life, I do have one copy to give away. Just comment here and tell me one of the bad habits you'd like to see eliminated from your life.
*********
I received this book from the publisher via TLC Booktours.