12 Easy Chapter Book Series for Early Readers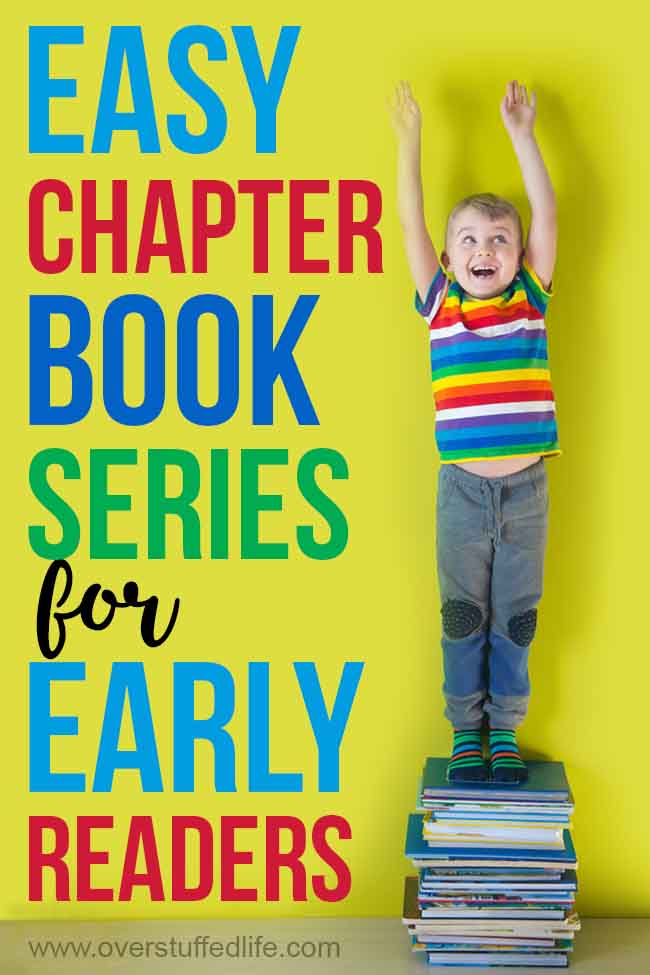 These easy-to-read chapter book series are perfect for kindergarten, first grade, and second grade kids who are ready for bigger books.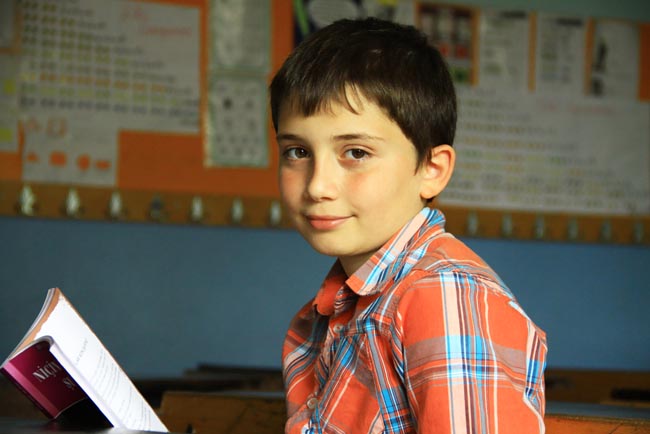 This post is part of an ongoing Summer Reading for Kids series. Click HERE to find ideas for reading activities, reading lists, and reading incentives…and keep checking back for more!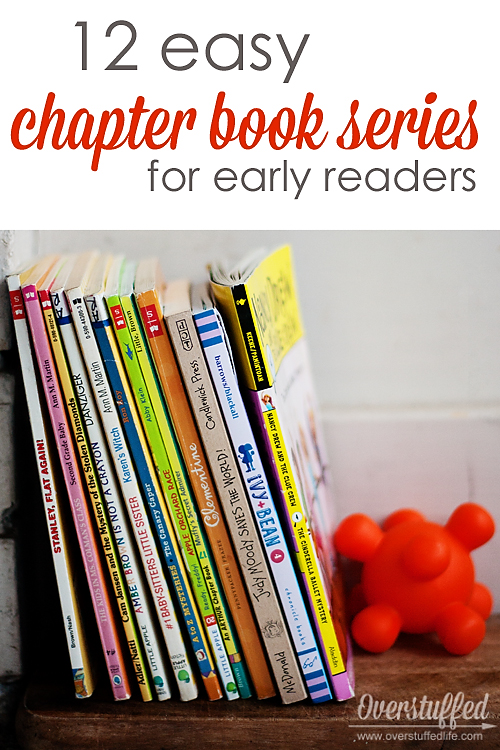 My youngest daughter was reading really well by the end of First Grade, but she was terrified of chapter books. She claimed they were too hard for her to read and she was much too little. I couldn't even get her to open up Junie B. Jones, which were my eldest daughter's go-to books as a first grader.
When I was trying to decide what to put in her summer reading bin last year, I decided to turn to my all-knowing Facebook friends for ideas on easy chapter books that she might be interested in reading.
Many suggestions were made, but my oldest daughter's former 5th grade teacher took it one step further and handed me a huge pile of books to borrow.
That one act made my youngest feel so special that she was determined to read them all. And she found out that chapter books aren't scary at all. Phewsh!
The books my friend gave me were mostly books from various series, and there were a lot of really great ones included—many of them I had never heard of before. Plus, I also happen have a lot of books at our house, and we had a few more good series for early readers, as well.
12 Easy Chapter Book Series
Flat Stanley If you've ever had to participate in a Flat Stanley project, then you are very familiar with the story. And if you've never had to do a Flat Stanley project, I'd say to count your blessings (just kidding, they're pretty fun).
Stanley is a little boy who was accidentally smashed flat and decides to see the world by mailing himself everywhere and you can read all about his amazing adventures in this series.
Babysitter's Little Sister This series is a spin off of the Babysitter's Club books that I read as a kid. The series follows Karen, who is the younger sister of original Babysitter's Club member Kristy Thomas.
There are 122 books in this series, so you can keep your child reading for a long time!
The Kids in Ms. Colman's Class This series is a spin off of Babysitter's Little Sister (yes, a prolific author!). There are 12 of these books, and they center around the events in Ms. Colman's classroom at Stoneybook Academy.
Cam Jansen Cam is a little sleuth who solves many mysteries. I love that the author has a website devoted to Cam and kids can find study guides, quizzes, and other fun Cam activities. To go to the website click here: Cam Jansen Website.
Amber Brown Amber Brown's name sounds like it might be a crayon color. She has to deal with things like her parents divorcing and her best friend moving across the country.
My eldest daughter really liked these books when she was younger, and I like the way they help kids learn to process big emotions in a way that isn't too heavy.
A to Z Mysteries This series follows 9-year-old detectives Dink, Josh, and Ruth as they solve many mysteries. 26 of them, to be precise. One for every letter in the alphabet.
Arthur My daughter really liked these books because she likes the television show. It's nice to have a few options like this for kids to read about familiar characters they already know from TV or movies.
Ready, Freddy! My two older daughters also liked Freddy and his adventures. They are fun, relatable stories about Freddy and the goings-on in his life at school and at home.
Clementine Like most of these books, the Clementine series centers around a character and her adventures. Clementine has to deal with things like a talent show at school for which she has nothing to perform, feeling like her parents love her little brother best, and navigating her relationship with her best friend, Margaret.
Judy Moody Judy Moody is a little girl who has lots of moods. She has a mood for anything life throws at her. Sometimes it's a bad mood and sometimes it's a medical mood and sometimes it's a fancy mood, but she always has a mood.
Judy Moody also always has a fun website full of "way-not-boring stuff to do" and other fun Judy Moody activities. To go to the website click here: Judy Moody website.
Ivy and Bean Ivy and Bean are two little troublemakers who are always getting themselves into, well, trouble! My daughter loves this series—probably because she relates so well to these girls.
This author also has a fun website dedicated to all things Ivy and Bean, including crafts and ideas about how to bug your sister. To go to the website click here: Ivy and Bean website.
Nancy Drew and the Clue Crew: I was thrilled to pieces to find these books. My middle daughter was actually into them for a time, too, but my youngest truly loves them and I think in another year or so will be ready to move on to Nancy Drew proper.
I LOVED Nancy Drew as a child and I devoured those books. I have found a few here and there and re-read them even as an adult, so it makes me happy that there is a cute little series about a younger Nancy Drew for a younger audience.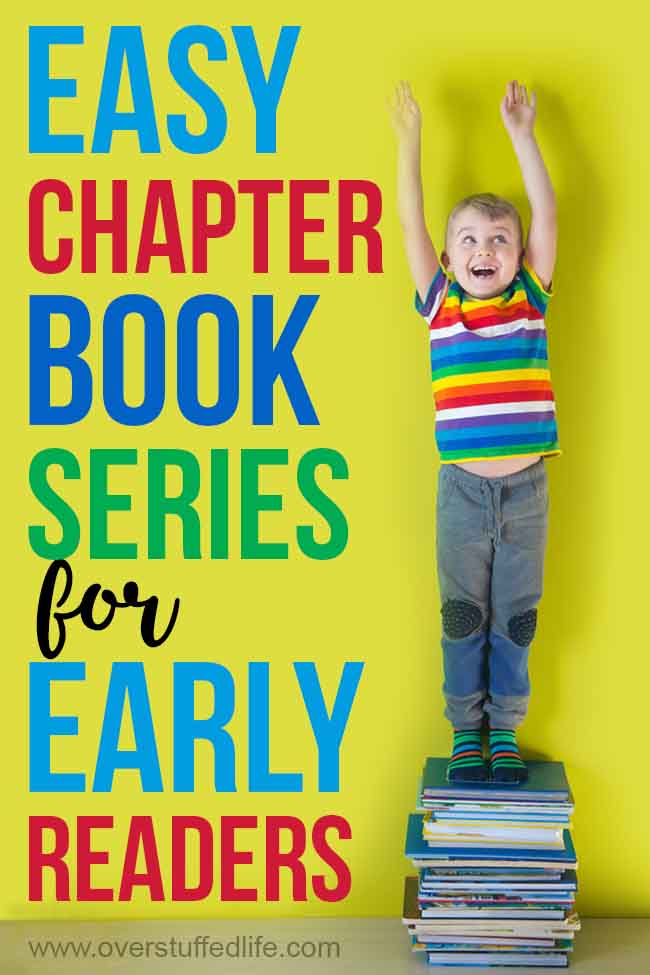 Keep in mind that we are a household of girls. I know many of these series would also be great for boys, and I don't see why they couldn't read all of them, but I am also not familiar with what boys like to read. I do know my daughter enjoyed all of these books quite a lot, but if she had to pick a favorite series it would most likely be Ivy and Bean.
I am a big fan of the series that also have fun websites. It gets the kids super excited to read the books so that they can understand the games and other activities. Don't be afraid to incorporate technology into reading because that is the way our world is now. Embrace it.
But my favorite thing is that these books got my youngest daughter to really love chapter books and to stop being afraid of them. This summer, her bin is full of much bigger chapter books that she is having no trouble with at all. Still, she will often be found reading a Judy Moody or Ready, Freddy! book—she still loves all of these characters.
Which easy chapter books have your children loved?
You might also like:
This post may contain affiliate links, for more information, please see my disclosure.