The clutter in our lives and homes is costly—knowing the negative effects of clutter can help you keep it at bay.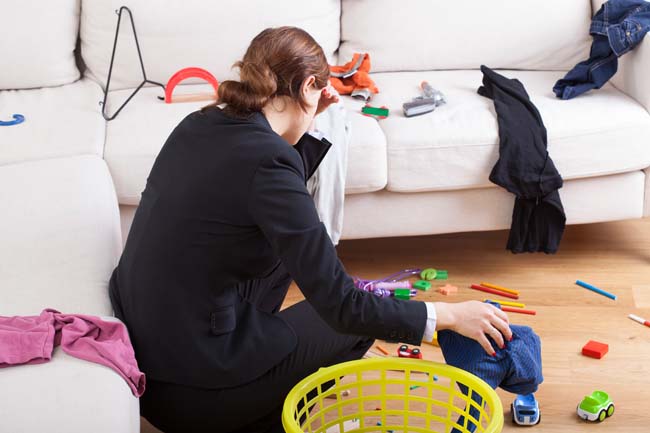 Welcome to Day 14 of the 31 Day Decluttering Challenge.
As I've been working to declutter my life this past two weeks, I have been thinking a lot about what all the clutter has cost me—and continues to cost me. I'd already realized that it was costing me a certain amount of peace, which is why I have titled this series the way I have.
But as I have been getting rid of more and more of my stuff, I've come to the realization that the clutter is taking much more from me than just my peace.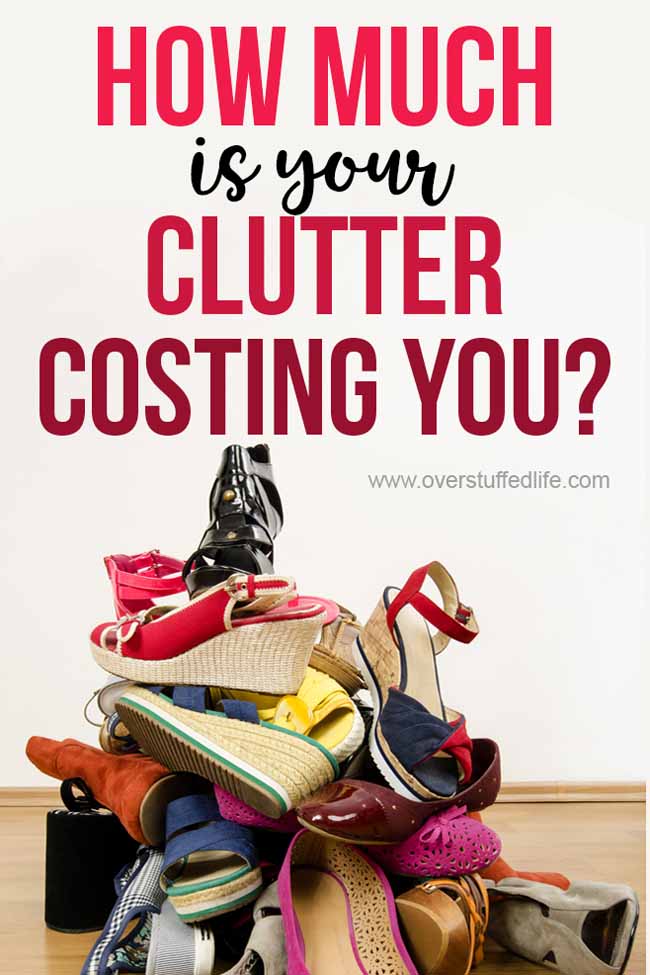 Are you ready to declutter your life?
Join the 31 day challenge to get rid of clutter and make room for peace.
How Much is Your Clutter Costing You?
1. Your clutter is costing you TIME
Clutter forces me to use my time in a way that I don't necessarily want to use it! My office, which is the number one cluttered room in my home, gets out of hand so badly that I have actually sent my husband and children out of town for an entire day so I could get it under control.
The last time I did this they went to a stock car race a couple hours away and also saw a movie. So not only did I stay home and work my butt off to clean my mess of stuff, I missed out on some great quality time with my family!
Because of clutter, I misplace things and can't find them. It takes time out of my day to find overdue library books, car keys, my daughter's other tennis shoe, my umbrella, and who knows how many other things?
Some of the problem is because these things don't have a designated spot, or that they don't get put away properly. However, the biggest problem is because there is too much stuff to manage.
2. Your clutter is costing you MONEY
Clutter costs much more than the initial money spent to acquire it. It costs money to store it—especially if you are renting storage units for all your stuff, but even if you are just storing it in your home. You are still paying for that space, after all.
Clutter costs money in the form of time. If you are using up your time managing your stuff or looking for things when you could be clocking hours on the job, you're also losing money.
What about when you can't find something you need? Have you ever had to purchase another one? I have. It's unfortunate, especially since I almost always end up finding the first one eventually. Know where your things are, and you'll save money when you actually need them!
Clutter can also cost us money in late fees. Misplaced library books and rental DVDs can rack up the fines pretty quickly. And if your desk is so cluttered that you forget to pay a bill that is buried under all the junk, you'll accrue late fees and/or interest there, too.
3. Your clutter is costing you ENERGY
Just looking at a cluttered area in my home drains me of my energy, much less having to deal with it!
I really, really don't want to give either my mental energy or my physical energy to a bunch of stuff I simply don't need. And yet I do it every single day.
4. Your clutter is costing you CLEANLINESS
I bet if we all got rid of our clutter, we'd have to do less housework. Or, we could actually devote the same amount of time to deep cleaning instead of just clutter management and have a cleaner and healthier home.
Just think of the messes the clutter hotspots cause. I dream of eradicating that entirely and being able to open my tupperware cabinet without dying a little bit inside and then wasting ten minutes looking for the right lid for the container I want to use!
For instance.
I can think of many more for instances, and I know you can, too.
5. Your clutter is costing you PEACE
Clutter causes stress, and that is the opposite of peace. There have been many studies lately about how clutter causes extra anxiety and depression.
When I know someone is coming over, it takes longer than it should to get my house visitor-ready. (I'm not kidding, people who have been to my house.) This is why my office gets so out of hand—it is the go-to place to shove everything on the day I'm hosting book club or having dinner guests.
Sometimes when I go upstairs to kiss my kids good-night, I instead freak out about all the mess of stuff everywhere! No peaceful good night stories happen then, because I spend our time before bed frantically helping them clean up.
No more! Just looking at this list makes me so happy about what I've already accomplished and excited to do even more decluttering. I already have two huge boxes to donate ready to go. I can't wait to see what I'm able to clear out this week!
Every time I get rid of something I feel a little bit lighter, and that is worth a LOT.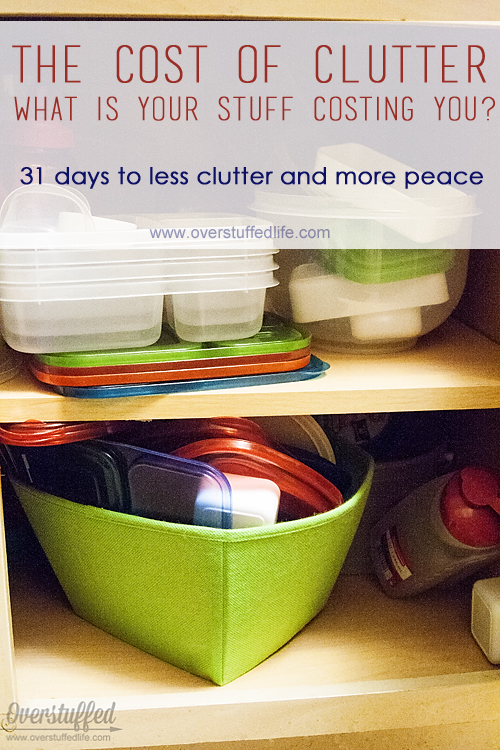 What has clutter cost you? How is your decluttering project going this month?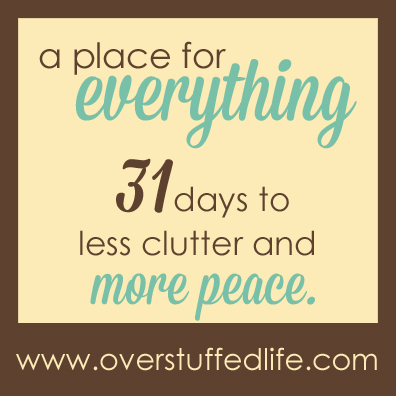 Find all of the posts in this 31 Day Challenge here: A Place for Everything: 31 Days to Less Clutter and More Peace.
Want to start the 30-day declutter challenge?
Fill out the form at the very end of this post and you will receive an email each day with a new decluttering assignment.
This post may contain affiliate links, for more information, please see my disclosure.
Are you ready to declutter your life?
Join the 31 day challenge to get rid of clutter and make room for peace.