Declutter Your Mind With a to-do Journal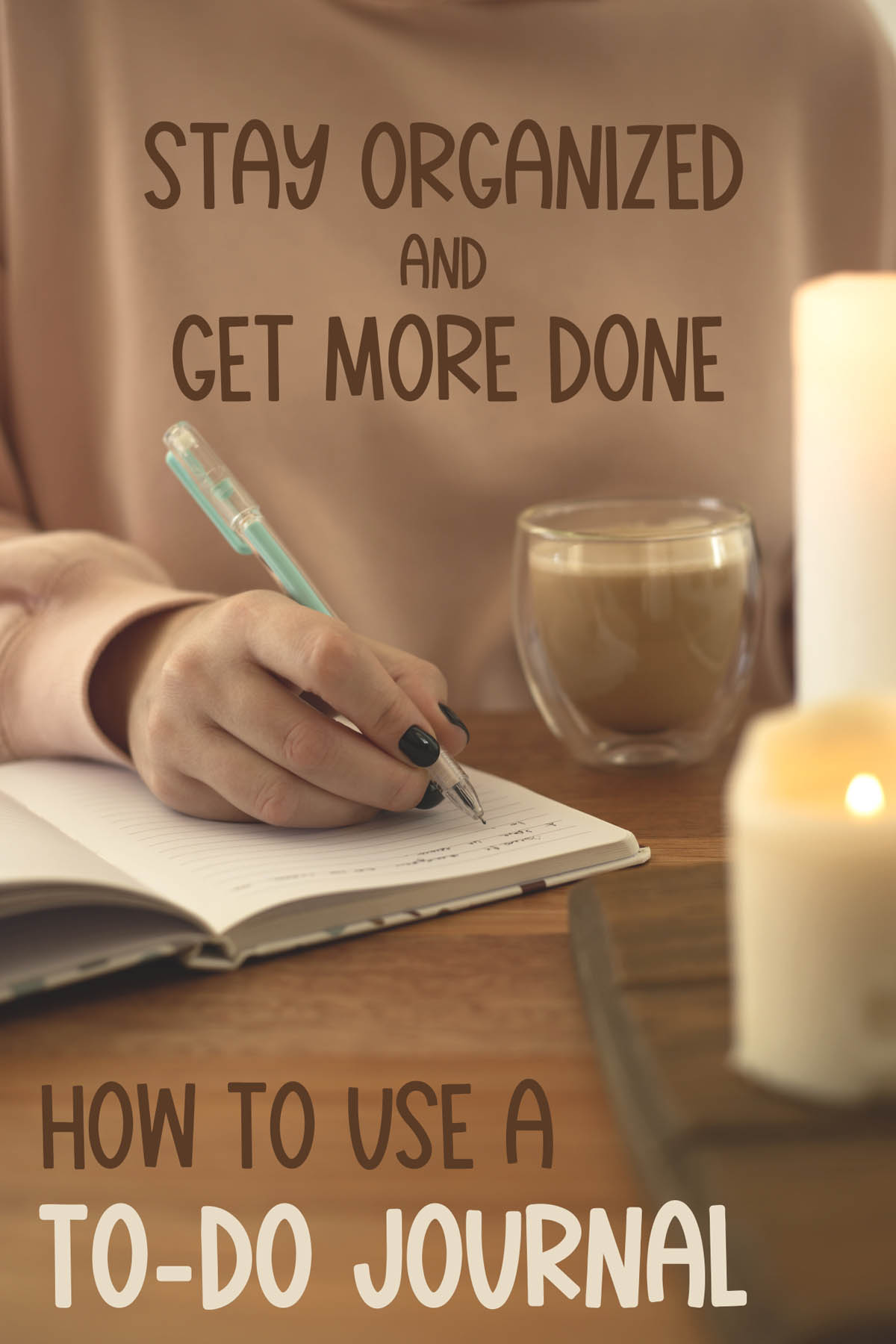 How to use a to-do journal to stay organized and reduce the mental clutter.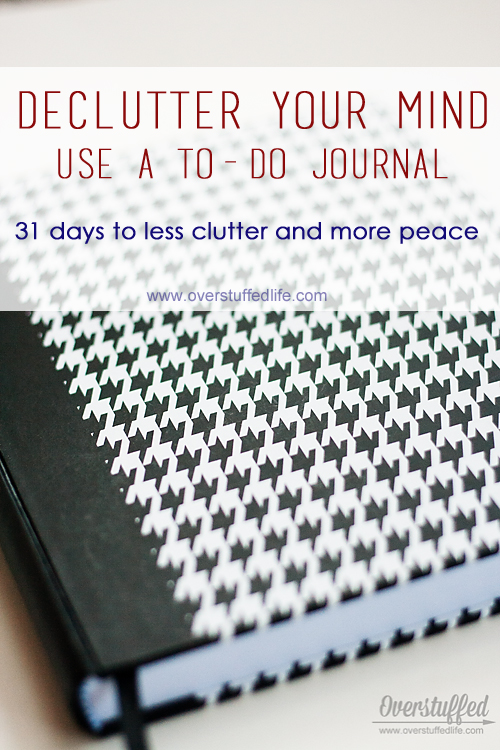 Welcome to Day 16 of our 31 Day Decluttering Challenge!
Are you ready to declutter your life?
Join the 31 day challenge to get rid of clutter and make room for peace.
One of the biggest sources of clutter and disorganization in my life is my own brain. If I don't write down the things I need to do, they simply won't get done. I have learned that if something pops into my mind that I should do, that I should immediately write it down or it will be lost within a few seconds.
Because I often don't write these things down, I have forgotten many things in my life. I have forgotten to write thank you notes, to pay a bill, to go to my daughter's school play.
Some things are not terribly important, but would be nice to remember to do (thank you notes). Other things are pretty important, though the world doesn't end if you forget. You'll just have to pay a late fee and try better next month (forgotten bills). Still other things are the most important ever, and if you don't do them, you may not ever get another chance (daughter's school play).
But forgetting anything—big or small—makes me feel pretty terrible.
My old system was to use my planner for scheduling and random slips of paper all over my desk, my purse, my planner, and my fridge for all of the other to-do items. The most important part of my old system was never actually looking at any of it.
The act of writing things down helped some, but most of it remained forgotten.
My new system is to have both my planner (I have written extensively about the different planners I have used, and which I like best. To read it click here: Choosing a Planner That's Right for You) and a to-do journal. The most important part of this system is to actually refer to both books often.
I know that's a no-brainer, but, it's kind of like the silly warnings on packages and still has to be said.
Planner
My planner contains my schedule mostly.
Each day is divided into three sections. I use the first section for my own schedule, the second one is for my kids' schedules, and the third one is for "other." "Other" can mean my husband's schedule if it's important for me to know, but it is most often things like no school, or other random notes I need for that particular day.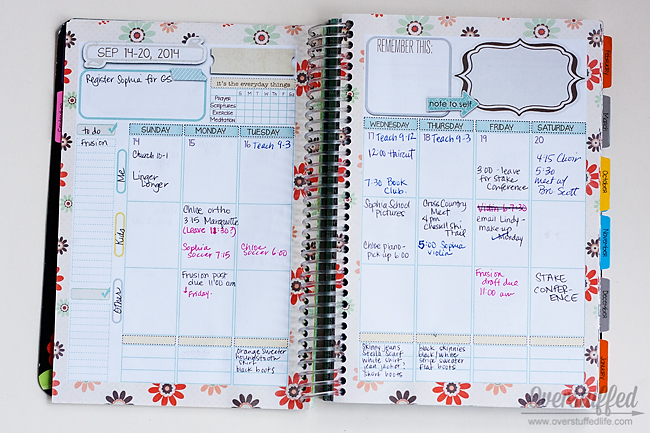 There is a to-do section down the side, and since my planner is always with me, but my to-do journal is not, I add things there that I transfer over to the to-do journal each night.
Sometimes I put the Really Important Must Do Now Or Else action items in the spaces along the top. Like registering my daughter for Girl Scouts. Mostly I just use those spaces for writing down quotes I like or thoughts I have.
I force myself to look at my planner every night before bed, and every morning before getting ready. I'm really good at having appointments that aren't normal for me just fall out of my brain. Even if I did look at my planner in the morning.
In those cases, I try to also set an alert on my phone. But, nothing is foolproof, because I totally missed my daughter's make-up violin lesson last week.
I'm still working on it, obviously. This is why I force myself to look at the planner often!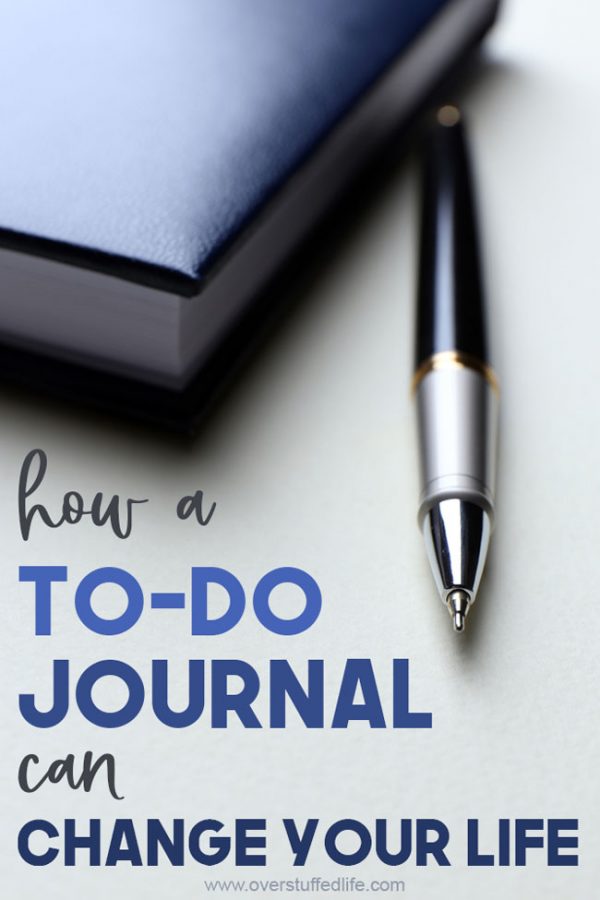 To-do Journal
My to-do journal is simply an ongoing to-do list in a pretty notebook.
Because I love houndstooth, I couldn't resist buying a houndstooth hardcover journal. I bought it at WalMart, and it's no longer available, but this one and this one are pretty good options, and moleskine notebooks like this one are all the rage right now—especially for bullet journals. But, really, any notebook would do.
This ongoing to-do journal is the simplest way to keep everything I have to do on paper and out of my brain.
It lives by my bed at night, because it never fails that as soon as I get all snuggled in and turn off my lamp my brain wakes up and reminds me of all the things. This way I can sit up and write them down and go back to sleep with a more peaceful brain.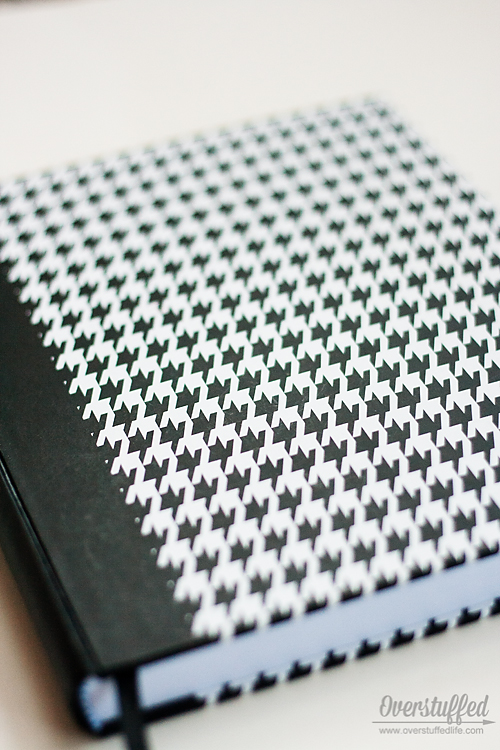 I used to just ignore all the things when this happened, but that was a mistake, because by morning I had forgotten all the things.
Now, I have all the things in one place.
The key is (obviously) to actually look at them. I try to make myself do at least five items on the list each night before bed.
Most of them are simple enough to do: pay certain bills, write thank you notes, clean the microwave, send a text or an email. Others take a little more planning and preparation, but they stay on the list until they are crossed off.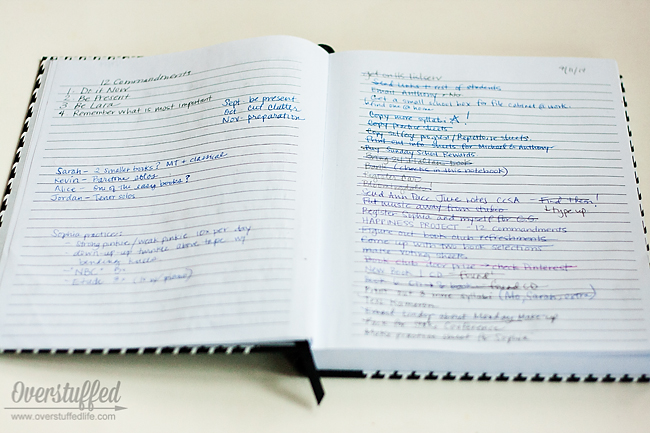 Every time I turn the page, I date the top of it with the current date. If something still hasn't been done after two pages, I cross it out and add it to the new page so that it doesn't get lost in the shuffle.
I only use the right-hand page for the to-do list. The left-hand page is kind of a stream of consciousness place. On the above photo it contains ideas for a Happiness Project I am participating in, the books I need some of my voice students to purchase, and what my daughter was supposed to practice on her violin that week.
This works well for me. I feel I'm able to get all of that mental clutter down on paper and actually get it done and be productive. It's the best "system" I've ever used for my to-do list, and it's so very simple! I love it!
How do you get rid of the mental clutter?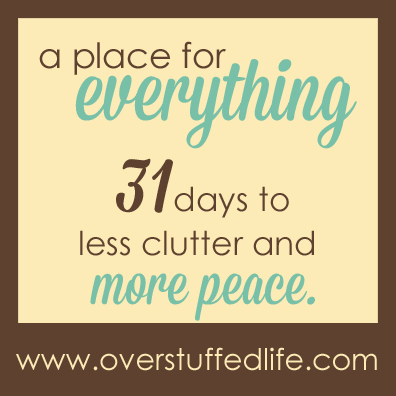 Find all of the posts in this 31 Day Challenge here: A Place for Everything: 31 Days to Less Clutter and More Peace.
Want to start the 30-day declutter challenge?
Fill out the form at the very end of this post and you will receive an email each day with a new decluttering assignment.
This post may contain affiliate links, for more information, please see my disclosure.
Are you ready to declutter your life?
Join the 31 day challenge to get rid of clutter and make room for peace.