4 Easy Ways to Get Back on Track Financially
This post is part of a social shopper marketing insight campaign with Pollinate Media Group® and Payoff, but all my opinions are my own.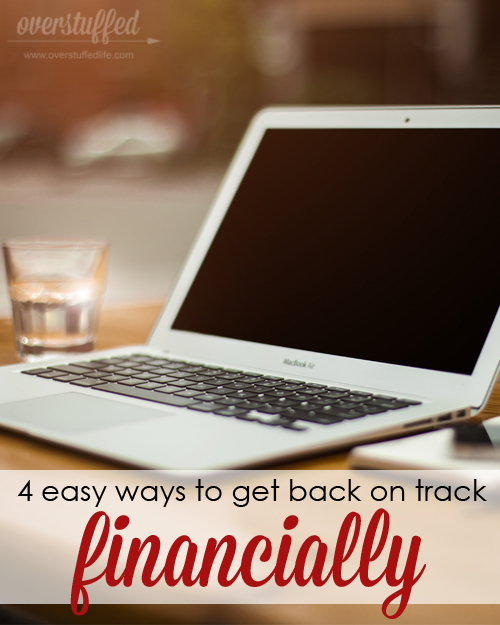 Last year at this time, we were totally on track to pay off a bunch of debt and were getting so much closer to being debt-free.
And then, life happened. I was the lead in an opera, and my husband just so happened to be the music director. This meant that we were both stretched much farther than usual when rehearsals started in February. It's truly a miracle that our children managed to stay alive since both of us were gone so much at rehearsals. It's nice to have a responsible teenager around to help with things like cooking and getting the girls showered and ready to bed, but she's not quite ready for taking on things like the budget.
Basically, I was stretched so thin from February through April that I completely ignored my budgeting software. We ate out a lot more out of necessity. While we managed to pay our bills on time, things were a little tighter than we had been used to, simply because we were no longer budgeting and paying careful attention to how we spent our money.
And as soon as the opera was over, my husband and I went on an amazing vacation and spent a lot of money. We had technically budgeted and saved for this vacation, but our temporary hiatus on budgeting had really screwed us up and we ended up adding more to our debt load.
To make matters worse, I just haven't had the wherewithal to get back on track. Which means we've wasted an entire year of good money management and our debt has NOT been paid down nearly as much as it could have been.
It's easy to feel like you are drowning in debt. It certainly doesn't take much. But I'm finished with it. I'm ready to get back on track with finances, no matter how hard it's going to be to look at.
1. Rework the Budget
This is the first thing on everyone's list, I know. But there is a good reason for it! Budgeting doesn't have to be difficult, but you do have to keep up on it. And if you want to get out of debt, a large part of your budget has to be paying off those credit cards. If you have fallen off of the budgeting wagon–or if you've never had a budget at all!—take an hour or two and get it set up.
I have often rebelled against a budget because I don't like feeling restricted. However, that attitude has gotten me into a lot of trouble moneywise! I now look at a budget as being something that gives me MORE freedom—not less. Spending outside of our means turns us into prisoners of debt, and I do not want that at all.
I'd much rather budget! And I'm hoping to budget myself into complete freedom from debt as soon as possible!
(Want to know a little more about our budget? Click here: Our Budget Categories.)
2. Try a Spending Freeze
I know, I know. You're saying, "I thought these were supposed to be EASY tips!" But believe it or not, a spending freeze is easier than it sounds. We have only done them a few times, but they have been incredibly helpful in getting us back on track when we need it.
What's a spending freeze? It means not buying anything beyond the necessities (groceries are okay, eating out is not) for a set amount of time. We usually choose a 30 day period to do it, but even a week on a spending freeze will make a difference. Even though groceries are okay, we also try to clean out our pantry during this time so we can cut that bill as much as possible, too.
3. Touch Base for Five Minutes Every Day
This tip really is easy! Devote just 5 minutes each day to tracking your spending, organizing receipts, and communicating with your spouse (if this is a joint effort) about your financial goals. The entire reason we fell off of the wagon was because we let a busy life get in the way. We totally neglected this easiest of steps.
Don't let this happen to you! Stay on top of things! It only takes a few minutes every day, and maybe a little longer once a month to adjust and work on the next month's budget.
I hadn't heard of this website before, but after checking it out, I'm totally hooked! Payoff is a company that is committed to helping people pay off their debt.
They do offer consolidation loans—and I went through the application process thinking that would be a huge help not to have to pay on four different cards all the time. The application process is incredibly simple, and requires a soft credit check but does not affect your credit at all.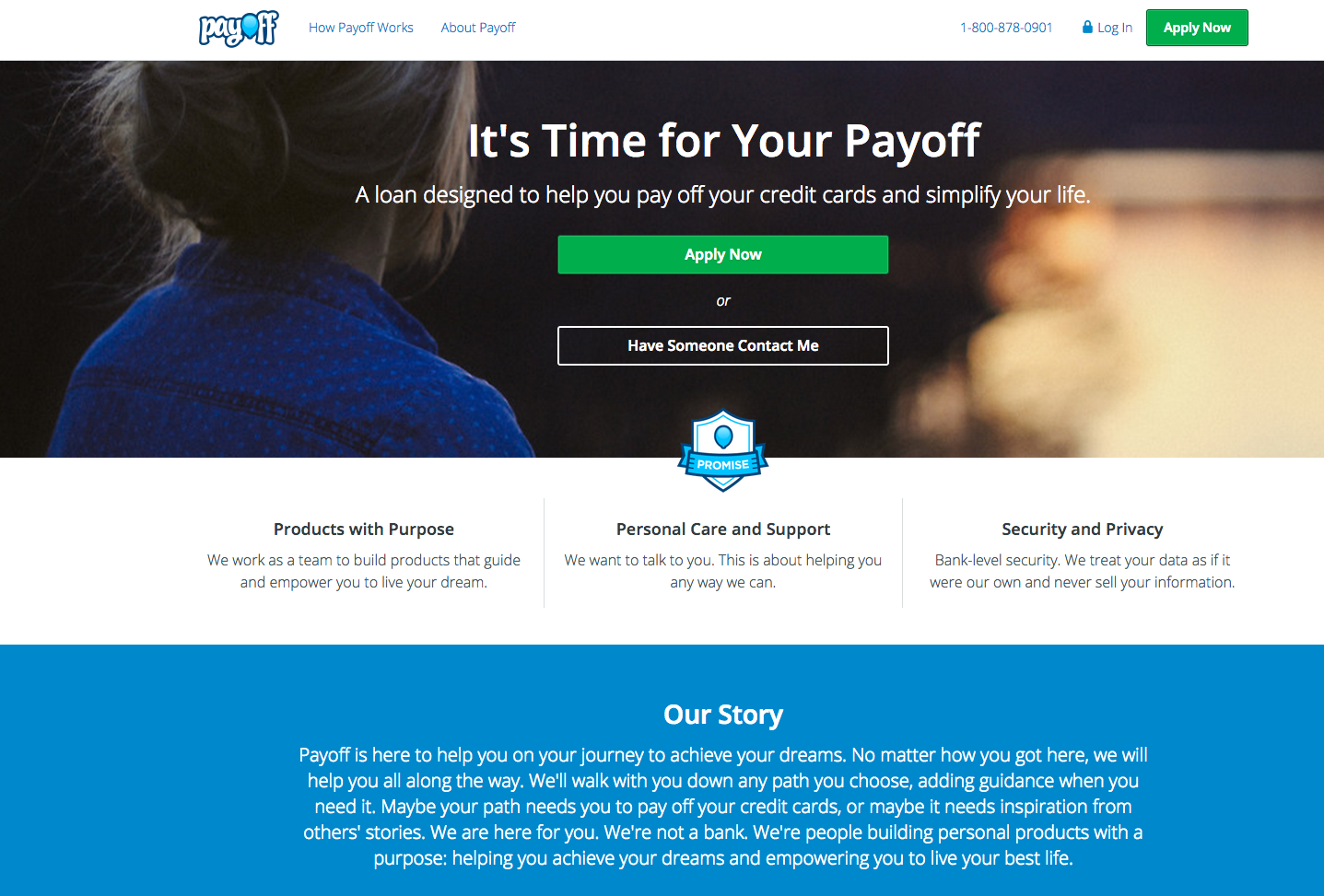 We were not approved due to a debt-to-income ratio that is too high. This is because of my husband's student loans (you don't get to have Dr. in front of your name for nothing—even if you're going to be a poor college professor!), and I knew that despite both of our excellent credit scores, we would probably be denied.
But that is okay, because Payoff.com has a ton of helpful tools that I will be using often as we work harder than ever to get the debt paid off. Let me show you some of my favorite things I found while poking around the website for a while.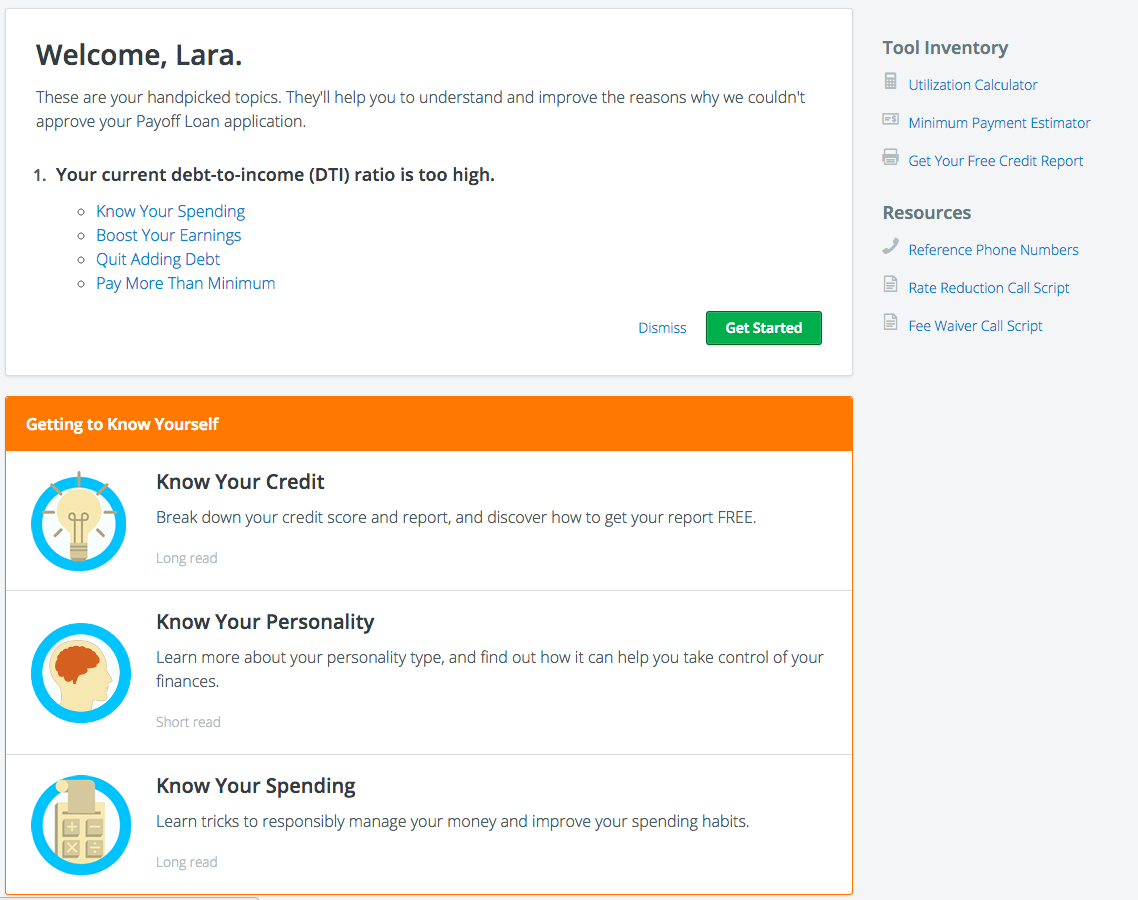 You get handpicked topics based on what Payoff sees in your credit report. Each link takes you to an article with so many great strategies for getting your finances in order.
They also have a "Getting to Know Yourself" section that contains quizzes and things you can take to help you understand your past actions and change your financial future.
I took a quiz to help me understand my financial personality and apparently I am "The Vault." (It sounds like a superhero name, don't you think?)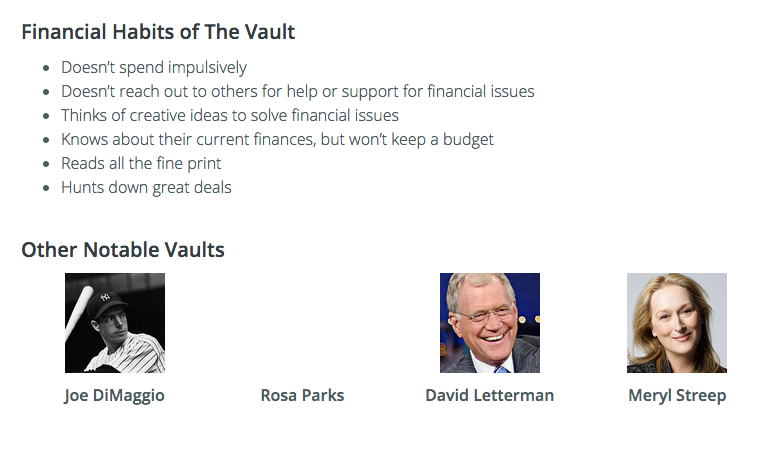 All of these things are indeed pretty true of me. I'm not a big impulsive buyer, though I do succumb sometimes. I am all about the good deal, and did you see what it says about keeping a budget. Yes, I loathe budgeting, but I have learned that it's necessary, no matter how on top of the bank account I am.
Another section I really liked was one that helps you understand what a credit card purchase really means.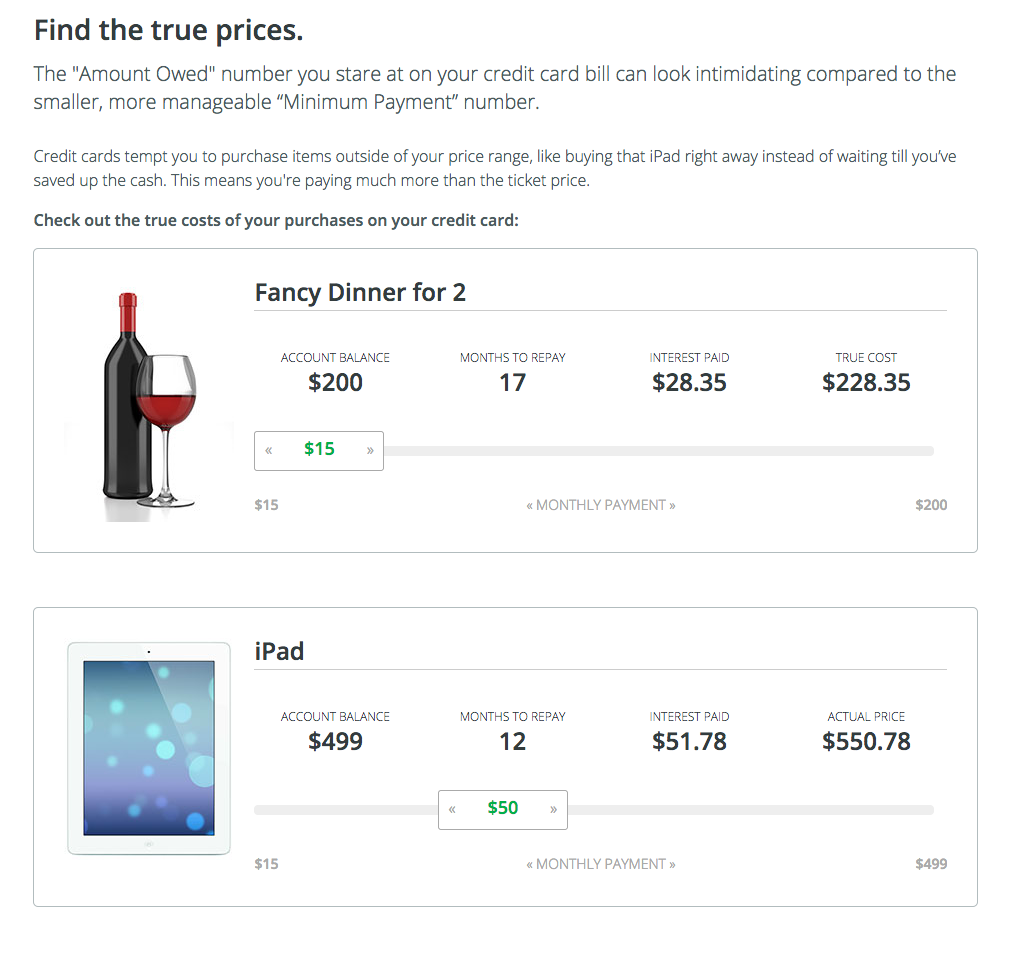 You can play with the sliders to see just how much a purchase might affect your bottom line. Honestly, I have no interest in taking a year and a half to pay off an anniversary dinner. But I don't know that I would have thought of it that way without looking at these charts. Yikes!
These are just a few of the helpful tools Payoff offers. They really are dedicated to helping people like me to get rid of debt, and I appreciate that.
I'm looking forward to starting fresh this year and being more committed than ever to our budget. If we stick to these steps, I know we will be in a much better place this time next year. And so can you.
Go team!
This post may contain affiliate links, for more information, please see my disclosure.