4 Reasons to Go to Disney at Christmas Time!
We are taking our girls to Disneyland this year in December as their Christmas gift. We are so excited to finally learn what the big deal is about Disney since this will be our first family trip to visit Mickey! I have asked my good friend MaryFran to serve as Overstuffed's Disney expert, and I'm so glad that her very first post here is all about Disney at Christmas time—it's making me really excited for our vacation!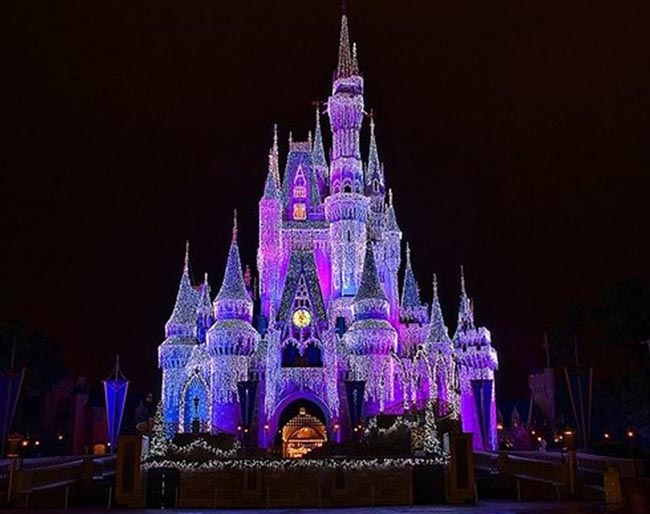 Booking a trip to Disney? Book through Get Away Today! Use code STUFFED10 to save an extra $10 on California packages.

Get Away Today currently has EXTRA DAY FREE AT DISNEY promotions going. Check out pricing here!
UPDATE: We are back from Disney! I added a couple photos of our own trip to this post to go along with MaryFran's photos. I can attest that these 4 reasons to go at Christmas are absolutely true and I'm so glad we did it!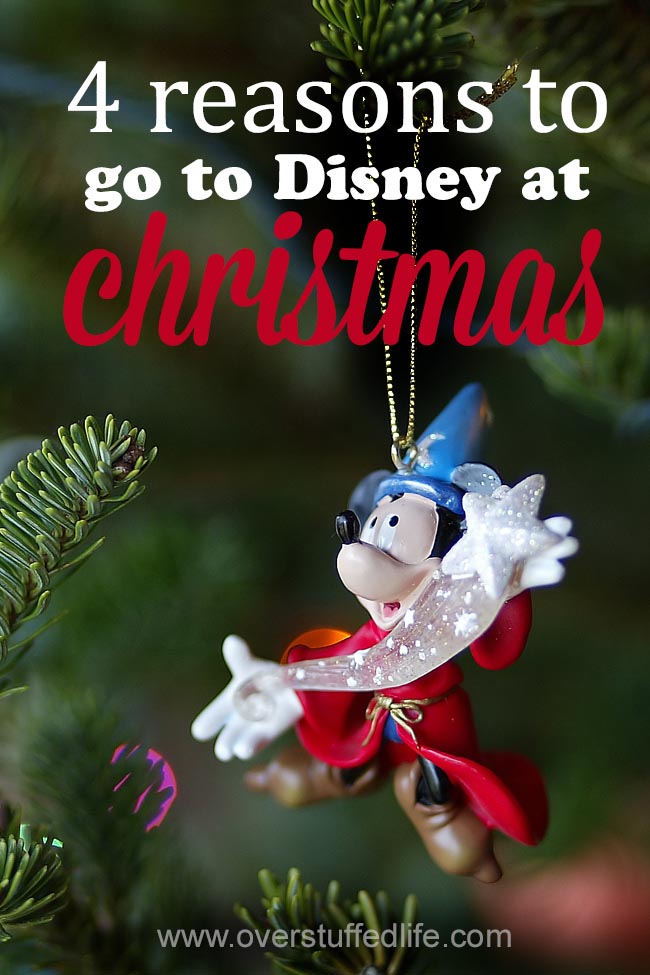 4 Reasons to go to Disney at Christmas:
1. Going to Disney is a wonderful Christmas gift to your family!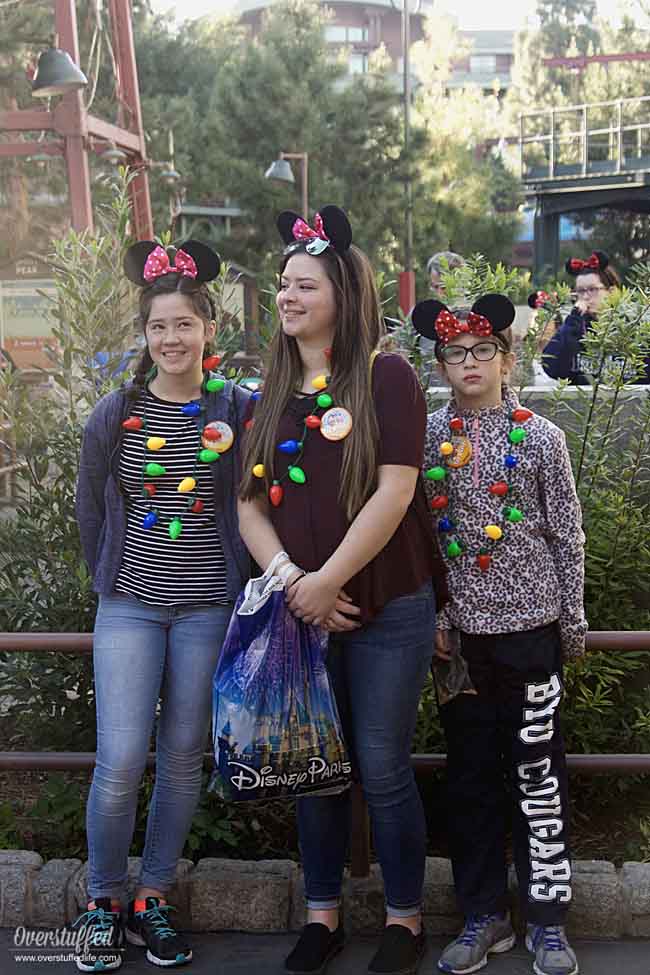 The absolute best reason is that it can be your gift to you family! No trying to decide what they would need or want. No standing in lines for shopping for things that they will forget or lose under the bed never to been seen again.
My husband and I like to give our children experiences for gifts. Experience gifts can range from a day trip to look at the changing leaves to big vacations. We want to create as many memories as we can in the short time that we are all living together as a family (our oldest is 16 and will be heading off to college soon so our family dynamic will be changing).
2. Disney does Christmas in a big way!
The phrase "go big or go home" must have originated with Disney. Disney at any time of the year is magical, but Disney at Christmas is magic squared. Over the years they change and add to the displays—beautifully decorated trees almost too tall for you to see to the top and full size gingerbread houses have been a few of my personal favorites.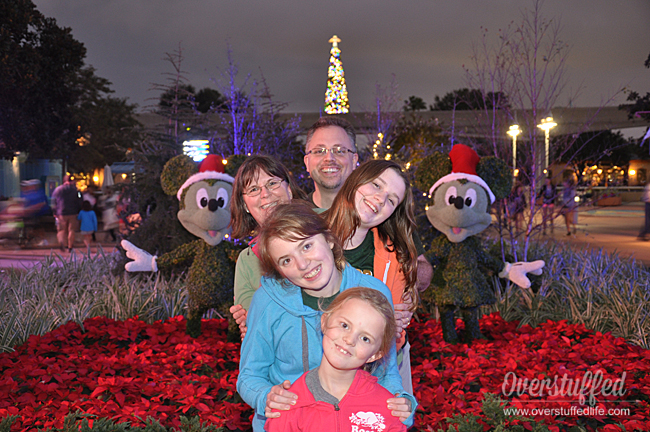 The extra and special shows Disney puts on at Christmas are amazing to see. One year we were able to see the extra show at Epcot (watch a video of the show here: Epcot IllumiNations Christmas Show). Thinking about it still brings tears to my eyes. Hearing the words "Let there be peace on earth and let it begin with me," spending the day touring the world, meeting wonderful people that speak other languages and have different cultures, and then to end the evening with the thought that all people really want the same basic things was very moving for me.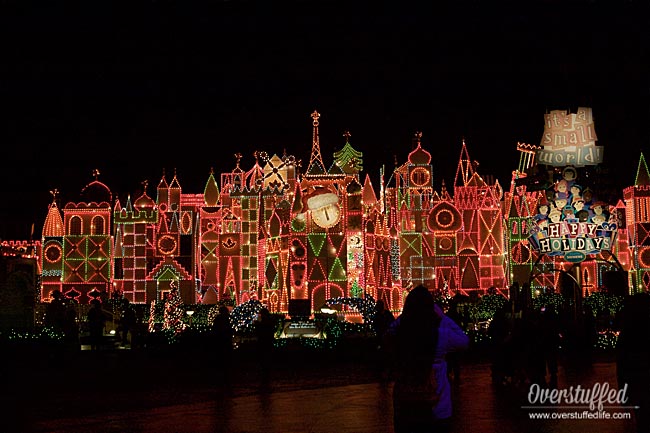 The Small World Ride lit up in Christmas Style at Disneyland. All of the characters inside are dressed in their holiday best and they alternate singing Jingle Bells and Deck the Halls with It's a Small World.
Before your Christmas trip to Disney, be sure to visit their holiday events page to see all of the things they have planned for this year. You'll find information about Mickey's Very Merry Christmas Party, Holidays Around the World, Jingle Bell Jingle BAM, IllumiNations, festive dining experiences at Disney, and much more. Knowing when each of these events is held and how to see them is a crucial part of your Disney Christmas planning!
3. You can still avoid the Disney crowds during Christmas time!
Timing your Christmas visit to Disney is critical. The decorations start going up after Halloween but are not fully complete until around the first week in December. They start coming down around January 3. My preference is not to go during busy times, so I avoid the time between Christmas Eve and New Year's Eve because that is the busiest week of the year for Disney properties. We live in a town with a population of less than 8,000 people, so our family does not do well in large crowds, but if you don't go between December 24-January 1 you will generally miss the big crowds.
One year we arrived on New Year's day and it was crazy, but by the Sunday after the new year we had the place to ourselves. It is a very different feeling walking down Main Street with just your family than it is to walk down Main Street in a sea of humanity!
4. Orlando and Anaheim are always warm—even at Christmas!
Another great reason to go during the months of November and December is the climate! The average temperature of Anaheim in December is 71 degrees, and the average temperature of Orlando in December is 73 degrees! It is much more enjoyable for those of us in the colder northern states and a great reason to escape the cold and snow and warm up for a few days.
Disney at Christmas is not to be missed—you've got to do it at least once in your lifetime! When you're ready to book your own Disney Christmas trip, be sure to do it through Get Away Today. They have great deals on Disney packages for both Disneyland and Disney World. Bonus: If you book a Southern California package with them, enter the code STUFFED10 at checkout for an additional $10.00 off your trip! Book your trip here: Get Away Today.
---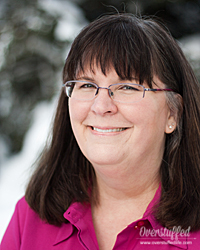 MaryFran is the Disney expert at www.overstuffedlife.com. She has been to Disneyland once and Disney World a whopping 8 times! MaryFran is a planner by nature, so she is always planning for her next Disney trip with her husband and three daughters. When she isn't planning a Disney trip for her own family, you can bet she is helping a friend plan their trip! Now, she'll be helping you plan your Disney trips here at Overstuffed.
Find out even more about MaryFran and her love for Disney here: Meet MaryFran—Overstuffed's Disney Expert
Read all of MaryFran's articles on Overstuffed: How to do Disney right!
New Disney articles will be published monthly.
This post may contain affiliate links, for more information, please see my disclosure.