5 Simple Ways to Get Kids to Do Chores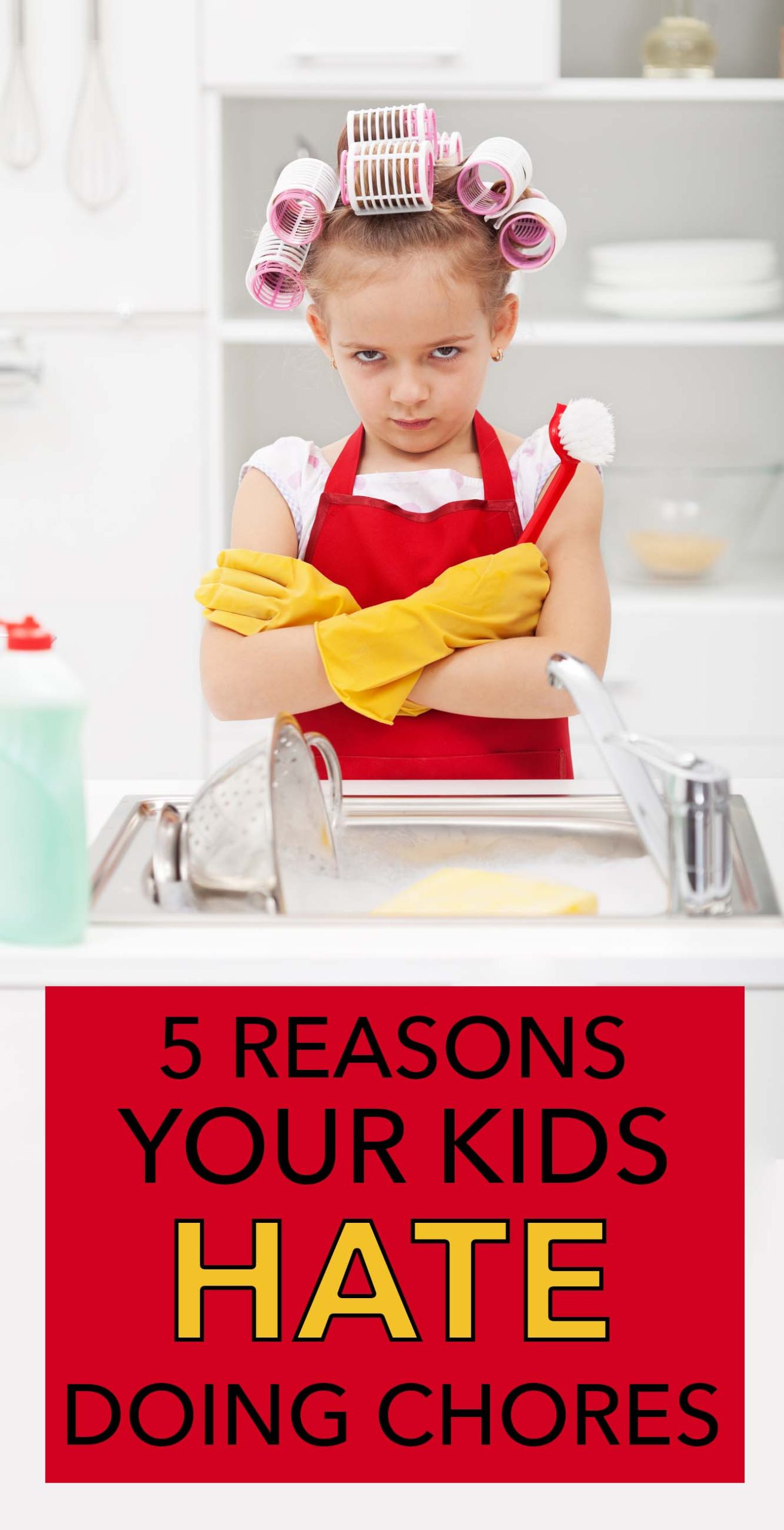 Chores for kids are necessary to teach them how to work hard and do their part. Try these simple tips to get your kids doing their chores happily.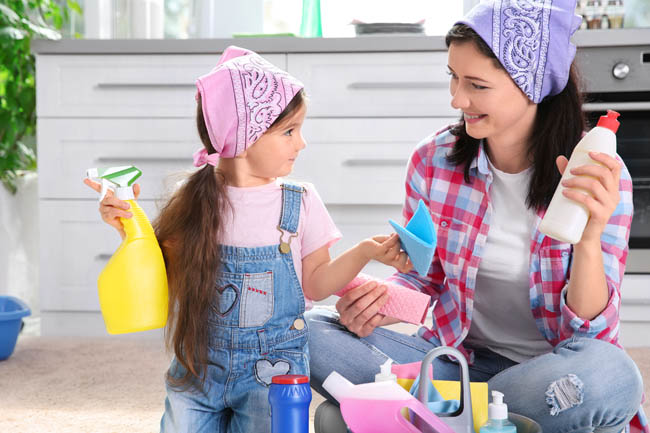 If your kids are anything like mine, the prospect of a Saturday morning filled with doing chores does not cause them to jump for joy. And if you are anything like me, the prospect of trying to convince your children to spend their Saturday morning doing chores does not cause you to jump for joy, either.
But, whether or not you're happy about it, housework must go on. As a mother, I consider it a huge responsibility to teach my children how to do it so that when they go out into the world they aren't driving their college roommates or spouses insane. And, you know, so that they are living in a clean and healthy environment.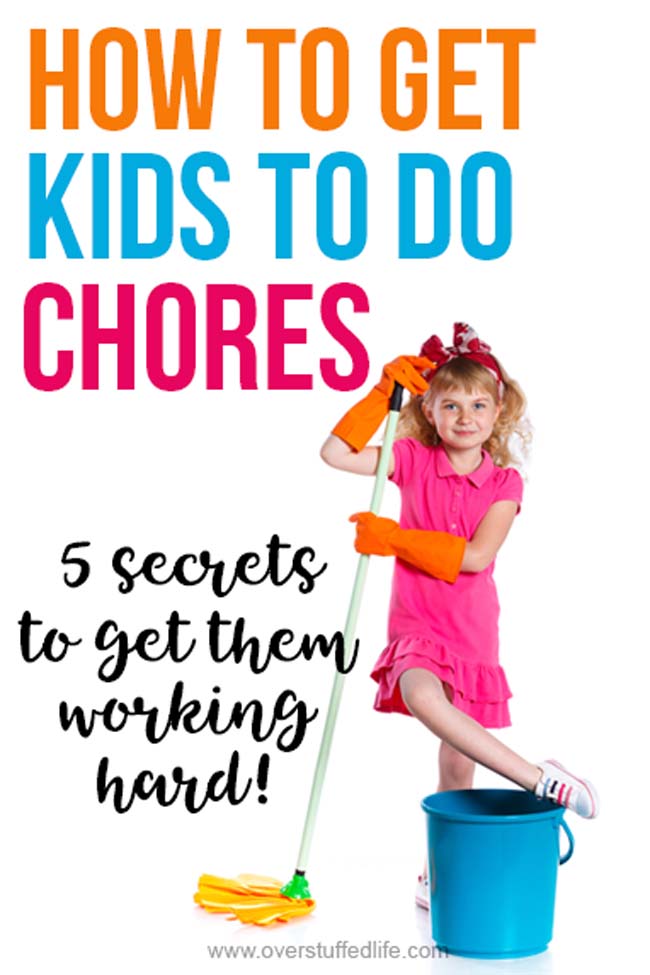 Now, I don't know if I can teach them to love cleaning (I don't love cleaning), but I can teach them that it's not so bad. Here are some things that have helped me at my house:
1. Make it fun.
Whenever I tell the girls it's their turn to do the dishes, there's a collective groan. But then I put on their favorite music and the cleaning suddenly becomes fun. They dance and sing to One Direction and R5 and whatever other music it is they love, the dishes get clean, and everyone is happy (mind you—if we were cleaning to MY favorite music, it would be very different)(I think it's pretty fun to clean to a rousing Rossini opera aria, don't you?).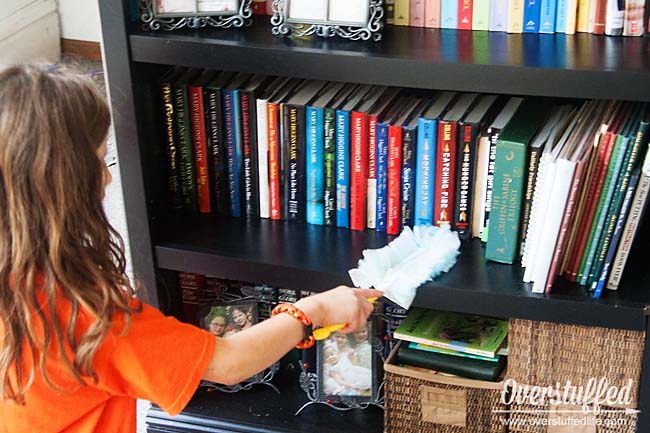 Besides music, there's plenty of other ways to make chores fun. You know your kids best, and you know what that means for each individual kid. My youngest daughter will clean anything if it is made into a competition. I will often challenge her to a race to see if she can clean her room faster than I can clean mine. Or I will say "I bet you can't clean your zone in less than 10 minutes!" and she will jump up and hurry to prove me wrong.
One day, all on her own, she decided to become the "Cleaning Ninja." She put on a mask, filled her apron pockets with cleaning supplies and practically cleaned the whole house. She had a blast doing it, so sometimes I ask her if the Cleaning Ninja is willing to do a few chores for me and she's off like lightning!
2. Do it together
One of my favorite memories with my children happened last fall. We were all in the kitchen together, working on making dinner and doing some clean up. We were blasting The Beatles while my middle daughter was chopping vegetables, my youngest was shelling beans, my oldest was doing some dishes, and my husband and I were working at various other meal prep. I was actually using the blender to make some cauliflower soup, and I over filled it. As you might imagine, I had a cauliflower explosion all over the kitchen—there was soup everywhere! On the fridge, the floor, the cupboards, the walls, and even the ceiling. We were all so happy working together, though, that the mess didn't faze anyone. We laughed about it, cleaned it up together, and finished dinner.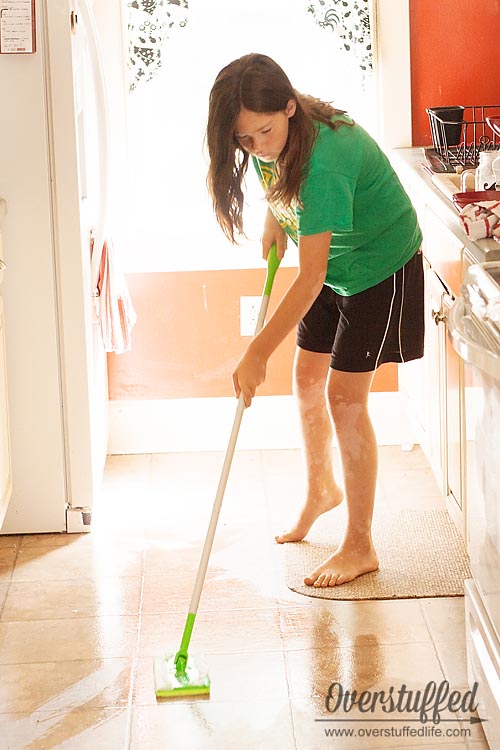 When we are doing all the work together, it feels easier for the kids. For younger kids, it's a necessity to be right alongside them while they are first learning how to do certain chores. It doesn't mean you're doing it for them, but it does help them to feel more confident, stay on task, and actually enjoy it when you are with them–provided you're also trying to make it fun.
Dividing one big cleaning project up and doing it all together as a family can be a lot of fun. There is less likelihood of complaining when you work together, too. I usually employ this tactic for kitchen clean-up or big rooms like the family room or living room.
Leaving your child alone to clean is fine (see #3), but if you can work right next to them, things get done faster and better and everyone is happier.
3. Break it into bite-sized pieces
Telling a child to "clean the living room" will never mean the same thing to the child as it does to you. They will either try their best and forget several things, or they will get so overwhelmed with the idea that they won't know where to begin.
Don't make your kids eat the entire elephant with eating! Give it to them in bite-sized pieces, and they will feel much more successful. I have created detailed lists for each room in my home (you can find printable versions here: Is Your Room Mommy Clean? and here: Printable Cleaning Checklists). This way, the kids can do the smaller tasks that make up the larger task of cleaning a room. It's much easier to "pick up the floor," "dust the bookshelves," and "vacuum the rug" than it is to "clean the living room."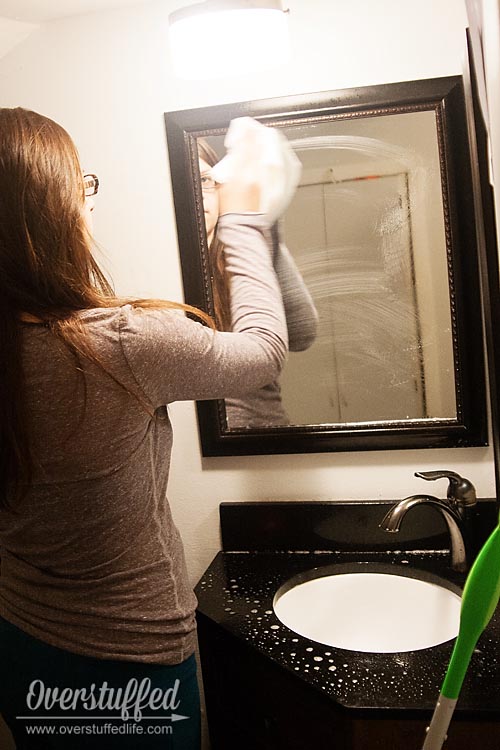 The very first time I introduced these cleaning lists to my children, they were thrilled. One daughter happily and thoroughly cleaned the bathroom and was excited to check off each item. It seriously changed my life as a mother to make these lists. Try it! You'll be pleasantly surprised.
4. Be a good example.
If you are constantly complaining about cleaning, your children will, too! I learned this the hard way, and I am still learning.
Let your children see you cleaning on a regular basis. If you require them to clean their room every day, don't be leaving your bed unmade and clothes all over the floor. They watch you and they will do what you do.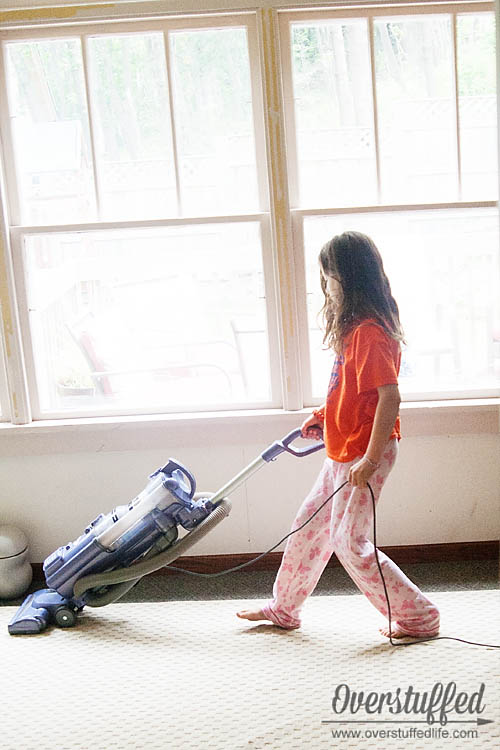 Finally, teach them what a great reward a clean house is, in and of itself. We all feel better when our environment is free of clutter and dirt. Home is just a happier place to be when it is clean. The younger your children learn this lesson, the better.
5. Give them cleaning tools that are easy to use.
Swiffer recently sent me a big green box full of awesome Swiffer cleaning supplies. One might assume that my kids wouldn't think it was very cool, but they did. And they couldn't wait to use them.
The box included Swiffer brand dusters, duster refills, and a Swiffer sweeper with both wet and dry refills. I have loved my Swiffer products for a long time because they are so easy and quick to use. In fact, when the Swiffer sweeper very first came out I was a newlywed. Every time I saw the commercial for it I would mention how cool it looked and how much I would like one because I hated dragging out my mop and bucket to mop our kitchen floor that was all of ten square feet. Well, guess what was under the tree from The Maestro for our very first Christmas as husband and wife? Yup. My first Swiffer sweeper. And I was in no way offended, because I really wanted it!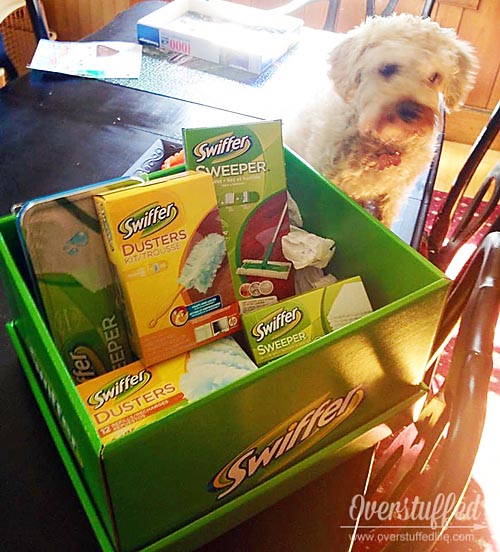 Anyway, my girls were very excited to use the products in the big green box from Swiffer. My youngest daughter fell in love with the dusters in particular and had a grand old time dusting the entire house with them. The reason that she loves them so much is because she doesn't have trouble using them. Dusting with furniture spray and a cloth is more tedious and time consuming. And mopping with a traditional mop and bucket is, too. Which is why the girls like to use the Swiffer sweepers, instead. Swiffer makes cleaning easier, no matter who is doing the cleaning.
All of the photos in this post show my children cleaning without complaint on a Saturday morning (which, incidentally, is why they also look like ragamuffins). Believe me when I say that the music is blaring and that I am working right alongside them. They had their lists and they had their Swiffer tools, and they finished up quickly and happily.
Be still my heart—what more could a mom ask for?
How about a SECOND big green Swiffer box?
Swiffer actually sent me a second box with the stipulation that I surprise a friend with it. So my daughters and I headed over to my friend Lisa's house and caught her just before she left to go grocery shopping.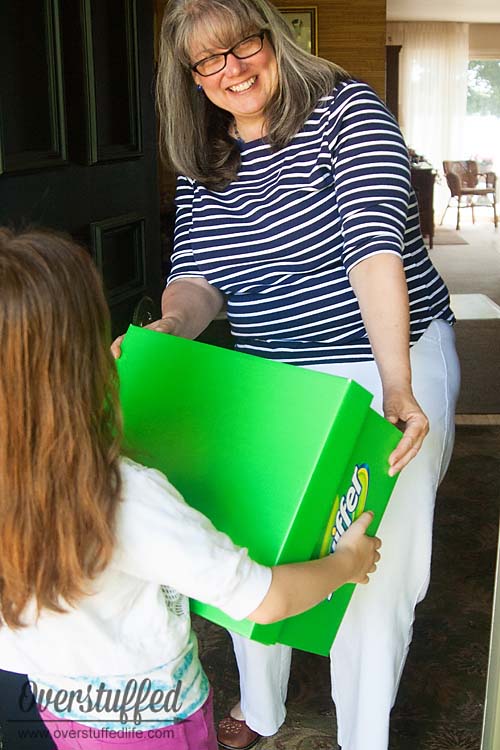 Guess what she didn't have to buy when she got to the store? She was pretty thrilled to cross those cleaning supplies off of her list and buy something a little more fun. (Even though we think Swiffer cleaning supplies are super fun!)
How do you get your kids to help clean the house?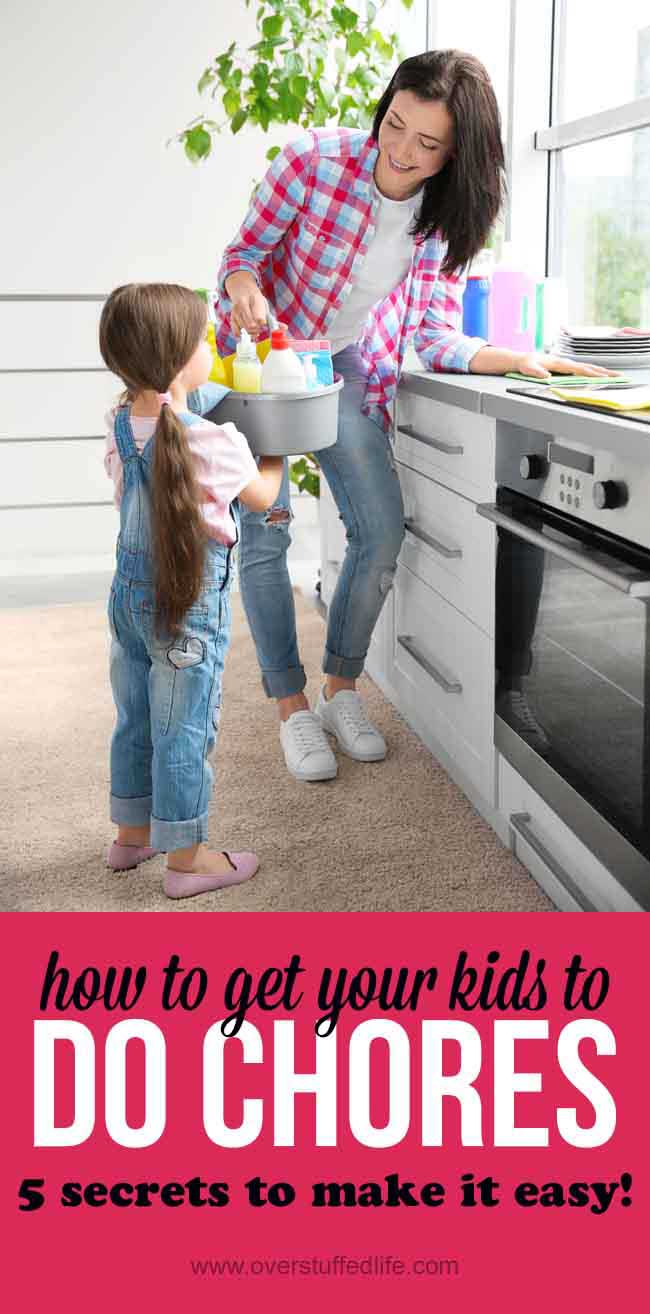 I was selected for this opportunity as a member of Clever Girls Collective and the content and opinions expressed here are all my own.
This post may contain affiliate links, for more information, please see my disclosure.