5 Things I Wish I'd Brought Camping
Family camping is so much fun—as long as you have the right supplies! If you're novice campers, prepare for your camping trip by making sure you've got everything you need.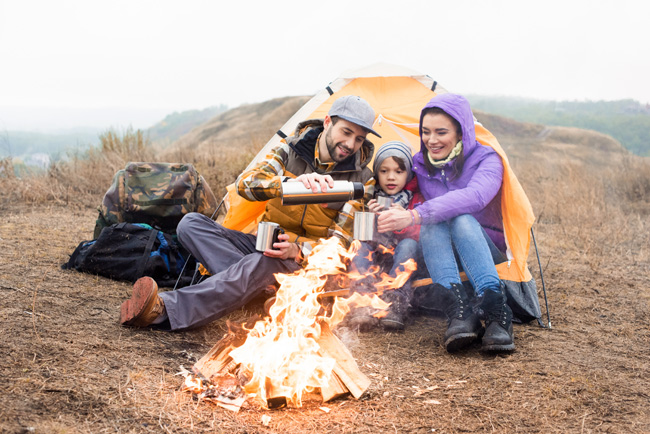 We have never been big campers. The first time that we went camping together as a family was when our second child was a baby and our oldest was three. It was for a church camping trip and so we borrowed a tent and headed up the mountain with everyone else.
It was kind of awful. The baby cried all night long. All. Night. Long. And I could hear coyotes everywhere (this was in Arizona) and it was uncomfortable and I swore I'd never do it again.
But then, we went on our Epic Vacation in 2012 and decided to camp across America. We purchased an awesome, spacious tent (to see it click here: Coleman 8 man tent) and other necessary camping supplies and had a wonderful time doing it. It might be because we didn't have a baby or super young children anymore, but whatever it was, it was fun.
So we kind of like to camp now. And we've been trying to find a time to do it this summer that would work with both the weather and the schedule. My husband finally found that time and picked me up from work one day with everything ready to go.
Except. We forgot a few things…
This post contains affiliate links.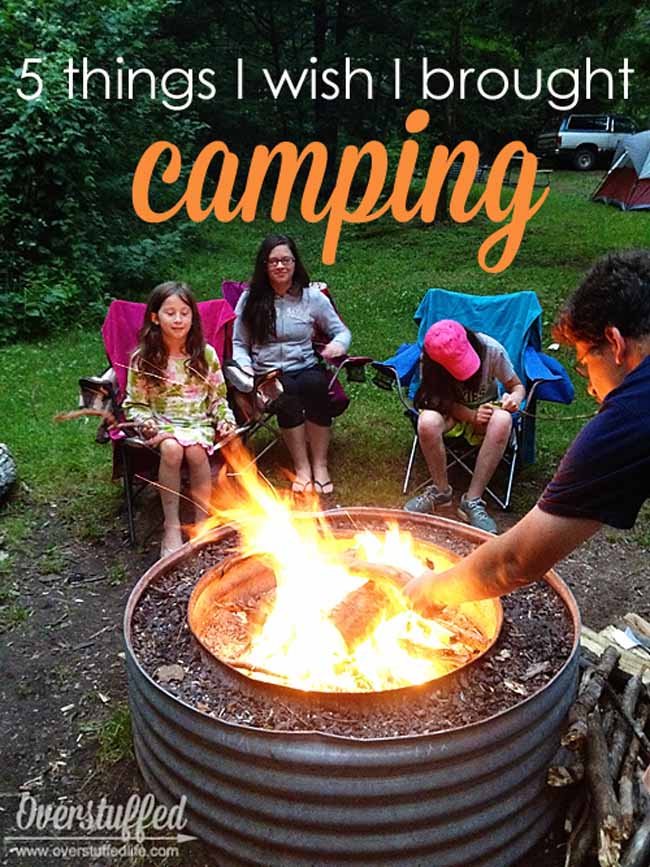 The first thing we forgot, and quite possibly the most important:
Marshmallow Roasters
I mean, it all turned out fine in the end, because the girls found some sticks and they worked okay. But we didn't have a sharp enough knife to really make them work wonderfully. You can see in the above photo that my daughter is working on hers diligently with her little camp knife that she purchased at the Outpost, but it cost her all of 3 bucks, so I'm sure you can imagine how effective that was!
(Okay, so maybe a good camping knife should be added to this list. My husband has this leatherman, and this knife is also a good choice and if you want a REALLY good knife for camping, this one is top-rated.)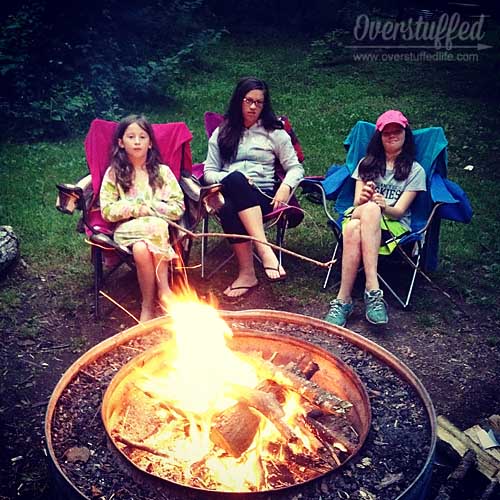 Now, to be honest, we did't even OWN any marshmallow roasters. But now we do. And we didn't forget the gluten-free graham crackers, so all's well that ends well, right?
Of course right! Because S'mores! And next time I will bring the awesome telescoping and color coded marshmallow roasters I bought online.
And if you really really love S'mores, I thought this S'mores caddy was adorable and super practical for camping: Hershey's S'mores Caddy
Extra Camera Battery
I already wrote about this a little bit. My husband picked me up from work, we headed to a wedding reception, and then we quickly came back home to change (camping in wedding reception dress is not recommended). I grabbed my camera after I changed my clothes, knowing full well that the battery in it was not full, but thinking it would be okay because I didn't have time to grab my spare battery.
Dumb move!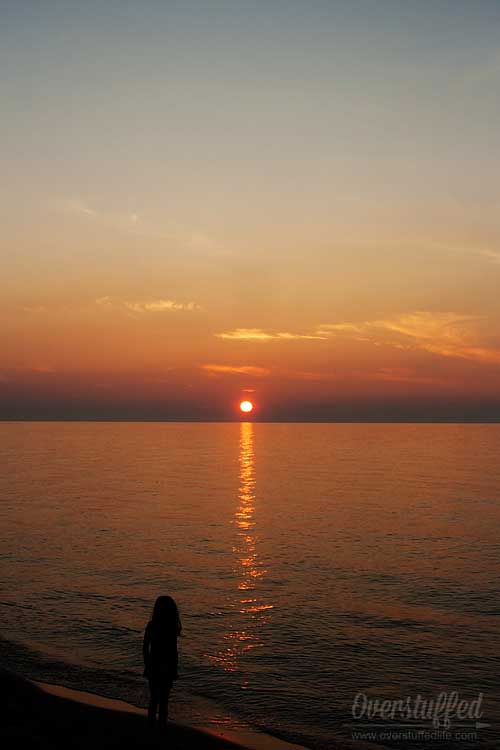 The sun was setting just as we were driving into the state park and it was breathtaking. I made my husband pull over, grabbed my camera, and ran down to the beach to get some photos. I managed to take exactly four before my dang battery died.
I took a few with my iPhone after that, and even though they turned out okay, I like the ones out of my big camera much better.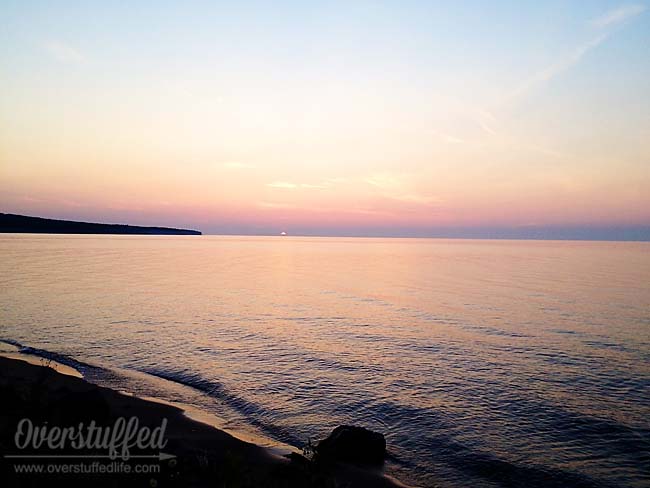 I couldn't get a nice zoomed photo (never zoom on the iPhone—it just makes a crappy photo)and the color is washed out. It's still a lovely photo, so if all you have is your phone, use it!
It frustrated me that I was stuck with my phone for the rest of the camping trip, though.
The iPhone has a hard time with exposure for photos like this one, and I get frustrated with it. I like the control of my manual camera much better!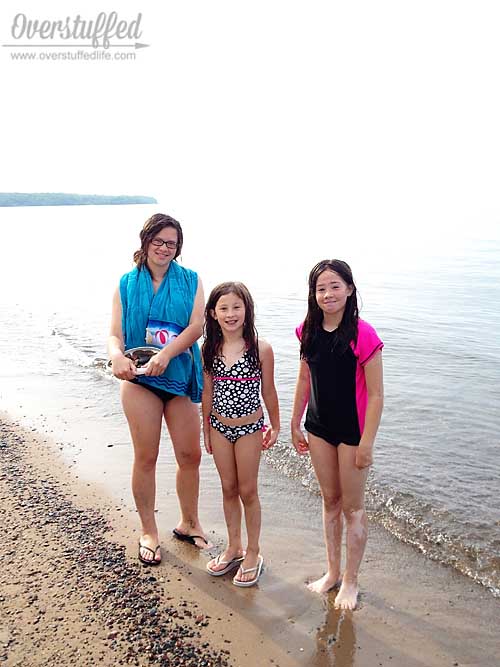 Either too dark or too light. Hard to get it just right. And I can't shoot in RAW like I do with my camera.That way I can adjust the exposure later if I get it wrong in camera!
Oh well. Next time, I assure you that I will have both batteries fully charged and ready to go! And I will also bring this car inverter just in case my batteries both go dead.
Extra Blankets
I know it's the middle of August, but camping in the mountains (or in the Upper Peninsula!) means that it can get pretty cold at night. We did have some of our best summer weather for the camping trip but it was pretty cold at night.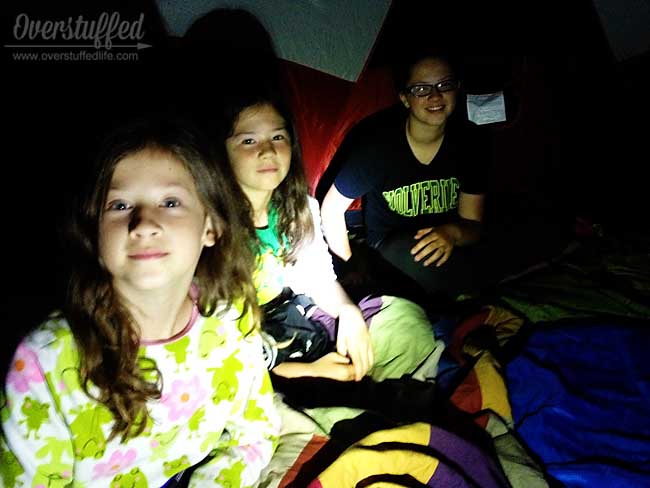 My two younger daughters both have lighter youth-sized sleeping bags that worked great for camping in the Badlands, but not so much the Porkies—which are beyond the End of the Earth.
Those two were especially cold at night and decided to get warm by snuggling into me as tightly as they could. We did have the blanket we use for the beach with us, but it didn't do quite a good enough job in keeping them warm.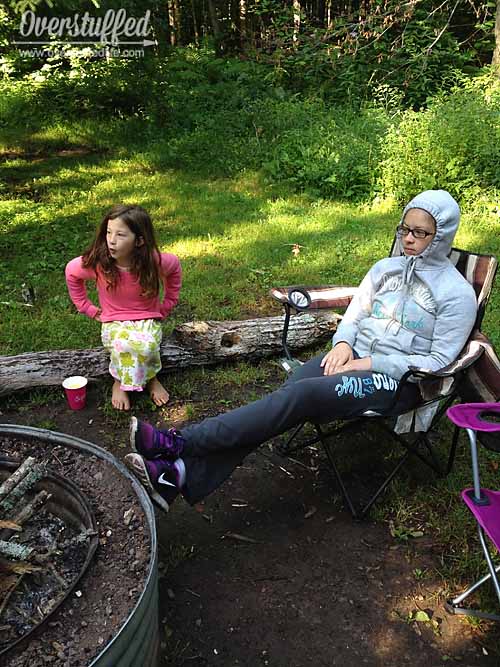 Extra blankets would have also been awfully nice for the morning. The girls didn't think to bring anything much warmer than a hoodie, and I think we all could have used our winter jackets until mid-morning. My husband had decided not to start a fire for the morning, since it was too much work and we used a camp stove for cooking breakfast. These fleece camping blankets would have been perfect.
More Camp Chairs
We actually only own three of them right now, which is why we only brought three. But they are inexpensive enough that we should have bought two more. These ones would have been perfect.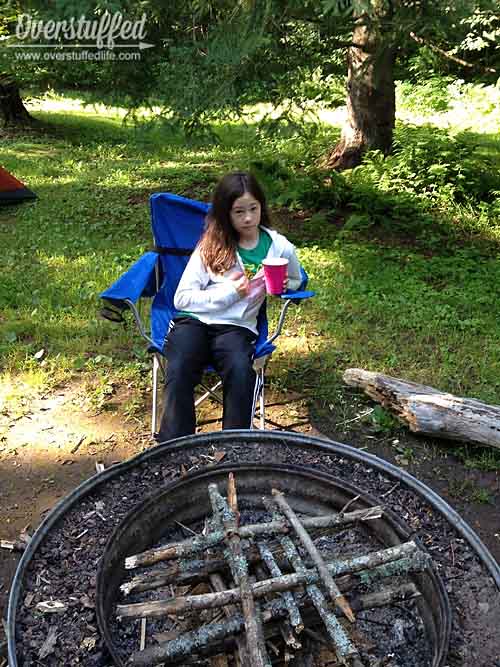 Yes, there was a picnic table at our campground, and there was even a log to sit on near the fire pit, but it would have been so much nicer if we could all have had a chair! Especially for getting nice and close for roasting those marshmallows!
Letterboxing Supplies
A wonderful family activity for camping or hiking is letterboxing and we really like to do it. I didn't even think about it when we left to camp, though.
Which is silly, because places like National and State Parks usually have TONS of letterboxes hidden in them.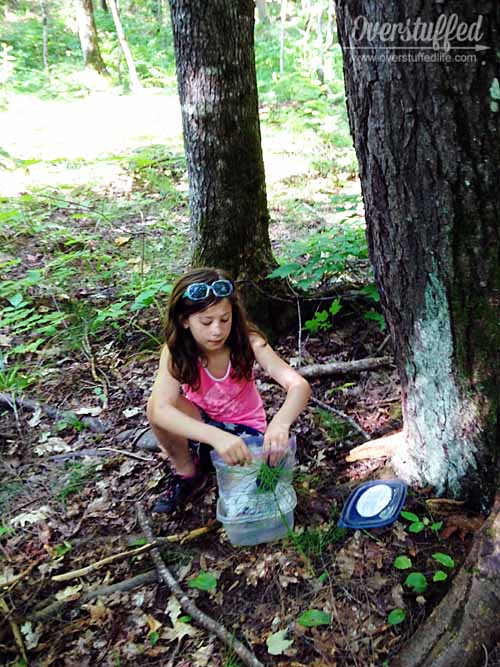 Lucky for us, the visitor's center not only had printouts of all the clues to each letterbox hidden in the park, they also had stamps and notebooks for us to use. How cool is that? We were a little sad not to have our signature pineapple stamp, but we used a butterfly instead and found a few letterboxes together.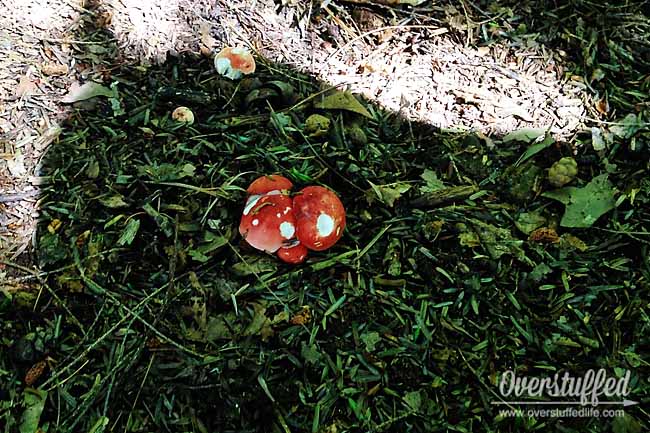 We also found "Super Mario Brothers" mushrooms, as Chloe very excitedly called them. I think that might be one of my favorite things about letterboxing—it makes you look at your surroundings a little more closely and you might find some hidden treasures.
What We Remembered
Even though there were a few things I wish we would have had, we remembered the important stuff. And I'm not just talking about our tent and sleeping bags and plenty of food and water.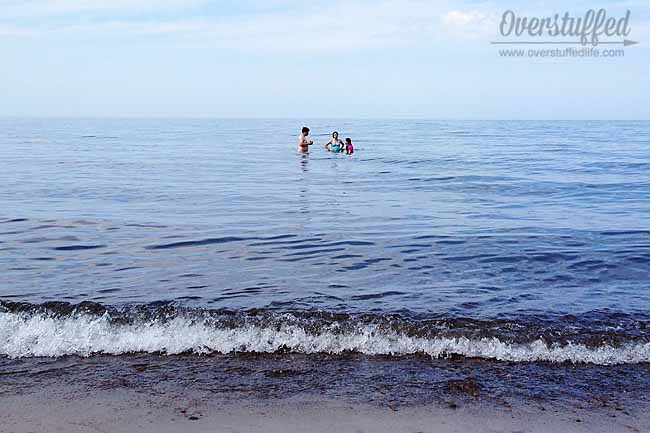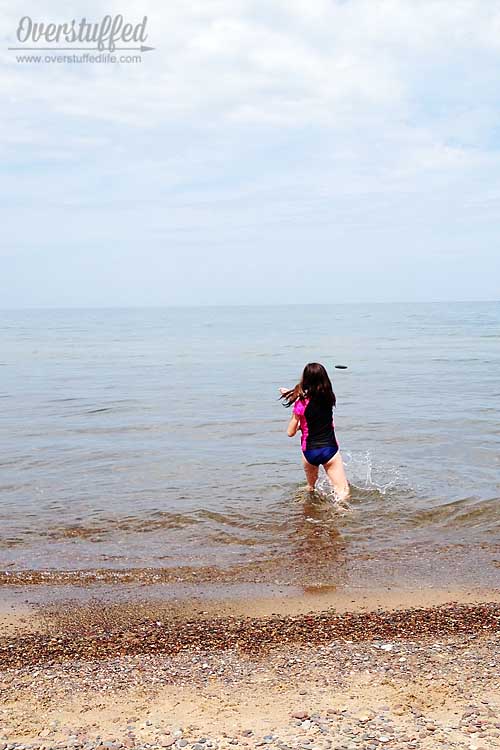 We remembered to have fun and be together as a family. Which is why I think I like camping so much.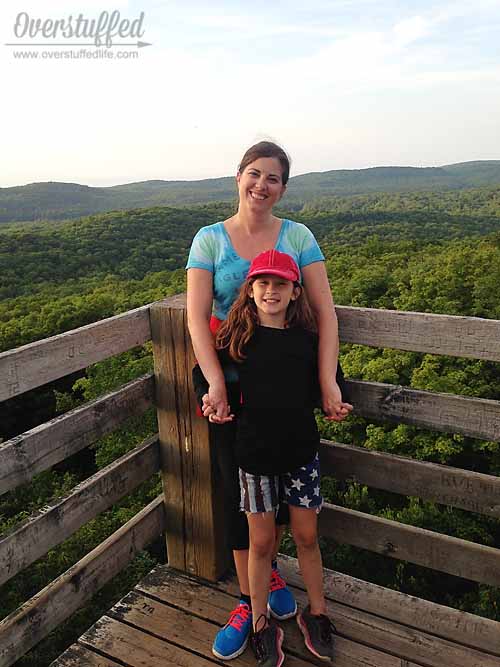 And even though all of these photos are taken with our phones, I still love looking at them because I just loved our camping trip.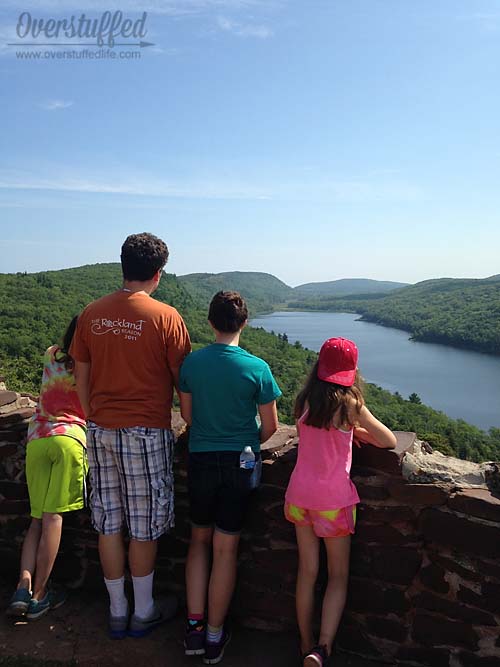 If the me from ten years ago who had a miserable time camping in Arizona only knew!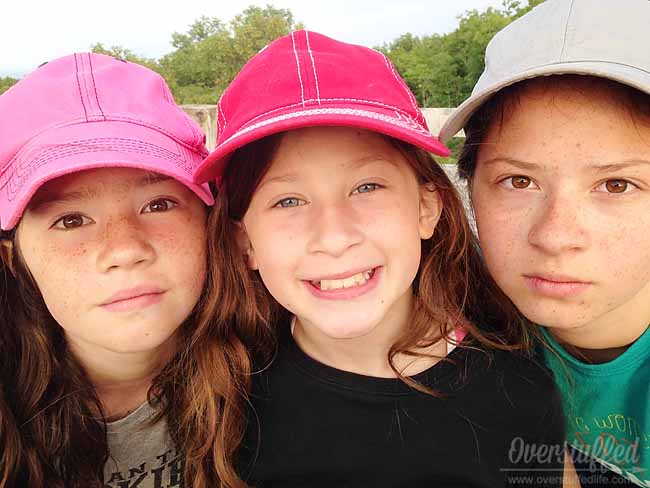 Happy Camping!
This post may contain affiliate links, for more information, please see my disclosure.