"I Wish I Had S'more Friends Like You" Valentine Idea
This post is sponsored by Minted—my favorite place to design and order cards for all occasions.
Every year when Valentine's Day rolls around I have to figure out what my kids are going to do for their class valentines. Some years I totally have it together and make adorable class valentines and other years I completely drop the ball. The one thing I do know is that I always want them to be super cute and I want my girls to love whatever they are handing out.
I also love it when someone else does most of the work for me because I am more likely to drop the ball than I am to have a really great plan. So when I found out that Minted had classroom valentine cards, I was thrilled. I have always loved Minted because their designs are gorgeous, and I wasn't disappointed in their selection of Valentine's Day cards at all.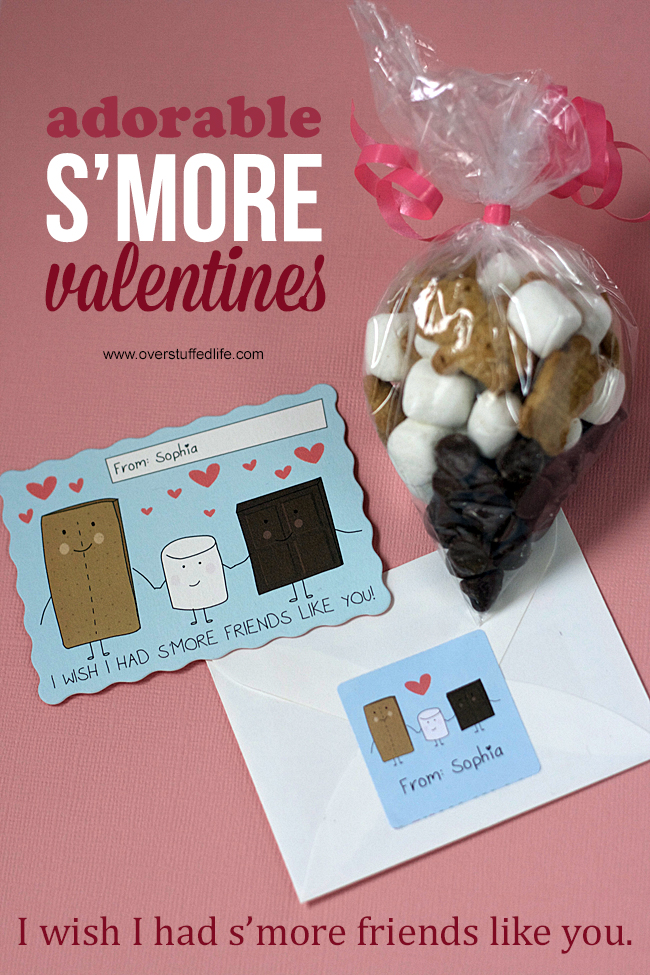 Sophia is my only daughter left in elementary school, so I had her look at all of the available designs. She narrowed it down to a few and ended up choosing this adorable "I wish I had S'more friends like you" card.
They came the other day and we had fun coming up with a cute S'mores treat to go with them. We thought it would be a lot of fun to put together a S'mores Trail Mix instead of giving each child a large graham cracker, chocolate, and marshmallow.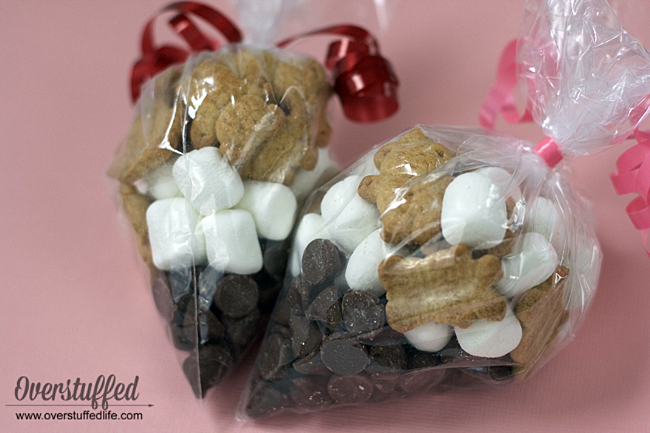 I purchased milk chocolate chips, miniature marshmallows, and Teddy Grahams. You could also use Golden Graham cereal for the small graham crackers, but Sophia liked the idea of the bears. It was super fast and simple to layer the chocolate chips, marshmallows, and mini graham crackers in plastic bags and tie them up with pink and red curling ribbon.
The Minted cards are about 2×3 inches and are just so cute and tiny. We opted to add a few extras in order to show you what's available there.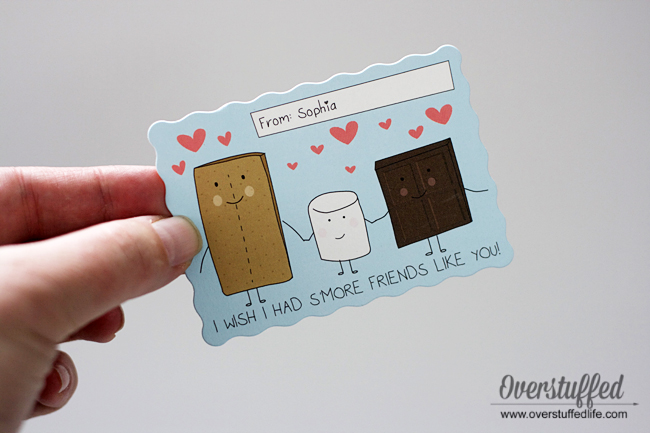 1. We added a shaped border
All the cards come with straight edges by default, but for $6.00 extra you can add shaped borders to many of the designs.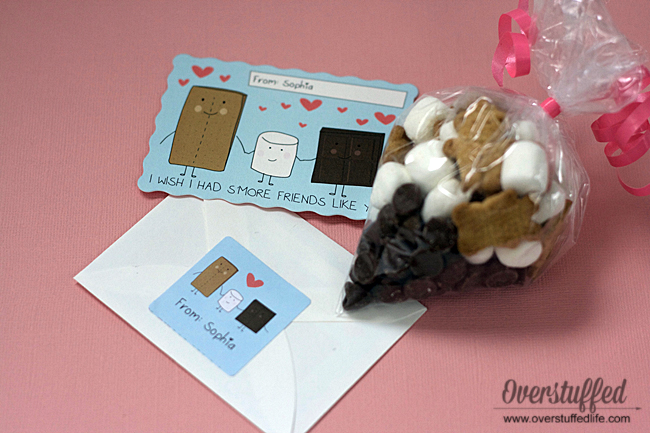 2. We purchased personalized stickers to go on the envelopes
We couldn't pass up the cute little stickers that go with the valentines! Each design comes with its own matching sticker design that you can personalize with your child's name.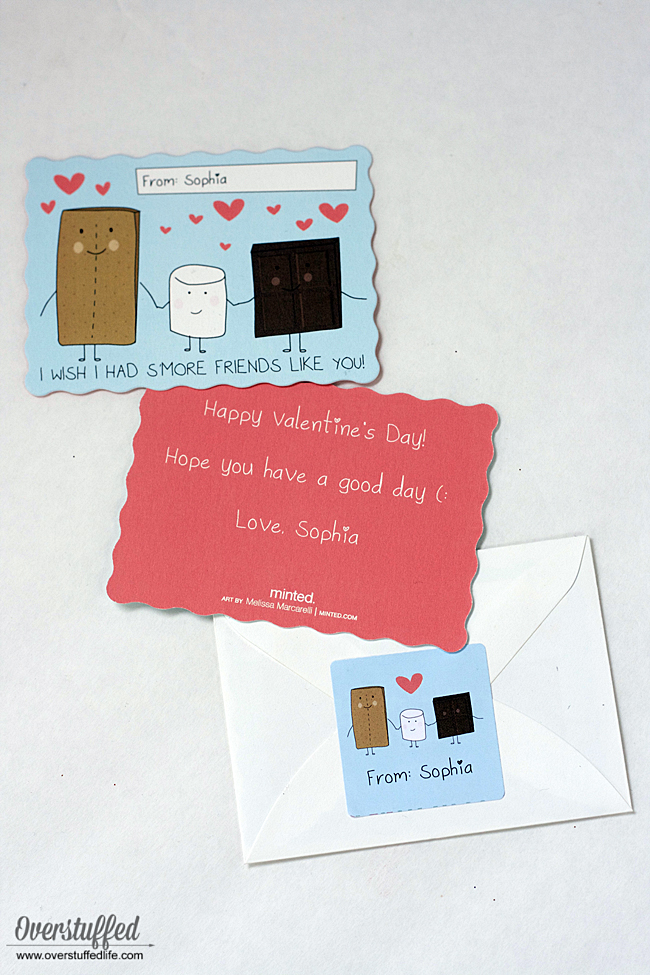 3. We added a custom backer
The valentines come with a white background by default, but for an extra $6.00 you can add one of the custom backers. Sophia chose to do a personalized note that she typed herself, but you can also choose a cute valentine design, a photo of your child, or a valentine tic-tac-toe game.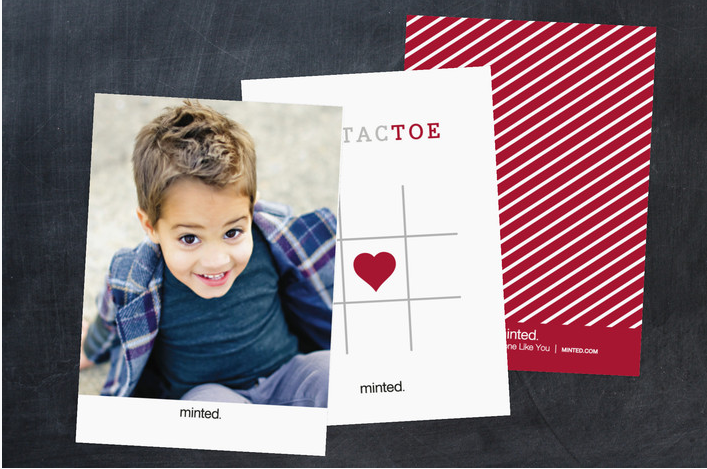 Photo courtesy Minted.com
The extras are all really fun, but even without a single extra you'll have some beautiful valentines for your kids this year! Sophia is so excited for Valentine's Day to roll around so that she can give these valentines out to her class. I have a feeling that her class will love them!
Minted recommends that you order your class valentines by 2/2 in order to have them in time, but I will also say that I had mine in less than a week after ordering. Better safe than sorry, though!
Check out all of the class valentine designs here: Minted Class Valentines.
Get the S'more valentine here: I Wish I Had S'more Friends Like You.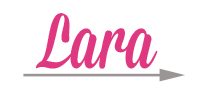 This post may contain affiliate links, for more information, please see my disclosure.