50+ Items You Need to Pack in Your Volleyball Bag
What every volleyball player should pack in their volleyball bag. Be totally prepared for every game day from high school games to club volleyball tournaments.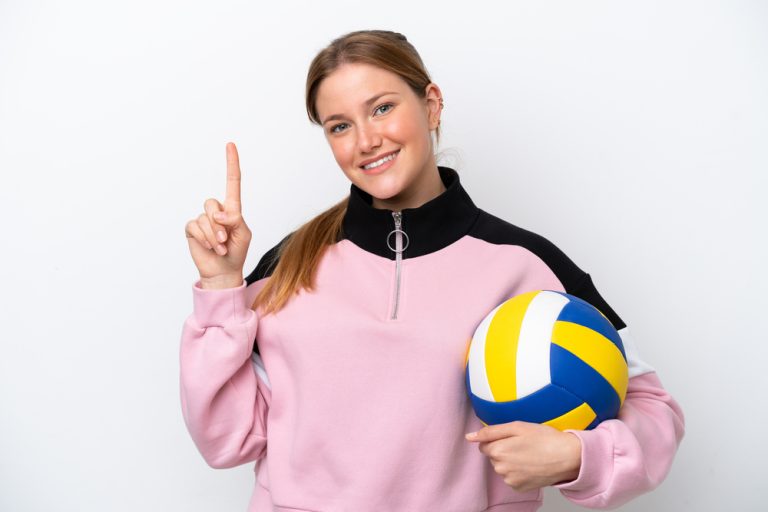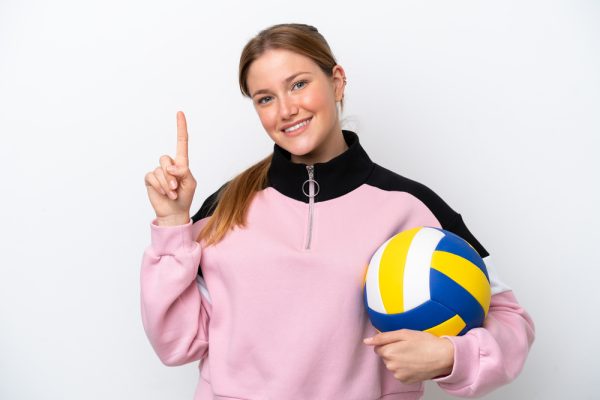 Whether your daughter is super serious about volleyball or just starting out, having the essentials ready to go in her volleyball bag is a good idea. My youngest daughter has played volleyball since middle school, but in the last couple years she has declared it to be her main sport. She plays for her high school varsity team as well as a club team and she has high hopes of competing in college.
As a mom, it's really important for me to know that she has what she needs in that bag, though! I can't always be to all of the games—our high school team regularly has away games that are several hours away, and the club team participates in tournaments that are up to an eight hour drive from home.
Continue reading for a thorough list of things every female volleyball team player should have with her for games.
This post contains affiliate links.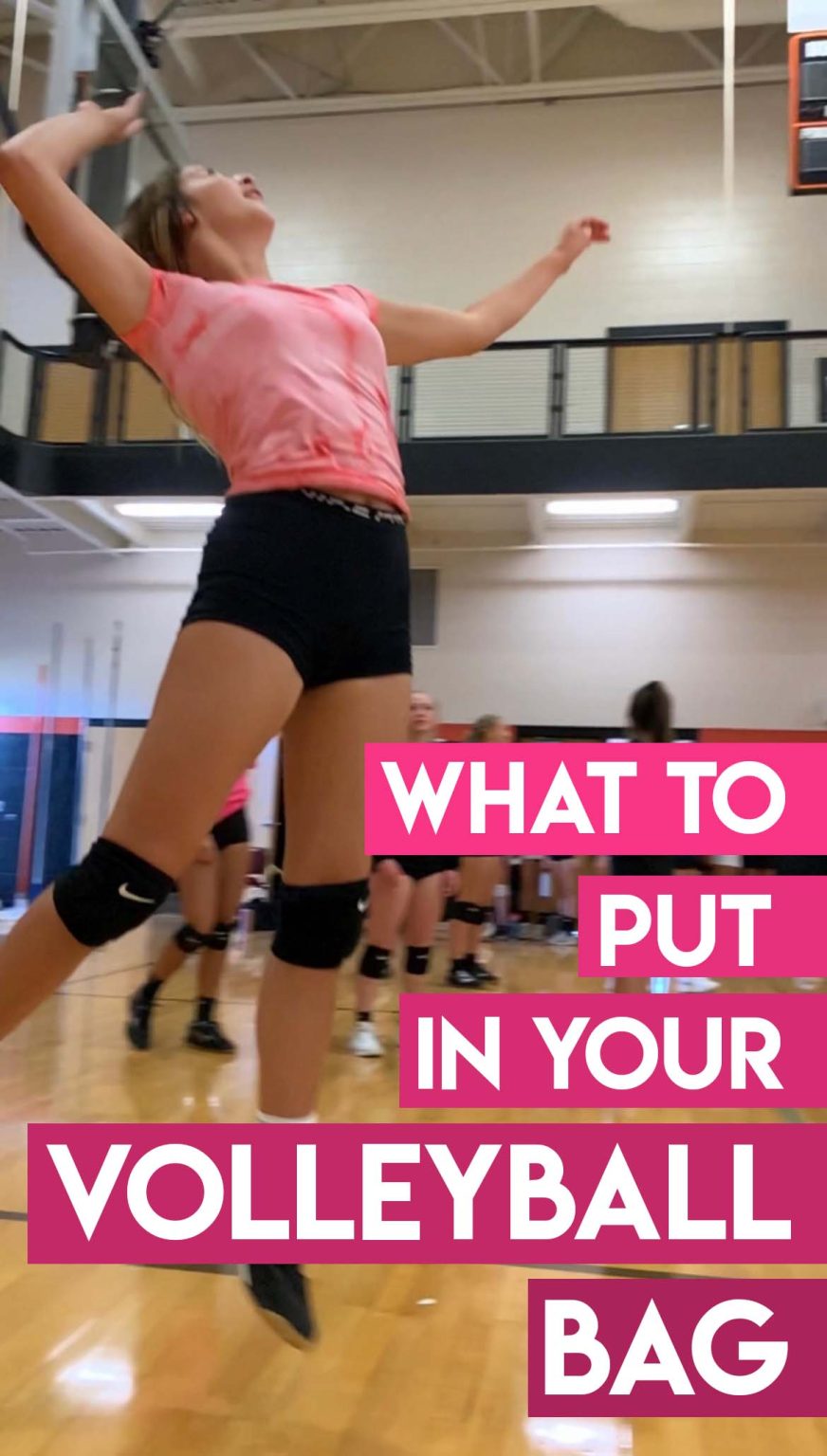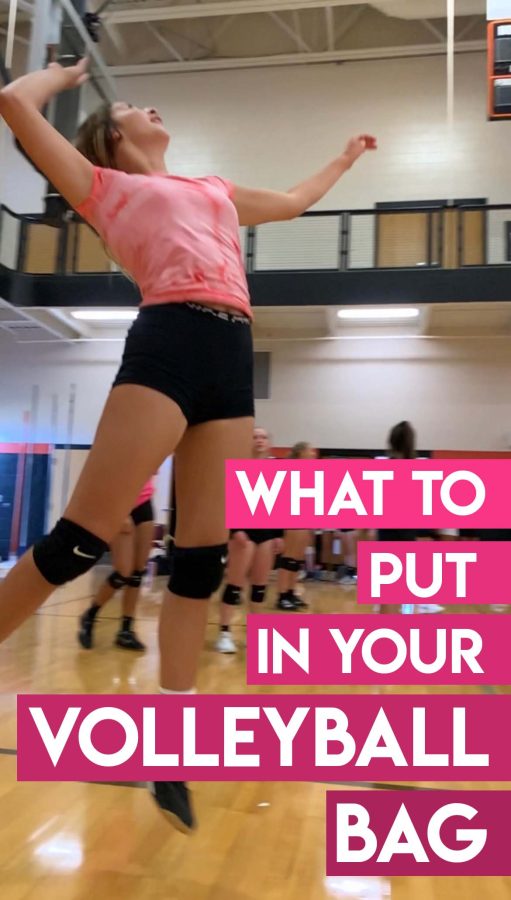 Volleyball Bag Essentials
Volleyball Bag
The type of bag you use for volleyball is completely up to your own personal preference. You'll want something that is easy to use and can handle everything you need to bring for an overnight volleyball tournament.
Below are a couple of the options available and the pros and cons of each.
Duffel Bag
My daughter used an Adidas duffel bag for several years, It has a lot of space, side pockets, and is a good option for players who don't travel far. However, carrying a bag with only a shoulder strap can become cumbersome and heavy, especially when it is full for an overnight volleyball trip.
See Adidas Duffel Bag options here.
Girls' Volleyball Backpack
Once my daughter joined a club team, she was given a large volleyball backpack with her name, jersey number, and team name embroidered on it. It has a special compartment you can use for shoes, which is wonderful because you don't have to worry about getting everything else in your bag dirty or stinky.
Try these 12 ways to get rid of stinky feet for good to get rid of the smelly shoe problem.
The backpack is ideal for all types of volleyball travel, whether that is a long tournament trip or an away game. It has extra pockets on the side and is easy to keep organized, and the main compartment is large enough to fit your daughter's own volleyball if she wants to bring it.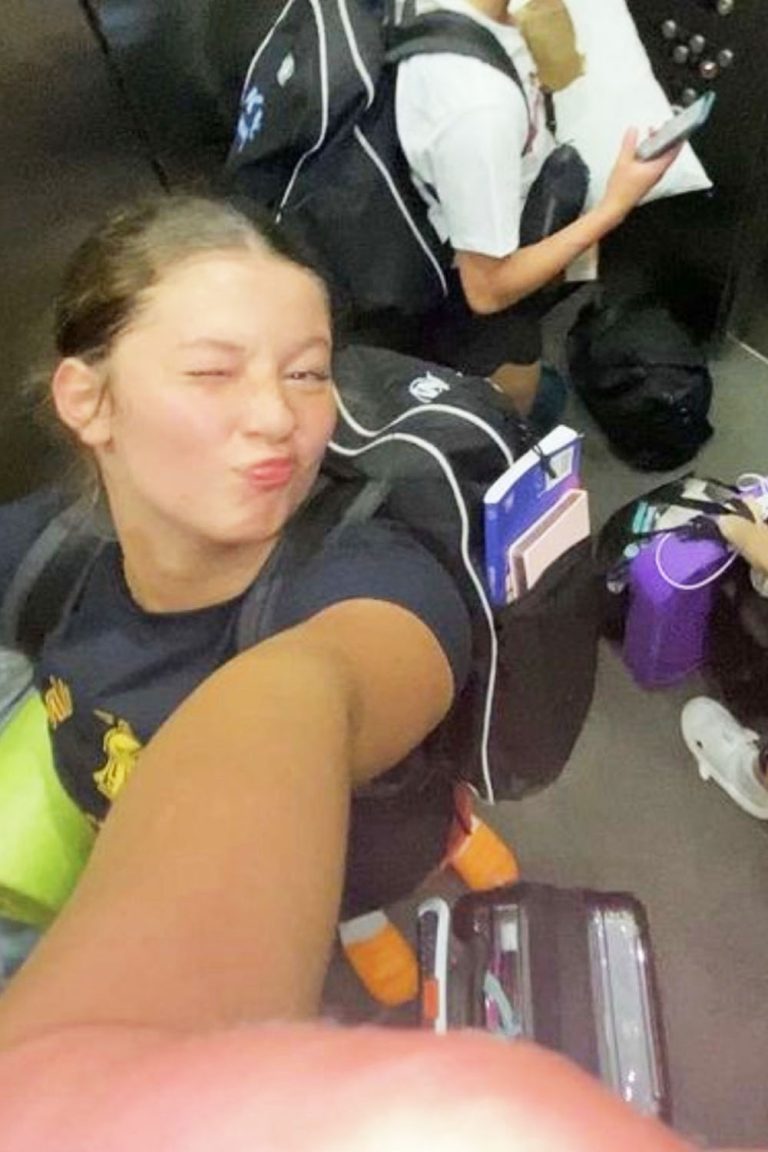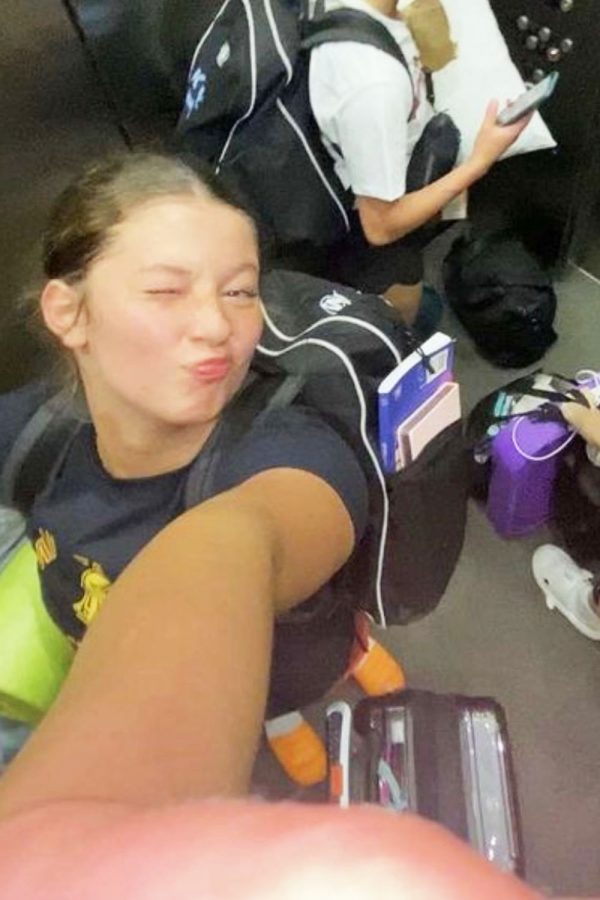 Related: What to Put in Your Soccer Bag
What to put in your volleyball bag?
My volleyball player put together this very comprehensive list of what to put in a volleyball bag. Some items on this list are absolutely essential, and others are going to depend on your specific situation. You will want to be more prepared on long trips vs. home games, for instance. Other items on this list are optional and will vary from player to player based on their position and personality!
I have linked to some of our favorite volleyball essentials. All links are affiliate links, read more here: Privacy Policy
Uniform and other necessary clothing items
Your daughter will know exactly what she needs here. Many teams provide the entire uniform, but my daughter's teams do not. Her high school team provides jerseys and warm-up jerseys only, while her club team provides jerseys, spandex, and matching warm-up jackets and sweatpants. You will need to be sure you purchase all other uniform essentials if they are not provided for you. Most teams and tournament venues have plenty of balls available, so there usually isn't a reason to pack your own ball. Just be sure to check!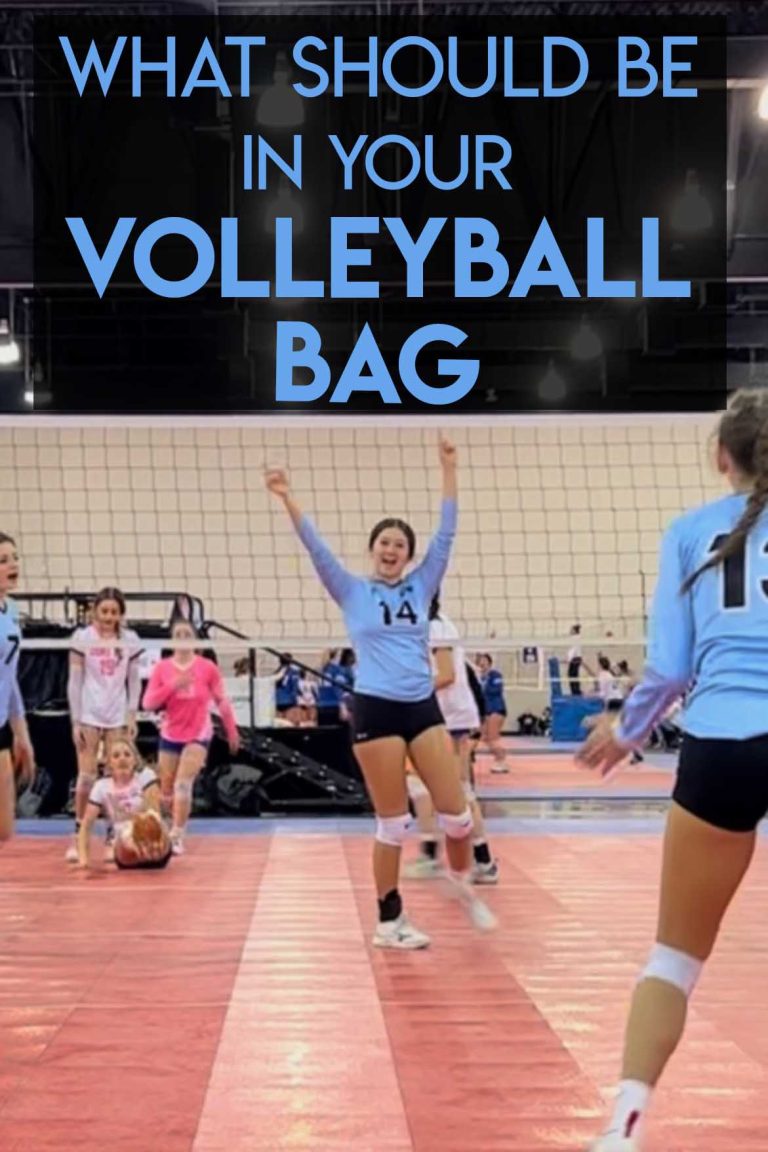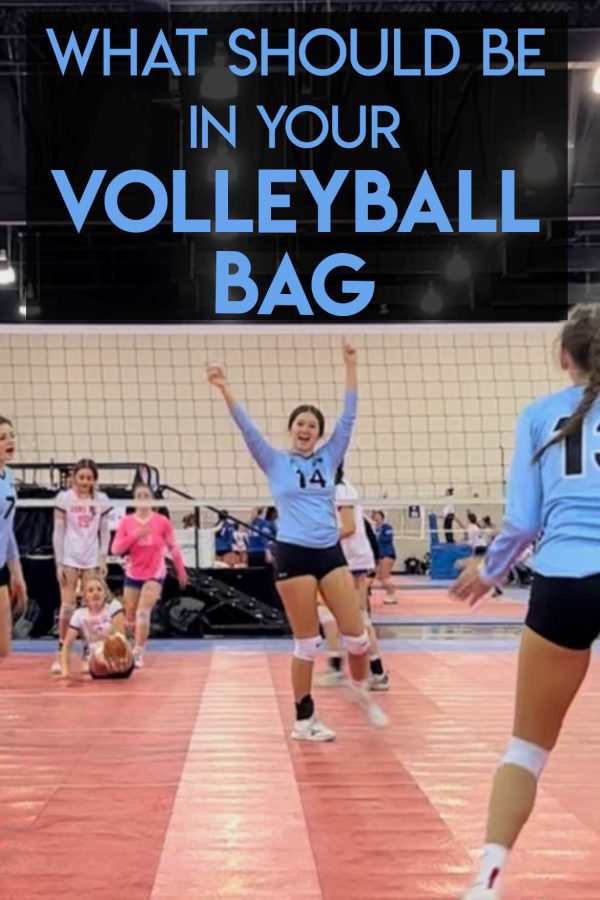 Accessories
The most important accessories to bring are hair accessories. No volleyball player wants to be caught with a broken hair tie and no extras!
Extra hair ties
Hairbrush
Snacks and water bottle:
First-Aid/Health items
It's a great idea to make a small first aid kit for your volleyball player containing things like Bandaids, Neosporin, prescriptions, and maybe even an Ace bandage. This way everything is together and easy to find. Doing the same thing for feminine supplies is also very helpful. We like to use clear make-up bags like these for these small toiletry or first aid kits.
Ankle and knee braces are important when your player has suffered previous injuries. Be sure to talk to a doctor about which is best for you!
Inhaler
Ankle brace (after a severe sprain last year, my daughter loves this ankle brace for playing)
Knee brace
Ice pack (We have two of these ice packs and they are used all the time)
Massage gun (They can be a little cumbersome but are SO worth it for athletes to have with them! We love ours!)
Tampons or pads
Bandaids
Prescriptions
Pain reliever: Advil or Tylenol
Nasal spray
Toiletry items
Contacts/contact case/contact lens solution
Glasses
Make-up
Make-up bag
Deodorant
Lotion
Chapstick
Perfume
Bobby pins
Miscellaneous
Jewelry holder (This Lion Latch looks really cool!)
Phone charger/portable battery pack
Headphones or airpods
Wallet containing cash or credit cards
Gum
Book
Journal
Speaker
Whether your daughter is an elite athlete or a middle school volleyball player just starting out, being well-prepared in the locker room and on the court is important! Hopefully this list helped you get your own volleyball packed for your next game!
Go team!