An Avatar the Last Airbender Birthday Party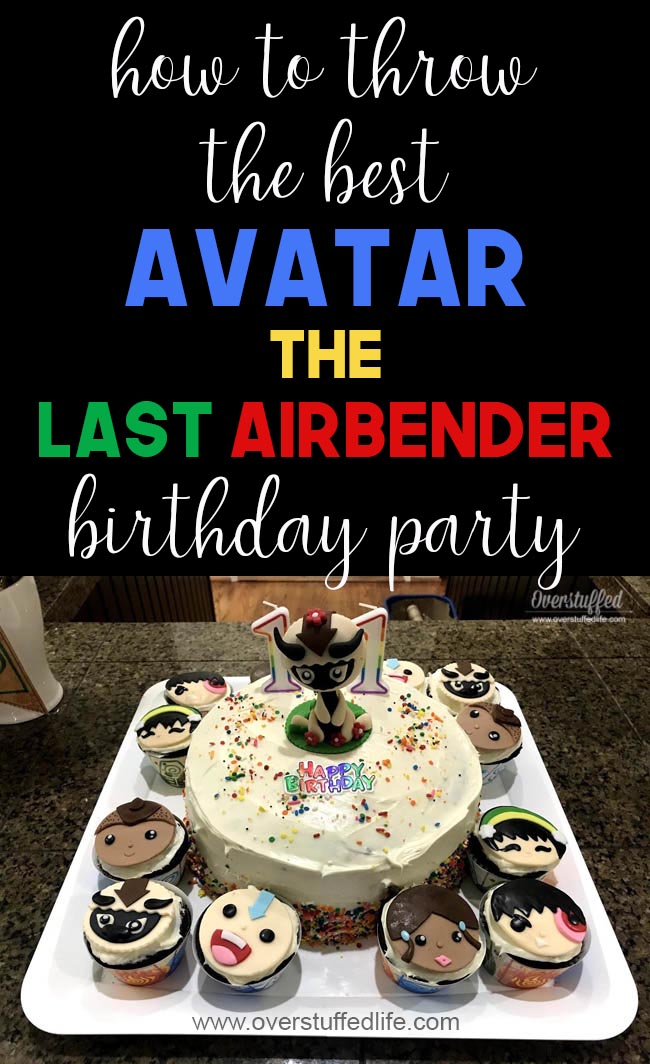 Everything you need to throw an Avatar the Last Airbender birthday party! Ideas for Avatar themed invitations, food, activities, favors, and more!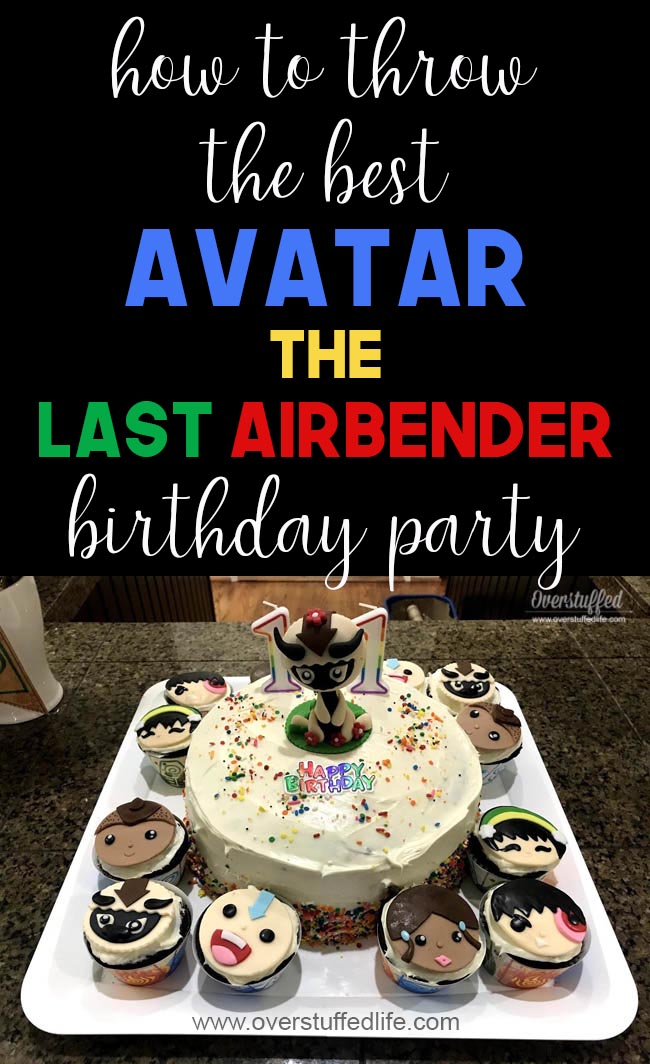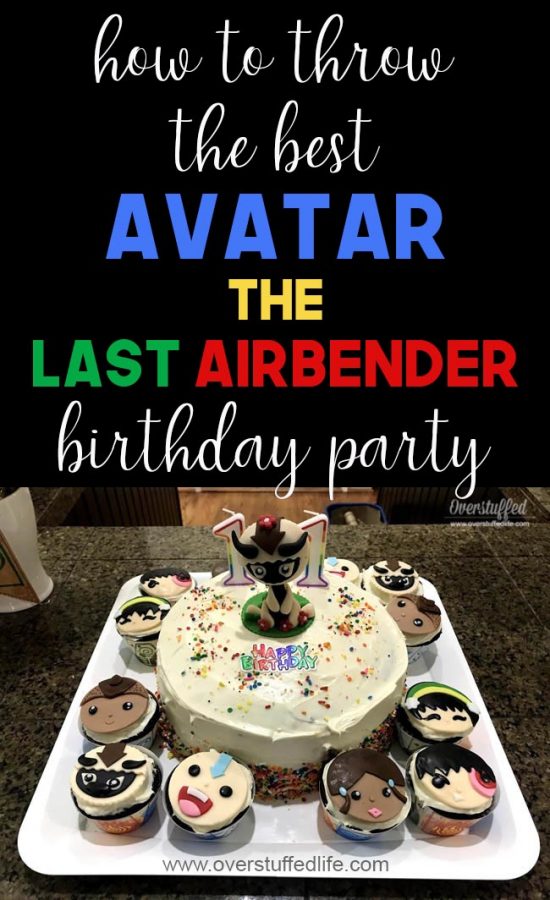 My friend Larke recently threw an amazing Avatar the Last Airbender birthday party for her daughter. Even more amazing—she offered to guest post about it here. There are some really great ideas for food, activities, invitations, and everything else you'll need to throw your own Avatar the Last Airbender party!
This post contains affiliate links.
---
Are your kids obsessed with Avatar? Has a quarantine Netflix binge reignited the flame of all things bender?
Yeah, same.
Due to said love of Aang and friends, my youngest picked Avatar the last Airbender as her birthday theme this year. It turned out to be so much fun that I wanted to document it and find a way to share the adorable things that are being made out there for fellow Avatar lovers.
This naturally brought my mind to Overstuffed. Lara and I have been friends since our college music days. We share being in the mom of three girls club, teaching voice, our luscious dark hair and pale skin, and filling our lives and schedules to overstuffed status. Heck, our names are only two letters different! (Lara and Larke.)
I, like you, use her ideas ALL the time. I sometimes wonder how she has the time, energy, or creativity that she does, but boy am I grateful that she is willing to share! Although I do not have the same level of skill in this blogging/photography world, this post is a way to give back to her and just maybe it will help you and yours.
Now, to the party…
Due to quarantine, we needed to be socially distanced and keep things pretty small. However, any of these ideas could easily be scaled up for any number of guests once covid is over.
How to throw an awesome Avatar the Last Airbender party
1. Avatar Invitations
We used invitation printables by MyNerdNursery.
This blog was my jumping off point for the party and her products are fantastic. For the Avatar invite, you get to custom pick which three characters you would like. My 11 year old LOVED getting to choose her favorites. (and I'm a little bit proud that she chose Uncle Iroh.)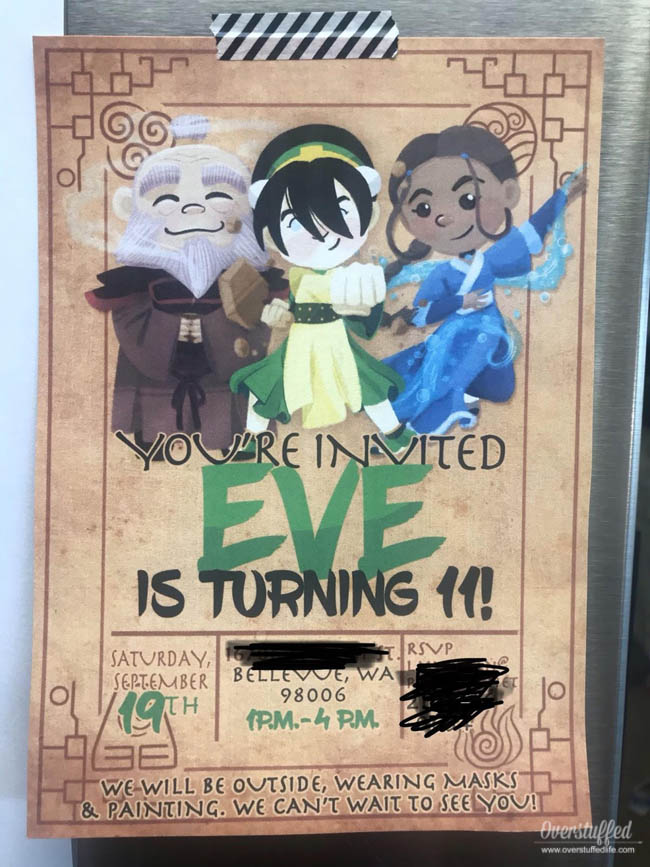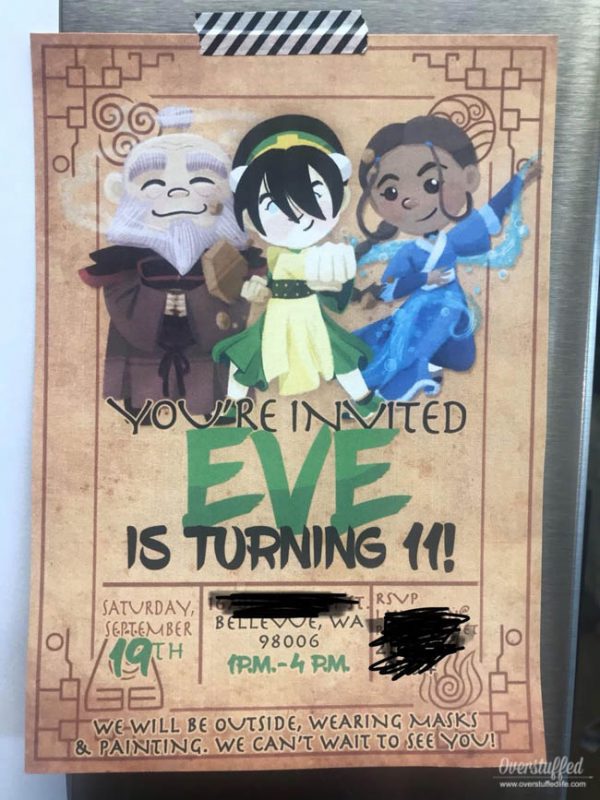 2. Avatar Decorations
We centered everything at our Avatar and the Last Airbender birthday party around the four kingdoms – air, fire, water, and earth.
Each kingdom has a color: Earth-Green, Water-Blue, Fire-Red, and Air-Yellow.
I'm all for WOW factor when a kid walks into a party. I want every kid to feel excited to be there and that they are about to do something really fun. Easiest way to decorate a big space?
Balloons!
Here's how we used balloons and other items to get the WOW factor I was hoping for:
Tablecloths—I got plastic solid colored tablecloths from the Dollar Store to cover each table.
Flower arrangements—we had a flower arrangement in each of the colors on each table.
Balloons—Each flower arrangement had a group of three solid color balloons from the Dollar Store.
Here in the PNW we have the amazing luxury of flower markets. I went to my favorite one, told her what I was doing (she also knew and loved Avatar!) and she arranged each of them for me. It was $30 total for all four, but I'm a bit of a flower nut. So I'll splurge on all the gorgeousness. All I had to do was connect the balloons and pop them in vases. Awesome!
We got our WOW factor from the first glance. (even if due to social distancing reqs we were in the garage with the door open!)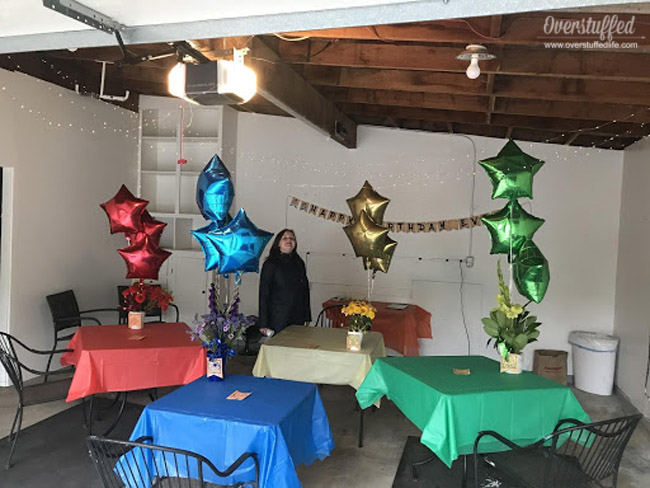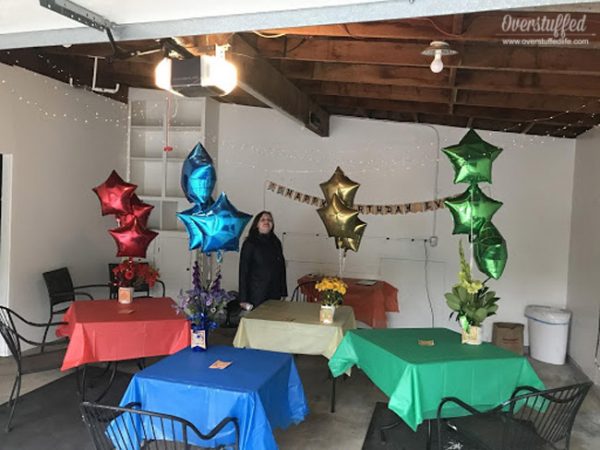 We also used these fairy lights on the ceiling to try and make it feel more like a party. I love this strand because it's so long and battery/remote control operated!
Other decor included an ADORABLE banner printable purchased from MyNerdNursery. Her symbol for each of the kingdoms identified each table and I put them on their corresponding vases.
3. Avatar Activities
My daughter, Eve, and I had a lot of fun deciding how to do activities for each kingdom. Here is what we came up with and a few ideas for modification.
Water Kingdom Activities
Water bending: Painting
Specifically, we used a ceramic shop here in Bellevue called Creatively Yours. They had a party special for quarantine where they delivered—to my doorstep—a bag of individual small items to be painted, and enough paints and brushes for every guest. They came back and PICKED UP the painted pottery, and after they fire it, will DROP IT OFF TO MY DOOR! Hallelujah for some quarantine perks! Check them out if you are in the area.
Note from Lara: In my town the local ceramic painting shop is offering the same service during quarantine. Check your own local shop and see if they do the same!
The girls all painted at their own tables, but if you are partying post-quarantine, you could easily be at the same table.
Other water bending ideas:
watercolor painting
water balloons
swimming
water guns
anything with a water hose
Earth Kingdom Activities
Earth bending: Geode cracking
We ordered a package of geodes off of Amazon: Fun Express Break Your Own Geodes
All you need for geode cracking is a hammer and some old socks. (A practical use for all those single socks you've been saving hoping the match will magically reappear.)
Put each rock inside the sock to catch the bits of rock and BOOM (literally)— you have a beautiful take home gift for your guests. All of the girls LOVED this activity. I had ziploc bags for them to put the pieces away ASAP. Who says regular humans can't earth bend?
Other earth bending ideas:
planting individual flowers, veggies, or herbs (move the dirt!)
rock painting (mix earth and water)
slingshots
bowling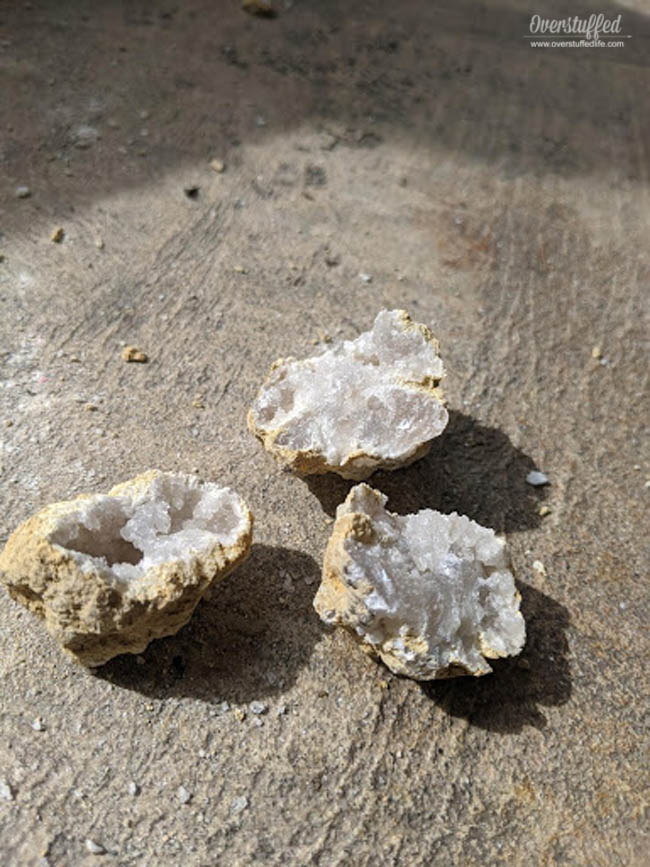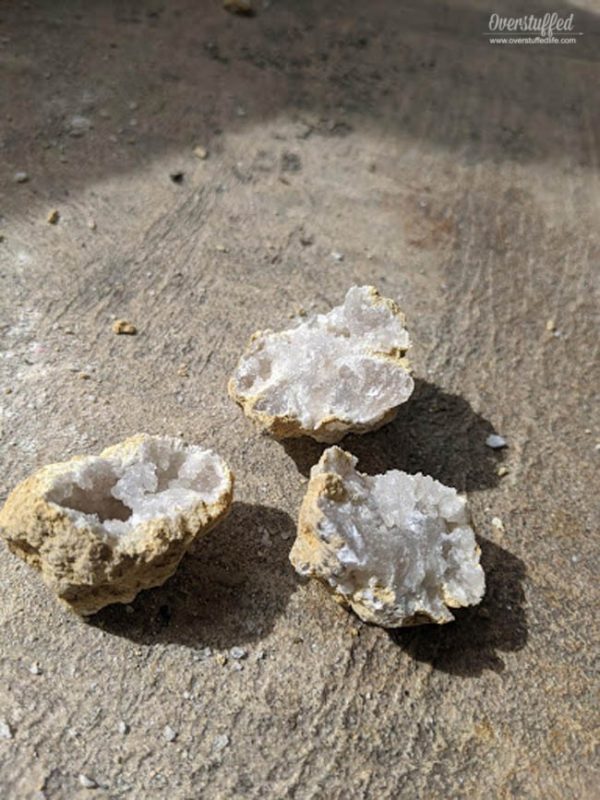 Fire Kingdom Activities
Fire bending: S'mores
We are lucky enough to have a fire pit, and it did NOT end up raining. Hooray! So the girls gathered around, channeled their fire-bending powers and made custom s'mores.
Our S'mores are a little fancier than just graham crackers, chocolate, and marshmallows (although you can't beat the original). We had chocolate chip cookies and fudge striped cookies to squoosh the toasted marshmallows between. It's also fun to use Reese's peanut butter cups, Almond Joys, or any other melt-able chocolate bars for variety in your s'mores. Yum!
Other fire bending activity ideas:
sparklers
small fireworks
Air Kingdom Activities
Air bending: Surprise Fog Machine!
Last Christmas, my sister-in-law gave the kids a fog machine. She promised some day it would come in handy. It sat in the storage room until my mind frantically searched for a way to airbend at a kids party.
I didn't tell Eve, but handed her a plastic electric fan, turned on the fog machine (remote controlled, hidden under a table) and as the fog poured out into the garage said "AIRBEND!"
The kids went nuts! They took turns with the fan. They closed the garage door. They laughed. They danced around to the disco lights (also provided by the aforementioned sister-in-law at another holiday) and had a fabulous time bending the air.
Amazon sells these things:
Other airbending ideas:
kite flying
air spinners
handheld fans
blowing and bending bubbles
4. Avatar cake and cupcakes
By far my favorite part of our Avatar and the Last Airbender birthday party was the cake and cupcakes. It was the first thing we found and ordered for the party.
Eve wanted to make her own cake (which I fully supported) and the fondant from NerdBytes on Etsy was the perfect way to have an adorably decorated cake and cupcakes.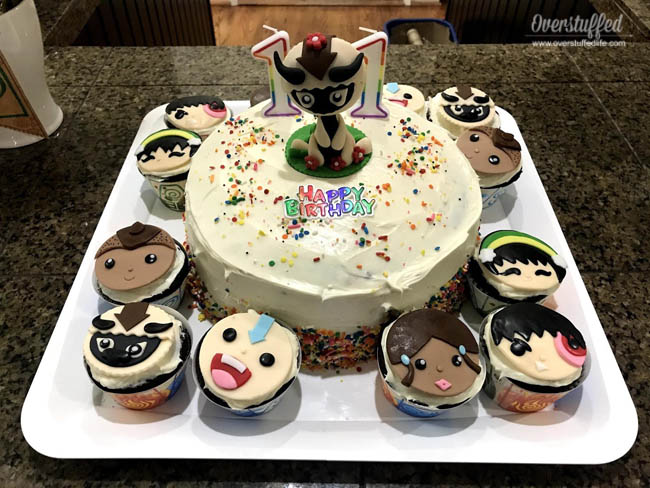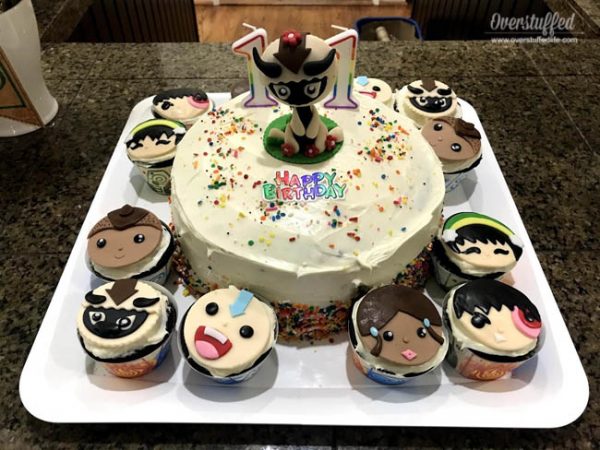 We used two box mixes and store bought frosting. This video on YouTube taught us how to decorate with sprinkles, and I LOVE the results. Appa was super happy to join our party and we loved having him on our cake.
We used the printable cupcake liners from MyNerdNursery, and then just plopped the fondant on a thin layer of frosting.
So easy, so fun, and so cute! Eve had the pleasure of telling everyone that she made the cake and cupcakes. They were super impressed (even when we told them we bought the fondant!).
5. Avatar Food
For my kids' parties, if we're not serving a meal, I always just go with their favorite snacks. I ask them for sweet, salty, fruit, and veggie ideas.
She wanted to make some of Aang's cream pies. We got mini pie shells, put pudding in them, put whipped cream on top and promptly forgot them in the fridge! But they still tasted yummy post-party when we discovered them.
If you are serving a meal, you could easily serve your kids favorite dumplings, gyoza, or spring rolls to go with the Avatar and the Last Airbender birthday party theme.
6. Avatar Beverages
Cactus juice
We had lemonade, powerade, and water bottles.
I did not end up using the MyNerdNursery Cactus Juice Printable, but it is super cute.
I was trying to think of individual packaging, otherwise we would have dyed the lemonade green and popped that printable on it. (Although Eve informed me that to be accurate, Sokka's cactus juice was clear…she's a purist.)
Jasmine tea
It was warm out and we are not big tea drinkers. Still, I could imagine it being a great nod to Uncle Iroh to take a moment and let your guests sip on some refreshing tea as a party beverage.
7. Avatar Attire
You can invite your guests to show their Avatar fandom by dressing up!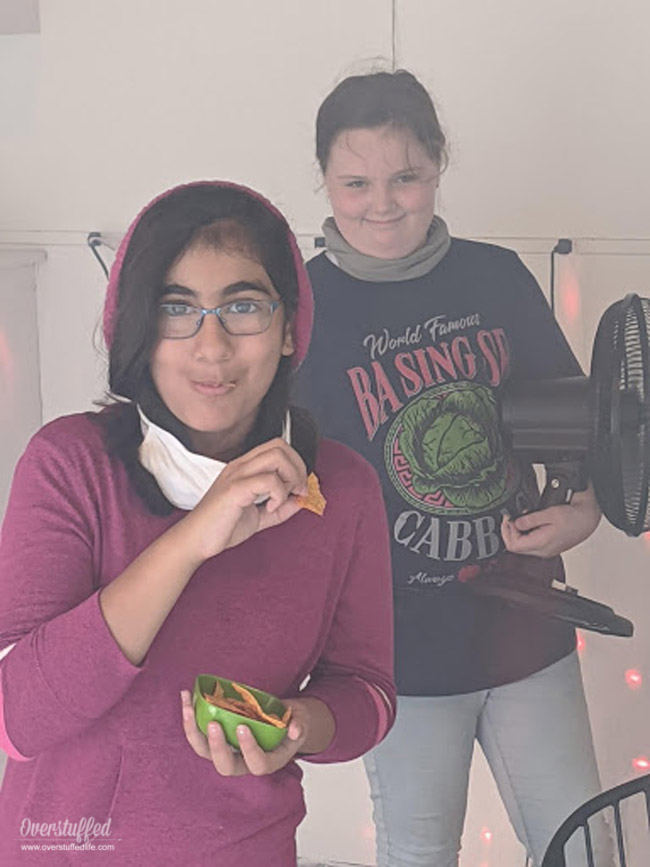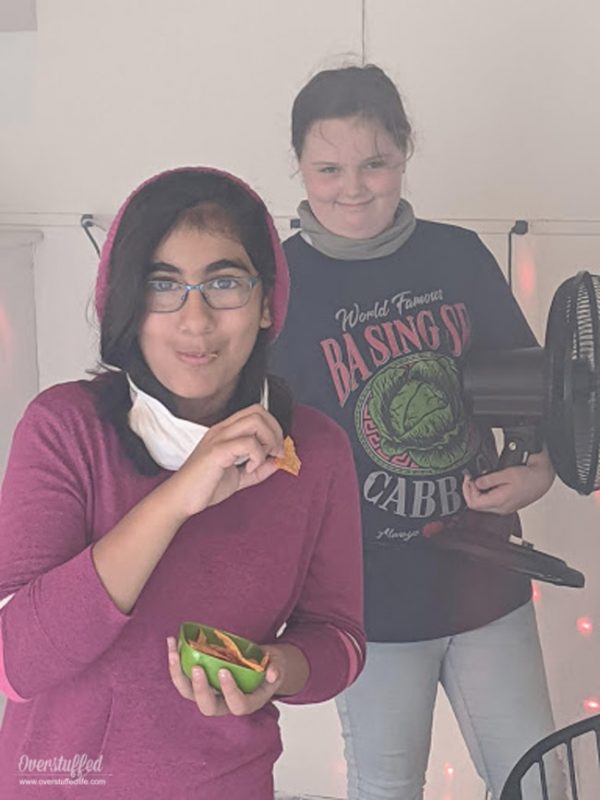 Eve got a Ba Sing Se Cabbages shirt from Hot Topic to wear, and her supportive sister, Sarah, dressed up as Mai, her favorite character. The third supportive sister, Haleigh, helped with the Mai hairstyling.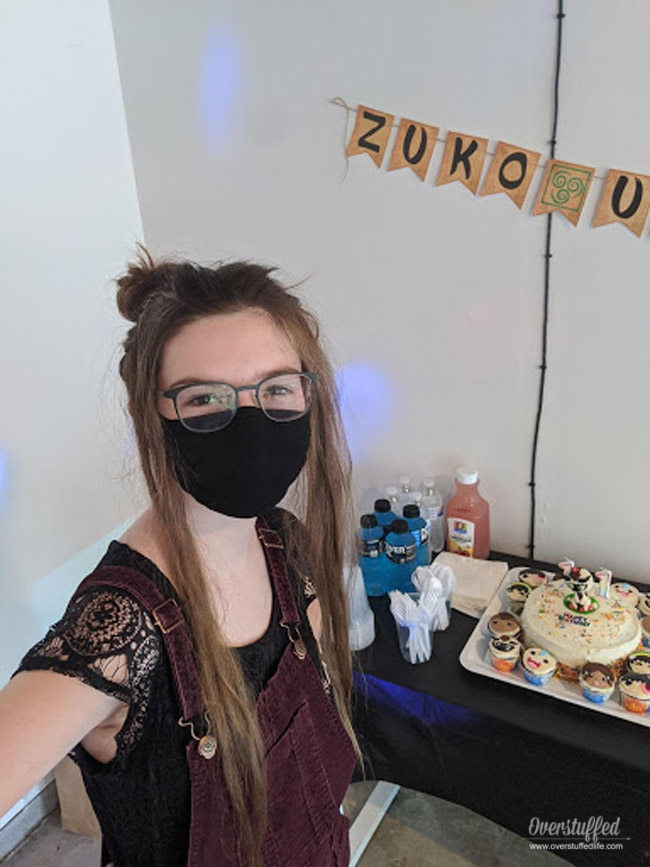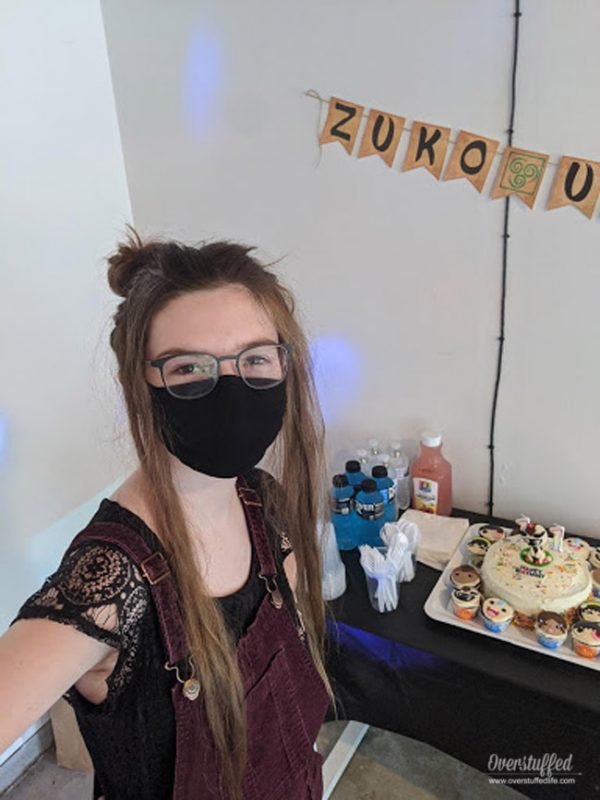 We also had a guest appearance by Appa. It was a stuffed animal and Eve's favorite present from her also Avatar obsessed best friend.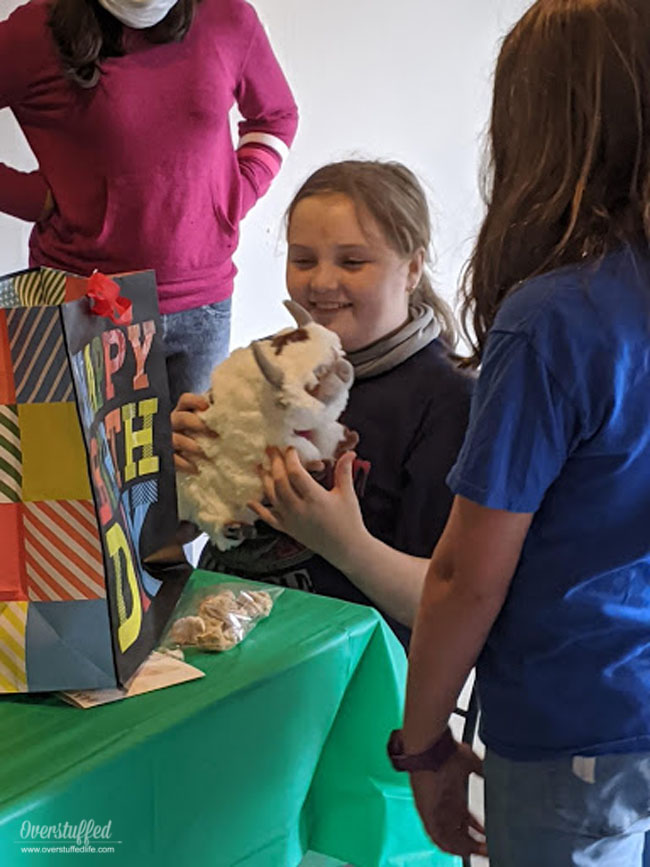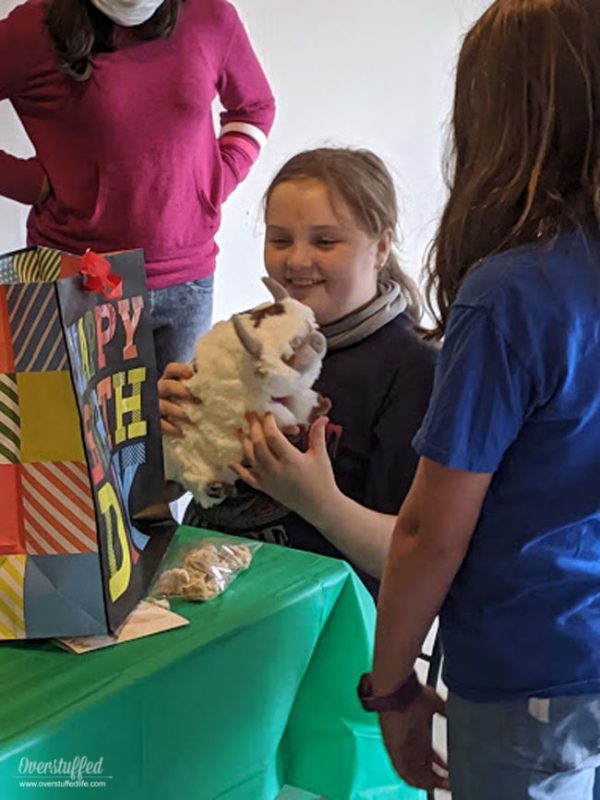 8. Avatar Party Favors
Oh my goodness! Have you bought stickers on Etsy lately? They come in the most adorable envelopes with the cutest packaging. Every single one had a personal note.
We found several great Avatar stickers on Etsy: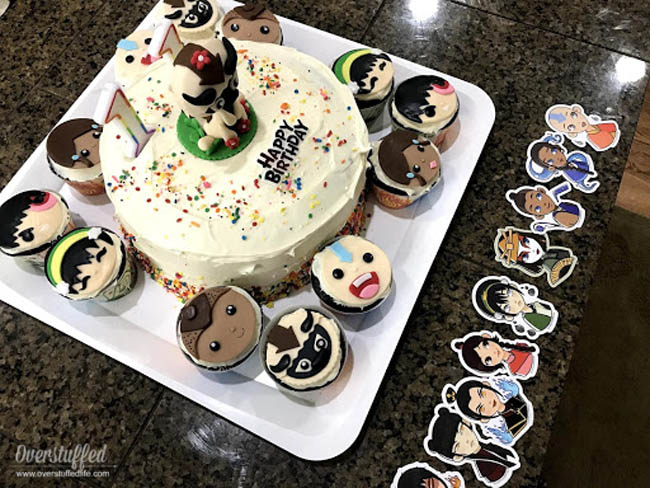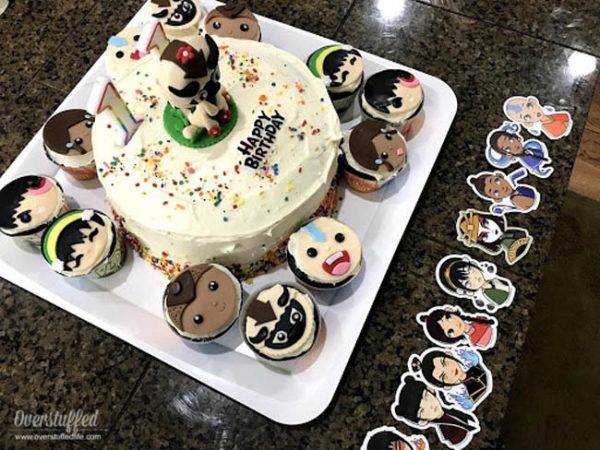 The rest of our favors we found at the Dollar Store. We got things to represent each of the kingdoms.
Air:
airheads candy
plastic air spinner
Water:
Earth:
Fire:
Doritos (she doesn't like spicy, but you could easily use Takis or other spicy snacks)
She added some other favorite things to each bag, but the stickers we added were the most loved by everyone (especially her older sisters).
Party favors were put into a white gift bag with the Thank You For Joining Us Card printable from the MyNerdNursery Invite taped on the front of them.
---
It was such a fun time after the long separation from our friends. I hope you all stay safe and may your love of Avatar help you and your guests have a fabulous Avatar and the Last Airbender birthday party!
---