April 2016 General Conference Study Bookmarks
I always have really good intentions to study the conference talks before the next General Conference rolls around. I rarely succeed, though, and it's mostly just because I don't really have anything keeping me accountable.
So, I decided to change that this time around. When our General Conference editions of the Ensign arrived (we always get two—one for me, one for The Maestro), I had the thought that I could make a bookmark to keep track of which talks I have read and studied. Seeing a visual reminder and being able to cross things off a list is highly motivating for me!
Looking for April 2017 bookmarks? Click here: April 2017 General Conference Bookmark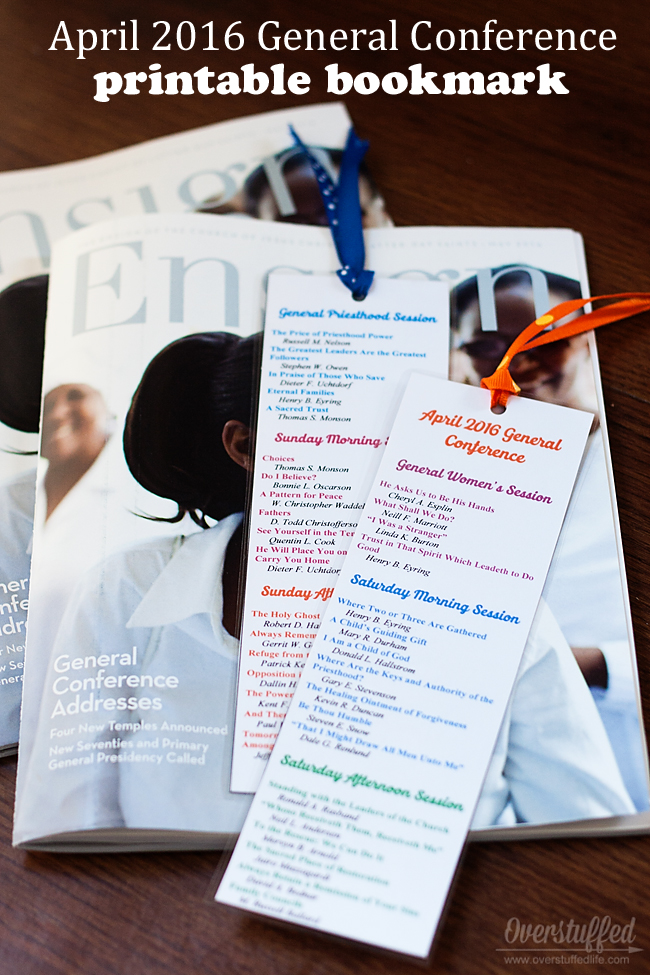 The bookmark is two-sided. The printable is created in such a way that if you print it on one side of your cardstock and then turn it over and print it again, it will match up perfectly. You will just have to make sure that you understand exactly how the paper needs to be loaded into your printer—every printer is totally different and some of them are more complicated in the paper loading than others!
For each sheet of paper, you'll have two bookmarks.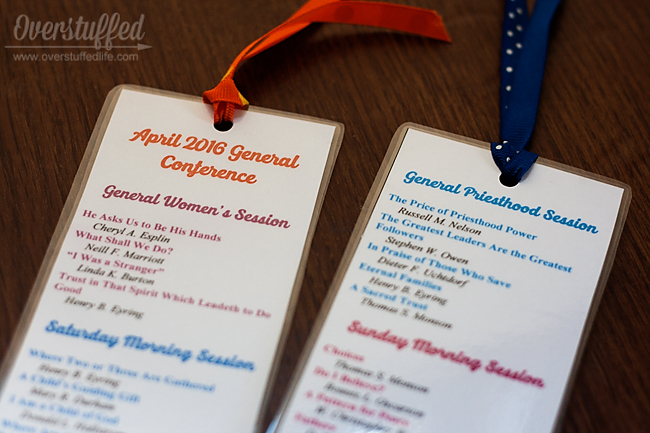 I printed out my bookmarks and then laminated them. I recently purchased my very own laminator, so I'm always looking for excuses to use it! (I bought this one: Scotch Thermal Laminator.)
I also punched a hole in the cardstock before I laminated, and then punched through the laminate as well so I could add some ribbon. Because bookmarks need to have ribbon, don't you think? I mean, if you don't think so, you don't have to add ribbon. But I thought so.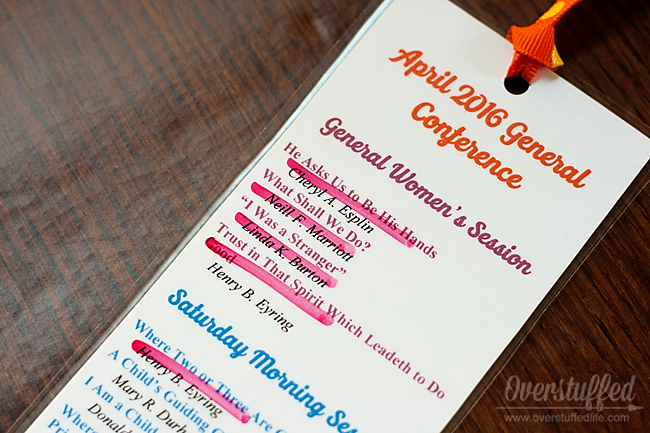 Another nice perk of the laminating is that I can use a dry erase marker to keep track of the talks I study. You could even use a Sharpie, since it's not likely I'll use the bookmark again.
I printed one for me and one for The Maestro. Maybe it will even motivate us to study the talks a little bit together! Either way, I'm really excited to get to studying these talks for the next several months!
To download:
Enter your email address in the form at the end of this post. The printable will be sent straight to your email inbox.
Enjoy!
This post may contain affiliate links, for more information, please see my disclosure.
Download the Printable
Enter your email address to get the General Conference Bookmark printable delivered straight to your email inbox.