Best Gifts for Fortnite Fans
Find a fun throwback Fortnite gift for the video game lover in your life!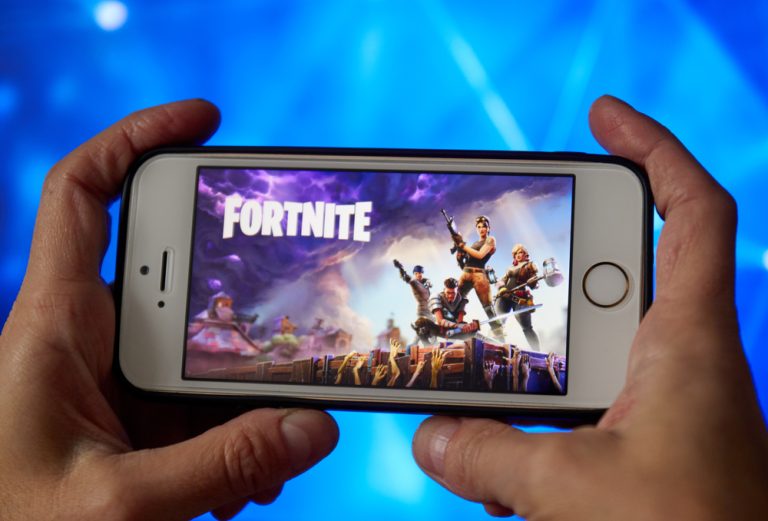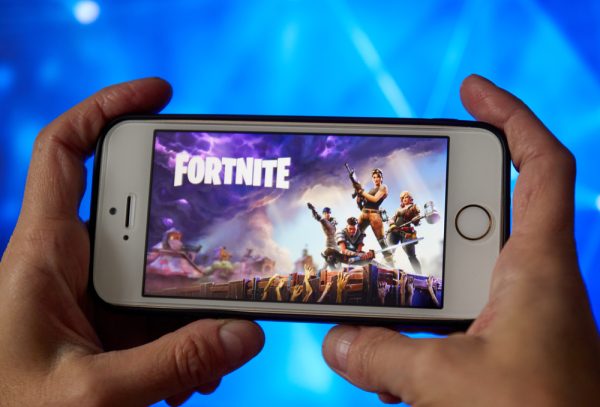 Make sure to check out our Ultimate Holiday Gift Guide—Find hundreds of gift ideas for EVERYONE on your list!
Since its release in 2016, Fortnite: Battle Royale has quickly become an epic gaming sensation around the world. The object of the game is simple, 100 players will drop in, grab weapons and gear, and compete to be the last one standing as a storm closes in pushing the players together.
In November 2023 the "OG Fortnite" was re-released, and my teenage daughter has suddenly spent hours playing with her friends again. Fortnite parties were a huge part of her middle school life and later got her through quarantine in 2020. Now that she is just about to graduate high school, it's been fun for her to go back to those times.
Fortnite is really enjoying a new surge of popularity due to this re-release—so I figured it would be a great time to find a few fun gifts for Fortnite lovers!
Best Gifts For Fortnite Fans
What makes Fortnite so great is its accessibility to kids, and its wide variety of costumes and emotes. Unlike many popular shooters, Fortnite does not have blood, swearing, or themes of narcotics. Rather, it is more like airsoft or paintball in that players will take damage and be 'knocked out' when their health reaches zero.
Additionally, the game features a slew of outfits and dances that can be purchased using the games virtual currency: V-Bucks. These dances and outfits have quickly become iconic staples of popular culture.
As of earlier this year, over 350 million players were diving into the world of Fortnite. As such there is plenty of merchandise and toys available for Fortnite fans of all ages. If you are currently shopping for a Fortnite fanatic, look no further than this list of the best gifts for Fortnite fans!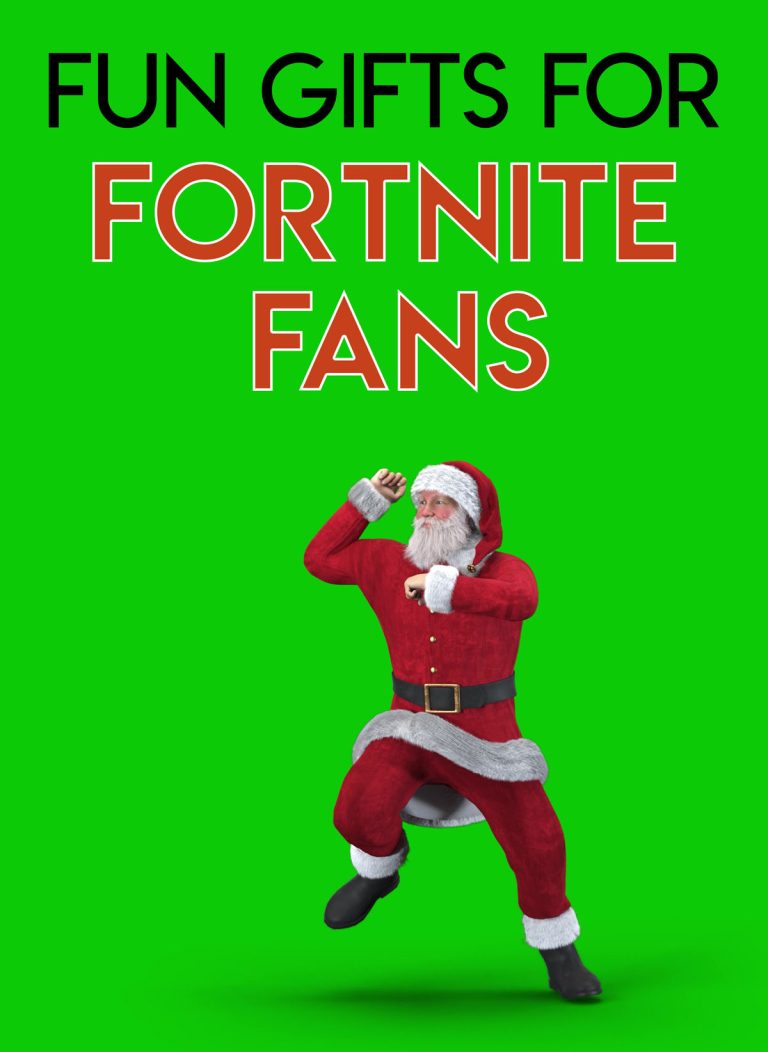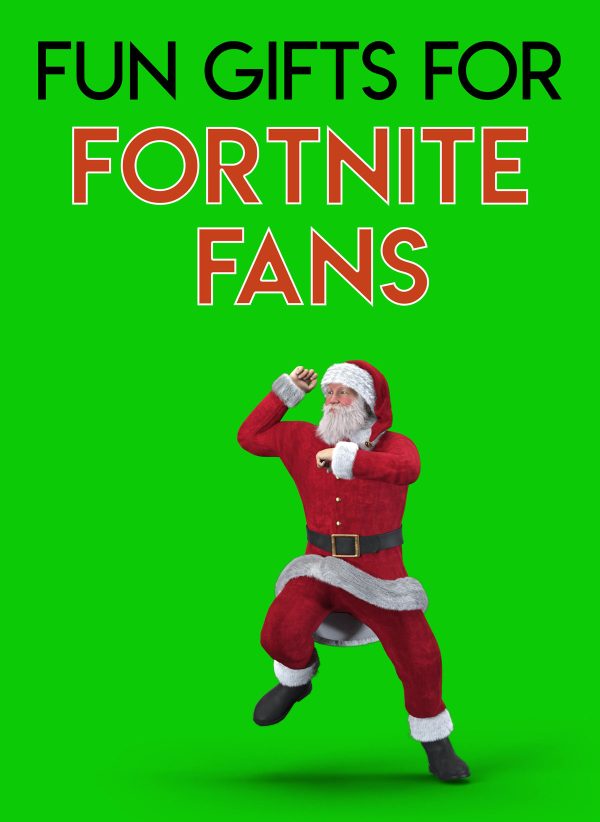 Monopoly Fortnite
There are countless variations of the monopoly game, with Fortnite getting 2 such spin offs of the legendary board game. Fortnite Monopoly is epic battle royale board game fun for the entire family!
Structured as a fun combination of the popular gameplay of Fortnite mixed with the strategy of Monopoly, Monopoly Fortnite allows 2-7 players to duke it out to claim locations while working against their opponents and the storm.
If you are looking for the perfect gift for a board gaming, Fortnite loving gamer, look no further than Monopoly Fortnite
Fortnite Flopper Plushie
One of the most popular mechanics of Fortnite has been the addition of fishing to the game. When players drop onto the island, they can find fishing rods that they can cast into lakes for the chance to catch fish, weapons, and even trash.
Around the map are various bodies of water to go fishing for items, and there is a log to keep track of the fish you have caught, as well as their features such as weight. Players can compete against one another to catch the biggest fish as a fun side activity.
The cartoon fish of Fortnite have quickly become popular with fans, so it makes sense that there has since been a plushie version released of the Flopper fish.
Nerf Fortnite Bolt-Action Dart Blaster
For years, Nerf has been a long standing titan of the toy aisle, with dart blasters of all kinds guaranteed to give kids incredibly fun experiences. There is simply nothing like a fun Nerf war, and it can only get better with the new Fortnite line of Nerf blasters.
Perhaps one of the most notable entries in the line is the Fortnite Bolt Action, based on the popular and powerful sniper from the game. This Nerf blaster is perfect for long range engagements in any Nerf war.
The blaster features a removable scope, 6 round magazine, and bolt action capabilities. With its bold, stylized look, this blaster is perfect for Fortnite and Nerf fans alike!
How To Draw: Fortnite
For the Fortnite enthused artist in your life, this guide will teach artists of all ages how to draw iconic Fortnite characters, vehicles, and weapons. With step by step instructions this guide makes drawing simple and fun to learn.
This How To Draw guide is great for younger artists as well as fans of the game. Kids are sure to have a blast honing their artistic skills, and older fans will love the detailed instructions to bring their favorite game to life.
Fortnite Battle Bus Vehicle
With several figure lines in multiple scales, as well as dozens of vehicles and accessory packs, the Fortnite action figure lines have taken the toy aisle by storm. One of the most expansive lines is the four inch figure line.
With dozens of figures and multi-figure sets, vehicles, and playsets, there are loads of Fortnite figure fun to be had. Perhaps one of the most iconic aspects of Fortnite is the Battle Bus where players will ride into the map and jump out of at the beginning of each game.
Of course, the Fortnite action figure line would not be complete without the Battle Bus, which is beautifully represented in this fun toy. Coming with two awesome action figures, this bus is capable of holding ten figures in total.
Additionally, the vehicle is equipped with lights and sounds to make playtime a blast! This Battle Bus is an essential piece to any Fortnite action figure collection, and makes an excellent gift to boot.
The most notable feature of Fortnite is its in-game item store, where players can purchase outfits, dances, emotes, accessories, and weapon skins. These items are all cosmetic only, meaning that they do not affect player performance in the game.
However, that has not stopped players from flocking to the store to browse the new selection of items every day. These items are bought via V-Bucks, which are purchased with real money. Additionally, items can also be obtained through the battle pass.
The battle pass allows players to do challenges and gain points to collect tiers in the pass, collecting all the types of items mentioned before. The battle pass can be purchased with V-Bucks as well and lasts for about 2-3 months before the next 'season' begins.
As such, consider purchasing V-Bucks for the Fortnite fan in your life allowing them access to in-game items as well as the battle pass.
Fortnite took the world by storm upon its release, and it has been increasing in popularity since. Garnering fame among gamers both young and old, the game was ripe with merchandising opportunities. These make perfect gifts for fans of the game.
With this list, you can be sure to find the perfect gift for the Fortnite fanatic in your life, and make the holidays truly epic.