Book Review: The Curse of the Good Girl
Shortly before we moved from Utah to Michigan, TLC Book Tours contacted me about reviewing The Curse of the Good Girl by Rachel Simmons. My first inclination was to say, "No, thank you. Too much on my plate right now." But then I read the book's description and, as a mother of girls, I thought I shouldn't pass up the opportunity.
When my husband and I first turned the key in our new home, the book was already waiting for me to begin reading.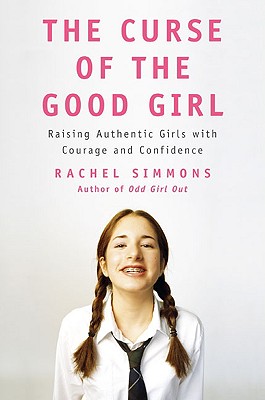 As I started reading the introduction, I began to worry that this book would be a little too feminist for my tastes. That the ideas contained in its pages would teach girls to be selfish and mean and only concern themselves with their own feelings. What about compassion and service and selflessness? What about kindness and respect?
But then a particular passage struck me, and I was on board with the idea.
"There is nothing wrong with being a nice person, nor is it my intent to undermine the unique sensibilities of women and girls. But girls need to have the tools to say no, to ask for what they need, and to say what they think. Too many girls and women walk away from conversations muttering to themselves about what they really wanted to say. When kindness comes at the expense of truth, it is not a kindness worth having. And when generosity leads to silence or abuse, it is not a generosity worth giving."

Rachel Simmons "The Curse of the Good Girl"
Wow.
So I kept reading, and to my horror, I discovered that I myself am what Rachel Simmons calls a "Good Girl." (So horrifying, right?) I began to realize that much of the inner angst I put myself through is because I feel like I shouldn't be feeling a certain way, so I don't allow myself to feel whatever emotion it is I shouldn't be feeling, even though I am feeling it so I just bottle it all up inside until I have PMS and it all comes screaming out. And then I can just blame PMS.
Or something like that.
It seems so logical—almost too logical—that instead of keeping it all in, I should instead learn to communicate how I am feeling to the people I love most. And that's just the beginning.
Good Girls are afraid to take risk. Any hint of criticism causes them to fall apart. They are afraid to ask for what they need, instead just hinting or expecting those around them to be mind readers. They can't stand it when somebody doesn't like them. They are afraid to have an opinion, because it might differ from someone else's opinion.
Does any of this sound familiar to you?
Like I said, it all was very familiar to me. I am the poster child for being a Good Girl.
I figured I ought to try some real-life application of some of these principles. The book gives some excellent role-playing situations where mothers can help their daughters learn to understand and deal with their emotions in a healthy manner. I do plan to use these ideas with my daughters, but my real-life application had to be for myself. To see what happened to my Good Girl mentality when I personally used some of the principles I had read about.
So, after a big move which caused much stress on me, I had definitely been bottling more emotions than usual. I pretty much had a year's supply. I was feeling annoyed with my husband, and that annoyance had quickly morphed into all out anger. Anger that I wasn't supposed to be feeling, so I pretended not to be. In the end, I sat down and wrote him an email about the way I was feeling. The results were amazing. He came home from work, having read my email, and we talked (civilly) for a long time and guess what? He wasn't mad at me. We came up with solutions together. He actually understood where I was coming from because I stayed calm and explained what I was feeling and why, instead of blowing up when I finally couldn't take the negative feelings anymore.
With all of that said, I still feel that the author sometimes took things a little too far. I would have liked to see a point of view that was more religious, and how to find a balance between the things I am taught in order to be more Christlike, and the things that I need to do to be emotionally healthy and confident.
Definitely a good read, especially if you have teen-aged daughters, or daughters who are rapidly approaching adolescence, like I do. It's a quick first-time read, and then can serve as an excellent reference book afterwards.
This post contains affiliate links.