Book Review: Dancing With Gravity by Anene Tressler
Dr. Phil once said something along the lines of "Don't worry what people are thinking about you, because they probably aren't thinking about you." I've thought about this a lot since I first heard it, to remind myself when I do something particularly embarrassing or when my hair isn't working quite like I'd like it to, that the people around me are hardly likely to notice, and even if they do, they aren't going to give it much thought at all. And yet, so many of us are constantly worrying what others think of us.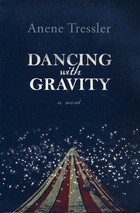 Such is the case for Father Whiting, a Catholic priest who is the main character in Anene Tressler's book Dancing with Gravity. As the back cover says, he is "asleep in his own life," but I felt that he was more than that. He was self-absorbed, had no self-worth, and worried incessantly about the people in his life and what they thought of them. Even as he tried to serve others, both in his capacity as a priest and in his personal life, the service wasn't coming from his heart. He went through the motions and derived no joy out of his calling, his service, or his life.
He is called into a meeting with the nuns who run the hospital where he works, certain that he will be reprimanded for overhearing an argument as he was innocently walking by (did I mention he was also very paranoid of every little thing that happened to him?), but was instead asked to minister to a South American circus that the nuns had inherited.
Now here is where I admit that I generally don't like reading books where the protagonist is so incredibly unlikeable. I had a hard time with Father Whiting, and yet the writing was good enough to keep me involved in the story and to give me hope that he would eventually change.
And, he did change, eventually. I'm not sure if I totally believed the method in which that change was brought about, but it happened, and he learned to be a selfless, giving and assertive person. All things he had previously not been. I think I wish we had seen more of the change happen to him on the inside, just as we saw all of the paranoid/self-absorbed/judgmental thoughts he had for most of the book, and I might have believed it more.
That said, it is a well-written book, and I did learn from it. In fact, one of my new favorite quotes is put on the page before the book starts:
"What you are in love with, what seizes your imagination, will affect everything. It will decide what will get you out of bed in the morning, what you will do with your evenings, how ou will spend your weekends, what you read, who you know, what breaks your heart, and what amazes you with joy and gratitude. Fall in love, stay in love and it will decide everything."
~Pedro Arrupe, S.J.
I loved this. Sometimes I am asleep in my own life, too. Sometimes I serve begrudgingly and worry too much about what others think of me. Sometimes I am judgmental. And during all of these times, the true cure is charity, which is the pure love of Christ. And as Christ himself said, "For whosoever will save his life shall lose it: and whosoever will lose his life for my sake shall find it."
I received a copy of Dancing With Gravity via TLC Booktours.
************
This post contains affiliate links.