Dollar Store Slime: Is It Really a Better Deal?
Is it cheaper to make slime using ingredients bought at the dollar store? We compared prices and slime output and found out for sure.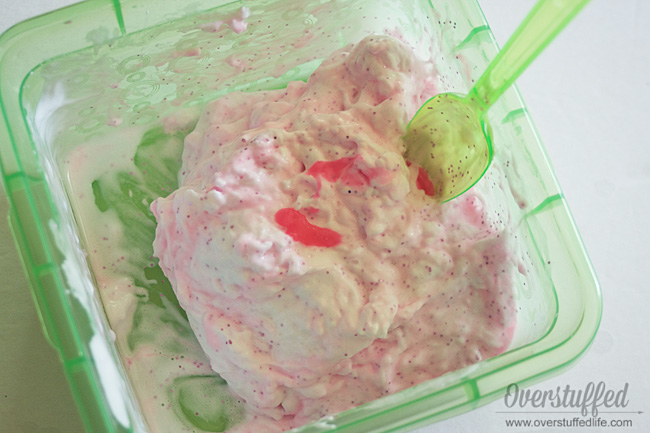 The slime rage has taken over my home, as it has the homes of tweens and teens everywhere. It started with watching slime videos online but quickly grew into using any money earned to purchase glue at the store and raiding my cabinets for the other ingredients.
Many slime batches later, I found I was always out of things I never run out of! Laundry starch, food coloring, contact solution, and even craft paint! I decided it was time to see if there was a cheaper way to do this whole slime thing because I do like that my girls were doing something screen-free that seemed to entertain them for hours.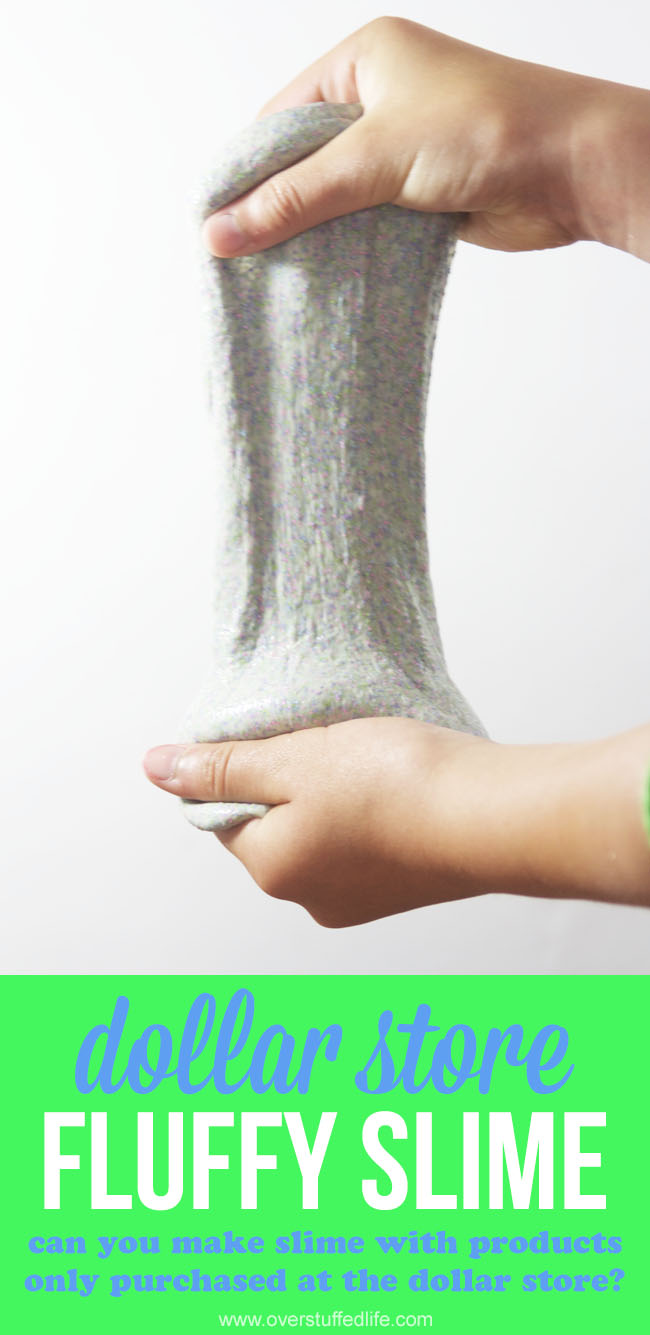 We decided to head to the dollar store and see if we could find all the ingredients for fluffy slime. We wanted to see if we could do a cheaper slime that was just as good by getting everything at the dollar store. Plus, I wanted them to have their own stash of slime ingredients so they'd stop using my household goods.
Note: This post isn't necessarily about HOW to make slime—my girls can now make fluffy slime in their sleep, but I've posted the basic recipe below.
Fluffy Slime Recipe
1 4 oz bottle glue
4 cups shaving cream
1/2 cup lotion
2-3 teaspoons heavy starch or other sodium borate solution
paint
glitter
We were able to find some version of each ingredient at the dollar store, as well as a container that my daughter liked, so we took everything home to see how it went.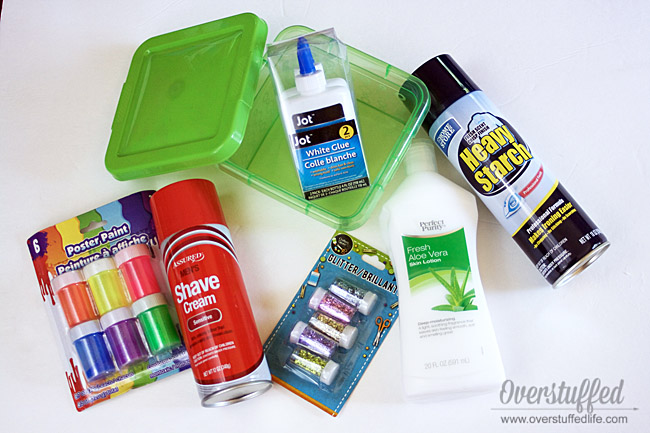 Dollar Store items purchased:
(affiliate links to Dollar Tree—not all products found online)
Total cost: $8.00—Yield: 4 batches of fluffy slime ($2.00 per batch)
So far, the cost per slime batch was looking pretty good to me.
We got everything home and the girls started making fluffy slime.
First they poured the glue in (my daughter really liked that container, and wanted to make the slime right in it!)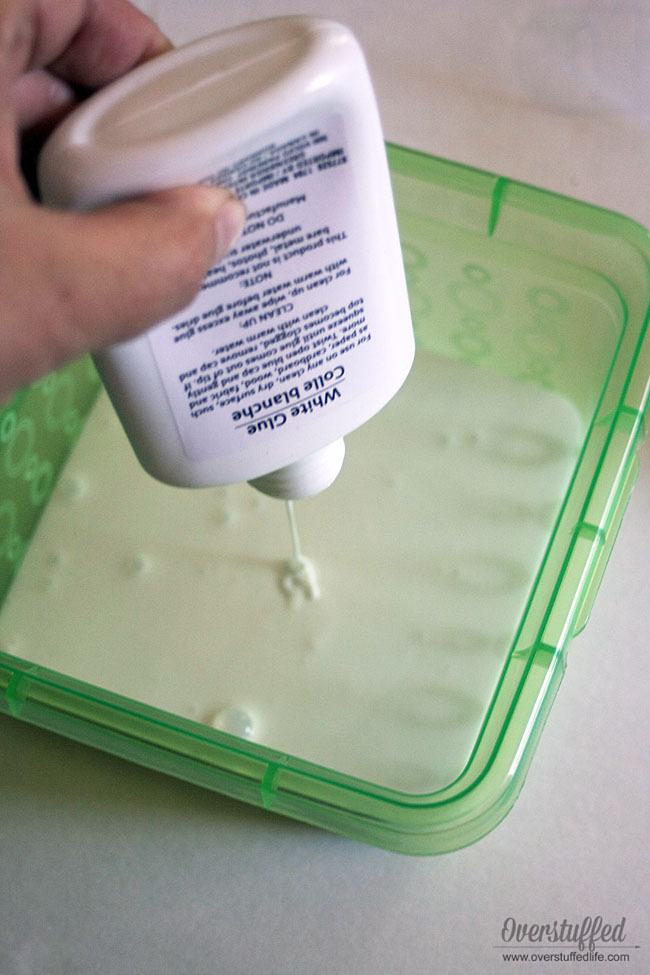 As they added ingredients, it became clear that things weren't quite working like they normally do. The most obvious problem was that the slime wasn't activating no matter how much starch they sprayed into the concoction.
Slime does not work without sodium borate, which is the "activator" that makes it all stick together properly. Common sources for the sodium borate in slime recipes are heavy starch, contact solution, and Borax.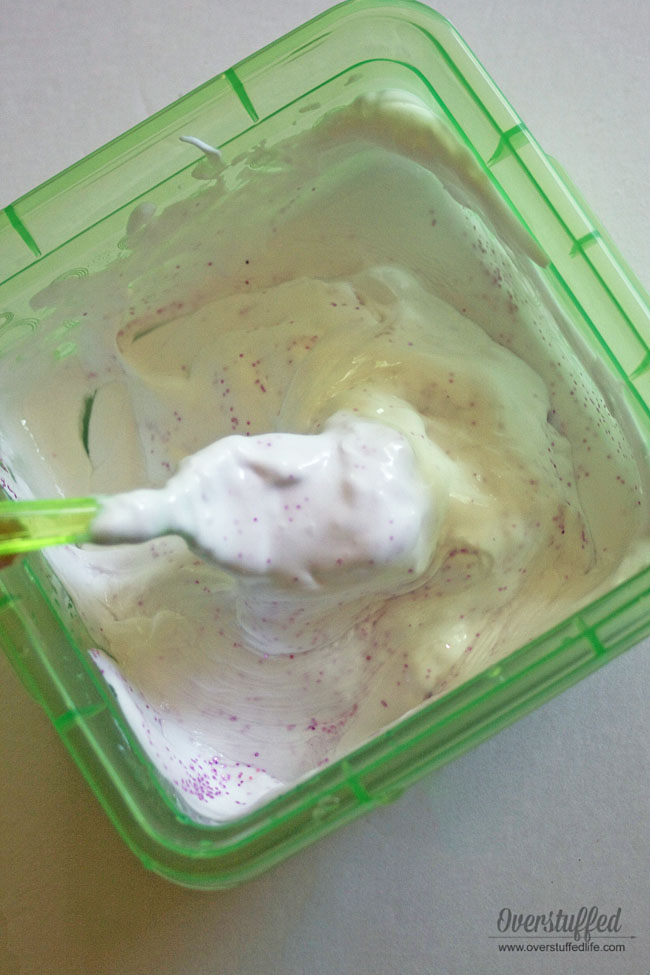 I had been a little unsure about the heavy starch we purchased at the Dollar Store because it had no ingredients listed on it. I had no way to know whether it actually contained sodium borate/boric acid or not! I figured it must, since most starches do, but I guess it didn't because that slime wasn't activating for anything.
We put the starch aside and made a Borax solution instead out of the Borax we had on hand, and then the slime activated right away.
Other observations:
The shaving cream from the dollar store was runnier than other shaving creams we have used, and while it worked out fine, the slime wasn't as fluffy as usual.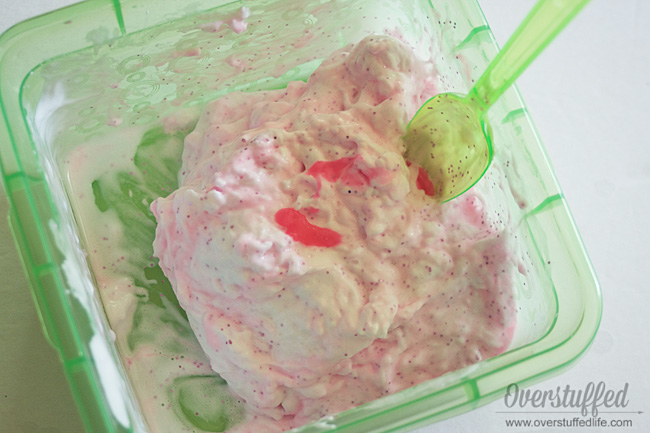 The poster paint we purchased was not very effective, so all the slime we made that day turned out to be very pastel in color, despite the brightly colored paint. You can see that the slime in the photos is a pale pink even though we used that very hot pink paint.
Verdict:
Aside from a proper activator (none of the contact solutions or eye drops at the Dollar Tree contained sodium borate, either), you CAN buy everything you need to make fluffy slime at the dollar store.
If you are only planning on making a few batches, it is probably a better deal to purchase as many ingredients as you can at the dollar store. However, if you have slime-obsessed children like I do, it will be more cost effective to buy most of your products elsewhere.
Here's a breakdown:
8 ounces of glue costs $1.00 at the dollar store, which is about 13 cents per ounce. You can buy an entire gallon of glue for around $13.00 (often less!) which comes out to 10 cents per ounce.
For activator, Borax is the most cost-effective, hands down. I bought my kids this box of Borax for around $11.00. I'm pretty sure they will get a couple hundred batches of slime out of it since they use so little of it in each batch.
Craft paint is generally only a dollar per bottle, and the colors work so much better than the paint we purchased at the dollar store. Plus you will get a LOT more paint for your buck. The only issue is variety, but you can buy a multi-color package of craft paint for about $18.00 that will last quite a long time.
Purchasing just one large container of glitter for around $5.00 will also last much longer than the tiny glitter containers available at the dollar store, plus your kids won't want each batch to have glitter in it anyway.
Shaving cream and lotion from the dollar store work just fine and are definitely the cheapest option. You will need several bottles as each one is good for about 4 batches of slime. To match the amount of glue in a gallon, you'll probably need 8 bottles of each.
Total cost: $63.00—Yield: 32 batches of fluffy slime ($1.96 per batch)
This cost estimate includes purchasing 18 containers of paint, which isn't necessary, plus you can find most of these products for less—I am trying to estimate on the higher side.
If you are a crafter and already have a ton of craft paint on hand like I do, it takes your total cost down to $45.00 which equals about $1.40 per batch.
Final Verdict: Is Dollar Store Slime Cheaper?
You can purchase most products to make fluffy slime at the dollar store, but it is slightly more cost effective to buy them in bulk elsewhere—plus you will get higher quality products in the end.
Since I see no end in sight to the slime making at my house, I just went ahead and bought the stinking gallon of glue!
Happy slime making!
Edit May 2023: This cost comparison was based on 2017 prices. Dollar Store items are now $1.25 in most cases, and several of the items I purchased elsewhere have also gone up in price.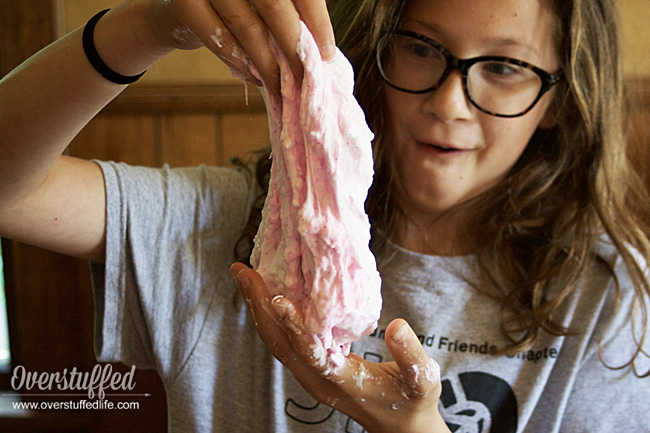 This post may contain affiliate links, for more information, please see my disclosure.