DIY Christmas Button Art on Dollar Tree Tray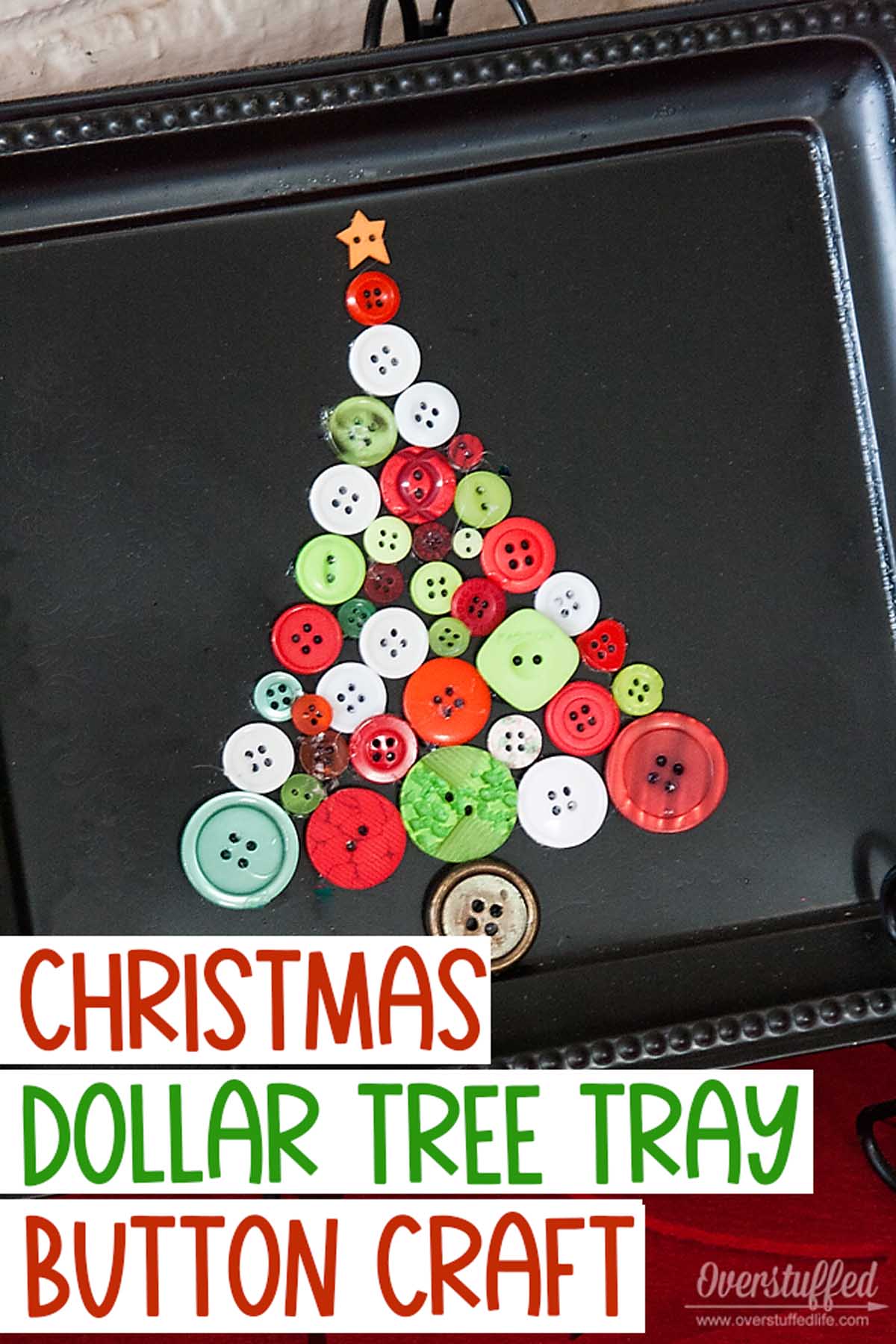 Decorating for Christmas is the best! It takes me about three days to do my house, and I've amassed a huge assortment of random decorations and ornaments over the years. But absolutely nothing beats hauling up all the bins from the basement, drinking egg nog, listening to our favorite Christmas music, and turning our house into a Christmas wonderland! It is the best thing ever.
Yeah, yeah, the kids totally poop out before we're even finished decorating the first tree, but it's still absolutely the best time of the year. Nothing beats sitting in the living room looking at the mantel and the tree and the lights. I look forward to it all year long.
And even after all of that, I love making a few new things every year. My favorite decorations are always the ones we make together. When we first moved into this house in 2009, I realized it was a LOT bigger than any other house we'd ever lived in when I pulled out the Christmas stuff. I was going to have to get creative so I could afford the decorations I felt I needed to deck the halls right. I made a lot of stuff that year, and though I've shown photos here or there, I haven't actually posted about most of it, so today I'm going to show you my button tree tray.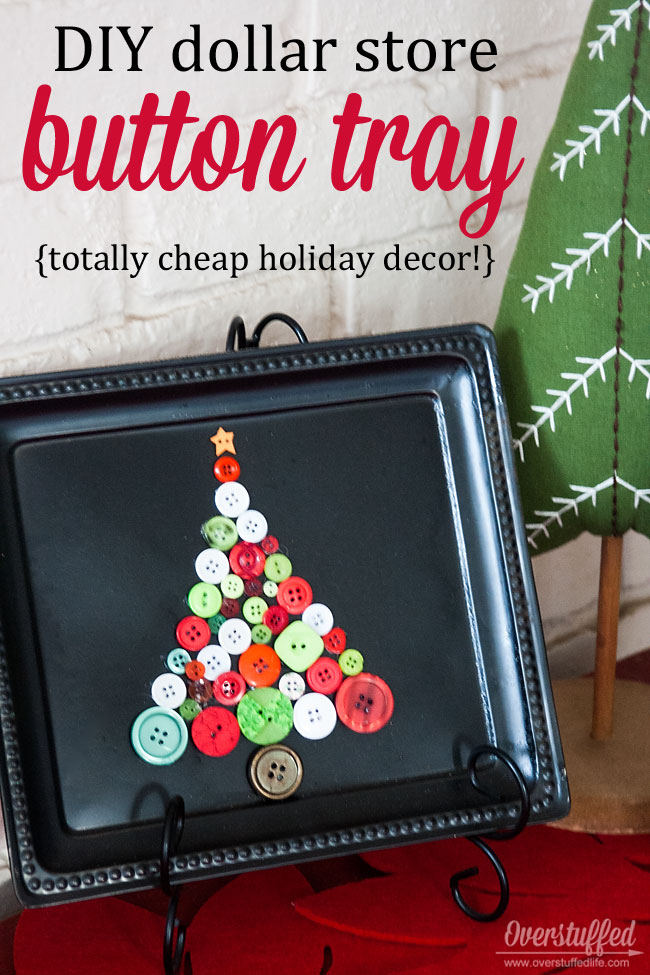 Make sure to check out our Ultimate Holiday Gift Guide—Find hundreds of gift ideas for EVERYONE on your list!
This is one of the absolute cheapest decorations I have ever made, and everyone loves it! My oldest daughter, then only 9 years old, helped me to create it, and she always thinks of it as hers when we get it out. It was totally her idea to use the star button on the top and she helped me arrange all of the other buttons, so it is definitely hers.
How to make Christmas button art with a Dollar Tree Tray
Materials needed:
Spray paint (I used black, any color will do!)
Buttons (If you don't have a large stash of buttons on hand like I tend to, you can easily buy bags of assorted buttons.)
Glue gun and glue sticks
Since I always have a huge supply of both spray paint and buttons on hand, this project cost me exactly $1.00. You can't get much better than that!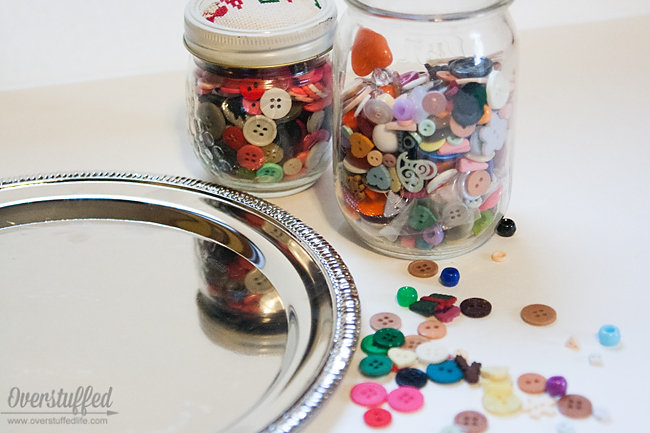 You actually don't even have to paint it if you don't want to. Silver is a wonderful color for Christmas decorations, after all.
The dollar store (my local dollar store anyway), usually has several different shapes of these trays available. I have found the square, a rectangular one, and the circular one pictured above.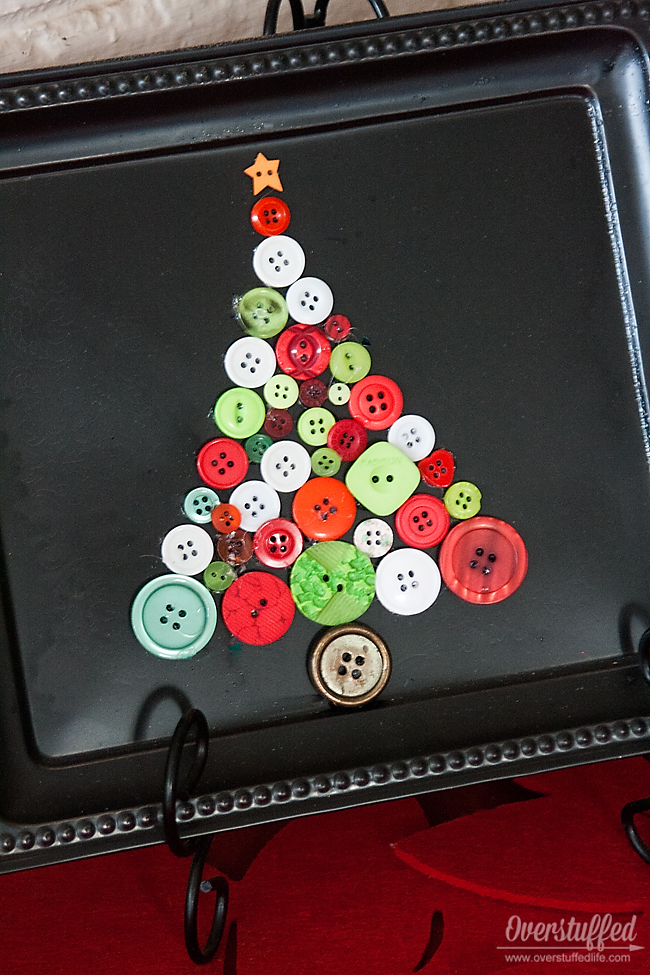 Directions:
Use the shape of the tray to help me decide what I'm going to do with it. A tree seemed like the perfect thing to do for the square tray. Plus, it wasn't difficult to put together with the buttons.
Decide on a color scheme, pick out all of the buttons that work, and then just lay them out on your painted (or not) tray. My girls loved helping with this part, and sometimes had much better ideas about button placement than I did! We chose traditional red, white, and green for the tree and its ornaments. Plus we found a big gold button for the trunk and a small yellow star to put on top.
Once you have your arrangement decided on, use hot glue to affix the buttons to the tray. You can tell my kids helped with both projects because the glue is messier than I like, but it's fine. It's so much more important to spend time with them than to make it perfect (and that's actually hard for me to say, but it's true!).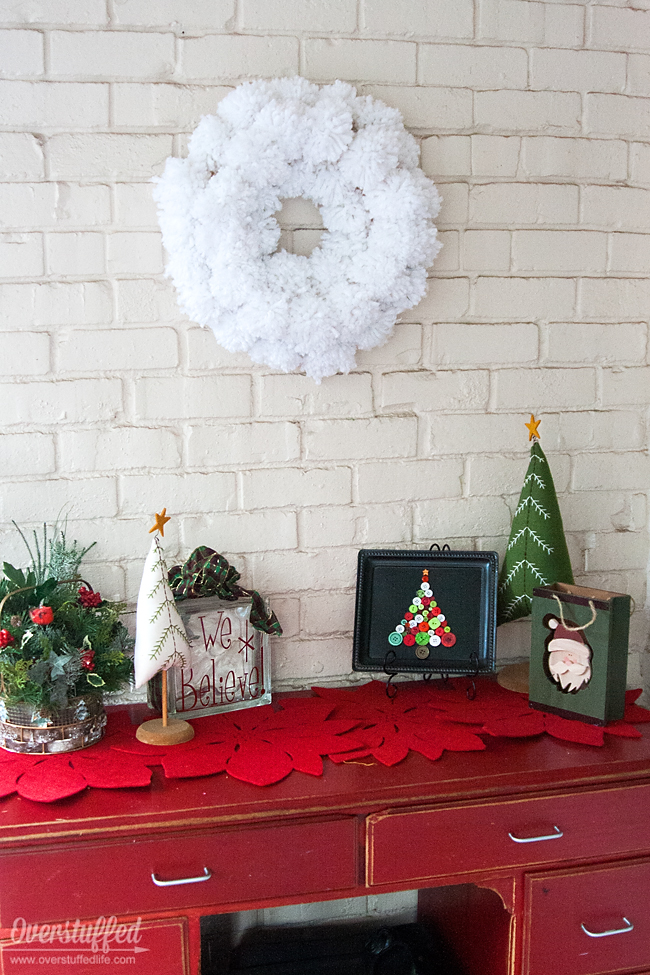 This year, that particular tray is living out on my covered front porch. We live in a 100+ year old house with fun nooks and crannies to decorate. The desk holds things like gloves and scarves in the winter and I like to keep it decorated for the current holiday. I chose my most rustic looking decor for out there, because it just fits.
For the new circular tray I bought, I figured I would make a wreath. It ended up that I didn't have as many green buttons as I hoped, so I used a bunch of red ones to make a big bow.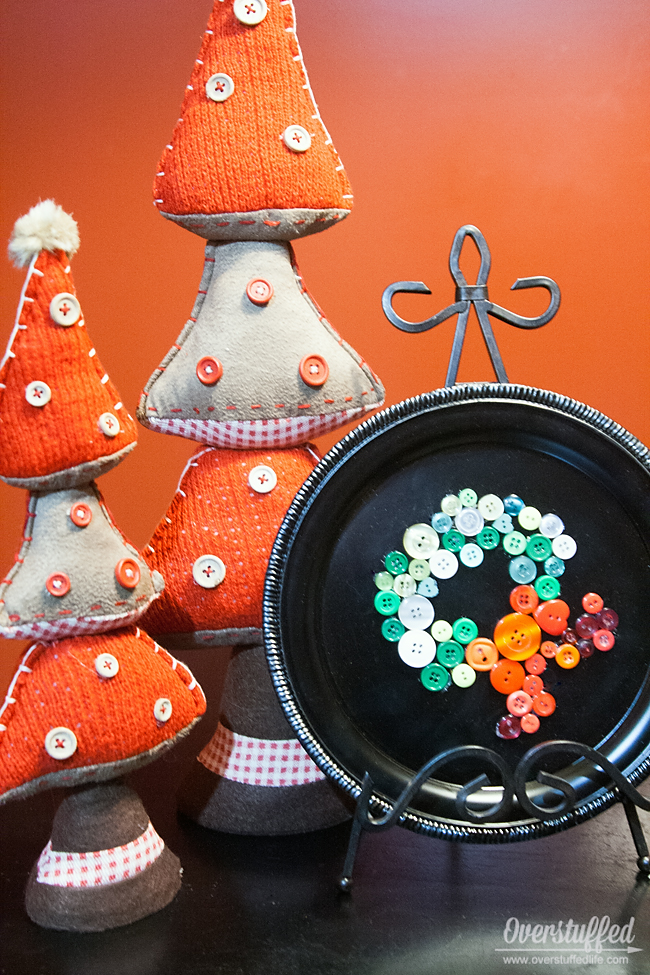 It turned out pretty cute, though I haven't found a permanent place for it yet. (Also, bad bad horrible bad lighting in this photo—but it was either that or probably never post about this project because the holidays are so darn busy and I've been procrastinating this photo for a week.) I may actually buy some green buttons to fill it out a bit, but it's also just fine the way it is.
It's a fun, easy project—and best of all, really cheap. Pick up a dollar store tray and dig into your button stash with your kids. I can't wait to see what you come up with!
This post may contain affiliate links, for more information, please see my disclosure.