How to Make Faux Chalkboard Art
This shop is part of a social shopper marketing insight campaign with Pollinate Media Group® and Sharpie, but all my opinions are my own.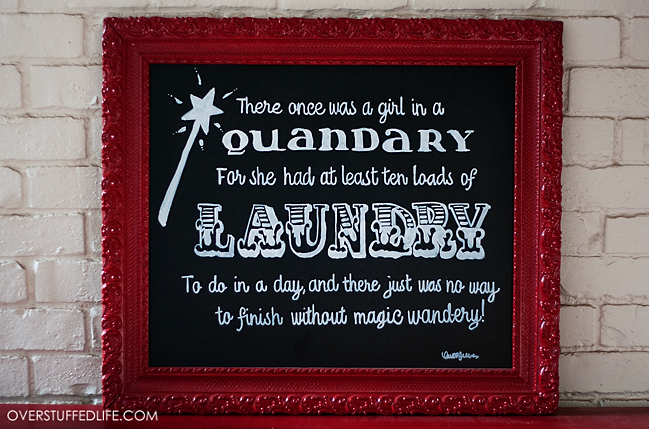 My laundry room is a dungeon.
At least, it was until I painted it a bright, sunny yellow. Now it's only a semi-dungeon. It's down in our unfinished 100-year-old basement, and in the winter I really don't like hate going down there. It's dark, it's damp, and it's cold.
But laundry must go on, even in the winter, and so I have been looking for ways to brighten up the room and make it a little more inviting.
See the spruced-up dungeon laundry room here: How to make your laundry room more functional.
I found a really great 20×24 frame at the thrift store and had the idea to make a chalkboard for the laundry room. At first, I was going to just use chalkboard paint and have an actual framed chalkboard, but then I thought about it and realized that it wouldn't be very useful in a dungeon. In the end, I decided that I would rather have some permanent chalkboard art in the frame.
I spray painted the frame MONTHS ago, and it's even been hanging up in my laundry room all empty and taunting me every time I went down there to unload the dryer. (In my defense, it was better than a completely blank wall, but it is kind of silly to have an empty frame hanging on your wall.)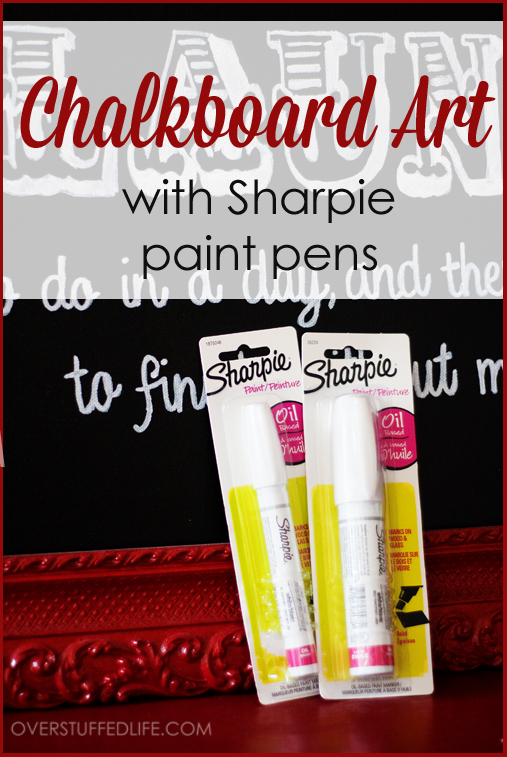 This past weekend I FINALLY got it together and I made the chalkboard art. And, of course, I love the finished product so much that I'm wondering why I didn't do it sooner!
How to Make Faux Chalkboard Art
Materials needed:
(affiliate links)
Directions:
1. Go to Michael's and purchase a 20×24 canvas and a handful of the new oil-based Sharpie paint pens in white. (Can you tell how excited I was to finally get started on this project?)
2. Spray paint the canvas black. I used a satin finish, which worked well. I wouldn't recommend using anything glossier than that since you'll want the lettering to stand out.
3. Decide which quote you want to put on the faux chalkboard. I decided to use a limerick I had written a few years back for a fun Laundry Limericks contest a friend had run on her blog. I didn't win, but I really liked my entry, and I thought it would be cute to have it on my laundry room wall.
4. Design your chalkboard art. In Photoshop Elements, I made a 20×24 canvas and sketched out a basic idea of how I wanted the quote to look. (Yes, I was apparently temporarily insane when I chose that font for the word LAUNDRY.)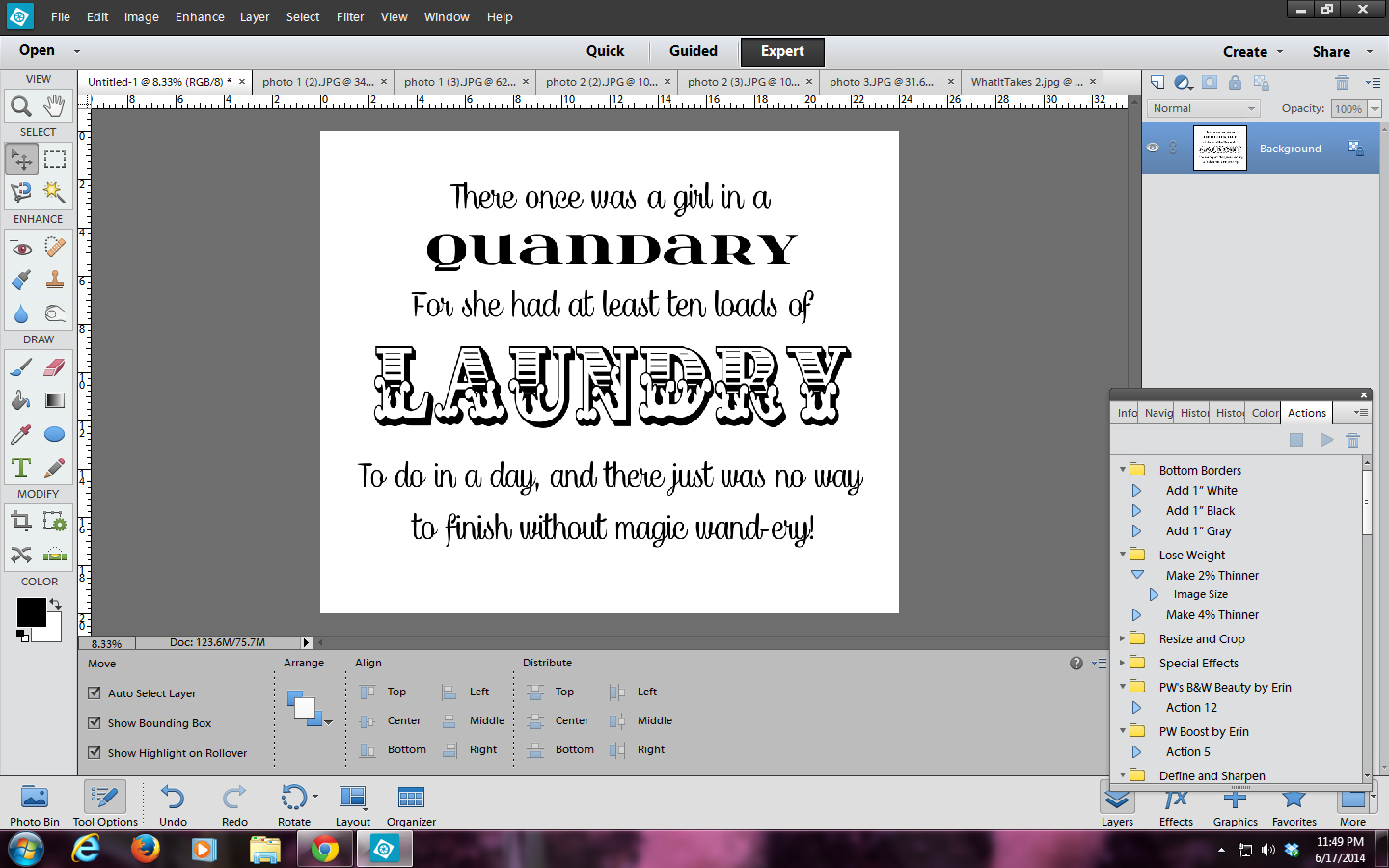 5. I then chopped up the quote into 8×10.5 pieces that could be printed out and used to help guide me in the lettering. I used 10.5 so there would be a small bit of overlap to help me match up the pieces.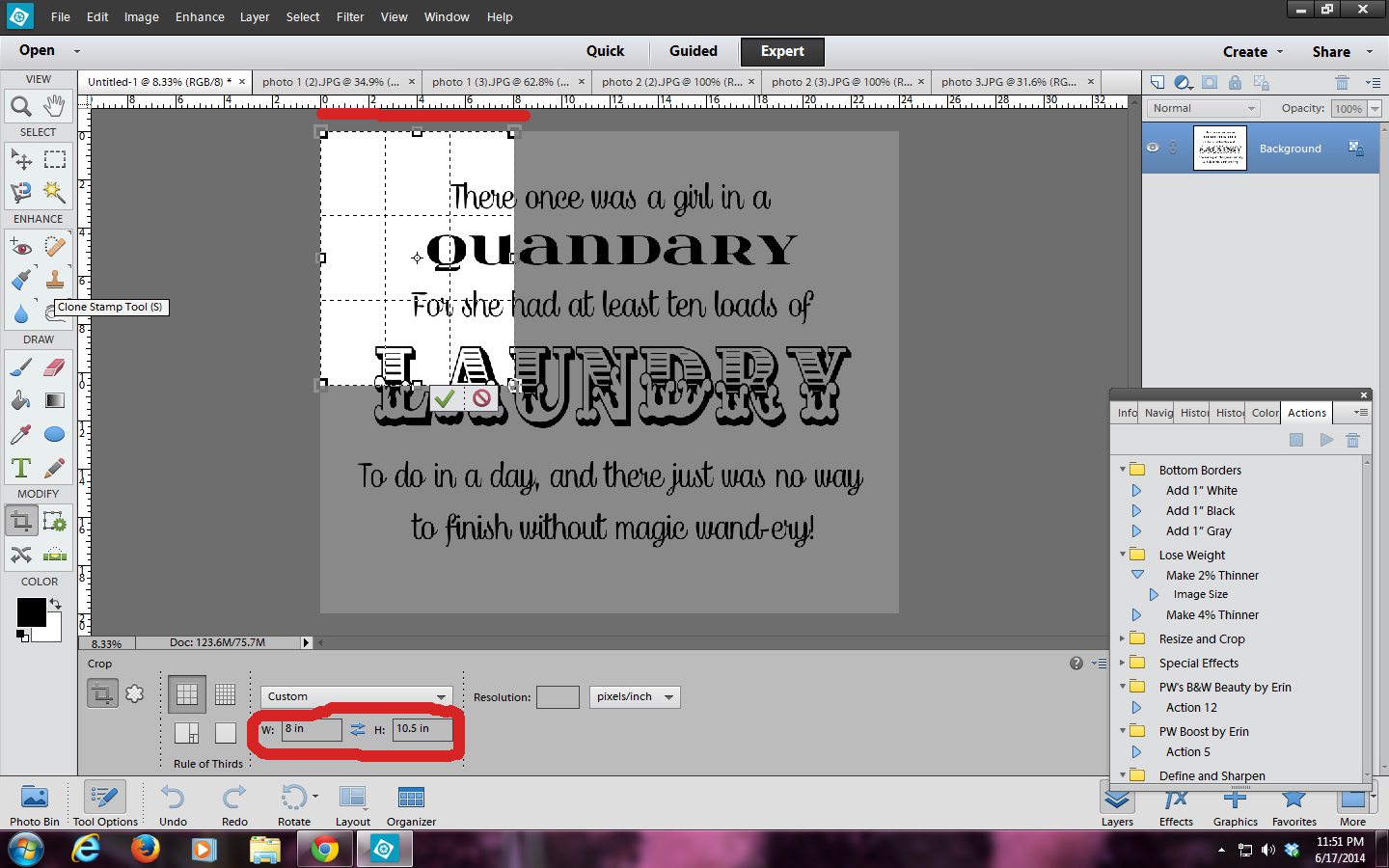 6. Print out your lettering guides, and then use painter's tape to tape off the first line of your quote. (If your quote isn't in straight lines and is more word arty, then you can skip the tape.)
7. Use an exacto knife to carefully cut guide lines into the black paint. I did this by placing my paper over the canvas and tracing only the vertical lines in the font. For the more complicated fonts, I did horizontal lines as well. (Exacto knives are sharp! Be careful that you don't slice through the canvas.)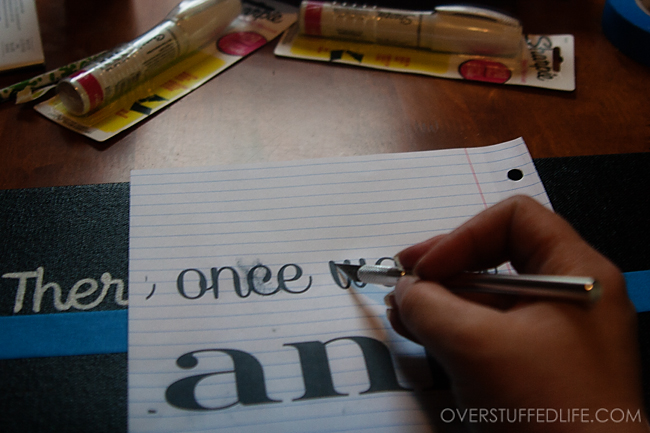 8. Using your score marks, and looking at your lettering guide, begin to paint the lettering on with the Sharpie Paint Pen. Imperfections are part of the charm of this project. I wanted my chalkboard art to look hand-lettered, not like it was perfectly cut out of vinyl or mass-produced, so I didn't worry too much about perfection. In fact, when I got to the crazy font I chose, I ended up having to make several adjustments and it is definitely not perfect. But it does look like maybe somebody hand-lettered it on a chalkboard with actual chalk, and that's exactly what I wanted.
9. Keep repeating this process, line by line, until you have an awesome piece of chalkboard art for your house! Add whimsical art details if you want, too. I purposely scooted my quote slightly to the side so I could add a magic wand to the finished project.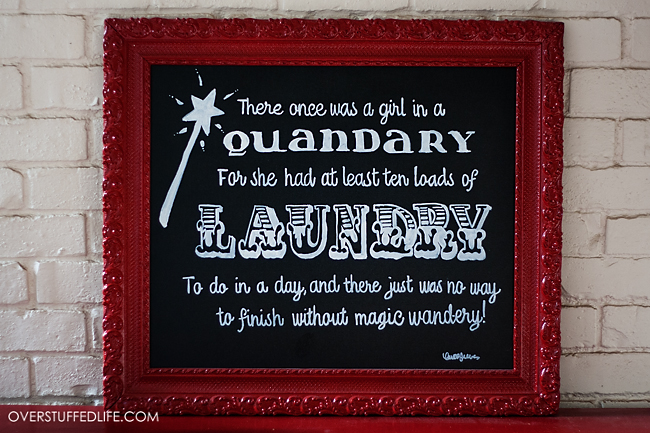 I wish I would have thought to grab a black Sharpie Paint Pen, because I had a couple mistakes that I needed to black out. I just used a little paintbrush with black acrylic paint that I had on hand, but the paint pen would have been 100 times easier. They were so easy to work with, and I was able to get a great amount of detail into my project without fear of smearing or having the paint come out too thickly or unevenly.
Here's a shot of how it actually looks in my laundry room, though it is a bit dim in there to get a truly good photo (it is a dungeon, after all, even though it's now a yellow dungeon!):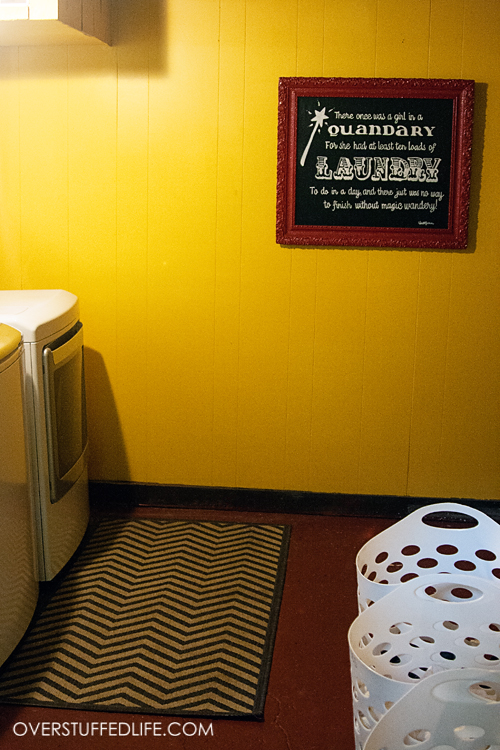 I seriously love it. Good thing, too, because I completely ignored the laundry while I was working on this project and I'm going to have to spend a lot of time looking at it while I sort clothes in the next few days! (Yeah, those baskets may look empty, but trust me, I have well over ten loads of laundry to do right now—where's that magic wand?)
Want to do your own chalkboard art? Michael's has lots of Sharpie paint pens in stock. And not just in white, either. There's a color for any project you might want to do! Watch for great deals on Sharpie paint pens in your Michael's ad, at www.michaels.com, or in the store.
This post may contain affiliate links, for more information, please see my disclosure.