I've always wished that I could afford to just have several pair of glasses to choose from. I have to wear either contacts or glasses, and I thought it would be nice to be able to wear glasses that coordinate with what I am wearing—or even glasses to match my mood!
So I was kind of excited when Firmoo contacted me to review a pair of their glasses. Yay! A new pair of glasses with the same prescription as the ones I got in December. I have been a little wary of the cheaper glasses that are online, even though friends have tried them and been pleased. But to be able to try them at no cost at all to myself is the way to go, and I have been pleased with Firmoo!
Here are my new frames. I really like them, and I have received many compliments on them whenever I wear them. Which is more than I can say for my other pair. I liked that Firmoo has a virtual try-on system where I could upload a photo of myself and try on the frames. It wasn't perfect, but it did help me decide on this particular pair.
You might be able to tell from the photo, but I have a pretty heavy prescription (though my eyes have randomly gotten better the closer I get to 40!), and these glasses came with the standard 1.5 index lenses, because they were free. I made sure to get frames that were thick enough to hide the thickness of the lens, though there isn't much I can do about the distortion when you look at my face through the lens.
I love that Firmoo sent with my glasses both a hard case and a soft case. And I was pleasantly surprised that they sent a handy little eyeglass repair kit on a keychain as well. How cool is that? It's in my purse awaiting the first eyeglass emergency, which for our family of five glasses-wearing people, is a matter of when, not if.
Firmoo offers new customers their first pair free. Free pairs, as noted above, come with the standard 1.5 index lenses, so be aware of how your prescription affects this. If you have a heavy prescription like I do (about -7.0 with astigmatism)(it used to be -9.5!), you will want thicker frames. Call your eye doctor to get a copy of your prescription if you don't already have one, as you will need to enter it online once you have chosen your free frames.
Paying customers do have the option to get higher index or polycarbonate lenses for a little bit more. And with an average frame price of around $25.00, it still is much cheaper than the glasses I just got in December. What with the lighter lenses and the designer frames, they came to over $400.00! $75.00 is an absolute steal for a prescription like mine.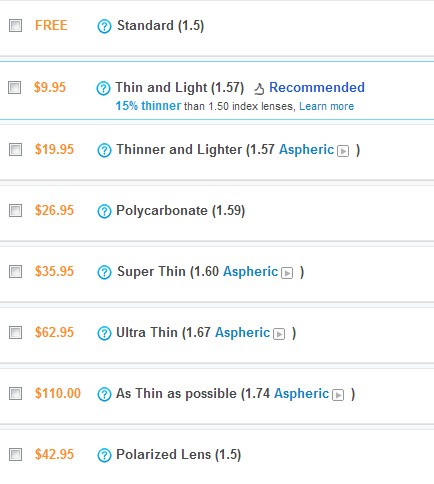 I'm seriously going to order a few more pair, just to fulfill my dream of having several to choose from! I'm going to start with these frames first, and then maybe get these ones. Whatever I decide, I'll definitely be doing business with Firmoo again!
Here is my obligatory please feel sorry for me because my snow banks are taller than I am and I am not short picture for this post. I am allowed because I am demonstrating the ridiculous amount of snow in front of my house while wearing my new Firmoo glasses.
****************
I received a free pair of glasses from Firmoo.com in exchange for my review. All opinions are my own.