Free Printable Christmas Service Advent Cards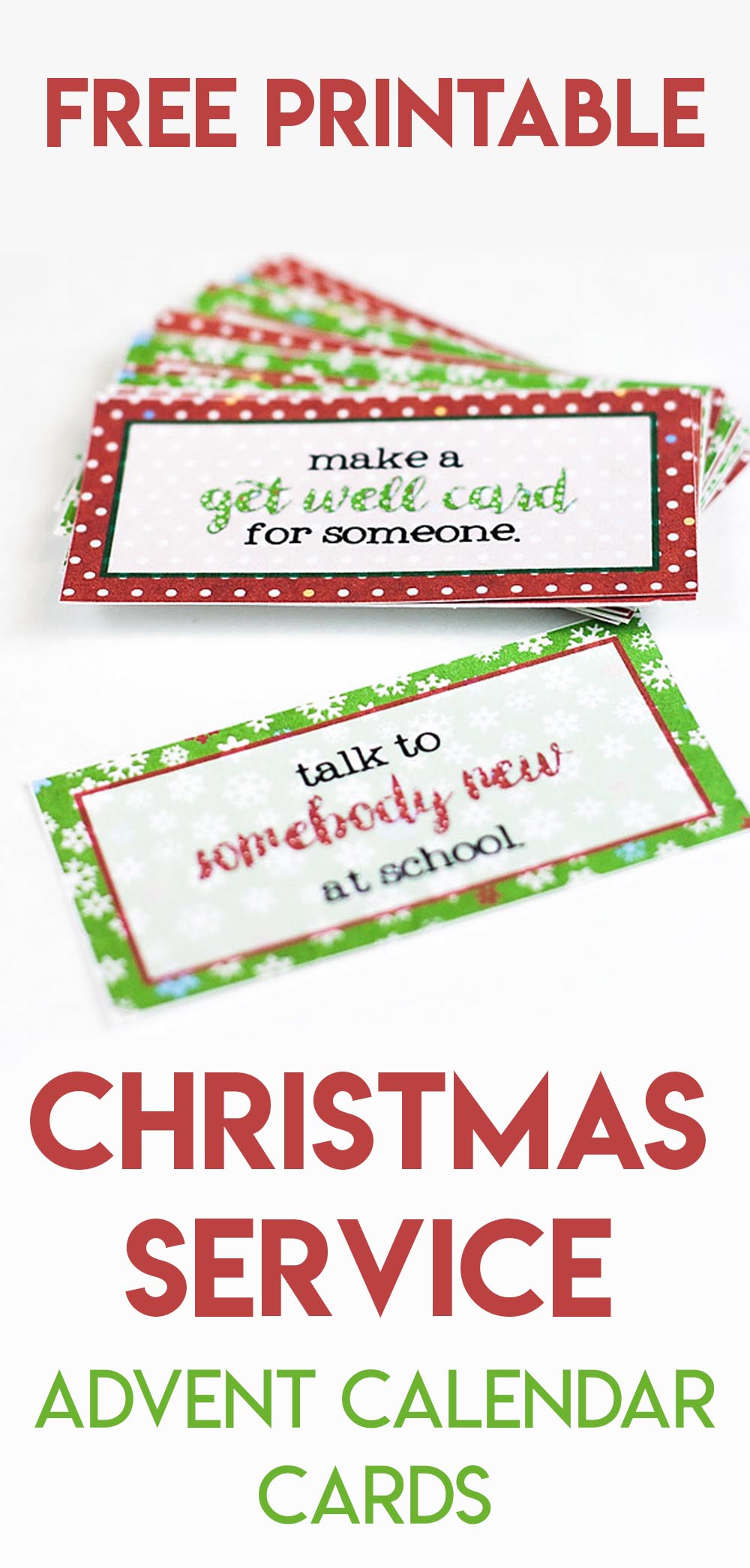 A couple years ago, I started putting service ideas in our advent calendar instead of candy. I wasn't sure how my girls would like that since they LOVED fighting over a single piece of chocolate every morning, but it's turned out pretty well. Now they look forward to trying to do the simple service they pull out of the calendar each morning instead.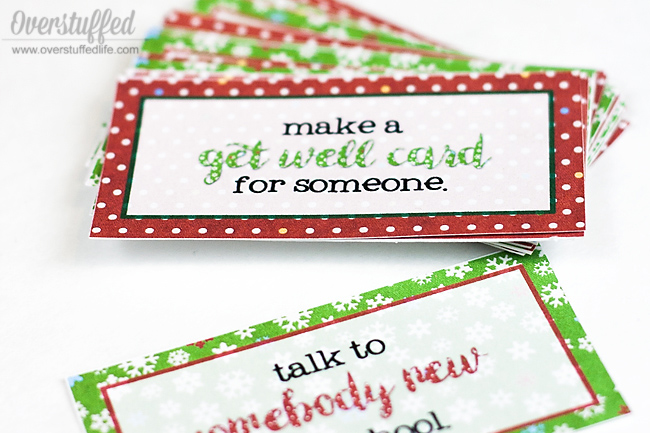 Make sure to check out our Ultimate Holiday Gift Guide—Find hundreds of gift ideas for EVERYONE on your list!
Sometimes the service idea is for our own family and home—things like doing the dishes or organizing a family movie night with popcorn. Sometimes the service is for their friends, and sometimes it is for total strangers.
Christmas is such a busy time, and it is often difficult to find extra time to do large service projects, but I want to make sure my kids are thinking of others during the holiday season and this has been a great way to accomplish that. Because December is a crazy month, sometimes they don't get a chance to do every single service, but they sure try! I love seeing how they've caught the spirit of serving others during the holiday season—the joy it brings to them is inspiring to me.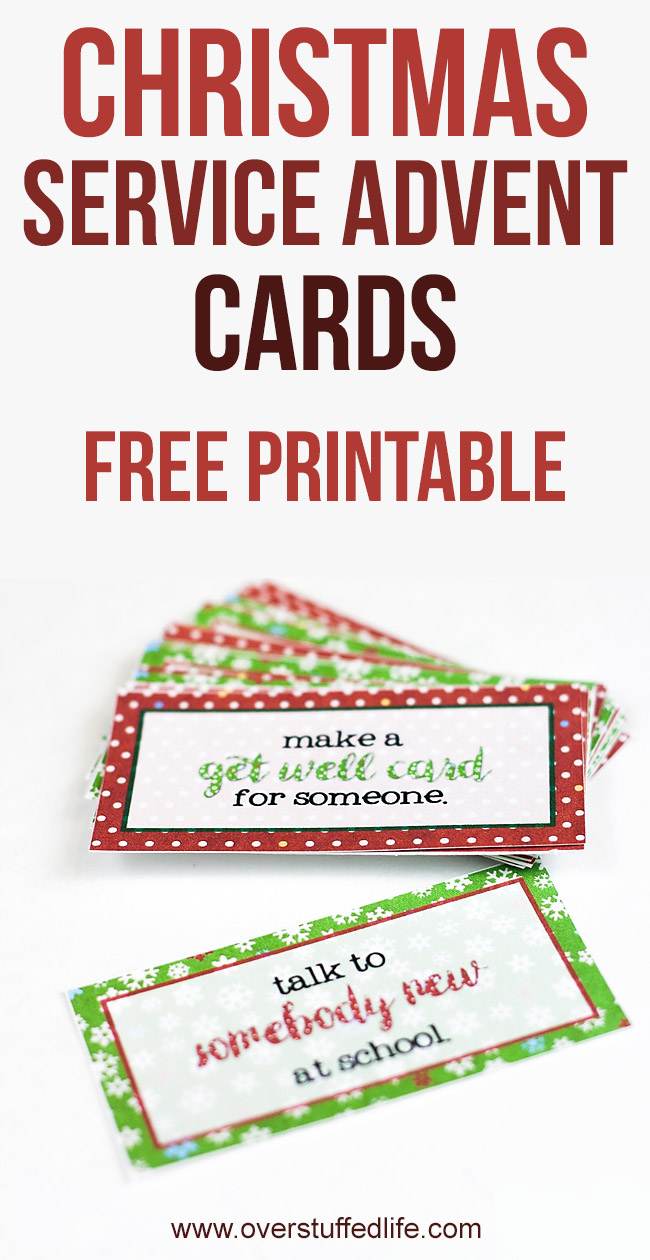 If you do Elf on a Shelf, it might also be fun to have your elf encourage the service ideas instead of putting them into an advent calendar. Any way you do it will help your kids to catch the spirit of the season!
Related: 4 Reasons to Skip Elf on the Shelf
Fill out the form below to download just the service advent cards. Otherwise, read on to download a Christmas printable pack that includes printables from several different bloggers!
Download the kindness advent cards now!
Enter your email address and receive the printable right to your email inbox.
I have teamed up with a few of my favorite blogger friends to give you a whole bundle of Christmas printables—including my service advent cards. You can download all 8 printables at the bottom of this post.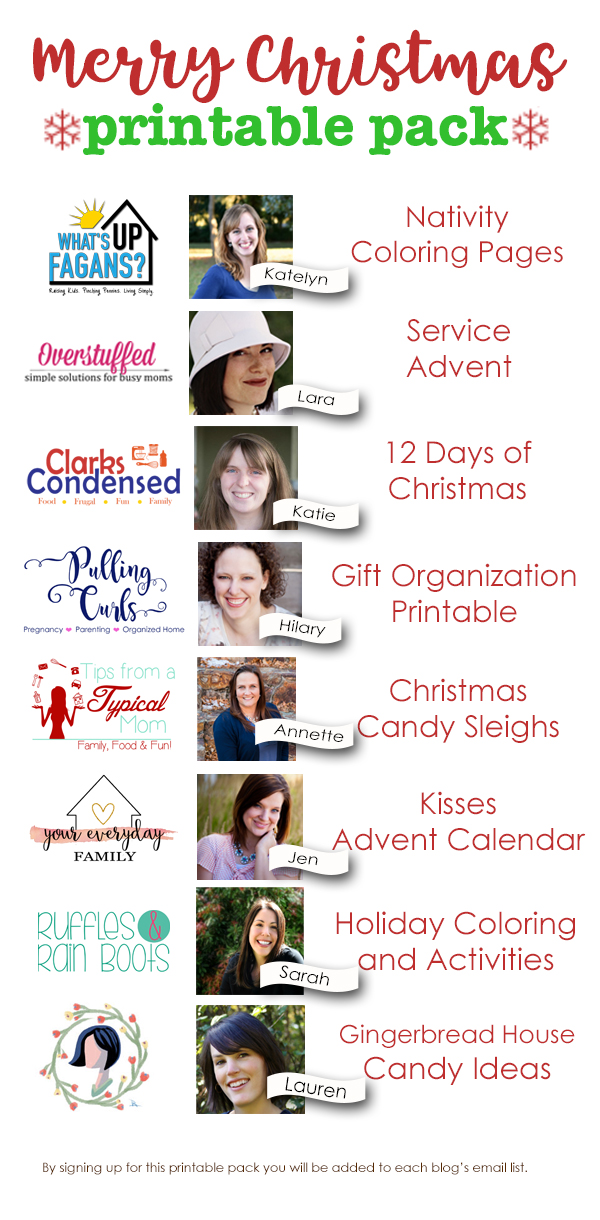 You will receive Christmas printables from 8 family lifestyle bloggers:
Nativity Coloring Pages from Katelyn at What's Up Fagans?:
Bring the true meaning of the Holiday season to life with these 12 fun Nativity coloring pages for kids (and adults)! Use them as a fun way to countdown to Christmas or as something to entertain kids during family get-togethers during the holidays.
Christmas Service Advent from Lara at Overstuffed:
Instead of putting candy in your advent calendar this year, try these cute service ideas and help your children catch the Spirit of Christmas by serving others daily!
12 Days of Christmas from Katie at Clarks Condensed:
Use these fun 12 Days of Christmas printables to give secret gifts to your neighbors and friends this year!
Gift Organization Printable from Hilary at Pulling Curls:
This printable will keep your Christmas gifts organized by item, price, and even by hiding place.
Printable Candy Sleighs from Annette at Tips from a Typical Mom:
Use these adorable printables to make candy sleighs to hand out to your neighbors or to decorate your home this holiday.
Kisses Advent Calendar from Jen at Your Everyday Family:
Use these cute printables along with Hershey's kisses and do the daily advent activities with your kids all month long.
Holiday Coloring & Activity Set from Sarah at Ruffles and Rainboots:
This holiday-themed set includes 3 coloring pages, a seek and find activity, 3 coloring bookmarks, an advent calendar, a printable coloring holiday card, and a "design your own ornament" set. This set includes fun for many ages but will be best for age 2-7.
Gingerbread House Candy Ideas from Lauren at Oh Honestly!:
The Gingerbread House Candy Ideas printable has 25+ items, divided into convenient categories that make it a breeze to decide exactly how you want to decorate your gingerbread houses.
The printables are in a 40-page PDF file. You only need to print out the pages you need.
This post may contain affiliate links, for more information, please see my disclosure.
Merry Christmas printables
Enter your email and get 8 Christmas printables sent directly to your inbox!