Harry Potter Book Club Ideas
Activity, discussion, and food ideas to make a quick and easy Harry Potter book club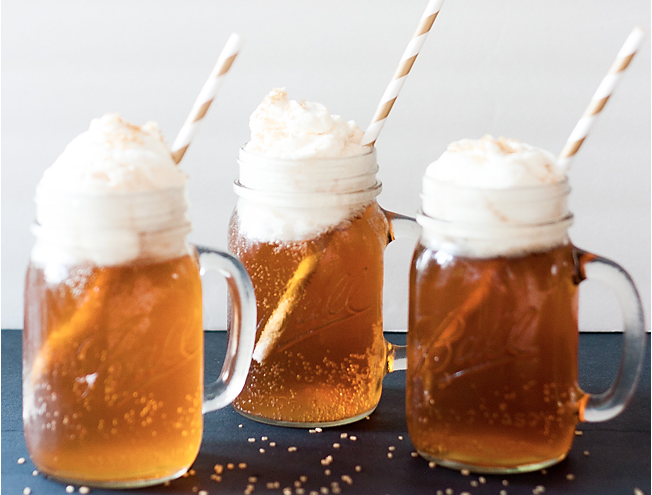 This post is part of an ongoing Summer Reading for Kids series. Click HERE to find ideas for reading activities, reading lists, and reading incentives…and keep checking back for more! This post contains affiliate links.
It's the end of July, and that means it's time to celebrate our favorite Boy Who Lived. It's Harry Potter's birthday! I'm joining in again this year with Raegun Ramblings and her amazing Happy Harry Potter blog series. The incredible ideas other bloggers are coming up with are blowing my mind, and I'm humbled to add my own ideas into the mix today.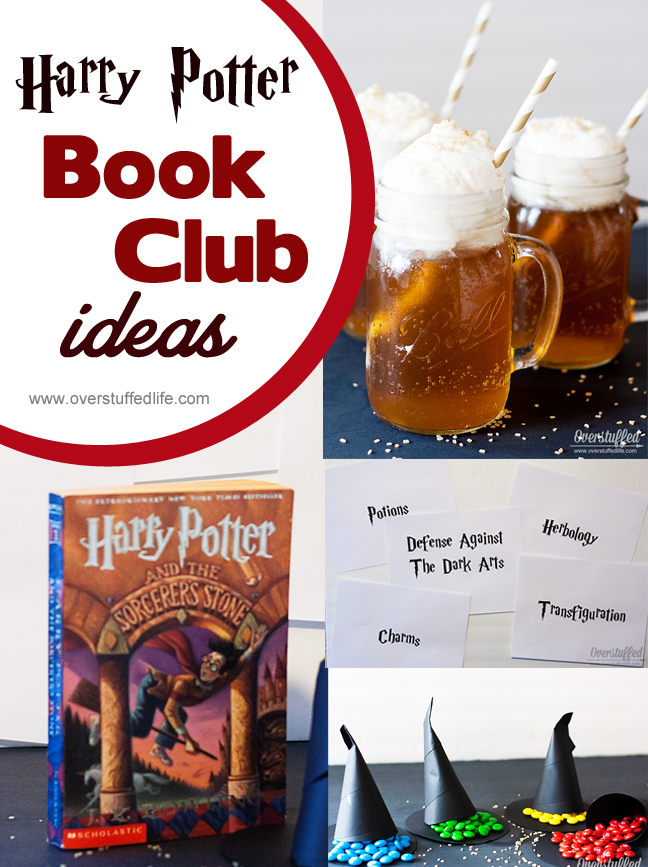 Everything you need to throw a Harry Potter book club party!
One of our favorite things to do at our house during the summer is read. And the best thing about reading is sharing books with others.
A few years ago, we began hosting kids' book clubs. My girls choose their favorite book of the moment and invite their friends to read it and then they have a fun party all about that book. Not only are kids' book clubs a great way to get your kids reading, they are a great excuse to throw an awesome party!
So far, we haven't done a Harry Potter book club. But I came up with some fun ideas for the future Harry Potter book club that we definitely will have someday soon.
You can buy the Harry Potter books here: Harry Potter paperback book set. Even better, you can buy the new illustrated version of Harry Potter and the Sorcerer's Stone. We are in love with it. Buy it here: Illustrated Harry Potter Book 1.
Homemade Butter Beer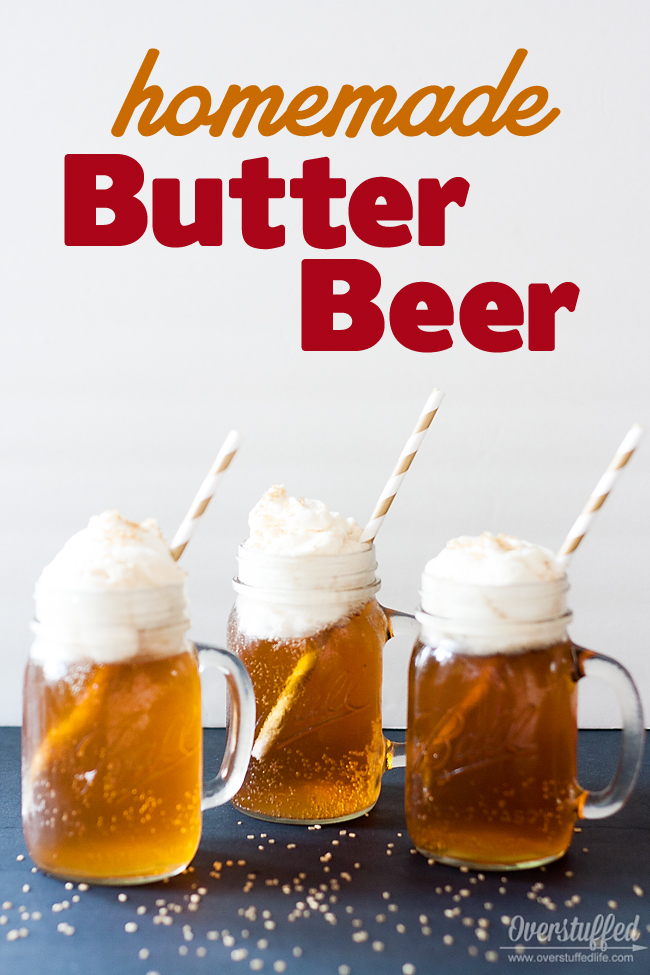 There are lots of fun recipes out there that you can serve at a Harry Potter Book Club, but my girls wanted to try out some butterbeer. We played around a bit and came up with this recipe. It was really, really yummy! I can see why Harry Potter liked it so much!
Ingredients
Directions
Using either a stand mixer or a hand mixer on medium speed, begin whipping the heavy whipping cream. While whipping, slowly add the powdered sugar, sugar, vanilla, and salt. Once the ingredients are mixed in, increase the mixer speed to high and whip until the cream is firm, but not stiff.
Add the butterscotch topping and continue whipping until it is well mixed in.
Pour cold cream soda into a chilled glass or mug. Spoon the cream mixture on top of the soda and add gold sprinkles for extra magical effect.
I thought these gold-striped paper straws also added some special magic to the butter beer, too.
Enjoy!
Related: Easy Butterbeer Cake Recipe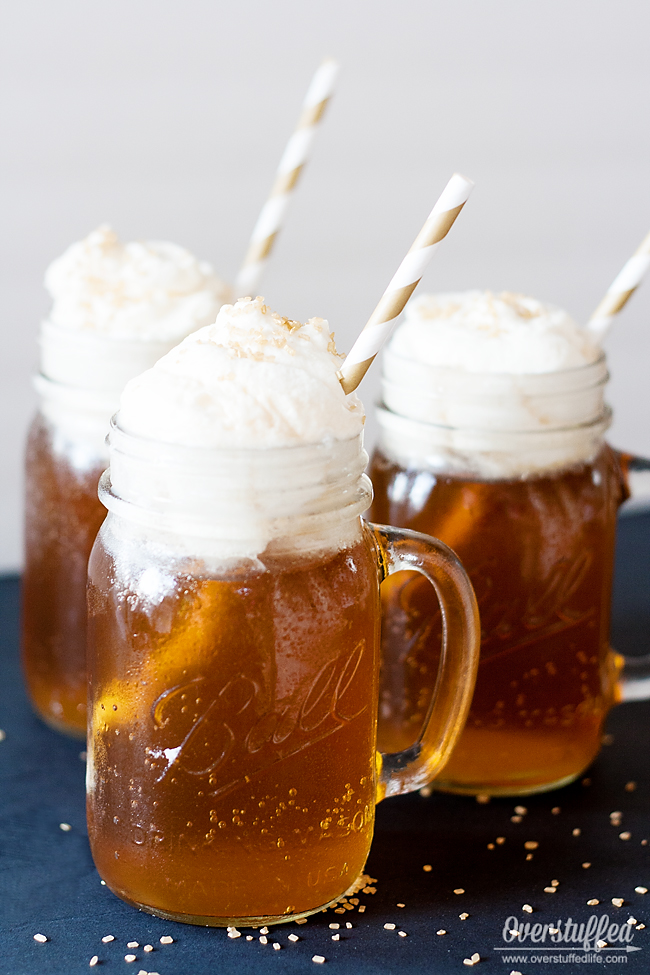 Candy Sorting Hats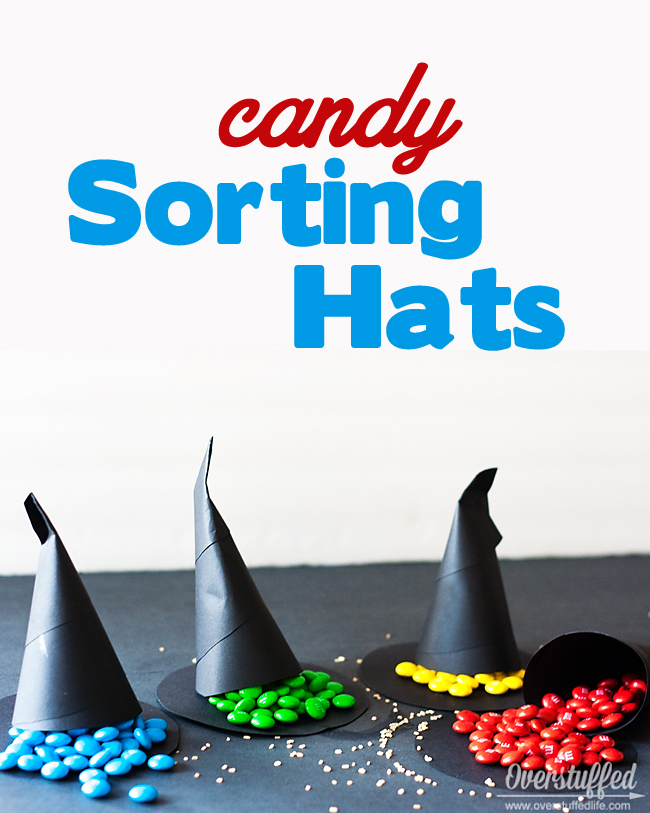 I thought it would be fun to sort the guests into groups for playing games or even for the discussion questions.
I made little sorting hats out of black card stock by first making paper cones and then adding a circle traced from a DVD to the bottom as a brim. Before attaching the hat brims, I filled each cone with red, yellow, green, or blue M&Ms. (In the process, I learned that M&M packages are very lacking in both yellow and red, but have an overabundance of blue!)
The hats in the above photo have all been opened so that you can see the house colors in each hat:
Red=Gryffindor
Yellow=Hufflepuff
Green=Slytherin
Blue=Ravenclaw.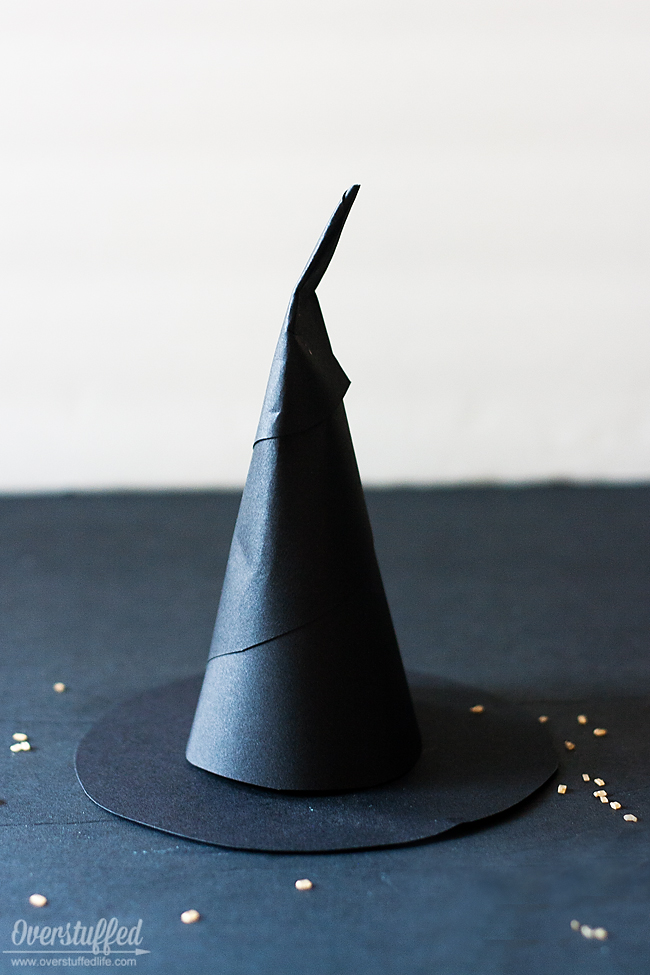 Use hot glue to seal the brims to the paper cones. They will be nice and sealed until the sorting happens and the brims are ripped off. Bend the tops to help them look a little more like the actual sorting hat.
It's exciting to see which house you are sorted into! Go Ravenclaw! (That's my favorite house.)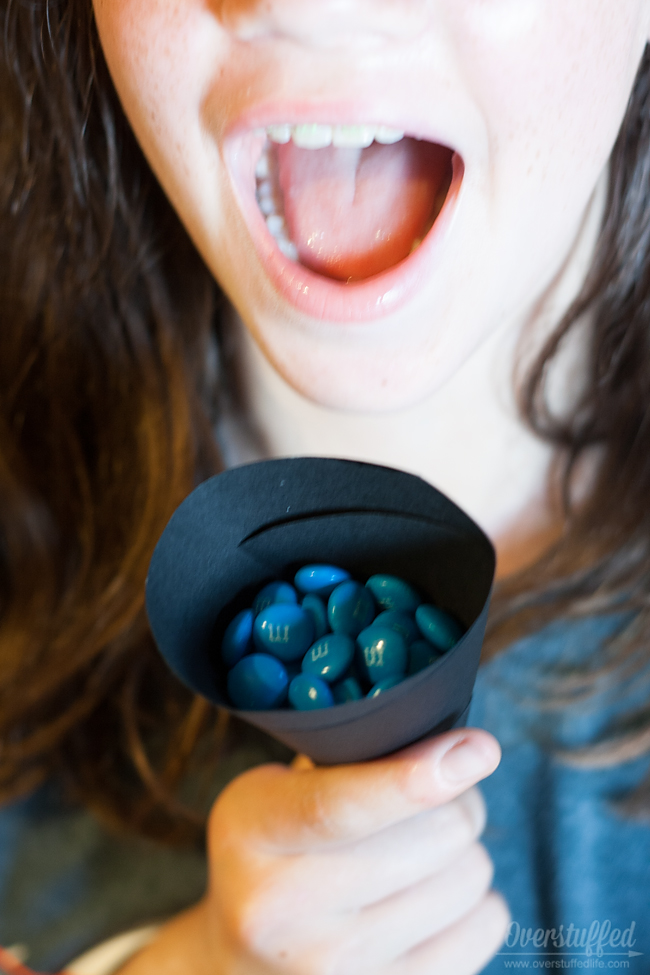 Discussion Activity
Once the kids have been sorted, use their houses as their teams. If you don't have a lot of guests, you can combine houses and play with only two teams. Maybe Gryffindor/Ravenclaw against Slytherin/Hufflepuff, for instance.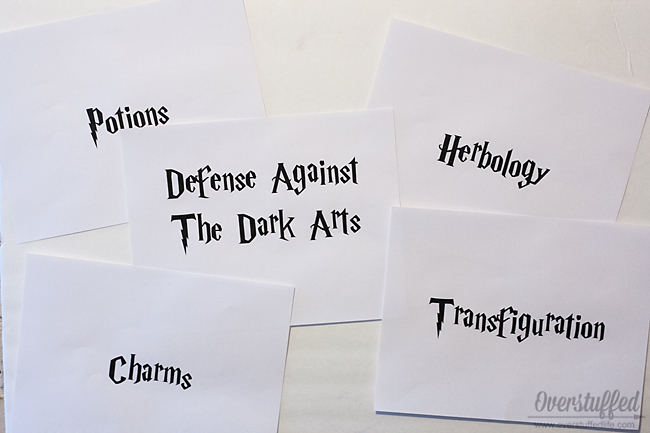 I just printed out the names of the five main classes the students at Hogwarts take in their first year:
Charms
Potions
Transfiguration
Defense Against the Dark Arts
Herbology.
Each team will choose a category and then answer a question about the book that has to do with that category. This will work no matter which Harry Potter book you are discussing in your book club.
And, since I didn't think of it before, you could also have a bonus Quidditch category.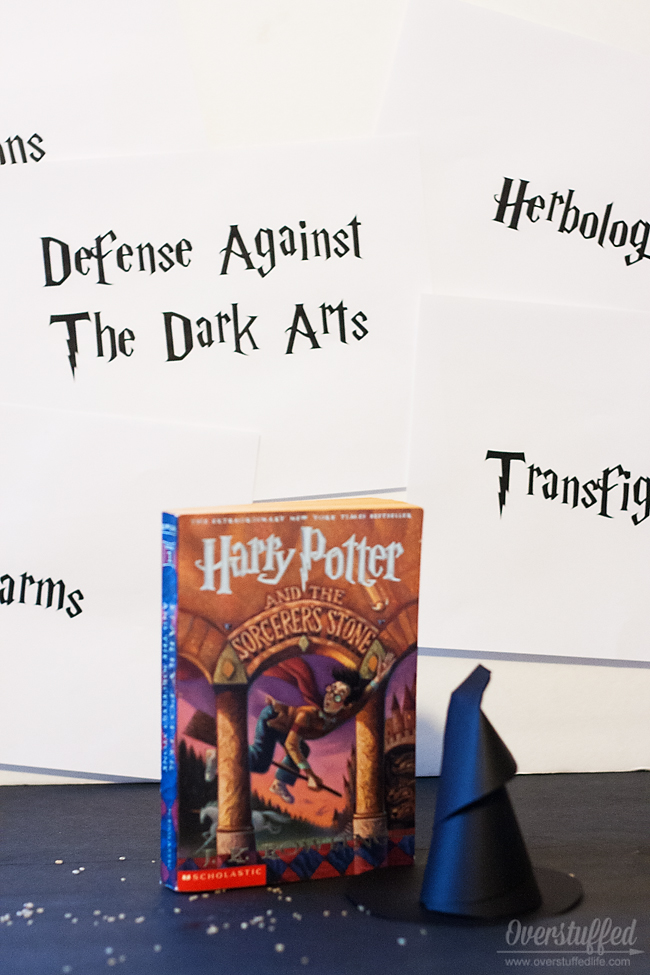 There are so many other things you could do, but those are just a few ideas that we wanted to try out! In fact, I bet you will find a ton of other Harry Potter ideas to incorporate into a Harry Potter book club discussion by clicking over to Raegun Ramblings Happy Harry Potter Series to see what other bloggers are sharing. Prepare to be amazed.

This post may contain affiliate links, for more information, please see my disclosure.