How to Host a Stress-free Thanksgiving Dinner
Are you hosting Thanksgiving this year? Planning Thanksgiving dinner for a large group can be stressful, but these tips will make it easy and enjoyable.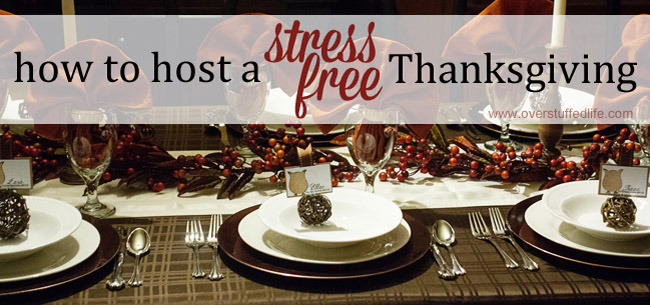 Did I really just say that? Hosting Thanksgiving dinner stress-free?
Believe it or not, it's possible, and I've actually even done it many times!
I love Thanksgiving, and my favorite part about it is throwing the party. I love making a beautiful table and baking pies. My husband loves cooking gourmet meals. What could be more perfect than hosting Thanksgiving?
While it is definitely possible for Thanksgiving to be stress-free, it does take a few weeks of planning, so the earlier you can start, the better!
If you're hosting Thanksgiving dinner this year, hopefully you've already invited guests by now, so we'll skip that step. But solidifying the guest list is only the first step.
Here are 9 more steps to ensuring that your Thanksgiving Dinner goes without a hitch and that the day itself is enjoyable and not stressful!
1. Make a menu and shopping list
About two weeks before Thanksgiving Day you should start working on your menu. Luckily, Thanksgiving is usually a fairly traditional meal and everyone expects certain things to be on the menu! Turkey, mashed potatoes, gravy, pumpkin pie…those are no-brainers!
However, we always like to add something new to the rotation each year. Maybe an entirely new side dish, or just a different type of pumpkin pie. Thanksgiving is a great time to try new dishes while still keeping the tried and true traditional ones in the rotation.
Use this Printable Thanksgiving Dinner Menu Planner to plan your meal.
Once you have your menu down, make a detailed grocery list.
Do not try to make your list from memory—have the menu and all of the recipes in front of you while you make your list! I know from personal experience that if you try to do it off the top of your head you WILL forget something, no matter how well you know the recipes!
Use these Printable Thanksgiving Recipe Cards to keep track of favorite holiday recipes!
As far as the turkey goes, make sure to calculate how much turkey you will need. A good rule of thumb is 1.5 pounds per person, but if you want lots of leftovers, you may want to double that!
2. Plan your tablescape
You know who is coming to dinner, so the first order of business is to know exactly where everyone will sit.
Generally, not all of our guests fit at our dining room table, though we have been known to squeeze ten people in when a couple of them were fairly small children. Since it comfortably seats eight people, I try to stick to that and come up with something else for the remainder. It's usually just a card table set up in the corner, and that does the trick.
If you don't have enough table room, it's perfectly acceptable to go the route of having everyone dish up and eat in the living room. Maybe just the children can eat at a table. It's totally up to you.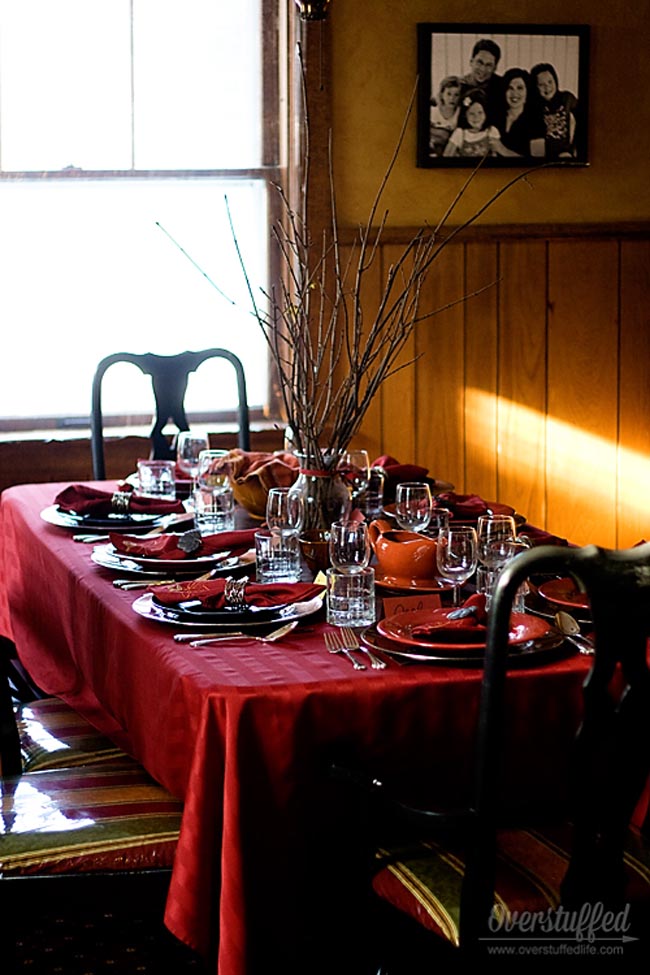 I love doing the table so much, that I just make sure we don't invite over our table capacity!
Come up with a color scheme, a centerpiece idea, place card ideas, and table settings for your tablescape. I try to use mostly what I have, but I also allow myself to purchase a few new things for the table every year.
The plan always changes once I get to actually setting the table, but having a rough idea of it in my mind always helps the process to go faster.
3. Purchase groceries and other supplies early
I like to spread my Thanksgiving grocery purchases out over at least two weeks so I don't completely kill my grocery budget. Buy canned foods and other non-perishables the first week and round it out with the perishables the second week.
The turkey can be purchased on either trip, just make sure you have enough time to thaw it before Thanksgiving Day!
You don't want to be stuck with a frozen turkey the day before Thanksgiving, believe me! We prefer to thaw our turkey in the fridge, and we usually allow about a day per 4 pounds of bird for thawing.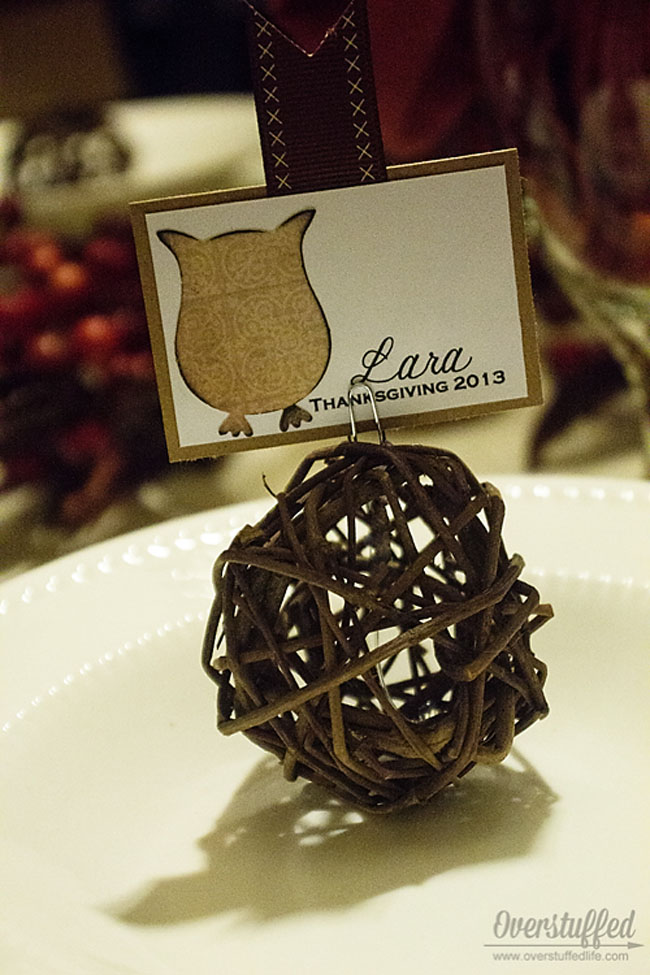 If you're making your place cards, make sure you've purchased all of the supplies ahead of time!
To see how I made these place cards, click here: Thanksgiving Owl Place Cards
Other supplies you may need for Thanksgiving dinner:
glassware
silverware
craft supplies
(Affiliate links for some of my favorite items!)
Okay, so maybe many of those items aren't actually needs—but I always like to have something new for the tablescape each year!
The good news is that many of these things can be purchased at the Dollar Store or cheaply at thrift stores. I bought last year's dishes at Dollar Tree and also found some beautiful chargers there for Christmas dinner.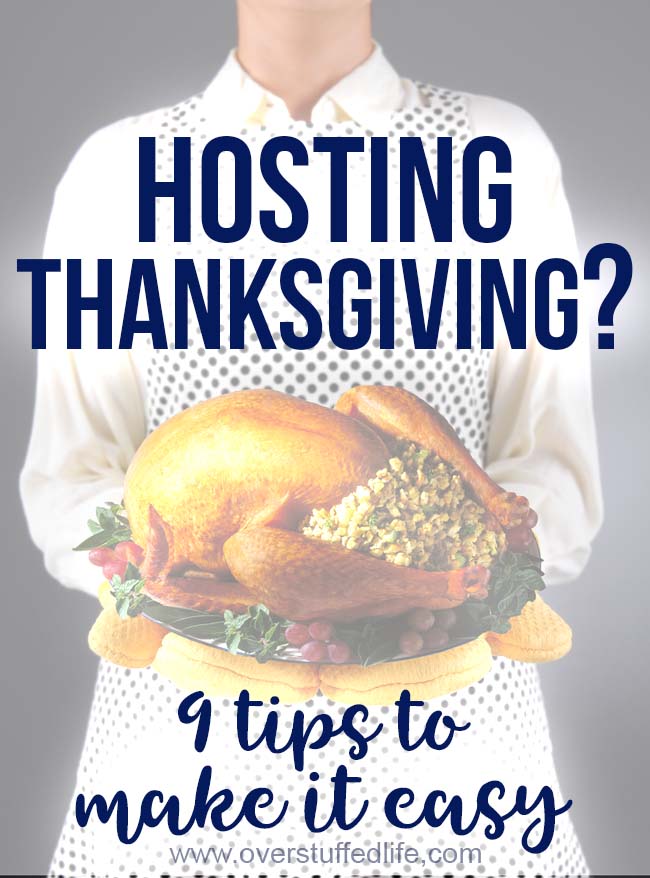 4. Delegate
It depends on what kind of host you want to be, but don't be afraid to ask your guests to bring something. All of the guests I have had for Thanksgiving want to contribute to the meal. And in order for Thanksgiving to be stress-free, you really should let them!
Ask your guests to bring the one or two dishes that are important in their family tradition.
For instance, I absolutely cannot have Thanksgiving diner (or Easter dinner or Christmas dinner) without serving my grandmother's Jell-o salad. And now my children feel the same way, even though my husband is not a big fan of the recipe.
Traditions are important to people, so make sure they have their favorite food traditions by inviting them to bring them.
And then delegate a little bit more. Delegate the things that you hate to make or feel you don't have time to make.
If you really feel strongly about not making your guests work too hard on dinner prep, you can also have them bring the easy stuff. Canned cranberry sauce, whipped cream, a veggie tray, etc.
5. Prepare food ahead of time
Whatever you can prepare before Thanksgiving day, do it. The day itself should be given over to the essentials: turkey, dressing, potatoes, etc.
Unless you have some sort of industrial kitchen and a resident sous chef, you are not going to be a very happy camper on Thanksgiving day unless you do a lot of food prep ahead of time.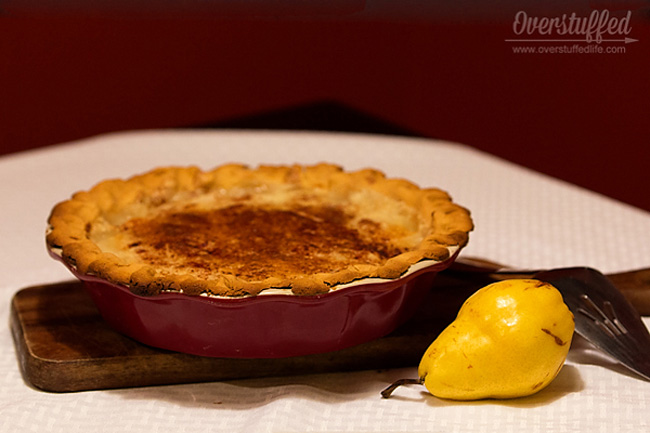 You can make and freeze the dough for your rolls. Pies should always be baked the night before. You can peel and chop vegetables and then freeze them until the big day.
The point is, carefully look at your menu and decide what can reasonably be prepared ahead of time. You might be surprised at how much you can get done as much as a couple days before.
6. Set the table the night before
I feel it is an absolute must to have the table set and ready to go the night before. It can take me a couple hours to get it done, so I generally work on the table a little at a time throughout Wednesday while also working on food prep and pies.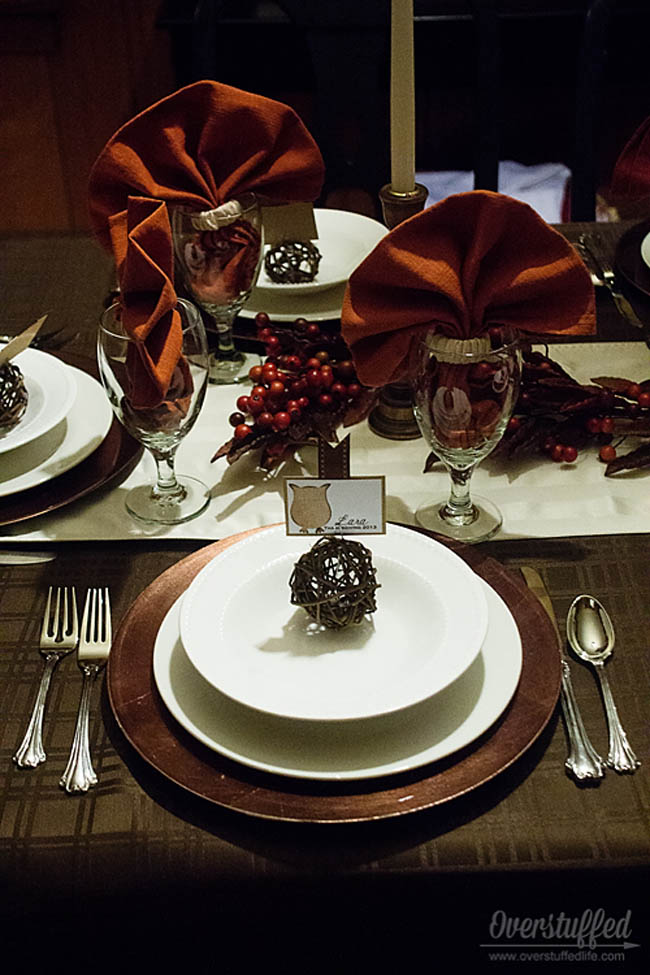 I polish and wash all of the silver first. Since I only use it for special occasions, the silver is always in need of a good polishing. The girls love to help me with that job, too.
Next, I iron tablecloths and napkins and make sure everything (linens and dishes) is clean. And then I get the table set up!
I fiddle with it quite a bit to get it just to my liking, but it's also my favorite part of Thanksgiving. If it isn't that important to you, just get it set and be done with it. It's super nice not to have to do it on Thanksgiving Day.
7. Have something for the kids to do
Now that my kids are getting a bit older, they are much more helpful on Thanksgiving Day. But when they were younger they definitely needed some sort of distraction so that they weren't hindering the kitchen work for mom and dad.
Generally, I have them work on a thankful tree during the day.
I usually make a big pile of tags for our thankful tree ahead of time, and have the girls go to town writing what they are thankful for. Even though we often work on the tree throughout November, they can always have fun adding to it on Thanksgiving Day.
If your guests have children, they absolutely should be invited to help out. I always find it's fun to get the gratitude perspective of children that are not my own.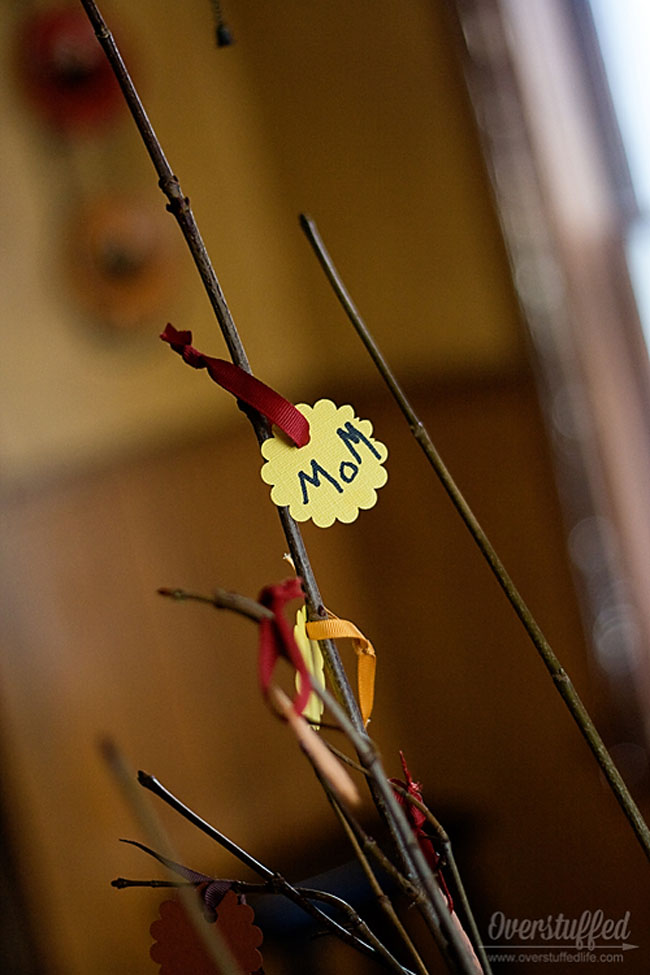 If a thankful tree isn't enough, or isn't something you want to do, there are a million and one Thanksgiving crafts for kids out there.
A quick check of Pinterest will find you at least a thousand. You can have them make paper plate turkeys, pilgrim hats and bonnets, Native American headdresses, gratitude journals, and any number of other fun activities.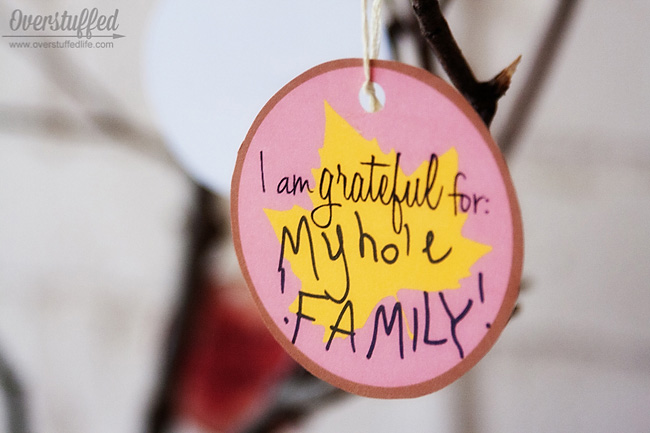 8. Get dressed early!
Don't wait to get ready. Sure, get a few things done in the kitchen and do some clean-up before you shower, but don't wait until the last second. Schedule in time early in the day to get yourself gussied up, and then put on your apron and finish the work. You really don't want your guests arriving ten minutes early to find you are only just emerging from the shower, so don't push your luck.
Same goes for the kids! Get them ready fairly early, and insist on a dress code you are comfortable with. I have a child that will show up to dinner in her pjs if I'd let her.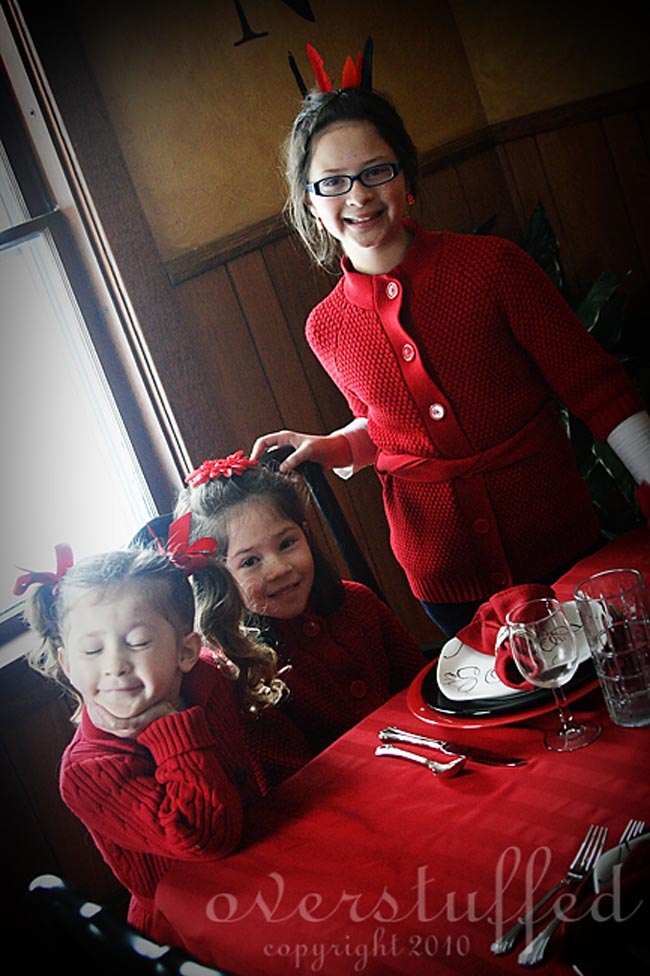 I feel that it's good manners to look nice, so our dress code is dressy casual on Thanksgiving Day. But if you're totally cool with jeans and t-shirts (or jammies!), then that's awesome.
9. Be thankful
Don't get so caught up in all of the preparations that you forget why you're doing it. Thanksgiving Day is a time to be with family and friends and to show our gratitude for the multitude of blessings we have.
In order for Thanksgiving to be truly stress-free, you have to be grateful. Even if you burn your casserole or the gluten-free rolls don't turn out. Once dinner is on the table, sit back and really enjoy your company and the food and the atmosphere.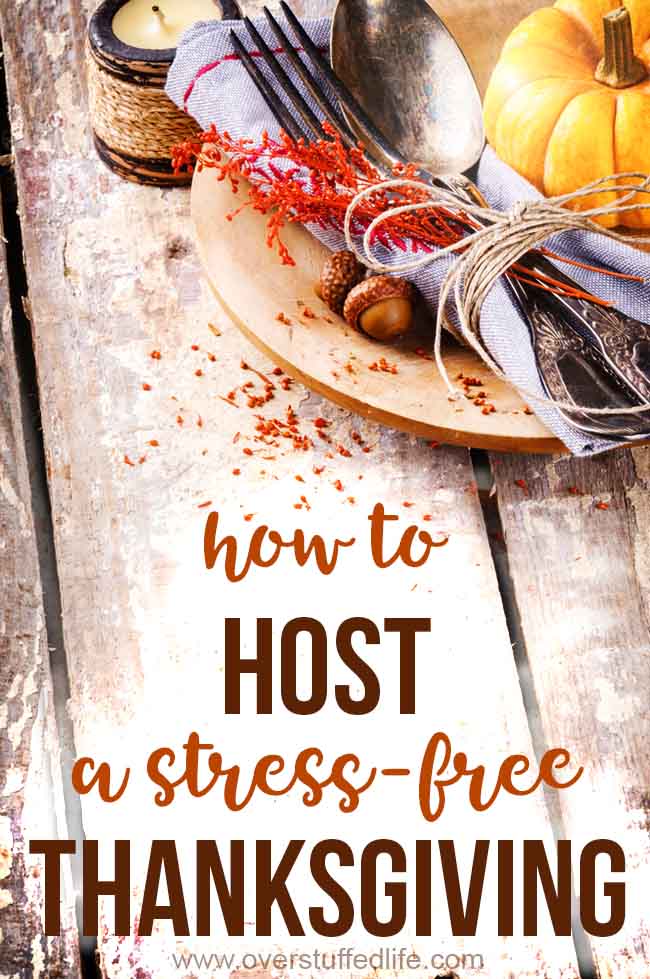 I hope you have a wonderful Thanksgiving Day this year! I'm off to start planning my menu!
What are your best tips for a stress-free Thanksgiving holiday?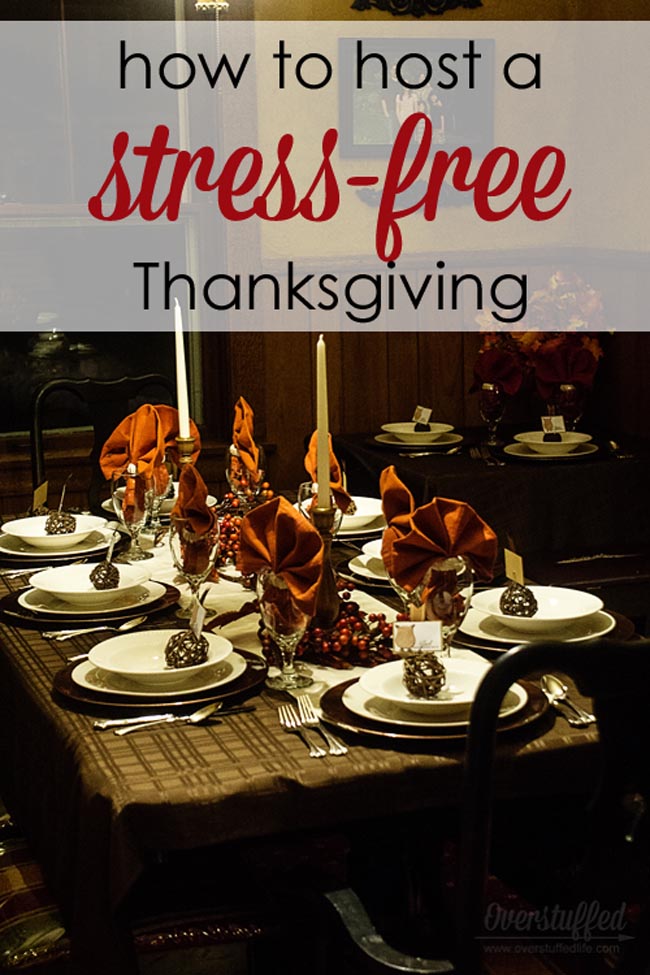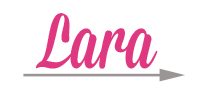 This post may contain affiliate links, for more information, please see my disclosure.