How to Save Money by Shopping from Your Own Closet
Tips for finding the latest fashion trends hiding in your wardrobe. You'll be surprised how easy it is to put together new looks with what's already in your closet.
Summers are always a lot leaner around here financially. It usually works out just fine, but by the end of summer the budget has been stretched so far that back-to-school shopping usually has to wait until a few weeks after school (and the larger paychecks) start. That is why I didn't take the girls shopping for new school clothes until just last weekend.
As a high school freshman, my oldest is starting to be really interested in fashion. Actually, who am I kidding? This kid has always been interested in fashion, but now she is more interested in looking fashionable. She was fine with waiting to go shopping, but wanted to see if she could use what she already had in more up-to-the-minute ways.
So, I sent her to Pinterest to find outfits she loved, and then we shopped out of her own closet—and mine a little bit, too.
This post contains affiliate links.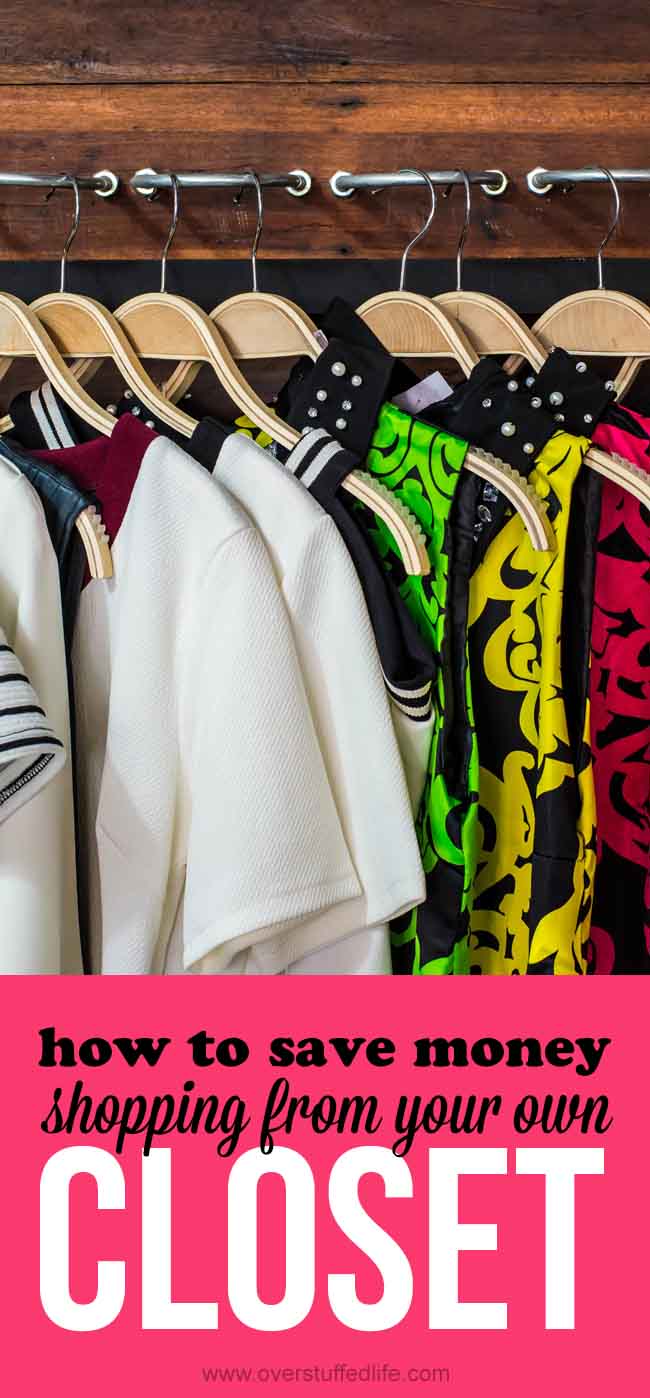 Before we look at the results, here are a couple of tips for shopping out of your own closet:
Look for versatility in your clothing
When you do buy new things, make sure that the majority of what you purchase is versatile enough to be worn with several other items. It's okay to have a few "statement" pieces if you really love them, but if your entire wardrobe is made out of things like that, you will be severely limited in your outfit choices.
Know what looks good on you
I've always known that I look really good in black—which, lucky for me, is also a super versatile color. You may not look good in black, but you may look amazing in brown or grey, both of which look awful on me. Have items in your closet that you know look good with your coloring.
The same can be said for your body shape. If you don't look your best in a certain cut or style of clothing, don't purchase it just because it's on sale or because you can't find anything else. It's better to spend a little more on a flattering cut or wait until you can find something that is right for your body type.
If you need help knowing what looks good on you, the best thing you can do is grab a friend, a sister, or your mom and go shopping with them. Make them take a pledge of honesty, and have them tell you what looks good on you and why.
There are also some great online resources to help with this:
Dressing Your Truth This is a profiling system that used to cost money but is now free! I bought it several years ago, and I feel it was absolutely worth it. I have never felt so good in my clothes as I do now that I understand my "truth." I am a Type 4 in this system, and when I first started, I had a lot of Type 3 and a few Type 2 clothes in my closet. I never felt good in those clothes, and it was nice to understand why. Luckily, I also had a lot of Type 4 clothes in my closet, so I didn't have to start from scratch! You can start with the free energy profiling course to find out which type you are.
Color E-nalysis For me, the colors came up the same as they did in Dressing Your Truth. When we did it for my daughter, the colors weren't the same as Dressing Your Truth. I don't know how accurate it is for all people, but you can at least get an idea.
Real Life Body Shapes I really like this blog when it comes to knowing how to dress for your body shape. I am an A shape, and I have learned a lot about why certain cuts of clothing look terrible on me, and why others look good.
Know Your Personal Style
Once you know which colors and cuts look best on you, start keeping a style inspiration journal or Pinterest board. As you do this, you'll start to notice the themes of your style. Do you like BoHo or are you uber dramatic? Do you like soft, flowy things or do you like things that are more tailored? Pay attention to that, and you'll figure out your personal style.
Dressing Your Truth has really helped me to take the personal style I've always had and really apply it to my wardrobe in a way that works.
Now, back to my daughter's closet shopping. She is a Type 2 in Dressing Your Truth and she looks amazing in grey. I think she might be an H body shape, but I'm not sure yet. She has a more romantic style, but she is drawn to funky things as well. I'd say her closet reflects most of this pretty well, though she has a few things in there that she never wears but isn't quite willing to give up (don't we all?).
Outfit #1
Inspiration (Image Source):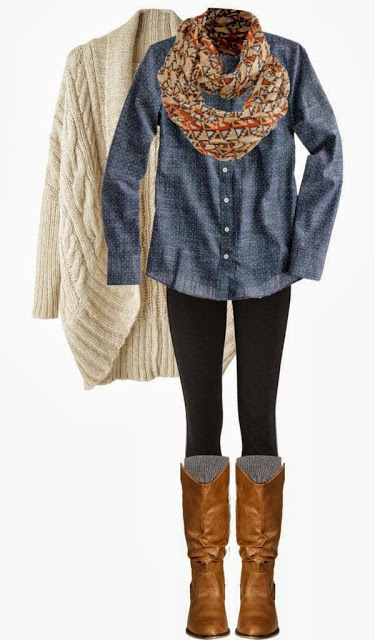 Our take: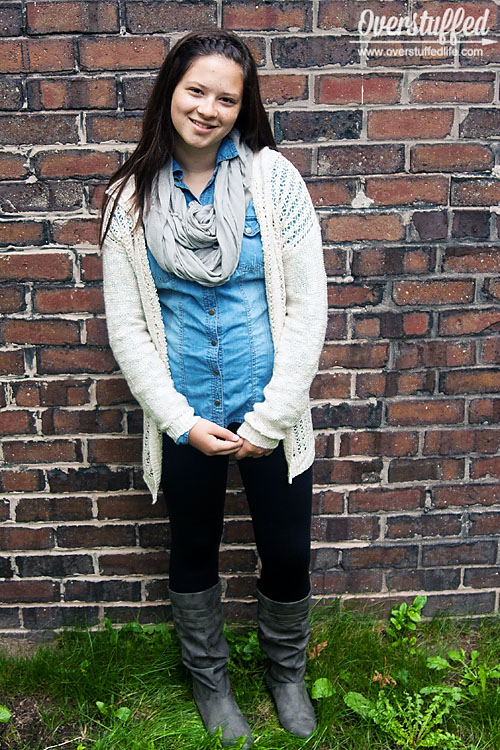 She didn't have a floral scarf, but she had a nice grey one. Same goes for the boots—she doesn't have brown ones (yet—they are on her list!), but she has some grey ones. For the rest, she was able to find very similar pieces and pulled together a great outfit!
You can find a similar grey scarf here—it also comes in a variety of other colors if grey isn't your favorite color! Chambray shirts are fairly ubiquitous, but this one comes in three different wash choices.
Outfit #2:
Inspiration (Original Source has been removed from internet):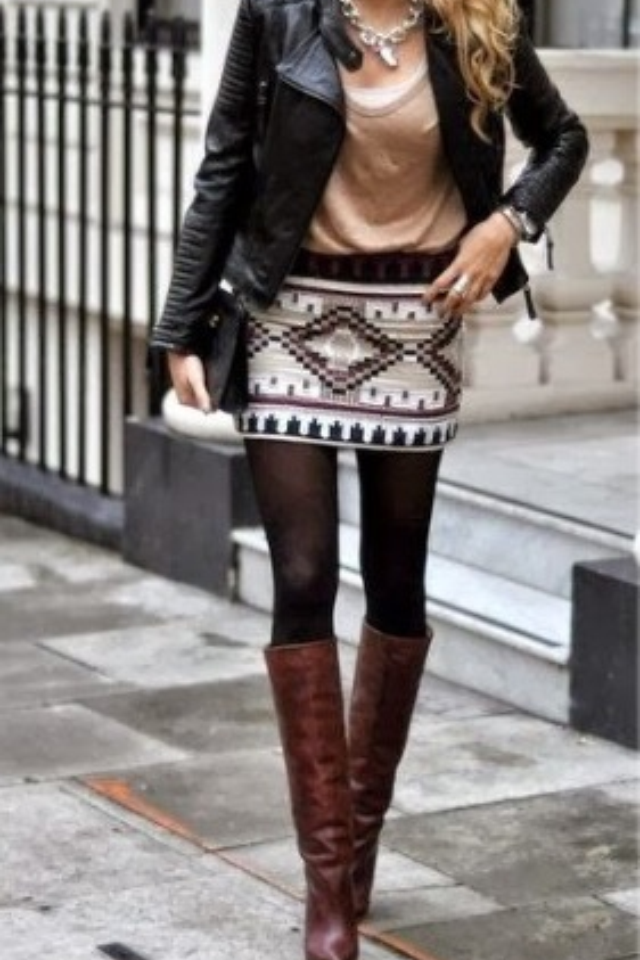 Our Take: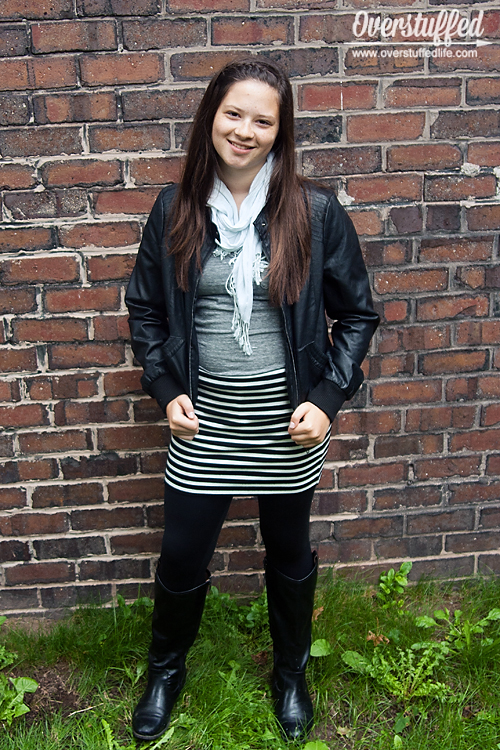 Even though the tribal print was my daughter's favorite part of this outfit, she made do with the striped one that was in her closet. She chose to wear a scarf instead of the chunky necklace because the chunky necklaces aren't comfortable to her. I have a very similar necklace, and when she put it on she didn't like it (good for her, being aware of her personal style!). The black boots are mine—isn't it crazy that the two of us can share shoes now? With our big size 10 feet, that is a good thing.
Outfit #3
Inspiration (could not find original source):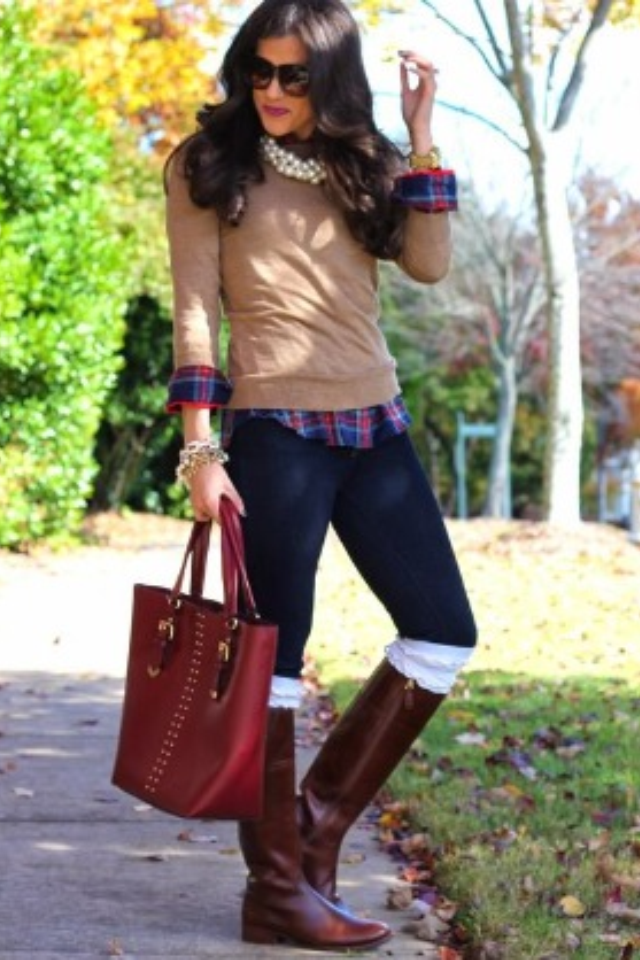 Our Take: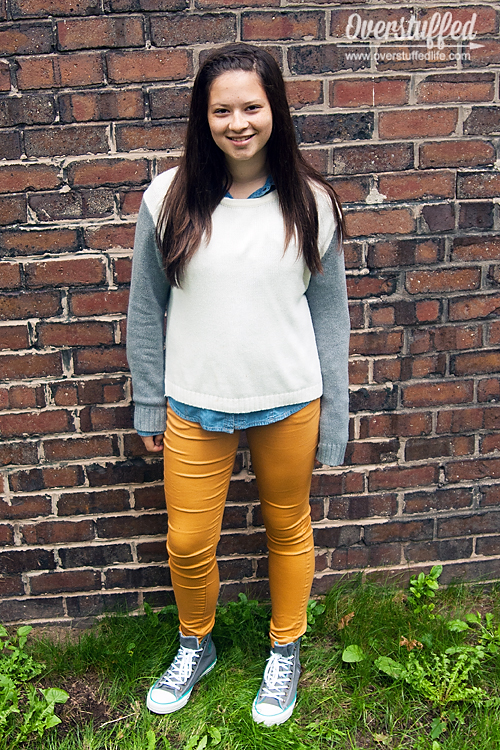 My daughter had fun with this one. What she really liked in the original photo was the layered sweater and button up. She decided that she didn't want to do boots this time, so she paired it with her Converse high tops which are, of course, grey.
Outfit #4
Inspiration (Image Source has been removed from online):

Our Take: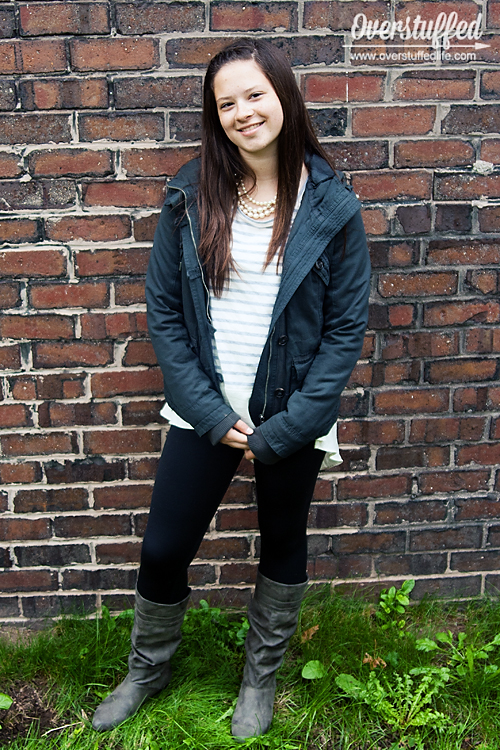 This was my daughter's favorite result of all of them. She had a grey and white striped blouse (not sweater), so she paired it with her favorite jacket. She wore her grey boots again and borrowed one of my pearl necklaces to complete the look. And she's beautiful!
Doing this with her has inspired me to go look at my fashion pinterest board again and do some of my own shopping in my closet. It's fun to put together new outfits with the clothes you already have, and the best part is that it is totally free!
You might also like:
This post may contain affiliate links, for more information, please see my disclosure.