40+ Budget Categories to Help You Save Money
Sticking to a budget can be difficult, because some things come up so rarely that you forget to budget for them, or you don't realize how much your are actually spending on what you think should be a non-category. Budgeting can also be difficult because it's too easy to use a credit or debit card without accounting for how much money you spend. Thanks to my sponsors the Walmart MoneyCard® Reloadable Prepaid Visa Card and the Visa® Clear Prepaid program, today I'm re-sharing the budgeting categories we use at our house, as well as one easy trick to help you stay within your budget.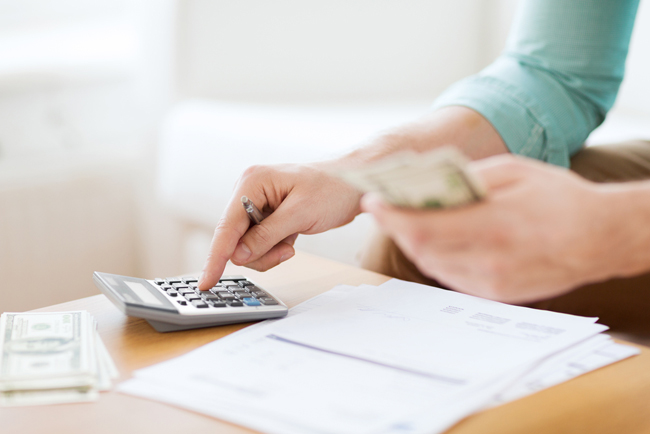 This is our personalized list of budgeting categories, and it is by no means an exhaustive list—everyone has different needs and different expenditures. The secret to a successful budget is making sure you have budgeted your entire life—you've got to know exactly which categories apply to YOUR life!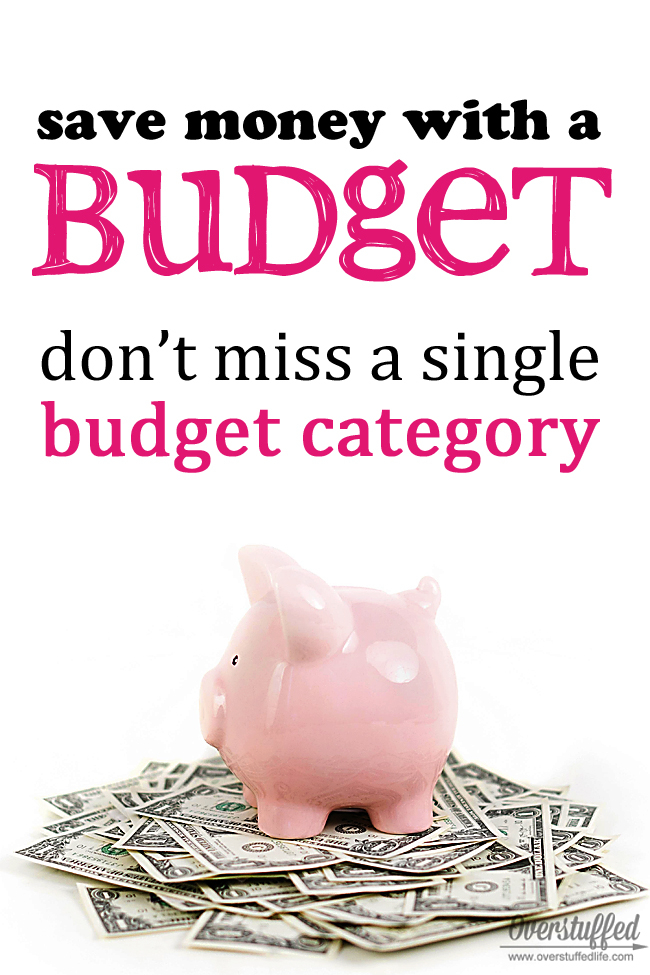 The categories and sub-categories that we use in our budget are as follows:
Giving
Tithing– We pay 10% of our income to tithing. We have found that we are blessed in countless ways by doing so (you can read about many of those blessings HERE, HERE, and HERE.
Fast Offering– Once a month we fast for 24 hours and give the money we would have spent on food to the church. This particular money is used solely to help those in need with things like groceries and other household bills.
Monthly Bills
Bills that are paid once monthly–usually scheduled via my bank's bill pay or automatically taken out of the account. I do pay for music lessons with good old-fashioned checks.
Mortgage
Phone- We do not have a landline. Instead we have two smartphones and one dumb phone. The dumb phone is used for when the girls are home alone, or if one of them is out somewhere and will need to contact us. They are all under the same plan
Internet
Electricity
Water
Natural Gas– I don't even want to talk about how high this bill has been the last few months, thanks to the Polar Vortex. Ugh.
Braces– This is currently at zero, since we have paid off Bria's braces, but Chloe is set to get braces in the next few months, so this category will be going strong soon enough.
Violin Lessons
Piano Lessons
Gym– Uhhh…this category is still hanging out there, but I cancelled my membership a while ago due to a foot injury that took several months to heal. I have never restarted, but I have good intentions!
Streaming Video Subscription– You might notice that cable is not a monthly bill for us. We have gone without it for over ten years now and instead pay for streaming video services. Otherwise, we watch shows we want to see for free on the network's websites.
Basement– Last summer we had some major work done on our basement because of flooding in the spring due to the insane amount of snow we had last winter. Since this winter has already surpassed last winter in snowfall totals, I am glad we did it even though that means we have a monthly payment for a while.
Everyday Expenses
Things that we might buy at stores or online that do not have a fixed monthly bill. These vary wildly from month to month, but we do our best to budget for what we think is coming up.
Groceries– This category is for food only.
Fuel
Restaurants
Medical
Clothing- The amount is small and often gets rolled over into the next month. I have stopped going crazy buying clothes, and I have a mother who really loves shopping for my girls. I generally use it for things they really need, most often shoes. I also use this for clothing for my husband and me. Like when I just can't pass up a great deal on a super cute shirt for myself and when my husband needs new khakis.
Household Goods– This includes things like paper towels, new pots and pans, laundry detergent, etc.
Girls– Girl Scout fees, volleyball shorts, new music for lessons, books, and anything else they happen to need.
Husband Spending Money– It isn't a lot, but we both get the same amount to spend each month. He tends to use his for things like treats, Subway sandwiches, and the occasional iTunes download.
My Spending Money– I tend to use mine for my beauty subscriptions, lots and lots of books, and the occasional chocolate treat.
Puccini– Yes, my dog gets her own budget category. It includes grooming, dog food, dog treats, dog toys, and more dog sweaters than I ever thought I'd buy. Thanks Polar Vortex.
Bank fees– Our bank charges a small monthly fee. And we sometimes have a fee here and there for other things, but usually this is only the monthly two dollars.
Haircuts– It seems that somebody needs a haircut every month around here, but this is a budget category I might steal from when we are about to go over on groceries. I tend to get too busy to bother getting my hair cut anyway, and mine are the most expensive.
Entertainment– This includes both movies in the theatre and DVD rentals. It also includes plays and concerts, but one of the perks of my husband's job is that we get complimentary tickets to nearly every show that comes through town, so it is seldom used for that.
Allowance– We budget the girls' full allowance each month, but since they sometimes don't earn it all any leftover amount will roll over to the next month. (You can read more about our Allowance System HERE.)
Birthdays/Other Gifts– If it is a birthday month for our own family members, I add more to this category for that month. Otherwise, I put a smaller amount in the pot which is then used for any birthday parties the girls are invited to or things like baby showers or gifts I feel like giving randomly.
Rainy Day Funds
This category is used for bills that are paid once or twice a year, and to save up for things that happen more infrequently, such as Christmas.
Emergency Fund– We try to keep this fund at $1,000 and fund it when it has been used for something that comes up. When we are completely out of debt we will fund it at a higher amount.
Car Repairs– This is used for any repairs that come up, as well as things like oil changes and changing the tires from normal tires to snow tires each season (much needed where we live).
Home Maintenance– This is used when something in the house breaks-like the time I tossed a shoe into the shoe basket a little too forcefully and ended up breaking the porch window. We also use it for planned home improvements and all that goes with them. Things like paint, flooring, and plants for landscaping.
Car Insurance– Car Insurance is paid twice a year. We have just divided the amount up into monthly increments and put that money aside so it is there when the bill comes due.
Life Insurance– This is actually a monthly payment for us, but it was automatically in this category and I haven't moved it. But many life insurances are an annual or bi-annual payment.
Michigan State Taxes– I have to send in quarterly estimated tax payments to the state for the freelance singing and blogging work I do, so I set aside a portion of that each month.
Federal Taxes– See State Taxes.
Vehicle Registration– We know the basic amount due each year, so we budget 1/12th of that each month. When we get the actual bill each August, we make any necessary adjustments in the August budget.
Christmas– While I try to set aside the same amount each month, I admit that this is a category that gets stolen from often to cover other expenses. Especially at the very beginning of the year when I know it will be easily made up in later months.
Professional Dues– I am a member of a national teaching association and pay annual dues. Like the other yearly bills, I put aside 1/12th of the total each month so I can renew my membership in January. This would include My husband's professional dues as well, but at this time the university covers those for him.
Savings Goals
This is where we set aside money each month for specific goals. Once a goal has been attained, I hide that category. We only have one category here currently (see below), but past categories have included a washer & dryer fund, a spring break getaway to Chicago, and the Epic Vacation of 2012.
New York Trip– This is our current savings goal. We are heading to Manhattan in May to celebrate our 15th wedding anniversary! We have already paid for much of this trip by using this budget category. Our plane tickets, opera tickets, and symphony tickets are already paid for. We are still needing to buy tickets to a play, pay for our hotel (currently reserved, of course, but unpaid for), and have spending money for the actual trip.
Debt
This evil category needs no explanation and I wish it didn't exist. But, it does, and I am loving watching the number go down, down, down!
Student Loan– Sometimes it seems like we will be paying off my husband's doctoral degree forever. We are on the Income Based Repayment Plan (IBR), so our payment changes once a year based on the previous year's income. This has saved us in years where we were still just getting on our feet or during The Summer of No Paycheck. It's considerably more this year than it was last year, thanks to my going back to work almost full-time.
Credit Cards– Each individual card (we have four we're paying off) has its own category. We do the snowball method of paying down debt, so three of those cards are getting a payment slightly above minimum and the fourth is getting a very large payment.
Store Credit Cards– This is sort of a cheat on my part. I budget an amount each month to go to this category. I only use store credit cards when it gets me a better deal on something to use it. I really should just put that thing (usually clothing) in the category it belongs in, but I don't. This seems easier for me.
So there you have it. Our budget categories. Of course, budgeting is never one-size-fits-all, but hopefully it will help you as you design your own family budget.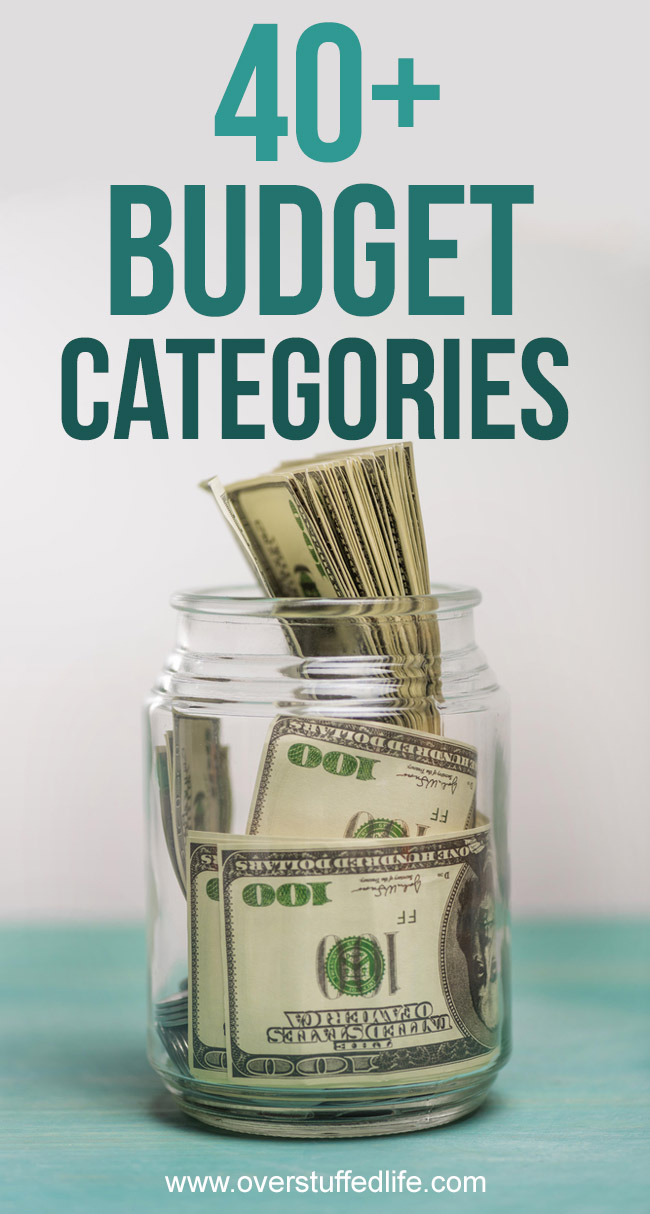 Using a prepaid credit card is one way that you can stay within your allotted budget. Take groceries, for example. The amount we spend on them can vary wildly from month to month because of price changes or special events, even though my budget doesn't change. By using a Walmart MoneyCard® Reloadable Prepaid Visa® Card, part of the Visa Clear Prepaid program, I can put the month's budget onto the card at the first of the month, and when it's gone, it's gone. Knowing that there is really a finite amount of money always helps me to make better choices all month long instead of resorting to living on beans and rice the last week of each month because I didn't plan ahead.
Because the Walmart MoneyCard® Reloadable Prepaid Visa® Card does not allow overdrafts, you won't incur overdraft fees or, more importantly, you're less likely to spend more money than you had budgeted.
A prepaid Visa card is an excellent way to keep your grocery or household budget working for you instead of against you! Now, start designing that budget and start feeling the financial freedom that only a budget can give you.
This is a sponsored post written by me on behalf of the Visa Clear Prepaid program and the Walmart MoneyCard® Reloadable Prepaid Visa® Card.
This post may contain affiliate links, for more information, please see my disclosure.