Jewelry Organization Ideas
Do you have so much jewelry that you can't find what you need? Here are some quick and easy (and cheap!) ideas for organizing your favorite jewelry.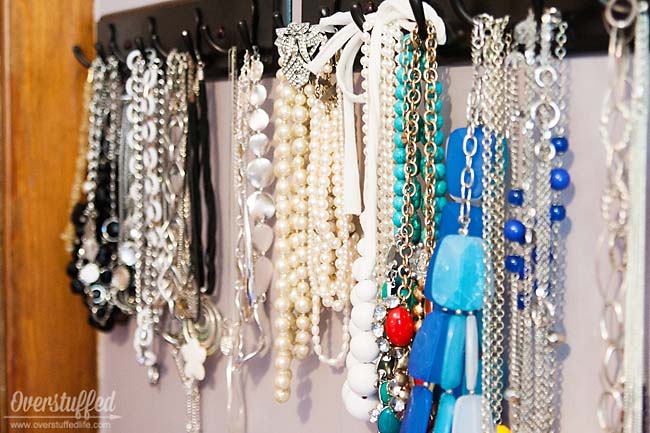 You guys, I love jewelry. I have a big, fat, jewelry loving problem. I have a ton of it, but I continue to buy more because I swear out of the 5,000 necklaces I do have, not a single one of them goes with my favorite dress or that new sweater I just bought.
The worst, though, is when I can't find the one necklace or pair of earrings that I know is perfect for my outfit because nothing is very organized!
This post contains affiliate links.
I know. I should follow my own advice and start decluttering all of these baubles immediately, but every time I try to do it I am simply not willing to get rid of very much.
Do you want to know why?
Because every single piece I have kept "sparks joy" as the popular decluttering book du jour tells us. How can I get rid of joy-sparking jewelry? I can't! So, that left me with only one option.
Organizing it.
I took the opportunity to finally organize everything how I liked it when I redid my bedroom in May.
My absolute biggest issue with jewelry is the amount of necklaces I own. Previously, I had little key hooks on my wall to hold them, but I kept acquiring new ones and pretty soon the tiny hooks were each holding ten necklaces.
The key hooks were a perfect solution before the necklace collection outgrew them. If you don't have a super large collection of necklaces these hooks are similar and work quite well. You might like these more decorative hooks, too.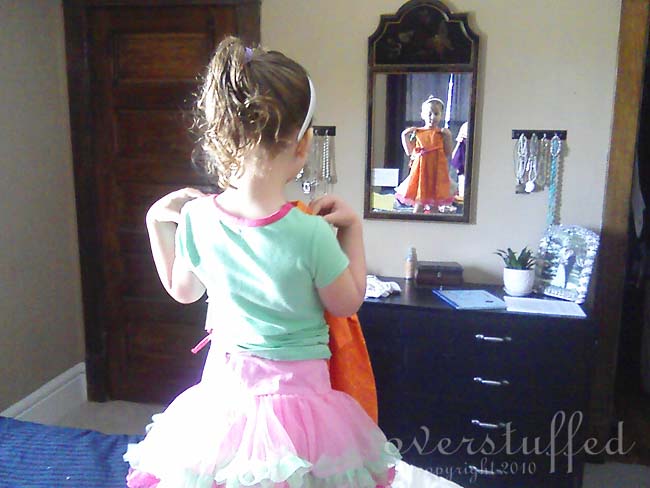 Here's an old photo that shows how I stored my necklaces before on the key hooks. Now just imagine four times as many necklaces on those hooks and you'll know exactly what they looked like a couple months ago. (PS How sweet is my 3-year-old trying on new dresses?)
Because the hook system worked really well, I chose to keep with the same idea. I just needed bigger hooks, or more hooks, or both! I wandered the aisles in a couple different stores and finally found just what I was looking for and bought two of them. I knew that I didn't want them to be above my dresser anymore, so instead I hid them on the wall behind the closet door. Basically, if the closet door is open, you can't see them at all.
Each board has four hooks, but they are the double kind of hooks, so I basically have 16 hooks to work with. And people, in a couple more years, that isn't even going to be enough! This one is similar to what I purchased with the double hooks in a nickel finish, and this one is similar to what I purchased with double hooks in the darker finish like I purchased.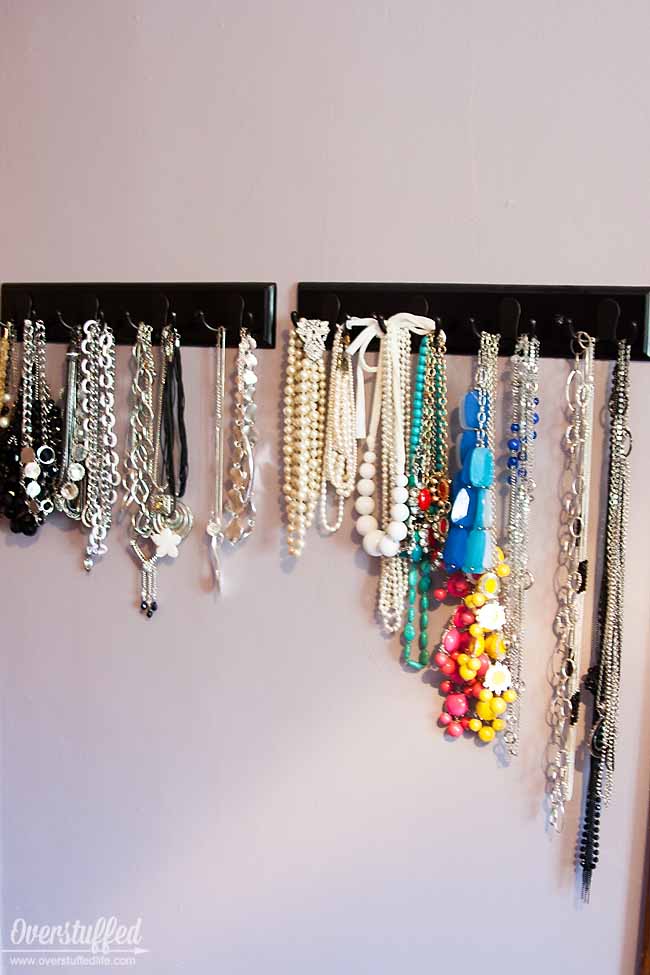 I currently have 3-5 necklaces on each hook, and it just makes my heart sing to see my necklaces all organized by length and type and color. See how all my pearls are together? And yes, I definitely need 7 different strands of pearls, don't you?
Next up was bracelets. I don't have nearly as many bracelets, but I do have several. They were causing my actual jewelry box to be an absolute mess, so I had to come up with something different.
I headed to the thrift store and found a milk glass vase. You know your thrift store also has about a million and one of those things on the shelves, so choose your favorite (or your two favorites if you have a lot of bracelets), bring it home, and set it on your dresser. One like this one would be perfect—isn't it pretty?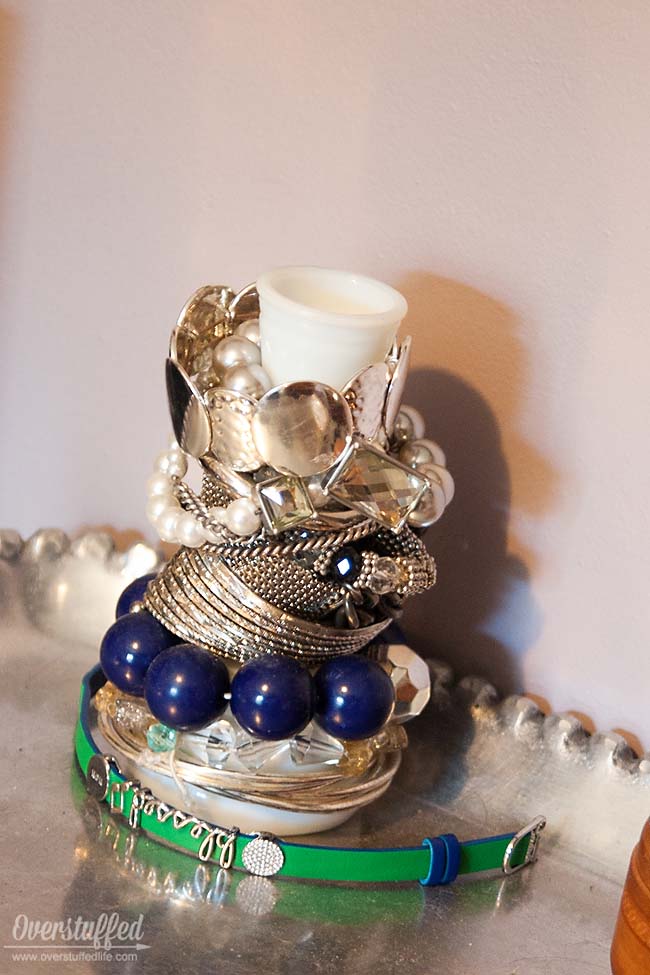 Voila! A perfectly respectable bracelet holder. And it looks kind of decorative and fun, too. I really like it. Yes, sometimes I have to dump them all out to get to the one I want, but honestly, I'm not a huge bracelet wearer anyway and the few I wear the most are always near the top. (But I'm still not getting rid of any of them!)
The last bit of my jewelry organization was born because I didn't know what to do with this picture holder I had displayed in my bedroom before the redo. It almost went into the Goodwill box, but then I had a little lightbulb moment and started hanging all of my dangly earrings on it. The danglies are the ones that are always getting tangled up and separated from their mates while in the jewelry box, so this ended up being a good solution that also looks pretty.
Here is a similar wire picture holder on Amazon.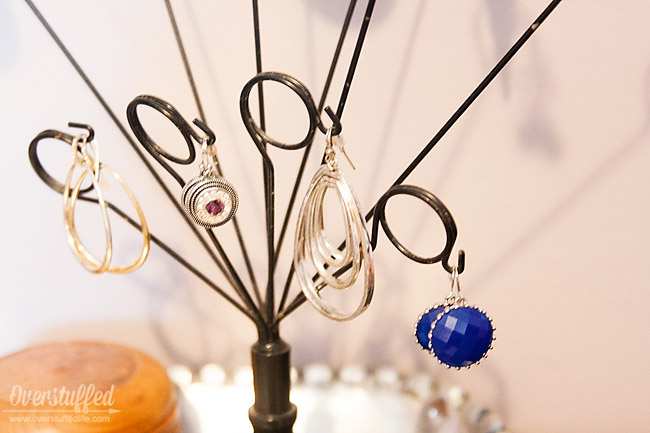 It makes a cool looking decoration on my dresser, too! Pretty and functional.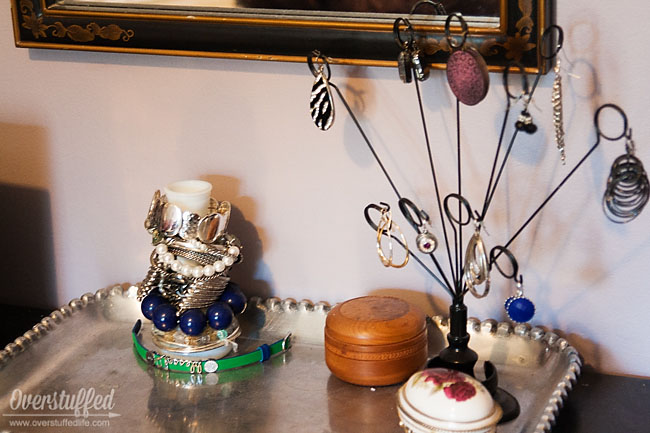 I also have a medium sized jewelry box (not pictured here) and several smaller ones that hold various rings and other earrings, and even a couple of my more delicate necklaces. They are all organized with a certain type of jewelry, so I know exactly where to find what I need.
For instance, the pretty egg music box with the rose on it holds all of my rhinestone/sparkly stuff that I only wear for singing performances. (It also plays Lara's theme—love that!)
I have loved having earrings at my fingertips that I haven't worn for a while because they were always somewhere at the bottom of the box. And it's fun to have a jewelry organization system that also functions as decor. That might be my favorite part.
(PS You may have noticed that I really, really like silver. That's been the case my whole life, but Dressing Your Truth has helped me understand why shiny silver is the best metal for me. Dressing Your Truth may also be to blame for the fact that all of my jewelry sparks joy!)
How do you organize your jewelry?
You might also like:
This post may contain affiliate links, for more information, please see my disclosure.