Lime Jello Salad with Cream Cheese and Marshmallows
This Lime Jell-O salad recipe is a holiday favorite at our house. Green jello plus cream cheese, marshmallows, and crushed pineapple combine to make a yummy dessert or side at Thanksgiving or other holiday dinners.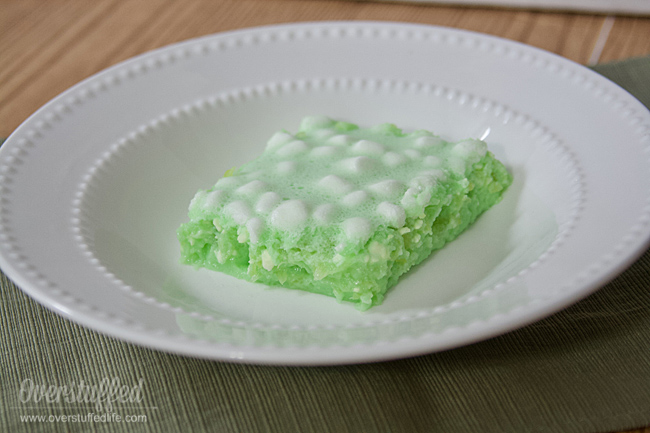 Traditions are important, and when it comes to food at holiday celebrations, they may be more important than ever.
Green jello salad was always, always, always on the Thanksgiving table when I was growing up. We lived far away from grandparents, so it wasn't until I was a bit older that I realized my grandmother had also always made it for Thanksgiving dinner, and that my aunt and uncles always have it on their Thanksgiving tables too.
Naturally, I have carried on grandma's green jello salad tradition—and not just because it's tradition. Because I love eating it!
This year will be my 20th Thanksgiving as a married woman and I haven't missed a single year making it, which means my kids expect it on the Thanksgiving (and Christmas!) (and Easter!) dinner tables just as much as I expected it as a child.
Even better? They all love it just as much as I do. (My husband does not love my jello salad, but he is excused because he has a different jello salad tradition in his family!)
The best thing about this jello salad is that it is incredibly simple to make. Aside from measuring the water, there are no fussy measurements and it can be thrown together in a matter of ten minutes.
Lime Jello Salad with Cream Cheese and Marshmallows
Ingredients:
1 large box (6 oz) lime Jell-O
1 bag (10 oz) mini marshmallows
1 block (8 oz) cream cheese (should be room temperature)
1 can (20 oz) crushed pineapple
2 cups boiling water
Optional: Maraschino cherries
Directions:
1. Pour green jello into medium mixing bowl.
2. Add marshmallows. Slice the cream cheese into small chunks (quarter-sized or smaller) and add to marshmallows and jello.
Note: It is normal for this recipe to have some small cream cheese chunks that don't incorporate (that is one of my favorite parts). If you do not want any unmelted cream cheese in the final product, use much smaller pieces at this stage in the recipe and make sure the cream cheese is already at room temperature to start. Cold cream cheese will not melt as completely in the next step.
3. Add one cup of boiling water, stir thoroughly. The marshmallows and cream cheese should begin to melt.
4. Add the second cup of boiling water after about one minute of stirring and continue to stir thoroughly. The cream cheese and marshmallows should be mostly melted, but not completely.
5. Stir in crushed pineapple—do not drain, the juice is part of the recipe. Add maraschino cherries if desired (I don't usually).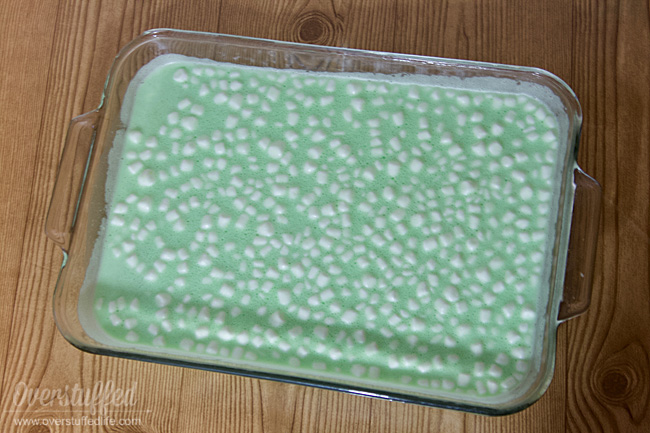 6. Pour into 9×11 pan and place in fridge to set. It usually needs about two hours.
Note: My 9×11 pan broke recently, so I used a 10×13. This causes the salad to be slightly thinner and for the marshmallows to be more spread out. While I prefer it to be thicker, it's fine. It all tastes the same!
This salad can be made with any flavor jello, but it really is best with green jello. For Christmas I will sometimes use raspberry jello, which is my second favorite flavor for this recipe.
Enjoy!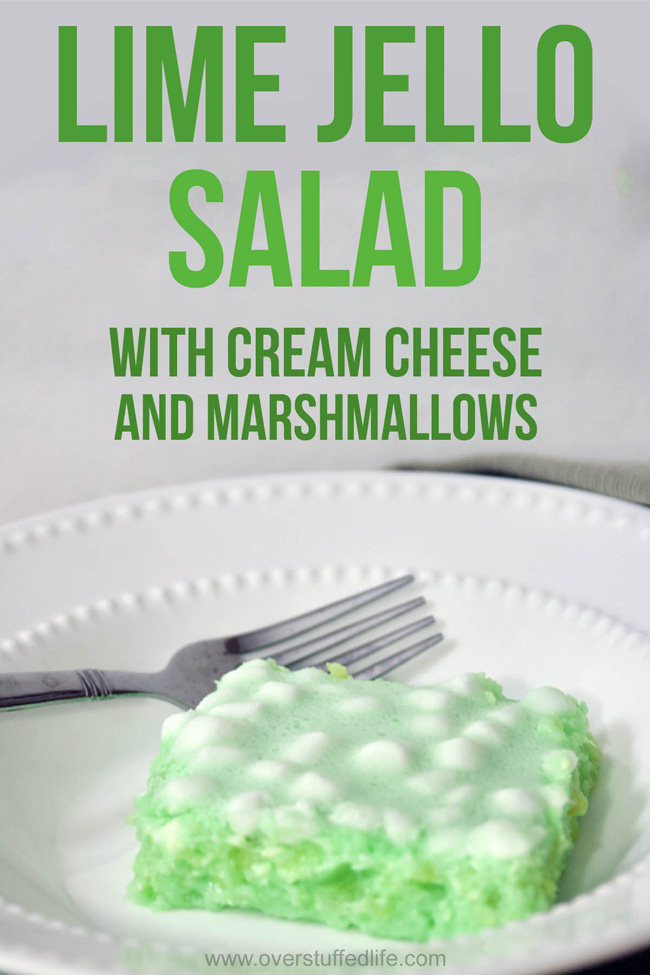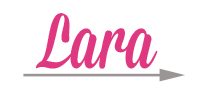 This post may contain affiliate links, for more information, please see my disclosure.