Book Review: The Long Goodbye by Meghan O'Rourke
So, I was sitting in Time Out For Women on Friday night listening to Amanda Dickson talk about friendship. For a moment, she was talking about her late mother and how much she missed her and then she said something about meeting people and being able to tell that they were members of The Club. The Club of those who have lost their mothers. The Club of those who understand what it is like to lose a mother.
I kind of gasped when she said that. Partly because I have never once contemplated what it might feel like if my own mother were to pass away and partly because I had just read an almost identical sentence also referring to The Club in the book I am reviewing today: The Long Goodbye by Meghan O'Rourke.
I must admit that I had a difficult time finishing this book. Not because it wasn't good (it was brilliantly written). Not because I couldn't get into it (perhaps I got a little too into it). And not even because I didn't like it (I liked it quite a lot, as I always enjoy a good memoir). It was because I wasn't in the mood to live in somebody's grief—a grief I have admittedly never felt—so completely.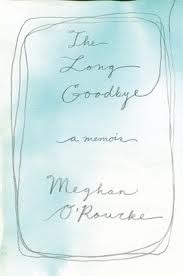 I think the first part of the book—the part that leads up to Meghan's mother's death—is slightly easier. Meghan skillfully (and beautifully—she is poetic with words) shows us the person she was before her mother was diagnosed with cancer. But that person begins to unravel as her mother goes through treatment after treatment, as Meghan's marriage falls apart, as her mother finally enters hospice and succumbs to the cancer, and it is the last half of the book where we learn who Meghan is today and the journey she took to get there. The journey that began with losing her mother.
My favorite quote from the book is one that took my breath away a little bit. Because, although I cannot relate to losing my own mother, I could see within this one paragraph what that would mean. She really hit it right on the nose, didn't she?
Nothing prepared me for the loss of my mother. Even knowing that she would die did not prepare me. A mother, after all, is your entry into the world. She is the shell in which you divide and become a life. Waking up in a world without her is like waking up in a world without sky: unimaginable.

Meghan O'Rourke "The Long Goodbye"
Unimaginable.
While this book may be hard to read, Meghan has also done much research on death and grief, and it is very instructive—both to someone in the throes of grief and to someone who has never had to deal with the grief that comes with the loss of a parent.
I highly recommend it.
*************
I received a copy of The Long Goodbye from the publisher via TLC Book Tours.
This post contains affiliate links.