March 2015 Visiting Teaching Printable
The visiting teaching message for March is The Attributes of Jesus Christ: Long-suffering and Patient.
Apropos of my recent shoulder surgery, this was a message that was timely for me. I really loved President Uchtdorf's entire quote on patience, but just the one snippet really made me stop and think.
"Patience is not simply enduring; it is enduring well!"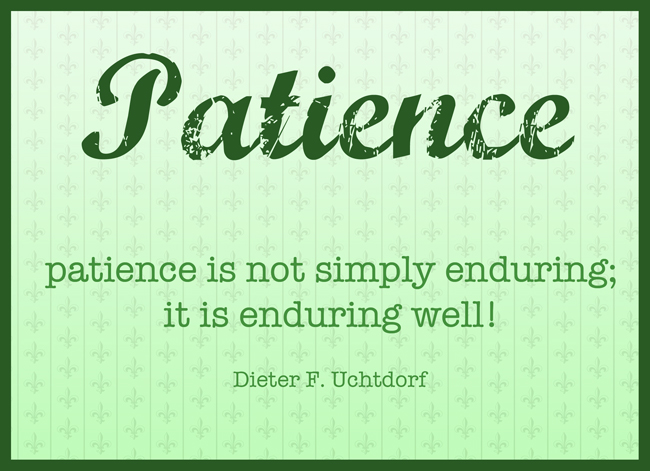 Today, I pretty much lost patience with all of it. We've had a crazy weekend, my poor husband is probably going insane being the only driver in the house (only 2 more weeks and I can drive again!), and the kids are busier than ever right now. Being one-armed means Mom isn't doing much housekeeping, and what little I manage to do is quickly undone by the other people who live here. And the dog, who can't seem to keep herself from getting into the garbage.
So I sort of flipped out at everyone and cried a bit. I am so frustrated with not being able to do my own hair and make up. I always feel like I look disheveled and flustered. The piles of dishes. The girls' stuff strewn all over the house. The dog's latest foray into the kitchen garbage scattered under the dining room table. My own clothes piled on top of my dresser because it's too difficult to hang them up. I could not handle it for one more second.
But I am going to have to. Because, guess what? Even when I'm out of my sling in two weeks, my shoulder is not going to be magically working. I'll still have to be patient with myself and my inability to do what I normally do.
Sigh.
So, I read this message, and President Uchtdorf's words helped me so much.
"Patience means accepting that which cannot be changed and facing it with courage, grace, and faith. It means being 'willing to submit to all things which the Lord seeth fit to inflict upon [us], even as a child doth submit to his father.' Ultimately, patience means being 'firm and steadfast, and immovable in keeping the commandments of the Lord' every hour of every day, even when it is hard to do so."
I've thought about it, and I accept that I cannot change how quickly my shoulder heals. I cannot change the fact that my husband has been quite ill himself and has a lot of work to catch up on and is doing his level best to help me with driving and cleaning. I cannot change the fact that my children are busy. I cannot change the fact that I am also dealing with Lyme disease (oh yes, stay tuned for a post about that one, which I have not been able to bear writing about yet).
Yep. There are a lot of things that I can't change, and I'm going to be working on facing it with more courage, grace, and faith.
However, there are some things I can change. I will focus on enduring well by changing what I can and leaving the rest.
Starting with a new kitchen garbage can that the dog cannot get into.
To download this month's Visiting Teaching printable, click here: March 2015 Visiting Teaching Printable.