Ten Lessons I Learned from Conference
(Conference Cinnamon Rolls, That Is)
1. If you want to have your cinnamon rolls ready to eat by the first session (which is now at NOON for me, are you jealous?), then you should probably not volunteer to help with the preschool rummage sale from 7:45 am until 11:00 am. No, you will not miss any of conference, but you will also be eating cinnamon rolls for dinner. Or dessert.
2. Keep the frosting bowl out of the reach of the resident three year old. Otherwise, you will come into the kitchen and find the bowl on the floor, several spoons and spatulas covered in icing and cute little tongue marks, and no frosting for the second batch. It's a good thing Joel insisted on buying extra cream cheese. You know, just in case.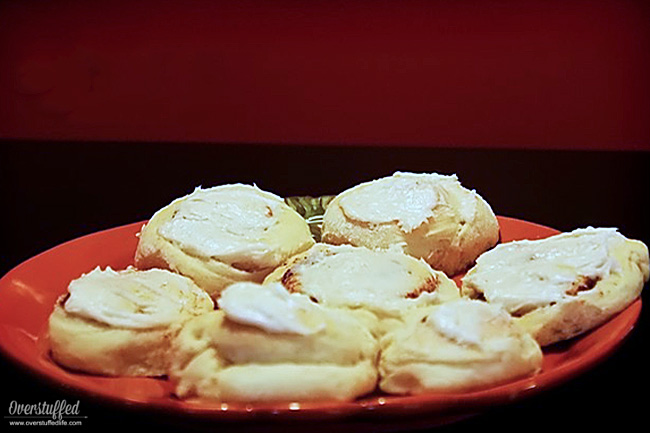 3. Fruit flies really, really, really like yeast. Even if you honestly thought that your house was finally rid of the fruit flies you brought home from the grocery store your first week here and learned that you cannot have a fruit bowl. Ever since you started storing the fruit in the fridge, the flies have been few and far between. But boy, as soon as you set the yeast out, they come to visit in droves. Ick.
4. This frosting recipe really is The Last Cream Cheese Frosting Recipe You'll Ever Need. No wonder the preschooler needed to eat the entire bowl.
5. No matter how well-intentioned you are, you will not give any of them away to your neighbors.
6. Except the missionaries. And boy, are the elders ever excited to receive a plate of cinnamon rolls. Besides, giving some to them makes you a part of the Marvelous Work. Missionaries can't be effective without good food, and nobody can be expected to survive Conference weekend without homemade cinnamon rolls. Really.
7. Even if you think you can resist, you will end up eating more than one. Okay, more than two.
8. Fine. More than five. Are you happy now?
9. Because you ate so many, you are seriously considering a family-wide sugar detox. (Actually, I'm not even kidding about this.) Somehow, listening to the inspired words of the prophet and the apostles made you realize that you need to stop rewarding your kids with food right now, and start rewarding them with things of a healthier nature. I don't know what yet, but I'm working on it. I'll keep you posted.
10. Regardless, the sugar-fat-filled goodness that are your homemade cinnamon rolls (which you only make twice a year for General Conference anyway), will cause your children to bestow upon you the title of Best Mother in the Universe and your husband to proclaim you a goddess. Anything with that kind of power is totally worth it.
PS Here's my General Conference Cinnamon Roll recipe.