Trick-or-treating in Wonderland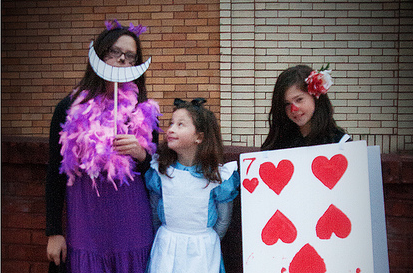 Last night we had the beginning of our Halloween celebrations for the year: Trick-or-treating downtown at Treat Street.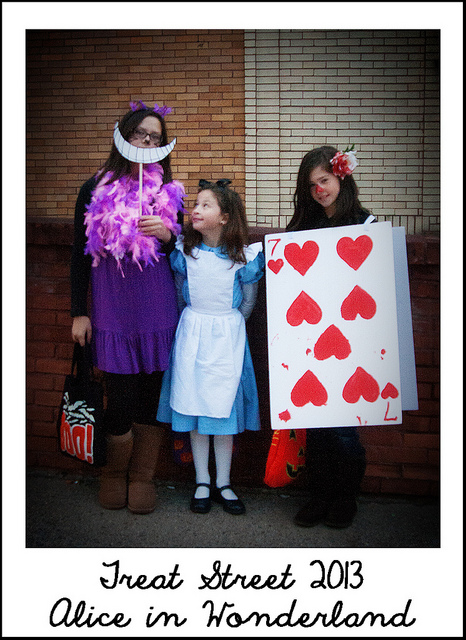 I always say that I get crappy pictures from Treat Street, but this year took the cake. It was dark and ominous weather, and we got there a lot later than we usually do, so the light was bad. But that's all right because I have several more chances to take some great pictures of them in their costumes!
The girls wanted to do a theme this year, so we made Alice in Wonderland costumes. I stayed up way past my bedtime three nights in a row to get Sophia's costume sewn (which is really saying something since my bedtime tends to be after midnight anyway), but the two older girls pretty much did theirs by themselves with minimal help from me. I suppose there is some good in having your kids get older!
My oldest's Cheshire Cat costume amazed me—love the smile on a stick! And my middle daughter's paint splatters are purposefully placed—she's been busy painting the roses red.
Related: DIY Cheshire Cat Costume
We throw a party every year after Treat Street, and I totally intended to share my decorations…but, no time. So, just imagine how cute they were, and enjoy this picture of the invitations I sent instead:
I made the invitations with Stampin' Up! Toxic Treats stamp set and Spider Web Embossing Folder. I also totally scraplifted from the Stampin' Up! Catalog.
Full disclosure: I made the invitations in August before the school craziness started so I could avoid having to send an email invite like I have the past few years. They sat on my shelf until October 1 when we started passing them out. Now, if I could only have such foresight in other areas of my life, I would be a much calmer girl.
Alice in Wonderland turned into a pumpkin before the party was even over!
Happy Halloween Week!