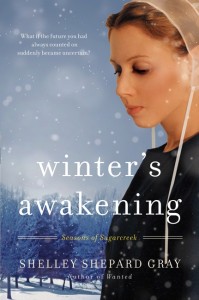 I was sent this book to review by TLC Book Tours this last month. Usually I review self-improvement and parenting type books, so this was a little different for me–not that I don't enjoy fiction, because I definitely do!
Winter's Awakening by Shelley Shepard Gray is the first book in the author's new series about the Amish community in Sugarcreek, Ohio. I have never read an Amish novel before, and I found myself quite fascinated by the way they live. I was constantly shutting the book and going to the computer to Google for information, like when I noticed they had refrigerators and wondered how was that possible? In my research, I learned that the Amish are just fine with using gas-powered stoves and refrigerators (yes, there is such a thing) but not electric. To the author's credit, she did explain this later in the novel when it made sense plot-wise…I just tend to jump the gun when I am curious about something.
Aside from simply learning more about the Amish and their beliefs, the story itself was very good. It involves Joshua and Gretta, two young Amish people who are courting. However, Joshua has been hesitant to join the church or commit to marrying Gretta and it causes something of a rift between them as he works out his feelings. Then, an Englischer (non-Amish, like me) family moves in next-door, and causes Joshua even further reflection on his Amish lifestyle and what is right for him ultimately as he makes friends with their teenage daughter, Lilly.
I related very well with Joshua's plight. After all, I was raised in a religion that many people find odd, and I too had to question and come to my own knowledge of the things I was taught growing up. As an adult I am still a member of the LDS church, because I have done my questioning (still do, sometimes) and have found my answers and I know that this is absolutely where I should be.
I felt that the author dealt with these questions of faith and lifestyle realistically and enjoyably. I won't tell you what Joshua ended up choosing….you'll have to read it for yourself to find out!