35 Perfect Gifts for a Teen Girl
I asked my 15-year old daughter, to make a gift guide again this year. Her gift guide from last year was a big hit, and she is so detailed and conscious of what's cool right now that I knew you would love another well researched gift guide for teenage girls.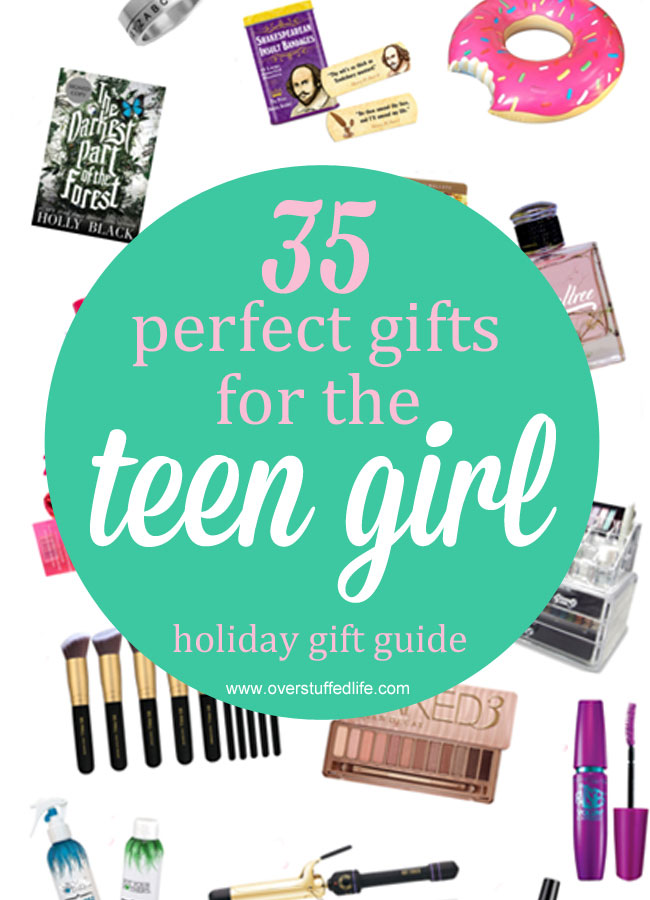 Make sure to check out our Ultimate Holiday Gift Guide—Find hundreds of gift ideas for EVERYONE on your list!
2022 UPDATE: Many things on this list are evergreen items teen girls will still love. If you want a 2022 list with updated trends, click here: Best Gifts for Teen Girls
She came up with an absolutely amazing list of things that a typical teenage girl will absolutely love. It includes all the basics: Make-up, hair, skincare, jewelry, electronics, and more. I have NO idea what I will be getting her for Christmas this year since I obviously can't purchase all of it! Plus, some of it I want for myself now. I guess the teenage girl in me has never quite grown up!
With no further ado, here is the ultimate gift guide for teen girls (affiliate links):
Make-up and Hair Gifts for the Teen Girl: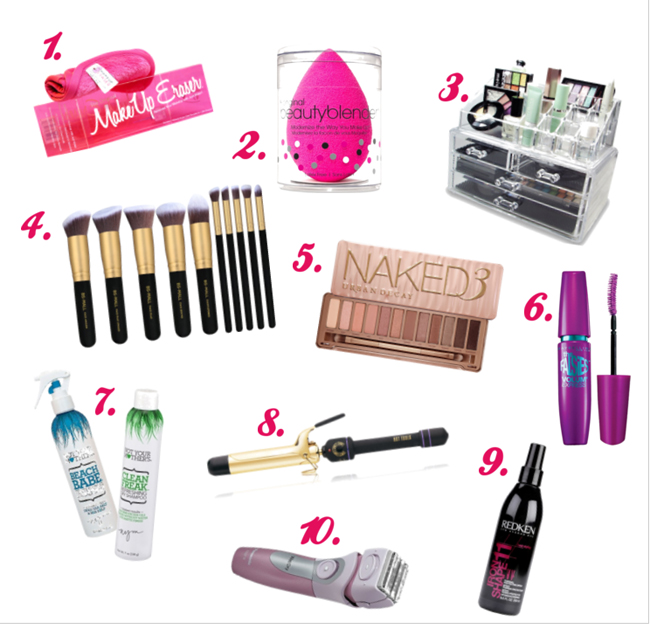 1. Make-up Eraser: This is a nice alternative to make-up wipes or messy make-up removers. It's chemical free and has a make-up removing side and an exfoliating side. Good for 1000 washes. Amazon
2. Beauty Blender Pro: Comes with a sponge applicator to help blend make-up flawlessly. Includes a cleanserkit to keep the sponge clean, which can also be used to clean any make-up brushes and applicators. Amazon
3. Acrylic Make-up and Jewelry Organizer: My daughter likes the fact that it is clear and she can see everything in it. Also, it's just plain a great way to organize your make-up without having it be scattered everywhere, the way hers is now (hint, hint). Amazon
4. Kabuki Make-up Brush Set: Includes every necessary brush you need to complete your "every day make-up look." Amazon
5. Naked 3 Palette: Beautiful neutral colors and high-quality make-up. Your teenager can imitate nearly all of the YouTube make-up tutorials with this palette. Amazon*
*If you aren't up for spending quite so much on a make-up palette, try the Nake brand knock-off. It's only $15.99 at Amazon.
6. Mascara: My daughter's two favorites are Maybelline Falsies (Amazon) and Maybelline Pumped Up (Amazon)
7. Not Your Mother's Hair Products: She particularly loves the Texturizing Beach Spray (Amazon) and the Dry Shampoo (Amazon).
8. Hot Tools Curling Iron: It's a simple curling iron, but my daughter uses it all. the. time. It has become her favorite go to. We found it because they use it at the salon where she gets her hair cut. Amazon
9. Redken Iron Shape Heat Protectant: Excellent for all the curling and straightening and blow drying the teenage girls do! (And their moms, too!) Purchase at Amazon
10. Panasonic Close Curves Wet/Dry Shaver: Pretty cool to be able to use an electric shaver in the shower. You can also use it dry, of course. Amazon
Other ideas:
Clarisonic Cleansing System: Amazon
Clean & Clear Day/Night Pack: Amazon
CeraVe Facial Moisturizing Lotion: Amazon
Electronic Gifts for the Teen Girl: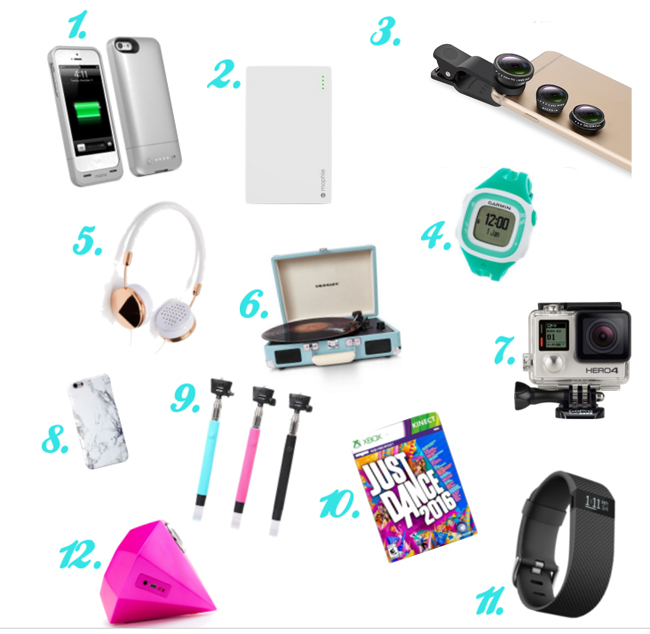 1. Mophie Battery Case for iPhone: When you charge your phone, the Mophie case charges too, giving you double the battery life. Sounds pretty awesome for a text-crazy teenager! Amazon
2. Mophie PowerStation: I fully admit that I don't understand how this works, but my daughter says it is an awesome portable charger. And you can charge any device from it. Amazon
3. Camera lens clip for phone: This is pretty dang cool for someone who is interested in photography. It comes with a wide-angle, fish-eye, macro, and CPL lens. She ended up getting one for Christmas the year she wrote this gift guide and she has taken some super cool photos with it. Amazon
4. Garmin Running Watch: My daughter is a cross-country runner and we purchased this watch for her birthday a couple months ago. She has loved it, which is why she put it on this list. Amazon
5. A good pair of headphones: She put two pair on the list this year. Beats Solo Amazon or these Bose Headphones Amazon
I can't imagine spending so much on headphones, but apparently they are really good. 2018 update* I now own my own pair of Beats Solo and now I understand the allure.
6. Crosley Portable Turntable: We found this at Urban Outfitters originally, but they are available on Amazon for a better price. This is a perfect gift for a teenager who loves vintage music and enjoys picking up vinyl from the thrift store. It comes in a variety of colors, too. I sort of want one, actually! Amazon
7. GoPro Hero: The Go Pro is an excellent gift for active, outdoorsy teens. They can film their adventures from a personal view! Amazon
8. Marble iPhone Case: She is totally into phone cases and having a wide assortment of them. Her current fave is this marble looking case because of how artsy it looks. Amazon
9. Selfie Stick: You knew it would be on the list, right? Good news, my middle daughter, Chloe, bought herself one and it is actually a pretty fun gift. She has enjoyed experimenting with it, and has not been annoying (so far)! Even I have to admit it has come in pretty handy for group selfies. Amazon
10. Just Dance 2019: My girls adore playing Just Dance, (see them playing it here) and it is always fun to have new songs and dances available. It's such a great way for them to get exercise and have fun at the same time. Amazon
11. FitBit Charge: A fun way to stay active, check steps, and have contests with friends. All three of my teenagers have one now and so do I, and we can also have contests together. Amazon
12. Bluetooth Speaker: She originally chose a speaker that was pink and shaped like a diamond, which is perfect for the teen girl, but it is no longer available. This orange one is an excellent speaker and still cute enough. Amazon
Miscellaneous Gifts for the Teen Girl: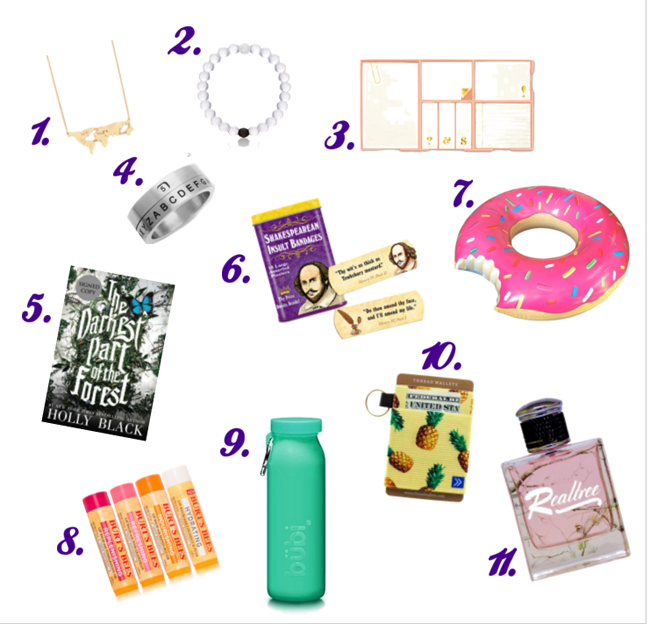 1. Map Necklace: A cool, contemporary piece that the geography loving girl will especially love. Amazon
2. Lokai Bracelet: These are all the rage right now amongst teen girls. The bracelet includes one bead filled with water from the highest point in the world (Mt. Everest), reminding you to stay hopeful. Another bead is filled with mud from the lowest point in the world (The Dead Sea), reminding you to stay humble. Amazon
3. Kate Spade Sticky Note Set: Super cute and stylish way to help your teenage daughter stay organized. Amazon
4. Secret Decoder Ring: This is a fun and stylish ring that really works! Write your daughter a note in secret code to go with it, or she can have fun with friends writing all their secrets out in code. Amazon
5. The Darkest Part of the Forest: My daughter really likes this book. It's from her favorite genre of fantasy, but any book you know your daughter will love will make a wonderful gift. Amazon
6. Shakespearean Insult Bandages: If your daughter enjoys Shakespeare, she'll love these bandaids! My daughter got quite a kick out of them. Amazon
7. Donut Pool Float: Even though it's the dead of winter and you could maybe use it for a sled, it will be something fun to have at the beach or pool come summer. Amazon
8. Burt's Bees Lip Balm (4-pk): There isn't a teenage girl alive who doesn't love lip balm. This package comes with some great flavors like mango and coconut pear. Amazon
9. Bubi Silicone Water Bottle: This water bottle is stylish and functional. Amazon
10. Thread Wallet: These wallets are really, really small and thin, yet they hold your money and cards really nicely with an elastic material. You can attach it to a backpack or a water bottle and dispense with the purse. Amazon
11. Realtree Perfume: My daughter recently found this scent and really loves it. Even if it's not this specific scent, perfume is always a good gift for a teenage girl! Amazon
Finally, because every girl has her own unique style, here are some of my daughter's very favorite clothing stores for teenage girls. She says a gift card is always best!
Tentree.com (They plant 10 trees for every item of clothing you buy there, my daughter—a member of the environmental club at school—LOVES that idea.)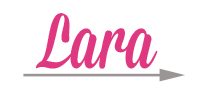 This post may contain affiliate links, for more information, please see my disclosure.