TLC Book Tours recently sent me The Body Scoop For Girls: A Straight-Talk Guide to a Healthy, Beautiful You by Dr. Jennifer Ashton. Dr. Ashton is an OB-GYN specializing in adolescent care and she is totally cool. And by cool, I definitely mean I want to be just like her when I grow up. She has taken a bunch of awkward topics (Puberty! Menstruation! Hormones! Sex! Drugs! Eating Disorders!) and has made them (dare I say it?) fun to read about. And it isn't just fun, it is one of the more informative books I have ever read. I only say that because I actually made it through the entire book in one sitting and learned a lot of things I didn't previously know in the process.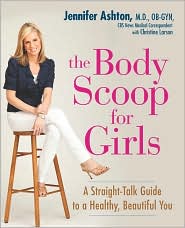 I was very happy to get to review this book as I am the mother of three daughters. Sometimes these awkward topics come up in our household, and I certainly expect them to come up a lot more often the closer they inch towards adolescence. I have purchased American Girl's The Care and Keeping of You, which is an excellent book for girls that are my oldest's age (9-years-old), but The Body Scoop for Girls is the perfect follow-up when girls have grown out of that one. It will definitely help me to address the aforementioned awkwardness with tact, and hopefully, Dr. Ashton-like coolness.
I was thrilled to see that Dr. Ashton advocates waiting until at least age 18 to have sex, if not older. While my religion teaches to wait until marriage, I understand that much of the world just doesn't see it that way. Dr. Ashton says it is not her job "to tell you what to think from a moral, spiritual, emotional, social, or religious standpoint," but she can tell you many good reasons to wait from a medical standpoint, and that is her job. I appreciate her viewpoints, and hope that they, along with our religious teachings, will help my daughters make the choice to wait.
I was also very happy to see her cover topics that aren't usually seen as gynecological. Things like depression, drug use and eating disorders are all covered tactfully and informatively. It's obvious she really cares about the well-being of her patients and readers, and I appreciate that. It's also clear that she sees the connection between physical health and mental health, which again, I appreciate.
Finally, I was downright ecstatic to see that she devoted an entire chapter to PCOS (Polycystic Ovarian Syndrome). If I had actually been diagnosed as a teenager instead of only a few years ago when I was 33 years old, I think things would be a lot different with my health and well-being. Wikipedia says only 5% of women suffer from this syndrome, but Dr. Ashton cited a source that claims the number is closer to 26% of the female population affected. Wow. If that is true (and I believe it is, due to the staggering amounts of women I come into contact with that share this diagnosis) then we would all do well to familiarize ourselves with the symptoms. Again, if I had had a list of these symptoms in front of me as a teenager, I most certainly would have gone into a doctor to be tested for it. Dr. Ashton also says it seems to be genetic, which is all the more reason for me to be extra vigilant as my daughters pass through puberty, since there is a high likelihood that they will struggle with this as well.
All in all, this is a wonderful book for teenage girls. I don't know how many would read it cover-to-cover the way I did, but it would still be a great reference book to have on the shelf. At the very least for mom to be able to deal with the awkward questions in a Dr. Ashton-like way.
Happy reading!
This post contains affiliate links.