Dads are notoriously difficult to buy for. I know my dad would always just say, "I don't need anything—you kids being kind to one another is a good enough gift for me!" when we asked him what he wanted for any occasion. While that's nice, it's not particularly helpful for those of us who actually want to buy dad gifts on Father's Day or his birthday!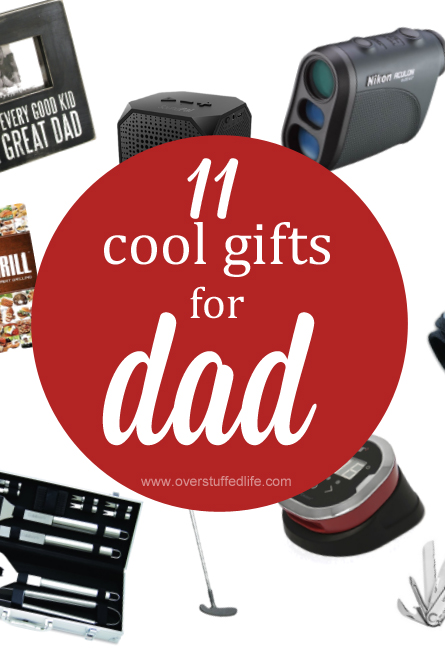 Make sure to check out our Ultimate Holiday Gift Guide—Find hundreds of gift ideas for EVERYONE on your list!
As it turns out, my husband is almost as difficult to buy for as my own dad. It doesn't help that his birthday and Father's Day are so close together that they often fall on the same day! Every June I'm always scrambling to come up with something that I think he will love from me and the girls.
Below are a few things that we've scored a home run on for my husband, and a couple things I know he'd really like. I know that my dad would appreciate most of these things, too!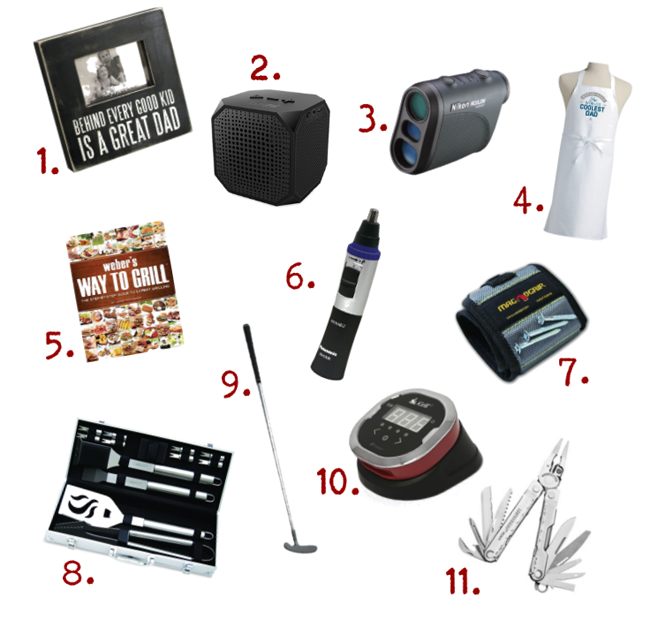 11 Cool Gifts for Dad
(affiliate links)
**Note** For many of these I have not linked to one specific item, but rather the category page on Amazon. This way you can see what is available, as many of these things come in a wide variety of prices and types.
1. "Behind Every Good Kid is a Great Dad" photo frame Sometimes we think that dads aren't very sentimental, but that's just not true. My husband and my dad both love having photos of their kids and grandkids around, and both of them would love this frame filled with a great photo of their favorite children.
2. Bluetooth Speaker These are so nice for listening to music or podcasts or audio books from a phone! Dads can use it while working in the garage or the office and will actually be able to hear whatever they are listening to. The Maestro has this one, and uses it on a daily basis for listening to music and General Conference talks while he works—usually while cooking in the kitchen. For its tiny size and low price, it's pretty powerful. (I admit I use it while The Maestro isn't home to listen to my podcasts on a regular basis, too!)
3. Laser Rangefinder The Maestro is a big golfer, and June is when he starts golfing for the season, so Father's Day is when we often give him golfing things. He has his eye on this cool rangefinder that tells you how far away the hole is from the ball. Pretty cool!
4. "World's Coolest Dad" apron The Maestro loves cooking and grilling, and aprons are a necessity.
5. Weber's Way to Grill Cookbook This is The Maestro's favorite grilling cookbook and he uses it all the time. In the summers he can generally be found in the backyard grilling something just about every evening, so he has plenty of opportunities for trying new recipes and techniques.
6. Nose and Ear Hair Trimmer I know it sounds silly, but I have purchased so many of these things for both The Maestro and my own dad. They love them. The brand I had been buying seemed to fall apart too easily, so I finally found this one and it has lasted a couple years now. It's pretty darn inexpensive, too!
7. Magnetic Wristband If the dad you're buying for is handy, he might love a magnetic wristband! It's perfect for picking up dropped nails and screws, or just for holding on to them while working on a project.
8. Cuisinart Grilling Set There are all kinds of great grilling sets available, but having the right tools for grilling is not an option! The Maestro uses all of his!
9. Golf putter Even if your dad isn't much of a golfer, getting him a putter and a few balls that he can practice putting with is something he'll probably still enjoy. If you're feeling particularly generous, I bet he'd also love his own practice putting green!
10. Bluetooth Meat Thermometer This is a pretty awesome gadget that will allow you to keep track of the meat temperature without opening the grill or smoker. It just transmits the information via bluetooth to your phone! So cool!
11. Leatherman This is another tool that both my dad and husband cannot live without. If your dad doesn't already have one, I highly recommend that you get one, and get one that has lots of tools on it. The Maestro uses his on a nearly daily basis to fix various things or help the girls do something or other. I'm amazed at how versatile it is, and he rarely needs to dig out the tool box for a more specific tool.
Hopefully this list was able to give you a few great ideas for Father's Day! Happy shopping!
This post may contain affiliate links, for more information, please see my disclosure.