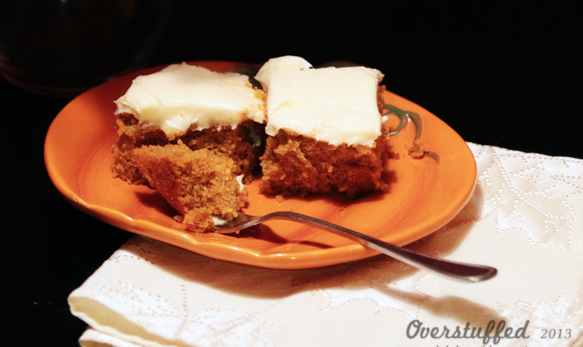 If you follow me on Pinterest you might know that I have an obsession with pumpkin. I freaking love it. My Pinterest board called "Pumpkin is My Favorite Food" has (gulp) 767 pins on it. Yes. Seven HUNDRED and sixty-seven. As if I would ever make them all. And, obviously, about 750 of them are not gluten-free.
But they just look so darn delicious!
I still happily pin all the pumpkin recipes, but now I do it in the hopes that I can experiment with them in all my free time and make them gluten-free. The pumpkin bar recipe I am sharing today has long been a favorite of mine, and I have fiddled with it and figured out how to make it taste amazing in a gluten-free state. Now the only problem is that I eat way too many of them whenever I bake them.
Someday I will have a good relationship with food. But right now is not the time to talk about that—let's get baking some amazingly yummy gluten-free pumpkin bars!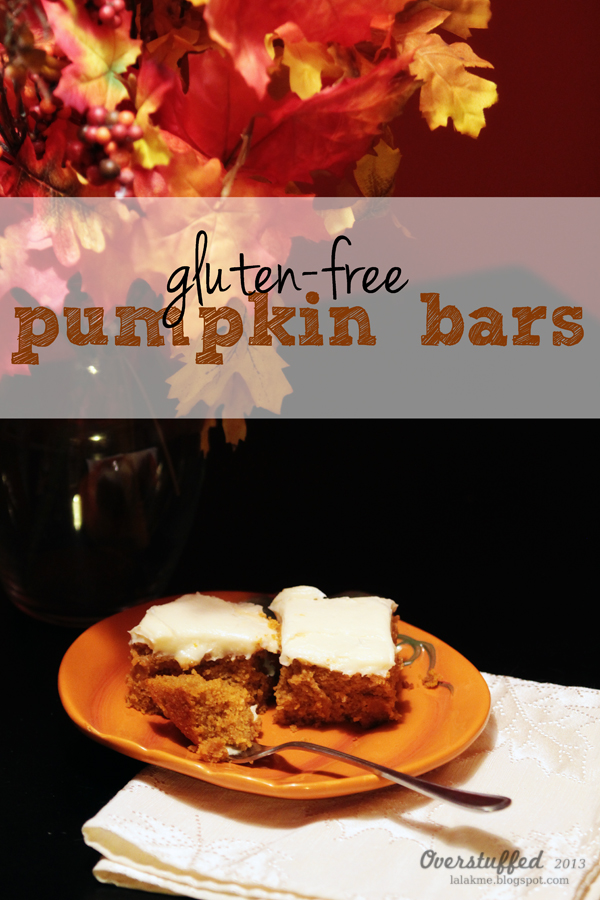 Gluten-free Pumpkin Bars
Ingredients
4 eggs
1 2/3 cups granulated sugar
1 cup oil
1 15-oz can pumpkin
2 cups Bob's Red Mill All Purpose GF Flour
2 teaspoons baking powder
1 teaspoon baking soda
1/2 teaspoon xanthan gum
3 teaspoons cinnamon
Directions
Preheat oven to 350ºF.
In a large bowl, combine eggs, sugar, oil, and pumpkin with mixer at medium speed. Stir together dry ingredients in a separate bowl. Add the dry ingredients to the pumpkin mixture and mix at low speed until batter is smooth. Spread batter into a greased 13×9 inch baking pan and bake for 30 minutes.
Let cool completely before frosting. (I have found that it is difficult to frost GF baked goods as they are a lot crumbier than usual. You will have more success at "pretty" icing if you have the patience to let these really cool off totally and completely.)
Cream Cheese Frosting
Ingredients
1 8-oz package cream cheese, cold
1/2 cup butter, softened
2 cups powdered sugar
1 teaspoon vanilla
Directions
Combine cream cheese and butter in a medium bowl with an electric mixer until smooth. Add sugar and mix at low speed until combined. Stir in vanilla and mix again.
Enjoy!
More gluten-free (and pumpkiny) stuff:
5 Tips to Help You Transition to Gluten-free
How to Make a Gluten-free Pie Crust + GF Pear Pie
My Gluten-free Pinterest Board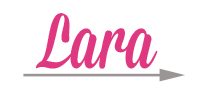 This post may contain affiliate links, for more information, please see my disclosure.