Gluten-free Pumpkin Pudding Dessert
Just in time for fall, a pumpkin layered dessert recipe that everyone will love! Easy to make, gluten-free, and absolutely delicious!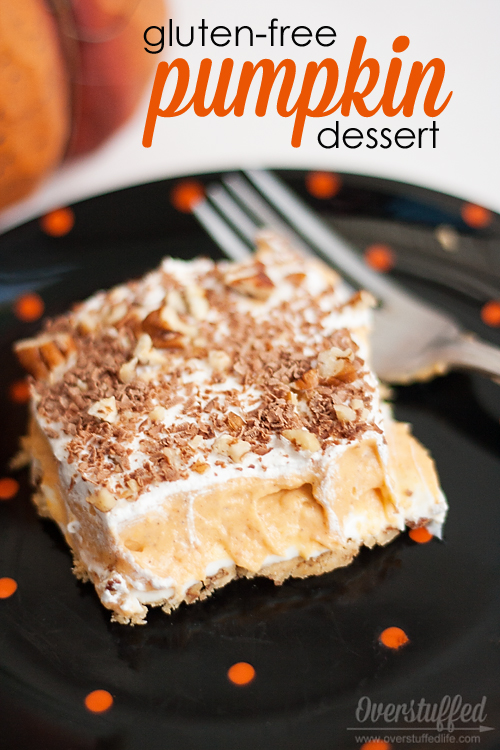 Just in case you weren't aware, I love pumpkin. Seriously. Have you SEEN my Pumpkin is My Favorite Food Pinterest Board? It's gotten a bit ridiculous: At the time I am typing this there are exactly 1,000 pins on it! And probably by the time you're actually reading this there will be several more.
It's a problem.
Except, not really, because I really do love pumpkin that much. It's one of the very best parts of fall.
We made this pumpkin layered dessert for General Conference, and it was so good! I was a little skeptical, because I wasn't sure about pumpkin pudding, but it was basically heavenly.
You should definitely try it!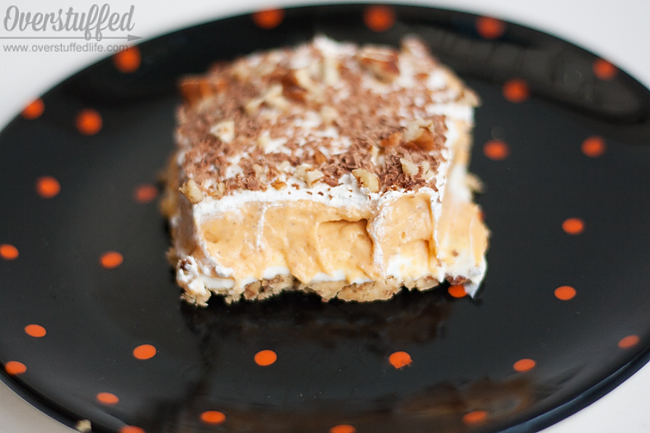 Gluten-free Pumpkin Pudding Dessert
Ingredients:
1 Cup Bob's Red Mill All Purpose gluten-free flour (this is important–we tried another blend first and the crust did not set up, so we had to do it all over again with the Bob's Red Mill, which worked beautifully!) (Also, if you do not need to be gluten-free, regular all purpose flour works great!)
1/2 Cup melted butter
1 1/4 Cups chopped pecans
8 oz cream cheese, softened
1 Cup powdered sugar
3 Cups whipped cream
2 1/2 Cups milk
3 3.9 oz packages (small box) white chocolate flavored instant pudding
1 15 oz can pumpkin
2 tsps pumpkin pie spice
1 regular size Hershey's chocolate bar, shaved
Instructions:
Layer 1: Mix Bob's Red Mill flour, butter, and 1 cup of pecans. Press into an ungreased 9×13 pan. Bake at 350 degrees Fahrenheit for 20 minutes. Remove from oven and cool for 2 hours.
Layer 2: Mix cream cheese and powdered sugar together. Add one cup of whipped cream and spread over the crust—be sure the crust has cooled completely.
Layer 3: Mix milk, instant pudding (powder—do not make it!), pumpkin, pumpkin pie spice, and one cup of whipped cream until smooth. Spread over the second layer.
Layer 4: Spread one cup of whipped cream over the third layer.
Layer 5: Sprinkle leftover chopped pecans and shave the chocolate bar on top of the fourth layer.
Chill for 3-4 hours.
Enjoy!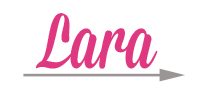 This post may contain affiliate links, for more information, please see my disclosure.