Mississippi Mud Pie—Gluten-Free Chocolate Pudding Dessert
This fake Mississippi Mud Pie recipe is made with Jello Pudding and whipped cream and is every bit as good as the real thing!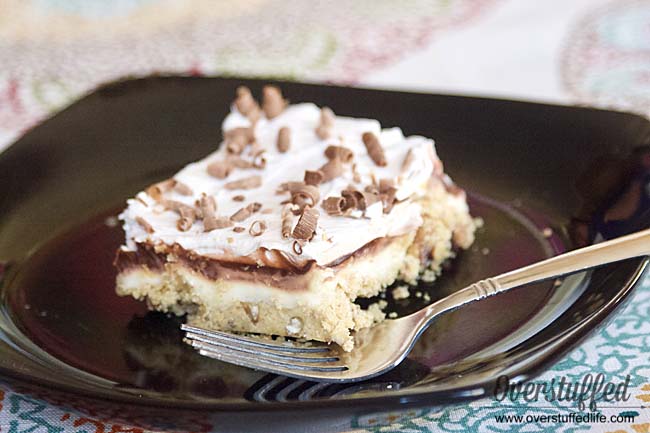 This recipe can be made gluten-free…or not!
The first time I ate this version of Mississippi Mud Pie was when my mother-in-law made it for my husband's birthday while we were still dating over 20 years ago. It was so good that I probably ate more than is proper in such a social situation.
Since then, it has figured prominently at nearly every birthday dinner in our house. My kids request it instead of a birthday cake regularly, and we are happy to comply! It also makes appearances on hot summer nights and other holidays.
We love it—and I'm pretty sure you will, too!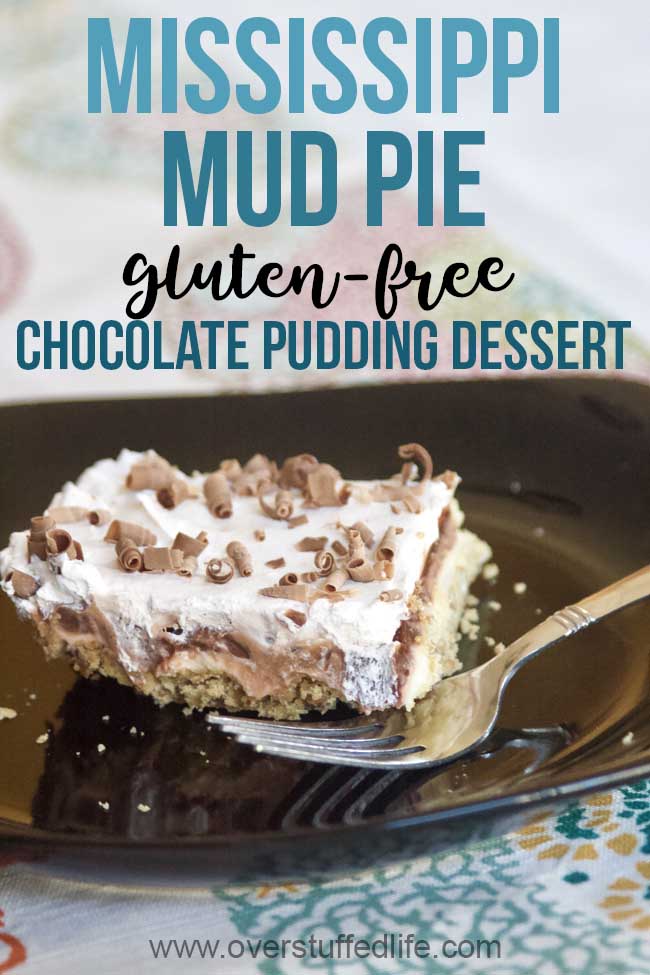 Mississippi Mud Pie—Chocolate Pudding Dessert
Ingredients
1 Cup Bob's Red Mill All Purpose gluten-free flour
(this is important—we have tried other gluten-free blends and the crust did not set up, so we had to do it all over again with the Bob's Red Mill, which worked beautifully!) (Also, if you do not need to be gluten-free, regular all purpose flour works great!)
1/2 Cup melted butter
1 Cup chopped pecans
8 oz cream cheese, softened
1 Cup powdered sugar
2-3 Cups whipped cream or Cool Whip
1 small package of chocolate instant pudding
1 small package of vanilla instant pudding
1 regular sized Hershey's chocolate bar, shaved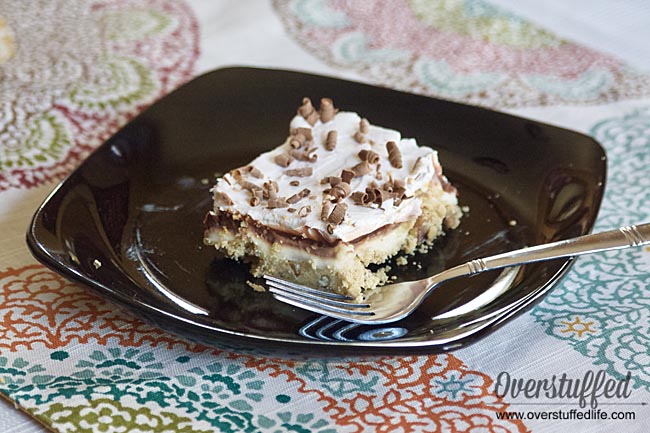 Directions
Layer 1: Mix Bob's Red Mill flour, butter, and 1 cup of pecans. Press into an ungreased 9×13 pan. Bake at 350 degrees Fahrenheit for 25 minutes or until golden brown. Remove from oven and cool for 2-4 hours.
Layer 2: Mix cream cheese and powdered sugar together. Fold in one cup of whipped cream and spread cream cheese mixture over the crust—be sure the crust has cooled completely.
Layer 3: Prepare both the chocolate and vanilla pudding packages according to direction, but with slightly less milk. Once the puddings are set, mix them together thoroughly and spread over the second layer.
*You may have pudding left over—you can put it into some cups to eat separately.
Layer 4: Spread remaining whipped cream over the third layer.
Layer 5: Shave chocolate bar onto the whipped cream.
Chill for 3-4 hours
Enjoy!
You might also like:
Pumpkin Pudding Dessert (It's very similar—but pumpkin!)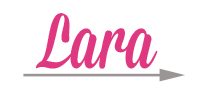 This post may contain affiliate links, for more information, please see my disclosure.