Gluten Free Chicken Enchiladas With Green Sauce
Delicious gluten free chicken enchiladas with green sauce—just six ingredients.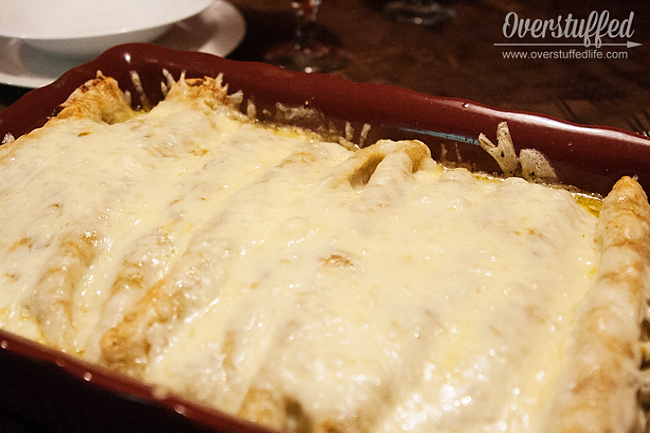 This gluten-free chicken enchilada recipe is super easy to make and everyone loves it!
It's no secret that my husband does most of the dinner cooking around here. But I have a few signature meals I make, too, and these gluten-free chicken enchiladas are one of them. In fact, I'm pretty sure that they are the highest requested birthday meal in our household.
My youngest daughter, who had the most recent birthday, requested them for her birthday dinner recently and so I thought I'd share the recipe with you today.
(I was forward thinking and took photos, but people were impatiently waiting to eat it and so I have exactly zero photos of what it looks like dished up on a plate.)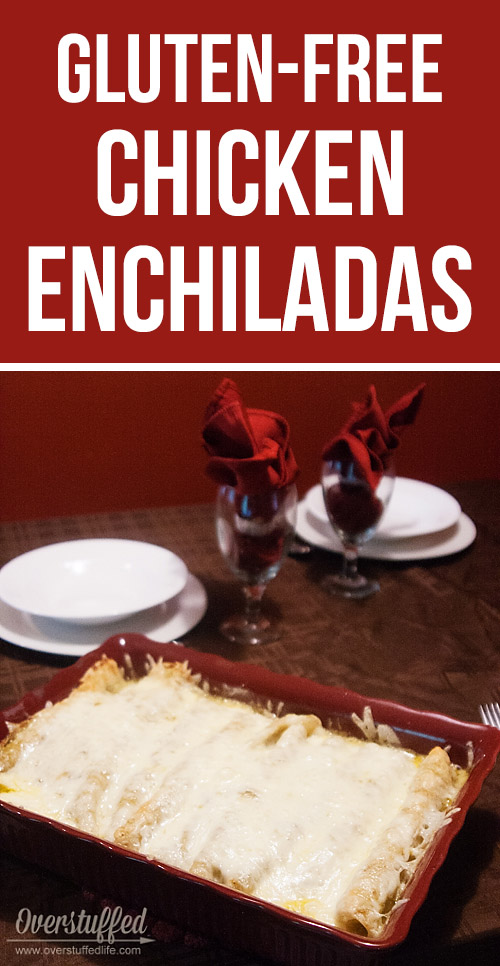 Because we are a gluten-free household, and especially because my youngest is the one with Celiac, I adapted the recipe to be gluten-free. When I made these last October for another daughter's birthday, I found out the hard way that most enchilada sauces contain wheat. I have included the recipe to make gluten-free chicken enchiladas here, but it is easy enough to make it normally (easier, probably).
Gluten Free Chicken Enchiladas
The only two ingredients that are not naturally gluten-free are the tortillas and the enchilada sauce. It is not difficult to find gluten-free tortillas and I have included affiliate links for our two favorite gluten-free tortilla brands. I have also included an affiliate link for the brand of gluten-free enchilada sauce that we found.
Ingredients:
5-6 boneless, skinless chicken breasts
12-15 gluten-free flour tortillas (I used Food for Life brand GF Brown Rice Tortillas here, but I recently found these tortillasthat work even better.)
1 block cream cheese, softened
1 1/2 cups sour cream
1 white onion, diced
1 small can diced green chiles (optional)
1 large can gluten-free green enchilada sauce (La Victoria brand is a good gluten-free enchilada sauce)
1 16 oz block monterey jack cheese, grated
Directions:
Cook the chicken breasts in a crock pot on low for about 4 hours. Let cool a while, then shred thoroughly.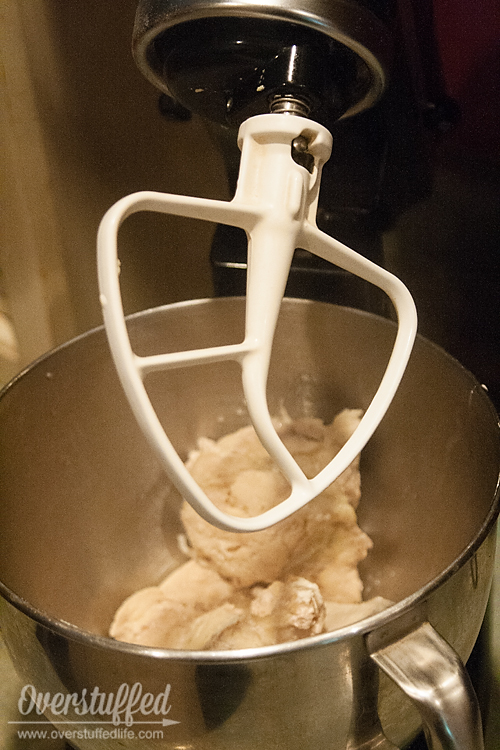 I use my Kitchen Aid mixer to shred my chicken. Shredding the chicken was always the absolute worst part of making this meal until I learned this trick. It has changed my life!
Throw your cooked chicken breasts into the mixing bowl and using the paddle attachment, "mix" the chicken on a lower speed for about 30 seconds. That's all it takes!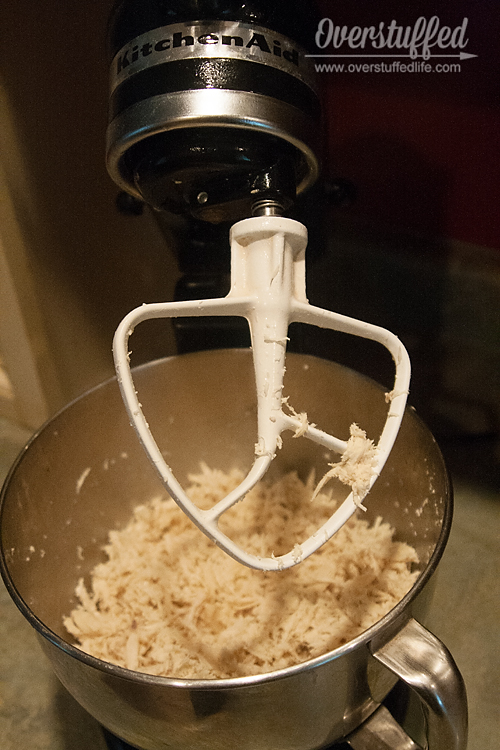 And, voila! You have shredded chicken. In 30 seconds. What once used to take me up to 20 minutes to shred properly now only takes 30 seconds. I'm still absolutely delighted by this fact.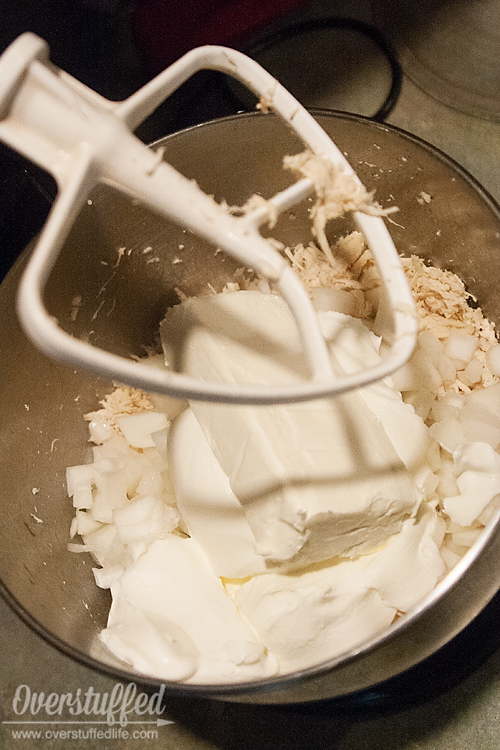 Add the cream cheese, sour cream, and diced onion to the shredded chicken and mix well. I just continue doing it in the Kitchen Aid since the chicken is already in there.
If you want your enchiladas to be spicier, you could add some actual green chiles to the mix, too. I have done this before, but my children prefer it without. The chiles also add a bit of color to all the whiteness.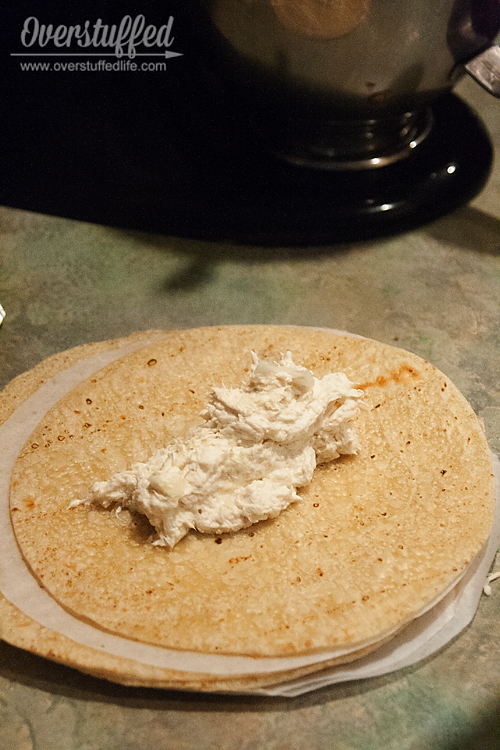 Fill tortillas with a couple spoonfuls of the chicken mixture, roll up and place in 9×13 casserole dish.
I like to fill mine up pretty full, but you'll have to gauge how much of the chicken mixture you have to how many tortillas you can fit in your casserole dish. Sometimes some of the rolls are definitely more full than others.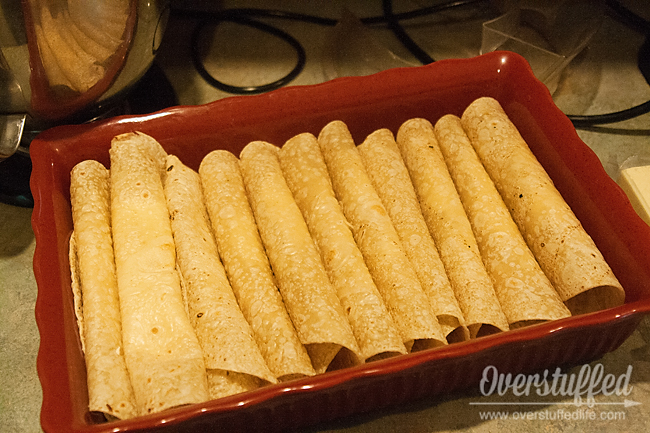 Pour enchilada sauce over tortillas, covering thoroughly.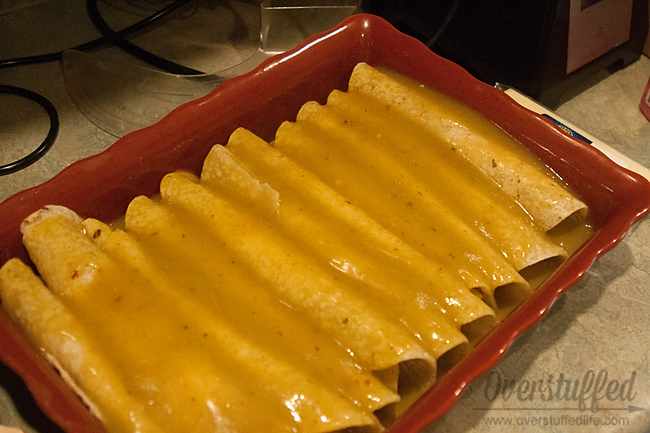 Top with grated Monterey Jack cheese.
Bake at 350 for approximately 45 minutes or until cheese begins to brown.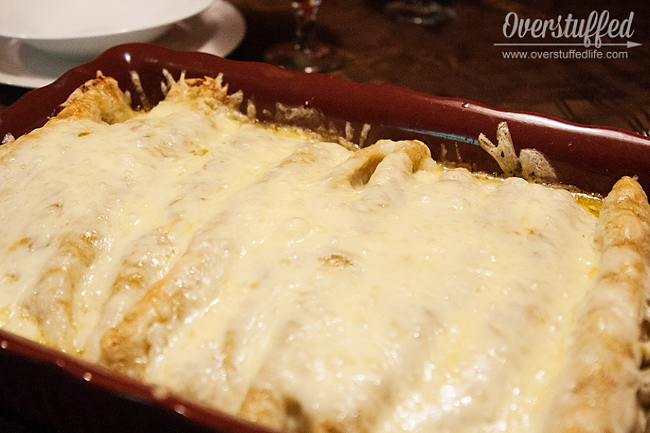 I usually serve these enchiladas with a green salad and some sort of corn dish on the side. They are incredibly filling by themselves, so you don't need much to go with them.
I hope you enjoy this recipe as much as my family does!
Here are some other gluten-free main dishes you may enjoy:
This post may contain affiliate links, for more information, please see my disclosure.